When it comes to blogging, there are different types of blogs.
But not everybody knows all those various categories. Each category is used for different purposes.
If you want to boost your blog traffic, round up blogs is always a preferable option. You might be wondering what that actually means. It is nothing but a blog with expert opinions about a single question.
You can do this by creating a good relationship with other bloggers who handles the same niche as you. With the help of them, you can create a roundup post easily. In order to succeed, you need to put a lot of efforts.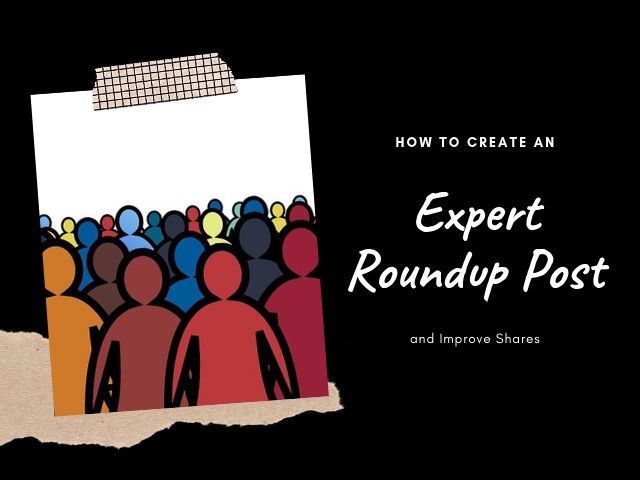 It may take some time but will surely help you. The dream of every blogger is to succeed in their blogging. They want to make good business out of their product. Every blogger is searching for various options to drive more traffic.
Among all available option, the expert roundup is the popular solution available. For that, you need to get in contact with experts. Find a question that you need an answer for. Contact with experts and get an answer to your question.
The final product should attract your audience. There are not any written rules to create roundups. Just follow some simple steps and wait for the result.
From the expert opinion, there are certain steps you need to follow to create a roundup. The steps are very easy to follow. It ranges from finding a question to finding an expert panel.
In this article, we are about to discuss everything about roundup blogs so that you can apply this trick on your blogs. Follow some simple steps given below to make an expert roundup.
What is an Expert Roundup Post?
Roundup post means assembling opinions of experts regarding a question into a single content. There are 3 types of a roundup post like
Content roundup post:
In this type, you need to summarize the links that may interest your audience and put it into a blog post. Here you should offer some interesting content without affecting your blog reputation
Opinion roundup:
Here you need to take an issue, question or quotes and ask others about their opinions. You can put together all opinions and make it as a roundup post.
Expert panel roundup:
This is the main topic we are dealing with. Here you will ask a question about anything to some 10 or more experts and listen to their thought about it.
This is the most interesting and popular way of roundup you can do to increase your blog traffic.
Next section is about the basic steps you need to do while creating a roundup post. This is a brief description of what you have to do, to create an expert roundup.
Get an interesting topic and try to include more keywords by doing some research and implementing other tactics to attract more traffic.
The title of the content should be attractive. You can use a keyword search to find a title. This will help you to improve site traffic.
Give a catchy introduction that explains the context.
All contents should be well organized and easy to read.
If you can include bios of the experts it will help you to introduce them to the audience
A good conclusion is also essential to make your content complete
You can include links of other expert roundup post at the end of this content
Now you got an idea about what an expert roundup is. The next thing you need to know is how to create an expert roundup.
Here are the steps you need to follow in order to get a catchy one.
Steps to Create an Expert Roundup Post:
1. Choose the right question:
Choosing the right question is essential to attract the targeted audience. The question should have related to their problems that they need an answer for.
If you can find the actual problem, then you can make that much impact among the audience. If you are picking a question that may not interest your audience then it may affect your blog traffic. Nobody will share unwanted roundups.
But, if you can find the right question that may interest the audience and experts at the same time, then you can win. Experts who handle this type of contents will get thousands of questions to answer.
If they are getting those same boring questions always, they won't give you any replies. But, if you can find a unique and easy to answer question then they will notice it. Think wisely before choosing a question and do your research.
2. Be specific:
Just by choosing the right question you cannot make a roundup successful. For that, you need to be specific about the topic.
If you haven't got the right answer to your question, search until you get it. Don't deviate from the topic. Viewers come to your content to know the answer to a specific question.
So, it will be better not to deviate from the main question. They will lose interest in your content and go to other blogs where they can find the answer. So, choose a good topic and make sure it attracts the audience.
3. Pick the right expert panel:
As this is an expert roundup post picking those expert people is a very crucial decision. When you search for them Google about some popular bloggers on your same niche, the topics they are handling and their popularity among viewers. The quality of your content depends on those expert people.
When you create a list of experts then add more names than you want to include in the content. For example, if you want 10 expert opinions about a topic you should at least send mail to some 25-people minimum. All of them won't respond to your mail.
The response may depend on the quality of your question and their knowledge about it. So, it is better to include more people in your list and you can shortlist the best answers among them to include it in your content.
4. Craft an email for experts:
After shortlisting expert names, you need to send an email to them. You can send it with a Google form to submit their answers. While crafting email a customizable template will be easy for the experts to access.
Give them time to respond, say around two weeks. While creating a Google form, try to include the following points
There should be a subject line which asks for his contribution in a short question
Simply ask the question
His name
Short bio
Social media details
Website
Also, in the mail you should mention the length of their answer, the deadline to submit it, a short timeline about seeing their opinions in life. You must explain to them about your plans and how you expect the opinions could be.
Like this, the mail should be brief but you should include the messages you need to let them know. Send all emails and wait for their response
5. Put all the opinions together:
Next step is to put all the replies together. If you got replies to all emails, then you should shortlist the best opinions. After shortlisting them you need to sort them as per your need.
You are building up the content and you are the one who decides where to put each opinion. Work on it well and know the reader's mind. Shortlist the best answers and include top answers in your content.
With all opinions, you should include a short bio of the author also. This will help the audience to understand who that person is.
You can also give details about his site and works. Thus he also will get benefit from your content. You can also share the final work with them.
Ask for suggestions and comments. This will help you to build a good relationship with those experts and thereby you will also get many benefits. Also, thank them for responding to your mail.
6. Format your content:
Organizing and presenting those expert opinions is very important. The content should be readable and simple.
Arrange them into small sections and make it readable. Don't add each opinion one by one.
Add a short bio of each expert with his photo on the left side. Don't include a large bio which makes it disinterested. A bio should be short and sweet. Simply explain who that person is with his abilities.
7. Publish your content and promote it:
Once you completed the content you can post it on your blog. Don't forget to send the link to each expert who contributed to your content. You can request them to share the post among their contacts and social media sites.
Thereby create good contact with many experts from your niche. This will increase the viewership of your content and improves your web traffic.
You can also build up public support and they will eagerly wait for your next post. You can create a series of roundups based on the same question if you got many quality answers. Market your content through email and other social media sites.
You can also promote your content by paying money to agencies who will help you to promote your content. Paid news about your article is also a good option. Initially, it will cost you some money, but the final result will be positive.
Here are some points you can follow while creating an expert roundup. While doing one make sure to put all your effort into it, to make it a great success.
Your time, effort and money are of great value and you need to use all of them here. Here are some great advantages that you can get from expert roundups.
Advantages of Creating an Expert Roundup Post:
After following the tips, you will get to know the result. You will get many benefits. Some of them are as follows
Will improve your site traffic:
The main aim of the expert roundup is to improve your site traffic.
Be sure to post good quality posts to popularize your site. Get the right group of experts and improve your content. Increase in site traffic means an increase in revenue.
More subscribers:
Improvement in site traffic means more visitors to your site. If your post is that much good, many will follow your posts.
If they get more post like that they will be subscribers to your site. Thus, your subscriber base will increase, and the popularity of your site also increases.
Establish good contacts:
If you can build up a good blog post, you need the help of other bloggers and experts.
If you can build a good relationship with experts in your fields you can improve your business and popularity. Try to maintain a healthy relationship with them, it will benefit you and your site.
Conclusion:
In short, you can create a great expert roundup by following below steps
Be organized in whatever you do. That will help you to go forward in your field.
Make your topic relevant and interesting. Choose topics that attract the audience well
Use keyword search or tool and finalize the title.
Link contents related to your topic
Be polite with the experts who contribute to your article
Make your content well-structured and simple
Follow them properly and create a good round up. If you are getting expert help to promote your blog, you must pay back when they need. So, by building a good relationship with experts, create a perfect expert roundup.
Don't worry if you don't have any expert connection. Just get contact details of experts in your field and ask them politely to work with you. Don't wait a perfect time to do something. There is nothing like a perfect time. Do it instantly without waiting for anything.
Don't hesitate to publish an expert roundup post. Work on it immediately.