Content marketing is going through a changing phase every now and then. Many important words came into the picture and started to create a buzz among marketers. It is not easy to get a hold in readers mind without quality content. As always content is the king for every marketing strategies. To get more followers, you should focus on creating quality contents that are more engaging to the audience.
Engaging content is a very confusing word. The new generation is very smart and selective. They need something special always.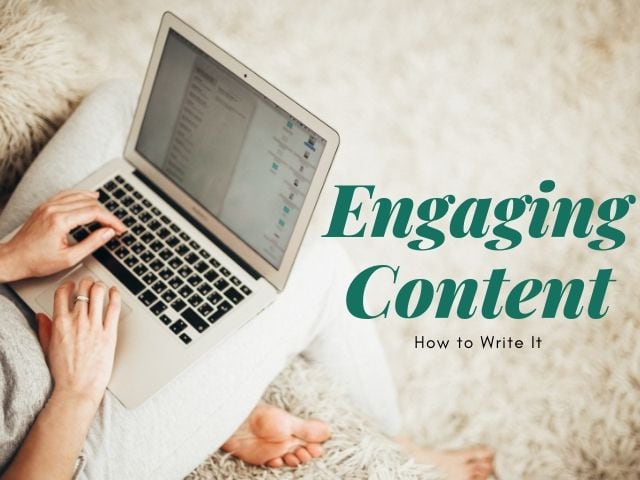 How can someone give something special always through their content?
This is where you should know the exact meaning of this word.  What that word exactly means and how can someone create engaging content for their audience. We are going to take a look into the ways of creating engaging contents that can help you to get as many audiences as possible.
What Does Engaging Content Mean?
Engaging content has many definitions online. It changes according to a different niche. You can get easily confused by seeing so many definitions out there. I am not going to tell you the definition of the term here. But engaging content is something that can create an impact on your audience.
It should also provide some valuable insights into your potential audience. You can see so many people out there who provide expert opinions to people in each niche. They can add more value to the audience with more insight from their knowledge and experience.
We can call contents that can trigger an action in the audience after reading it. It could be anything such as the number of likes, shares, comments, etc. When the audience read a blog, they should get the answer they want to know. It will make them follow all your articles in the future.
Content marketers are spending a lot of time researching what their audience wants in order to provide that.  When they get what they want, it can create better engagement in the audience and the article will get more popular gradually. To be popular on the ocean of contents is a big challenge and you can make it happen only by giving better quality content that is engaging.
Engaging content ideas:
There are many types of interactive contents that can engage the audience well. To be more engaging it is a better idea to create interactive contents for your audience. A most popular type of contents that exists in the market as of now are
1. Quizzes:
This is one of the most popular interactive contents that can make the audience engaging. You can now see online that there are many websites that incorporate quizzes with their contents. It can help you to know how your audience interacts with such types of contents. When you take part in a quiz it will be interesting, and you are actually enjoying that content type.
2. Contests:
Contests are also one of the most engaging types of content you can try. People love to participate in contests and win prices. It can be created for the targeted audience and offers something interesting for the winner of the contest. It can be used in many ways as per the type of niche. But to make it more engaging you should offer something valuable to the winner of the contest.
3. Surveys:
This is another type of interactive content that can engage your audience. You might have seen many types of surveys on YouTube and other websites. These surveys are conducted to know the opinion of the audience about a brand of the business. By knowing it better one can actually tailor their product as per their audience want and get good reception among them.
4. Videos:
Videos are a great type of interactive content that can engage the audience. It is easy to express complex things simply through a video. By creating interesting videos, you can be popular in your niche and give a better solution to your audience also. The audience will also interact with videos they like by commenting below. If they feel like useful video, they will share it across their social media platforms which will increase your online popularity.
5. Interviews:
Interviews can be a very popular type of engaging content. You can include interviews of popular personalities in your niche so that people will start to interact with your content. You can ask relevant question to these experts and many people can get benefits from their answers. Try to make it more relaxed one than the formal interviews to engage the audience. It can also help you to get quality backlinks and a greater number of visitors to your website.
Engaging Content Examples:
There are many examples you can find online for interactive contents. Orbitz ran a quiz to help their visitors to find the worth of their travel partners. This was very popular and they got succeed to involve as many people as possible in their engagement program.
Another example of engaging content is Hubengage, which is an employee engagement platform. They use gamification to engage employees and provide rewards and prizes to the quiz.
Cloud Sherpas did an assessment test for their customers to know the quality of their service. When they enter the website audience will see an assessment window where they can log in and take an assignment test. With a better call to action, more audience will interact with such types of contents.
Harward website provides a 360-degree college tour on their website. This is very useful for students who want to study at that university. People will click on such engaging content if they find it genuine and useful.
How to Write Engaging Content?
This is a good question every marketer will have when they create content. It is very hard to know how your audience is going to respond to a particular type of content. It may take a lot of time also. In this competitive field, there is of no use by creating an average content. Someone who has a good command in English can create content.
But to make it engage, they should know the pulse of their audience and their likes, dislikes, etc. You can follow these strategies and see the change in audience behavior when they read the content of yours.
1. Try all possible types of contents:
Blogs are not the only type of content you can use to get more audience. There are various types of content you can try on your webpage. It could be images, infographics, videos, whitepaper, quotes, etc, you should find a better way to communicate with your audience through these types of contents. To make them interact with your content is one of the biggest challenges. You can try various types of contents and see how they are performing online to know the best type.
2. Use a better structure:
Content structure is very important to make it more engaging. When you create content to make it more organized with titles, subheadings, etc. This can make it look more organized and easier to read. The appearance of content is very important just like the quality of the content.
So, if you are trying to attract more audience make your content easier to read and well-organized.
3. Create content with an aim:
When you create content there should be a special goal behind it. The content should have a clear purpose so that the audience who read the content will get what they want. You should take your time to analyze your goals and what you are expecting from your audience in return. By defining them clearly, you can create content accordingly.
4. Make your content more valuable:
It is not easy as everyone says. When you create content, it should provide value to its audience. This is not an easy task for marketers. They need to invest most of their time in figuring out what their audience expects from them and try to provide the exact thing. This is a very interesting concept to try if you are looking for a great number of followers.
For example, after you write a book about some important topic, you can give away the book for those audiences who subscribed to your channel.  Small business can try eBooks and newsletters to get as many followers are possible online.
5. Be creative:
You can try to write something interesting through your blog. Stay away from those old types of writing. You are writing blogs for your audience and they will like it in a conversational way than being formal. You can try to change the way of writing to make them attracted to your article.
People now follow someone who deviates from traditional ways and trying a different storytelling style can be helpful in creating more followers for your blogs.
6. Use keywords:
When people search for something online, they want to know more about that particular topic. Including keyword is not only an option for search engine optimization. You can include keywords in your blog for people who want to read more about a particular topic that is searching for.
Overusing of the keyword is not good for your blog reputation so avoid doing that.
7. The title should be interesting:
Title of the content should be something attractive to get more traffic. You can give more clickable title for your content so that people start to click on the link to know more about the topic. You can use attractive words that have some call to action mood and include it in your content title.
People will judge your content by seeing its title. So you have to be careful to put something interesting for people to click on it and read the content.
8. Make the content more relevant:
To make your content more relevant one of the possible options is to make it more relevant to the topic you are discussing. If the content is entirely different from the topic this can lead to more bounce rate. If you are looking to get as many good responses as possible, make the content more relevant with genuine information and required updates.
9. Make your audience think:
Contents that are thought-provoking can be more popular and engaging. Just by writing about a topic cannot make your content more popular. You should try something interesting that can make your audience think about.
Make it more relevant with updates which can help your audience to engage with your contents. This can make them visit your website again and again to be your regular follower.
10. Use social media widgets:
It is very important to include social media icons within a blog nowadays. People can share it across various social media platforms if they like what you wrote.  This can also help with increasing your website popularity across the internet.
Most shared content is considered as engaging content and it is possible to make your content shareable by including social media icons within your webpage. As the number of shares increases, more people will see your content and that can increase your website ranking also.
11. Give a catchy introduction:
Research shows that giving a catchy introduction can help your content to get more audience. 55% of people read content in the first few minutes. If you want them to read the whole content, you should give them a catchy introduction that can hook them into the whole article. Just like your title, a good introduction also can change your content's performance online.
Conclusion:
Now you might have got a clear idea about the way you can create engaging contents. This is a very hard task as it takes more time and effort. But think about the outcomes of your effort and start working on it. You can get a good response from the audience by including interactive contents on your website. Get more followers by giving them what they want.
By creating a user-friendly website with quality and engaging content can help you to achieve your goal. What is your strategy of creating interactive content? Tell us more about your strategies below