What do you think makes an email marketing campaign successful?
Undoubtedly, it requires a succinct, relevant, and appealing subject line that can grab the recipient's attention. In fact, a subject line encourages recipients to open an email to explore more about the subject.
Professionally written subject lines are personal and descriptive, and not generic.
At times it happens you have put in a lot of hard work, written freebies, and offered innumerable products, and gathered countless subscribers.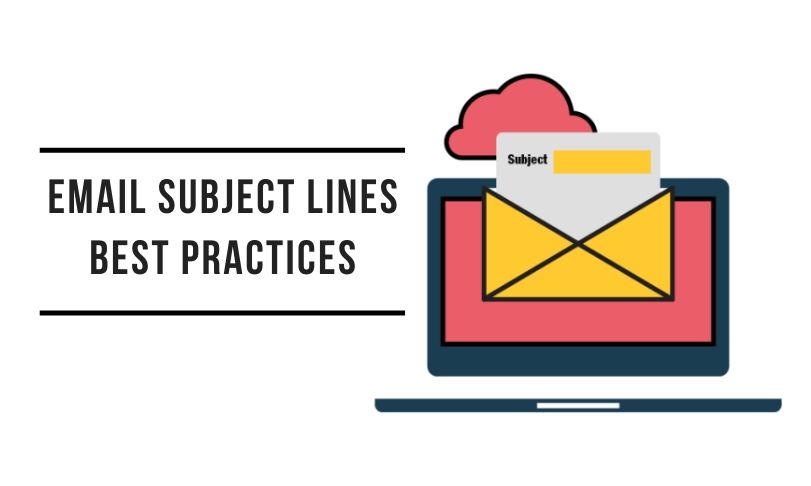 But if you still are unable to increase the number of subscribers, it can be because your email lacks a proper subject line.
In this post, we will share with you some of the best practices to easily write the best email lines. But before we delve into details, you must first learn to bypass spam filters.
Ways to Combat Email Spam Filter
Here check some of the ways to make sure your emails land to the primary folder of the user and does not end in spam. Only then it gets noticed and can be opened and clicked.
1. Avoid Buying Email Subscribers:
Make sure you don't but emails from different users. Most of them either land in the promotion folder or in the spam folder. And if in case it lands in the primary tab, the recipient will consider it as spam.
Hence, avoid purchasing subscribers.
2. Do Not Engage in Promotional Terms:
Using promotional terms such as you won, cheap, congratulations, free, and more always comes under the email filter radar.
Emails consisting of such terms are delivered in a spam box or promotion tab and are rarely viewed.
Make sure you appropriate words that seen engaging, enticing, but not promotional.
3. Use Limited Images in the Email Body:
If you use too many numbers of images in your email body, it will appear promotional.
Stick to 1-2 images maximum while writing an email. You can incorporate attractive CTA buttons to let your email appear fancy.
4. Your Email Must be Convenient to Unsubscribe:
As per the US's CAN-SPAM act, your email must incorporate buttons that allow easy un-subscription.
You now know the ways to avoid your email enter into the spam box. So, here check ways to write the best subject lines for your email.
Email Subject Lines Best Practices:
1. Maintain a Personal Tone:
Avoid using generic terms like 'client' or 'customer' in the subject line. Rather, stick to a more personal tone, which mentions the recipient's name.
How you will feel if you answer an unknown person by its name? It makes a negative impact. So, avoid them greeting with robotic terms like sir, dear, mam, friend, and more. Try greeting them by their name.
It is quite easy to add the last or first name. You just have to utilize a pre-specific shortcode. For example, you can add the name of the user anywhere in the email body or subject line.
Customize email headlines and contact your subscribers with their initial name. You will witness an instant boost this way.
2. Incorporate Social Media Elements in Subject Line:
The next way to give your professional subject line a personal sense is to integrate the social media platform of the recipient. This will make your email more engaging and will also let it stand out from other emails, which your subscriber might be receiving almost every day.
Twitter regularly sends an email to the Twitter handle of the recipient in the subject line, identifying the positive impact it creates on open rates.
3. Create a Concise or Short Title:
The viewing limit of characters in the subject line is 40 characters. It means that the initial 40 characters of the subject line are displayed to users.
Hence, it is of no good to stuff your email with filler words and design a long paragraph, which is not going to be read.
The words you write must be of great interest to the subscriber.
4. Maintain a Descriptive Line:
Avoid keeping the subject line of your email bland and boring. It is best to maintain a descriptive subject line that is interesting and offers values to the users.
For example, subject lines such as 'hot summer deals to catch now,' are more striking and persuasive than the lines 'best summer deals.'
5. Develop a Sense of Emergency through Your Subject Line:
We are humans and possess a tendency to act swiftly in emergency situations. This is something, which numerous eCommerce stores are targeting by utilizing it effectively so that their users make an immediate action on their website.
For example, if you check this line 'only last two products left,' you definitely want to take immediate action so that you don't miss it out. This way, you or other users instantly purchase and check the product to make sure it does not get out of stock.
You can use this same strategy to grab your reader's attention and compel them to open your email.
An email line like 'hurry only the last few spots left' can work.
6. Don't Mislead Recipients:
Sure, you want your email recipients to stay engaged. This is important so that they keep feeling compelled to open your email.
But sure you don't want the recipients to mislead. Make sure you don't mislead subscribers as making false promises can result in your recipients unsubscribe from the list. The worse can occur that they may make a complaint.
7. Ask Relevant Questions:
Another great way to attract subscribers and keep them engaged is by asking them relevant and related questions.
If you are publishing a guide on your post and want the same to be forwarded in the email list, then avoid using the post title. In this situation, it is best to use a question which answers your reader's anyone or more queries.
For instance, if you have created a guide about 'booking a cab' then an email subject as 'How to book a cab easily' will perform better.
Moreover, you can customize the name of the recipient to make it feel that the email has been written specifically for them.
8. Focus on the Numbers:
Readers are always enticed by having access to multiple ways or a big list to do a particular thing. It is because the same presents them with detailed information under one roof. And in order to showcase the list, it is vital you focus on the number system.
Emails that have subject lines, which contain numbers, always perform better. It is because the receiver finds it more interesting and wants to grab the opportunity of availing a lot of information in just one email.
9. Practice Localization Techniques:
Just like personalization, it is vital to focus on the aspect of localization in your email subject line. This makes sure that your email stays relevant to the location of the subscriber.
An easy way is to add a note in the subject line of your email that targets a particular audience. This can be done easily with localization.
10. Test and Use the Most Relevant Keywords for the Subject Line:
In order to make the subject line of your email more effective and engaging, you must include the best keywords into it. For this, you can check the keywords as well as phrases to see which deliver the best results and most appropriate responses from the audience.
Once you have identified such keywords, use them to make your email line more effective and relevant.
11. Avoid Using Capital Letters in the Subject Line:
One common way that may make your subject line appear unprofessional and annoying is using capital letters. It not only makes the subject line look cluttered but can also make it appear spammy and ugly. Moreover, subject lines written in capital letters are difficult to read and consume a lot of space than the shorter ones.
When users experience such emails, the very first action they take is to mark such emails as spam. It is because these emails are not pleasing to the eyes and they give a negative sense that the email might be from a spammer.
The best way to go is to capitalize only the initial letter of every word or simply capitalize the initial letter of the first word.
12. Your Email Subject Line Must Develop Curiosity Among the Readers:
Just like developing a sense of urgency, it is vital for your email subject line to develop a rich sense of curiosity among the readers. This will encourage the recipients of your email to learn more about the email's content.
Make sure you don't make a too ambiguous subject line, which barely talks about the products or services of your brand.
The subject line must be enigmatic and align properly with your brand. Otherwise, it could end up landing in spam.
13. Don't Use Spam Words:
There are a few words, which are considered spammy by the readers. Such words reduce the open rates and must be avoided completely.
For example, if your email subject line begins with words such as 'investment,' 'junk,' or 'introducing,' it can appear spammy and discourage the recipients to open your email.
14. Introduce a Teaser:
Anything which grabs the reader's attention is promising for you. One of the best ways to attract the attention of your readers is to include a teaser.
By reading a teaser, the users get excited and crave for more details.
If you launch a new service or product, you must send the teasers first so that you can win the initial batch of fans and supporters.
15. Send a Unique and Fresh Report to the Readers:
It is always preferred to offer users a report based on past actions and check what they are up to and how the results can be improved.
For those who operate a product based firm, which is used often by subscribers, it is best to send a weekly or monthly report to the customers. This works in most of the cases and this is why it is sent by almost every affiliate network. The report must include the performance of affiliates during a specific month.
You can even check the example of weekly reports send by Grammarly. This report includes words that you wrote, the mistakes you repeat, and compare the same with other users who find it difficult to write.
It is always great to read such reports and assess the performance.
16. If Needed, Command the Subscribers:
This may appear inappropriate to you, but at times commanding works great and it is important to let your readers take the necessary action.
It is always better to include commands in the subject line in order to get your email opened. If the body of your email includes a direct CTA button, you must not be afraid to reflect the same within the subject line.
17. Create Your Subject Line in a Unique Way:
It is not only you in your niche who holds a subscriber list. There are others as well.
This means you have competition even in this sector and your competitor knows the significance of an email and chances are that numerous mutual subscribers have linked to numerous newsletters.
So how can you make your email stand out from your competitors?
The best way out is to make your email unique. The subscribers must instantly identify that a particular email is from your end. If they trust your company and offerings they will keenly open the email without giving it a second thought.
18. Announce Something:
Usually, announcements are made about upcoming activities or events.
If in the past, events have been hosted by you, rather than emailing only the winners, make an announcement on a wide scale. This way, your email will be able to target the number of subscribers.
Readers always prefer an announcement and if they believe they are the first ones to know about it, they would want to explore more.
To Sum Up
It is not enough to gather a long list of subscribers. It is more important than your email to reach out to them and encourage them to take the necessary action.
Hope with these email subject line best practices, you can create the perfect subject line for your next email marketing campaign that helps you to fetch the desired results.