Email marketing is one of the most popular and cost-effective marketing types as of now. When a business wants to promote their products, they adopt various options such as PPC, SEO and content marketing.
Businesses use various options to communicate with their customers. Constant communication is essential for a successful business and in order to do that, businesses have to try various options. Social media marketing is a very good way to interact with the audience.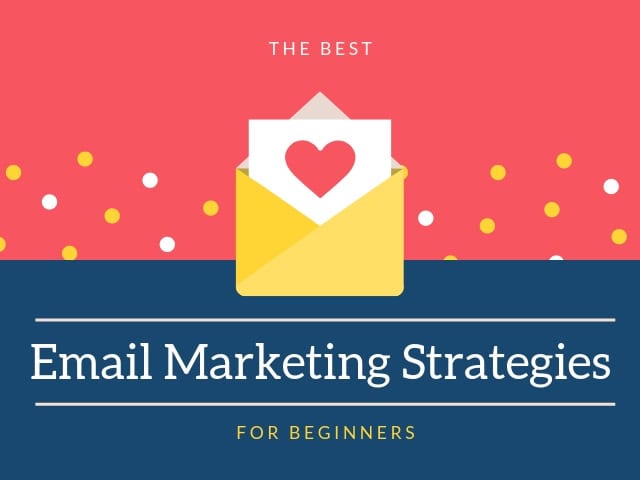 Another option is to use email marketing. In this article, you will get a good idea about various aspects of email marketing strategies and the way you can use it to promote your business
Why Email Marketing is getting popular?
Marketers are trying to find new ways to interact with the audience. Most marketers are using email marketing for that. From research and case studies we can conclude the importance of email marketing
By 2019 it is expected to have more than 3 billion email users all around the world
70% of customers use email for their business communication
Brands are sending email promotions to their customers every week and they prefer to get promotional emails on a weekly basis
Email marketing can provide better ROI for business users. On average you will get a return of $43 for every $1 spent
These numbers will show you the benefit of using email marketing in your promotion. You are going to get a lot of benefits by incorporating email marketing as a part of your marketing strategy.
Benefits of Email Marketing:
You can find so many benefits while using email marketing compared to all other marketing options. Here are some benefits you can get by using email marketing for your business promotion
Economical:
Email marketing is a very economical marketing method every business should try. You can set it up easily and spread your message among the customers all over the world. There are some tools available for you to send group messages and promotional offers. You don't have to sit all day in order to send emails to your customers
Widespread:
Emails are a very popular option of communication to customers. More than 2 billion people use email and most customers prefer business promotions and coupons on their email. So, it is easy to reach to customers located in any part of the world through their email address
Target audience:
Using email marketing you can send personalized emails for a specific group of customers. Customization is what consumers are looking mainly in a product and after doing research, brands can divide their customers based on their common features. Send tailored messages through their email as a part of product promotion.
Connect with the audience:
This is another benefit of using email marketing. You can get connected with your customers using emails and build a strong relationship with them. It is very important to have a strong relationship for a brand to be successful
Increases business:
If a brand can offer what their customers want as the form of promotion then it can increase their sale also. Businesses are thriving to improve their sale. By offering good promotions and interacting with customers brands can improve their sale also
Promotion:
Businesses can use email marketing to promote any type of content they want. Sometimes they will use it to let their customers know about their new product launch and any updates related to various products. So, we can say that email marketing is one of the best ways to promote a business.
Good for analysis:
Using email marketing you can analyze the result of your marketing efforts. It can help you tailor new strategies based on the response from the audience.
How to develop an effective email marketing strategy?
When you want to make your business, successful better strategies are essential, email marketing strategies will help you make sure that the email you are using to promote your business is reaching to the audience effectively. Before going to more detailed marketing strategies you need to have a general outline of the process. It consists of 4 process
1. Define your audience
There should be a group of audience who might have an interest in your products. We cannot assume that all people who use email will have an interest in your business. So as a business you need to analyze your targeted audience and group them together. It can help you to tailor marketing strategies as per your targeted audience nature. Narrow down your group of the targeted audience and know what they are expecting from your brand.
2. Set your business goal
Next step is to set a clear business goal. Without a goal, a business cannot be successful. The goals of a business could be many such as getting more followers, increasing sale, including the audience as brand ambassadors and many more. Define your business goal well so that you can create an appropriate strategy using email marketing
3. Develop new ways to attract more leads
Content marketing is a good way to get more leads. Businesses run a website with blogs and various types of contents to get more followers. They want to attract more leads towards their business using these useful resources. It could be anything such as guides, blogs, eBooks, whitepapers, infographics, etc. try using some interesting type of content to engage your audience and make them follow your brand
4. Increase your email list:
The last step is to get an email of as many customers as possible. You can grow an email list by offering some promotional programs or coupons. Users will be ready to give their email id in return for some interesting coupons and discounts. Or else you can include an email opt-in form within your page with simple fields. Persuade them to sign up to the website using their email address by offering something interesting
Effective Email Marketing Strategies:
Now you know the steps to follow before trying out these strategies. One should have a clear business goal. Follow these email marketing strategies and see how it can help you to grow your business
1. Send personalized emails:
After finding your targeted audience next step is to do segmentation. Here you can group people with the same nature or interest in one group. Don't send the same email to all your customers. Each person has their own interest. You need to research well and send more tailored messages for each group.
When they see what they want in your email, they will get more impressed in your brand. It can automatically lead to the success of your business. Marketers say that more 75% of revenue from email marketing is from customized messages.
2. Timing and frequency:
You should focus on a particular timing to send your promotional emails. Just sending emails back to back may annoy customers. You can avoid such a situation by focusing on sending email to users on a particular day /time. Most customers don't even check their emails on weekends. So, sending offers on the weekend is a bad option.
You can try sending emails on weekdays between Tuesday to Thursday early morning or late night. Every people will check their messages after they get up in the morning. Like this, you can do your research and find out the best time to connect with customers.
3. The subject line should be attractive:
If you want to get a more open rate, concentrate on creating a compelling subject. This is something a user sees when they check the mail. If they have to open the mail the subject line should be good. Make it short and relevant one. Don't write subject line just to get more click baits.
A good subject line should have the following qualities:
Should create curiosity among the audience
Should highlight benefit
Should be professional and highly authoritative
4. Try to do new experiments with multimedia:
As you know there are many types of content you can be included in your email marketing campaigns. Use compelling images, GIFs, videos or any other related form of content while promoting your business using email marketing. Humans can process visual content faster than any other type of content.
So, you can do various experiments with multimedia content to get attention from the audience. But refrain from overdoing it as it may divert the attention of your audiences from your brand.
Also, if you embed videos within email content there is a chance to get it filtered as a spammy message. Adding screenshots is the best way to make an email clickable.
5. Include compelling CTAs:
You can include Call to Action within your email to engage your audience. It can boost your customer engagement. If you can include CTAs within your email, it is like inviting a customer to take an action. While adding CTAs you need to focus on improving the contrast of CTA and it should stand out from the rest of the content.
Don't confuse your audience by including multiple CTAs. Limit the number of CTAs and design your email accordingly. Make the CTAs look clickable and give it more preference for the rest of the content. In order to get more conversions, it is better to have engaging CTAs in your promotional email.
6. Add social proof:
It is very hard to make customers believe in a product right now. It is very hard to convince the audience without any proof. Social proofs are very useful to show who you really are to the customers who are new to your business. Include social proof of your business popularity in emails while using it for promotion. It has now become an important marketing technique. It can improve your professional credibility and build trust among the audience.
7. Choose the right platform:
There are so many email marketing platforms for marketers. It is very hard to find best of them as most of them are offerings similar features. To make sure about the quality of promotion, choose the best platforms and incorporate it with your email promotions. These tools can help you to automate some email marketing strategies and processes and thereby help you to save some time. You can automate email marketing using Mail Chimp, litmus, Target Hero, Miami, etc. You can find some best tools affordable for your marketing automation process.
8. Track result:
This is the last and final step of every marketing strategies. As we all know, marketing is a time taking process. It is very hard to see immediate results when it comes to product promotion. You need to analyze the result after implementing a new strategy to see how well it gets accepted among the users. A/B testing is a popular way you can try to test your email marketing process. Change the color, images, subject lines, CTA buttons, etc and see how it affects your marketing campaign.
By doing this, we will gradually help you to refine your email marketing process. It is not a one-time activity at all. You need to spend your time in analyzing the result of each of your strategies to make it work better. Compare the results of your campaign and see whether it reaches your business goal. If not try again with a new strategy that can help you to achieve your goals.
Conclusion:
Are you ready to try a hand on email marketing? Choose a good tool that can help you to automate your email marketing. Make your own strategies and see how it is going to help you to grow your business. Initially, it will take some time for you to get adjusted to the whole process. Once you started working on it you will get more clear ideas about best working strategies.
Customization will help you a lot to be successful in email marketing. Segment customers and send them a personalized email. It should also be optimized for multiple devices. Once you started your email marketing, you can see a good positive change in your sale. Know what your audience wants and try to give it to them through various campaigns and promotions. Email marketing strategies may vary from business to business. Which strategy do you think will work best for your business?