It was difficult or time-intensive to create WordPress websites on an initial basis. It was not possible to perform a few functionalities like creating numerous column layouts, changing footers and headers of theme used. Even every small change used to take longer than it must.
In such a scenario, page builders came to rescue helping developers to boost website performance as well as offer them with rich features.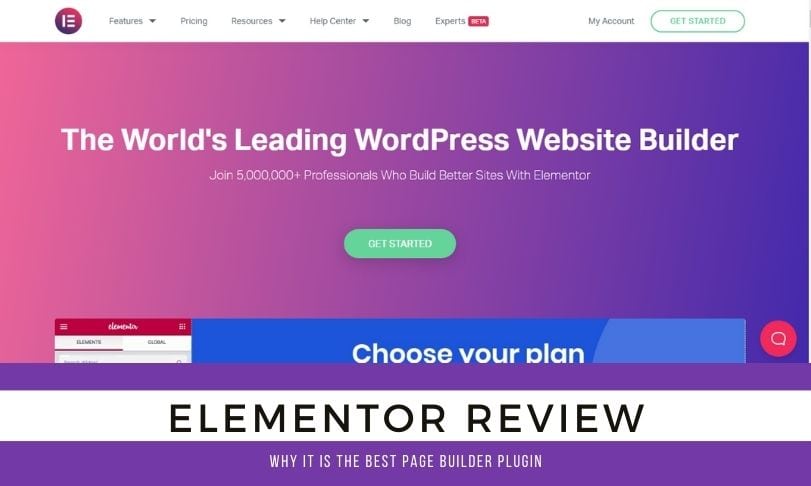 Though there are various Page builders available for use, but not all of them are equally efficient and robust like Elementor.
Elementor is by far one of the finest Page Builders I have used. It is packed with a range of rich features, which makes it the buzz of town.
If you want to use Elementor and want to know everything about it, here check my detailed review for the same.
Overview of Elementor:
I found Elementor as a powerful page builder for WordPress, which helps creating beautiful websites in very less time. Every time is use it, I enjoy because of great functionality and flexibility it offers.
It was created in 2016 by a group of professionals who were annoyed with the highly slow process of website designing using WordPress.
It is an excellent tool that has gained immense popularity in short time period having more than 2 million users across the world, including marketers, developers, businesses, and content writers. The main reason is that it is very convenient to use.
There is a paid and free version offered by Elementor. The free version offers access to numerous robust features to let you transform your site into a professional-looking platform.
Hence, if you are just beginning and don't want to put too much money grooming your website, the free version by Elementor is an ideal choice. However, if you are searching for advanced features that can efficiently cater to your website design requirements you must go for the Elementor's Pro version.
Installing Elementor:
The best part about Elementor is that it is very easy to install and never runs into technical problems when you are installing it. It is just easy to install like any other WordPress tool.
If you are using the Pro Version, it is very convenient to install. You have to download the ZIP file, upload it through the Add Plugins option and go away with it. The process is a lot simpler than the process offered by certain WordPress pge builders, such as upload through FTP.
Features of Elementor:
Now, let's look at the various features of Elementors.
1. Page Templates:
It is a great time saver that lets you design a particular kind of page in some clicks. If you wish to make a landing page fast for a technical brand, you can directly use the landing page template and load it into your site in just a couple of seconds.
It is possible to find templates by clicking on the icon mentioned at the page bottom. When you click on the Folder icon, a new window pops up and shows a list of page templates, which can be used.
The best part about Elementor's templates is that they are editable and you can perform numerous things for improving them. It is possible to set them to full-width or change the section background.
2. Page Builder at the Front-End:
Elementor is a front-end page builder, which is much better than the back-end builder. The good thing is that it lets you see the changes instantly that have been made.
For every small change made, such as changing the heading color, or changing font size, you see an update.
The front-end page builder like Elementor offers a real-time access to the changes made. Whether you have to incorporate a button or tweak it to get it right of shift from one column to multi-layout column, you can instantly check the changes made. This leads to efficient utilization of time.
Also, it is very convenient to tweak and add important CTA buttons. There are a few things or modules that can be added to the website such as images, headings, spacer, buttons, videos, and more. You only have to drag the module to your preferred location and edit the same.
3. Blocks:
These are preset sections such as page templates that can be loaded fast on the page. There are blocks for all kinds of sections such as call-to-actions, About us FAQs, testimonials, features, and others.
You can add blocks by clicking on the folder icon and click blocks if you are searching for a particular kind of block, such as click category and you must see a dropdown list of the categories available to you.
There, a novel window will appear where the template name can be changed. You have to enter the new name and click on the save option. When the template needs to be used, it can be accessed by clicking on the Folder icon and then on the option for My Templates.
4. Works Well With All WordPress Themes:
This is a highly flexible tool that works well with all WordPress themes. But there are a total of 4 themes, which are most compatible with Elementor. These themes are Generate Press, Astra, Page Builder Framework, and Ocean WP.
All these themes have paid and free versions.
5. In-Line Editing of Text:
It is possible to edit text with this tool in the preview itself. It adds an additional touch, which makes the overall experience faster and simpler. There are numerous customization options available for texts like changing the font family, allowing text shadows, changing the size and color, allowing drop cap, and others.
6. User Interface:
Recently, the team has introduced the Elementor Finder, which is a great solution for those who find it difficult to make changes to a section or page or have to exit dashboard manually. It not only consumes a lot of time, but is also very annoying. The Elementor Finder lets you shift between various settings, posts, pages, sections, or pop-ups. It offers a host of shortcuts that can be used to quickly move from one feature to the other.
7. Side Panel:
The format for side panel works well in the Elementor, particularly for visually appealing pages. It does not consume too much screen space, which is an essential aspect to consider.
Also, you can contract or expand the panel by dragging it. While panel contractions gives you a lot of space to work with, at the same time it does not intervene with the usability of your site. The best thing is the simplicity and speed to preview changes, which is a great thing.
8. Section Navigator:
The Section Navigator is another nice feature in Elementor. It is a moving window that lets you quickly jump between various sections of the layout. Also, you can right click on an element from the section navigator option to edit it.
9. Preview Changes:
When the layout is updated, it automatically updates within the Preview window. You don't have to manually refresh the additional browser tab for checking the changes to layout. As a result, it saves a lot of time particularly when you are in a hurry.
10. Columns and Layout Options:
For designing a layout, first you need to incorporate a new section from the content area. You need to click on the option for adding new section to use the layout option. It is of great use when you need to add multiple columns to one section. Simply, right click the button for column for an element and you easily get an additional column.
11. Forced Styling and Editing:
To understand this, I have to go a little deeper and I was glad to discover that it is very easy to edit elements. You can edit styles and text from sidebar or inline. With the two ways available, you don't have to leave the tab in order to make the necessary edits.
Other elements such as images can be manipulated easily from the sidebar, which makes perfect sense as you can view the changes easily.
Now, when styling is concerned I want to give Elementor an additional praise. It offers numerous options for text styling, which gives a great control over how these text elements works. From changing the font size to underline, italic, bold, and tweaking things such as line height and letter spacing, you can do it all with this tool. Even, you can establish a drop shadow of the text.
Also, there are various styling options like lighten, luminosity, darken, and more. The tool offers you a great level of control over the typography.
Also, there is the option for forced styling, which is based on after taking feedback from the users. You are warned that the theme settings can be hijacked, and hence, you can switch off the default color scheme of this tool. Hence, when a theme is activated which identifies Elementor, a popup will appear that lets you stop Elementor from overriding the settings of your theme.
12. Widgets / Elements:
There are a few basic elements or widgets offered within this tool, which are small building blocks that can be used to piece the content together. There is a vast library offered to choose from. You get access to these widgets only with the Pro Version of Elementor.
In addition to standard widgets from WordPress, Elementor supports third-party widgets as well. However, there is no table element available.
Moreover, you can install the Ultimate Addons for the plugin that integrates a table widget and numerous other features. Being an open source builder, it offers great value for money.
Widgets are of great help when you create an intricate layout for a novel website. It is highly useful to drop of pre-styled elements.
13. Shortcodes:
The shortcodes of Elementor work on the pages, whether they have been built using Elementor or not. Also, there is a dedicated widget for WordPress for them. It can be used to conveniently design call to actions in Elementor and then display it globally in the sidebar.
14. Global Widgets:
Elementor lets you design custom widgets from the content elements. You need to select the element and then save it as template. A pop up window will then appear the custom element created by you will be included to the library.
However, you cannot make changes to the global widget as it is locked. You can only temporarily unlock it by selecting the edit button. The changes made will be applied across all the pages.
15. Section Templates:
Section templates are container containing individual elements in a specific section to offer you complete control over the group. You can create groups and save them as these templates to avoid creating them again and again. Once that section is created, it can be add to any page in just a few clicks. The only thing is that these templates do not appear under the Global tab.
There are two ways sections can be imported, the add template button and templates widget.
Is the Elementor Pro Version Worth It?
You can switch to the paid Pro version of Elementor, if you want to avail of additional features.
Customization of every aspect of your theme.
Access to additional modules to gain ease.
Access to blocks and pro templates.
Change the access role.
Access to 24 x 7 support and pro updates.
Access to Pro integrations, which are helpful in marketing.
Pros of Elementor:
I liked most of the things about Elementor. It totally altered the way I design websites. It is very convenient to install, use, and learn.
It comes with a user-friendly editor and is easy to search for things. The drag-and-drop page building experience is very convenient and can design a stunning site.
Also, there is a help center available that offers you knowledge, tutorials, and FAQs list related to this tool. The support service is available for paid and free users.
Cons of Elementor:
The results for pro and free version are displayed together. There is no differentiation mentioned. Also, there are situations when the Elementor builder may not open up after upgrading.
Final Verdict:
Elementor is a robust WordPress page builder. It is efficient, feature-rich, and allows running wild with the imaginations without making it mandatory for you to have technical knowledge.