'Why my website's conversion rate is low?' Does this question keep pondering your mind?
Yes! Here know why!
It's frustrating and annoying!
If despite all efforts your website tends to deliver a low conversion rate, you definitely feel this way.
A website with low conversions not only means you are losing out profits, but also it can hamper the online credibility of your site. A low conversion rate is a huge harm to your online business. But there are ample numbers of ways to resolve the issue.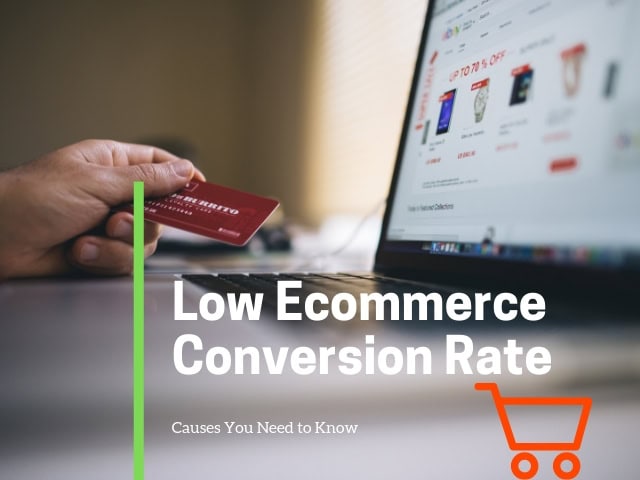 However, you cannot fix the problem unless you know the reason behind it. Hence, read this post to know the possible reasons for your website experiencing so low conversion rates.
Low Ecommerce Conversion Rate Reasons:
1. You are Not Clear on Your Targeted Customers:
The first major reason to why your website is not able to attract visitors is because you lack clarity about your target audience. If you are not targeting the correct people, then your site will experience a low conversion rate and a huge decline in online sales.
Hence, understand clearly what your customers want. Use a web analytics tool to check your audience's behavior. Social analytics can also be used to know what your customers are sharing. Use messaging apps and online helpdesk to explore customer requirements in detail. Also, check online reviews regularly.
All this will help you gather details about your audience segment, which you can use to serve accordingly.
2. Customers are Not Able to Understand Your Product:
If online visitors are unable to understand your product then they will not make a buying decision. For this reason, the conversion rate of your site can suffer a lot.
If product pages of your site are not able to deliver proper demonstrating of the product then they will experience a low conversion rate. Your shoppers must comprehend well the benefits of a product and how it will solve their problem.
It is because a product is valuable only if it can address the issues and problems of the users.
3. Your Site's First Appearance is Not Good:
Large numbers of visitors prefer visiting and buying from websites that impress them in the first appearance. If your website's landing page is not impressive then it will fail to convert visitors. This is true for sites with high traffic but low or zero conversions.
Websites with high bounce rates first have to rectify their design issues. It is essential to create a design that looks good and offers great usability so that it is easier for people to get important information and perform desired actions.
You can use web analytics software to check the bounce rate, user flow, and conversion rate metric of your website.
4. Check for Website's Navigation and Functionality:
Some navigation issues can result in low ecommerce conversion rate as well. These can be:
Poor Categorizing and Sorting:
If you are presenting your customers with too many options then this can confuse your customers. Offer your customers with easy filtration options so that they can easily meet their choices.
Poor Search:
Additionally, it may become difficult for users to find out the most popular items on the website. This too can result in low conversions.
Inefficient Search:
Finally, if your user's search results are not matching to your site then they will avoid purchasing from your website.
5. Your Site Lacks Compelling Content:
According to the experts, ecommerce websites can increase their conversions by offering visitors with compelling, informative, well-informed, error-free, and descriptive content of their products. Most importantly, the content must be persuasive.
Persuasion means that the content of your website must have,
Authority
Reciprocity
Consistency
Commitment
Liking
Social proof
Your Website Is Not Optimized:
Lower conversion rates can also be subject to not optimization of your website for search engines. SEO is related to optimizing the web pages, images, content, and every aspect of your website so that people are able to find it using certain specific keywords.
It is important to use 'related' keywords because Google displays a website only when it has content related to the keywords searched by the audience. If your webpages are unable to show up then very fewer people will click on it.
Further, if they are not able to find on your site what they expect then this will lead to lower conversions. Hence, it is necessary to practice keyword research for your specific niche and ensure that your webpages meet the needs of searchers.
You Are Not Targeting Mobile Users:
With every passing day, the number of mobile users is increasing at a fast pace. Even, a large number of sales are made through mobiles. To improve the conversions of your website, it is essential to target mobile customers.
In addition to desktop versions, you need to boost mobile conversions. If necessary, then create a cross-device marketing plan and optimize your e-commerce site for mobiles to attract as well as retain customers.
A great way to do it is by using mobile options on your website to disclose special offers or products available for sale. This way, you will be able to target mobile customers and increase your revenue.
8. You Lack Trust from Shoppers:
Without earning your shopper's trust, you cannot boost your website's sales. Hence, it is necessary to earn your visitor's trust. This can be done through the following measures:
Avoid practicing spammy marketing
Confirm your authentication by mentioning your contact details and address along with photos of your team on the website
Using social credibilities like online reviews and feedbacks
Use trusted sources so that online buyers are convinced that their credit card information will remain secure.
9. Product Page is Full of Distractions:
A webpage full of distractions can create lots of confusions among buyers. Such distractions can be related to removing navigation, including unnecessary elements, or too much display of ads.
If all such aspects are stopping customers from making an online purchase then rectifying them is extremely important. You can use analytics to identify such issues in your site's pages. Tools like Google Analytics can let you know the loopholes in your webpages.
10. Unclear Call to Action:
Call to action or CTA is important to boost conversions. A site with unclear CTA that is written improperly or not visible can be a reason for missing out conversions.
Your website must have a properly defined and single call to action so that visitors don't have any doubt regarding it.
A good CTA is not something that can be copied. You need to create your own color, design, format, and font so that it is visible on your website and people can clearly view it. If people are able to understand your CTA then it would be convenient for them to take desired actions.
11. You Lack Efficient Retargeting Strategy:
Retargeting or remarketing is important for the e-commerce conversion procedure. This is one of the best ways to grab the attention of visitors who are visiting your website and leaving without completing the buying process. It is essential because most of the people would not be ready to buy products from your website on the very first visit.
For example, you may sometimes see a site with an ad in the sidebar. Clicking on this ad can take you to another platform. This is called a remarketing strategy, which is extremely effective in enhancing conversions and engagement.
Besides this, the retargeting strategy can help you avail other benefits like:
Announcing special offers to people who have been visiting your website before.
Display appropriate upsells to individuals browsing the site.
Personalizing popups for increasing sales.
Use the retargeting strategy to display the correct offer in front of the people at the right time.
12. Signup Form is Complex or Long:
In most of the cases, you might have to ask for multiple pieces of information. For example, you may want this data to qualify your leads for email marketing or want to identify and suggest in accordance with the budget of the customer.
No matter what the reason is, asking too much information is something not most of the customers like. So, if it is not required then avoid practicing it. It is best if your signup form asks only relevant and most important information.
People these days are very busy and they don't have much time to fill all those long and complex forms. Try to ask only the email address. In addition to this, make sure you are clear about each option. If some parts are really important from your end then mark them with a star.
13. There is No Exit Popup:
It's true that exit pop-ups can create a bad rap. But this does not imply that having them on your website always mean that there is a flaw. Only thing is that you have to use it the correct way.
Think of using an exit pop as your site's landing page. Just create it with one purpose in mind and this is to convert users. Hence, design a proper headline, body copy, CTA, an image in accordance with the user's preferences.
You can even incorporate appealing visuals and unique content in your exit popup.
14. Your Website Have Complex Checkout Process:
An easy checkout process can increase conversions to a high extent. Declutter the undesirable checkout pages.
Further, let buyers know where they are positioned in the checkout process. Keep reminding them what they are purchasing and incorporate shipping details and trust seals so that they know exactly the cost they have to pay.
You Don't Offer Free Shipping Services:
Paid shipping services can kill your conversions to a great extent. For this reason, most of the e-commerce entities offer shipping services absolutely free. According to the experts, a large number of people abandon shopping carts as it involves high cost.
Make sure you offer shipping services for free. If you are already offering free of cost shipping services then put it on every webpage of your site.
16. Poor Product Images:
Images are extremely important for eCommerce conversions. You can attract and inform customers better with better product images.
Avoid including low-quality and small images. Rather, include interesting and clear photos of your products.
17. No Helpdesk or Live Support Functionality:
Most of the prospective customers can have queries or questions to ask. If there is no instant live chat support available to help him or her then this will increase your chances of losing the prospective customer. In this situation, he will prefer shifting to any other portal to make a purchase.
In addition to your contact information, you must include a live chat option on every page of your website. Also, if you already have one then make sure it is user-friendly and genuine.
18. You are Practicing an Incorrect Pricing Strategy:
Incorrect or improper pricing strategy can have a low conversion rate. Take experts help or plan a psychology based pricing strategy to entertain customers.
Use small fonts, product bundling, ending the price with the number 9, and including only a few syllables in the price is the best way to go.
19. You Have Improperly Working Tracking Code:
The tracking code of your analytics is another reason for the drop in conversion rate. This happens when your conversion rate has not been installed accurately.
Therefore, check your code and update it on a regular basis.
20. You Don't Send Abandonment Emails:
Sending abandonment emails can be a great way to persuade buyers to buy from your website. Send such emails within a few hours of your buyers leaving the page.
You can send further emails in the next two days as this may influence the buyer's decision.
21. You are Not Testing Your Website:
You can make improvements and increase conversions only by regularly testing your site. With continuous testing, you can perform in-depth optimization and avail long-term conversions.
Test your website's product pages, landing pages, CTAs, and offers to find which strategy works best for your visitors.
So, this is our guide on major reasons that may affect the conversion rate of your eCommerce website. Just identify similar leaks on your site and fix them all and see how your website conversions boost.