E-books are becoming more and more popular these days and have definitely taken over traditional paperbacks. As far as E-Book marketing and promotions are concerned, it's all about discoverability. The same holds good for self-published marketing as well. The term discoverability is conserved with making the consumers aware of the existence of such a book and compelling them persuasively to purchase it.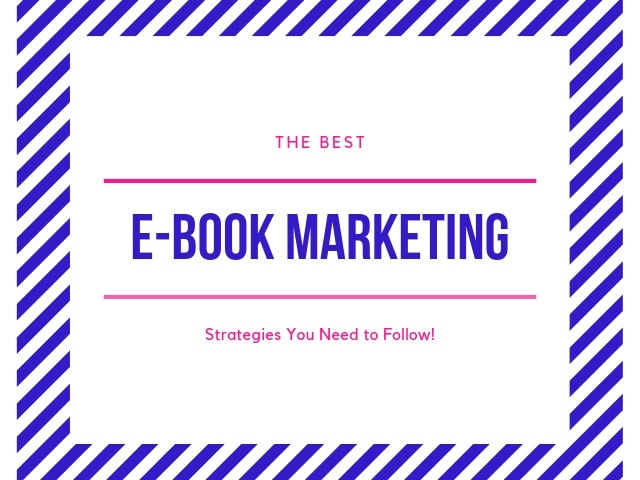 When we consider the e-book discovery channels, most of the book buyers do so by choice. A number of innovative promotional websites such as kindle and Amazon empower authors of E-Books to spread the word about it. Nevertheless, for both E-Book marketing and traditional book publicity and promotion, the key remains the same, 'discoverability'.
If the author is influential enough to persuade an influencer to review the E-Book and post the same on sites, it can kick start the marketing funnel and might turn out as thousands of sales as well. In such an instance, even the negative review from the influencer can turn on the sales chain. Similarly, a simple article about the book in a leading magazine or newspaper, an interview on the radio and Television can drive a number of E-Book readers to visit the sites for online bookselling.
Importance of E-Book Marketing:
Marketers pour a lot of their resources, budgets, and efforts into developing an E-Book and all their efforts go in vain if the book has not been optimally promoted. The E-Book can be the next game changer but could be sitting somewhere in vain, if it is not marketed. Without promotion no one will click, read or download the book, in the worst case, no one will even see the book.
Promoting an E-Book is not just creating a landing page for the book but sending tweets on its links or emailing the link of the book to the customers. They are old, traditional and staple moves but are useful.
E-Book promotions should ideally touch all stages of the sales funnel to be successful and such a success would demand involvement from multiple teams within the organization. For an E-Book promotion to generate sales, a planned and a collaborative approach is demanded, so that it falls in the vision of the best prospects.
Scope of E-Book promotions:
E-Books when properly written and marketed can bring in a huge volume of profit which even the developers won't believe. The enhancement in E-Book sales is a profitable trend that cannot be ignored and which even the traditional publishers are racing hard to adapt. E-Book sales from the top publishers can rise by over 4,400% between the years 2008 to 2012 which is a whopping $68 million to about $3 billion respectively. This amount equals to about more than 25% of all the book sales.
Types and Qualities of E-Books:
E-Books can be developed in a number of formats and types. They can be either free or paid. In fact, in recent days, E-Books have become the new tactics for bloggers to target and capture email addresses. The page volume of E-Books can be between 10 and 15 pages and sometimes go more than 50 as well.
There are at present two different formats for E-Book Publications. The portable document format or the PDF is the most common of all E-Book file types and there are a number of versions of the same from Amazon. Amazon holds more than 80% of the world's E-Book market. The second format is the MOBI or the Mobipocket format and Epub from Apple.
The variety of file types across the E-Book market spectrum is beyond our imagination. There are certain qualities of E-Books that makes them well suited for their publicity and marketing. And these qualities are discussed here,
E-book buyers tend to buy a large volume of books at a higher cost and they prefer online books over traditional print books.
Most of the E-Book readers are digitally savvy and they are likely to recommend their books to others through digital platforms such as Twitter, blogs, Pinterest, etc.
E-Books devices are expanding and the technology, as well as the E-Book readers, are constantly evolving and expanding.
Fiction remains the most common genre of all the E-Books purchased. Business, cooking, and coffee table books are also gaining tremendous popularity.
A number of authors irrespective of their genres are looking into kindle pricing strategies as their starting point of book promotion.
Advantages of Creating an E-Book:
One of the biggest advantages of E-Books is that they are easy to create and requires simple steps and less time.
They are an eco-friendly option as traditional paperbacks demand to cut of trees for paper, in short E-Books decrease environmental impacts.
All the information of creating, developing and promoting an E-Book are available without leaving one's desk. Even last minute research on the topic, searching for phrases or keywords are all available within a few clicks.
All E-Books can be compactly arranged in a single device. But with traditional paper books and materials, users have to carry loads of books for reference. E-Books translate as carrying a library in the backpack, a library of different genres and from different authors.
E-Books cost lower than paperbacks. They have no shipping and handling costs and their prices are typically 50-60% lower than their print counterparts.
E-Books are definitely flexible and yield to the reading needs of those with vision problems as well. It is possible to enlarge the fonts for reading. Reading is made easier and pleasurable for the eyes as well.
E-Books can incorporate a number of multi-media elements which is not possible with traditional books. It is possible to include audios and videos with the text to make reading a completely enjoyable experience.
Finally, it is possible to mark important quotes, favorite passages and save pages and text during and after one reads the books, whereas the scope of traditional bookmarkers is limited.
Writing an E-Book has a variety of benefits, it helps in positioning a brand and the writer as an expert thought leader.
It helps in making good money, the fun of crafting the thoughts in a structured format can actually be monetarily rewarding.
Some useful tips on Creating an E-Book:
The following are some useful tips in creating an E-Book that the customers and the prospective leaders would love.
Before creating the piece, it is important to collect all relevant material from customers and target audience. The content should answer all these questions.
Writers have to collect customer personas and understand them so as to get inside the actual minds of the readers.
Before writing the book, the writer has to create an outline. An outline helps in rendering an organized structure of the book.
All the blog posts should be repurposed into a book.
Customer testimonials and stories can be expanded into case studies.
Many books are also a mere compilation of interviews. Conducting and recording interviews can also be a good start for the book.
Collaborate with a friend or an influential who can contribute towards creating the book.
Put an excellent title for the book. Readers should naturally be attracted towards the book with its title.
An appealing cover is mandatory and can be designed by outsourcing it to freelancing sites.
E-Book Marketing Ideas:
1. Create an exceptional landing page:
Landing pages not just make a copy popular, that are necessary for an E-Book. Having an attractive and carefully crafted landing page will build the hype and attracts popularity for the book. Allow people to sign in for the book when it is been released for the first time and the user will have an automatic email list for all further email correspondence and E-book marketing opportunities.
2. Invite readers and visitors to subscribe for E-Book updates:
Most of the E-Book authors admit that their email list is their best sales funnel. Most of them admit that by inviting people to sign up with their book through opt-in forms and branded pop-ups, they are able to build an effective subscribers list. It is possible to gain considerable downloads for the E-Book as well through this subscribers list.
3. Include a number of other formats for the E-Book:
This is one of the most useful tips to make the E-Book popular and also to gain a good quantum of profit from the E-Book. It is mandatory to have a repacking strategy while writing the book and this is highly recommended by the industry-leading authors. It is not required to repack all of the content but a major portion of them such as
Book takeaways by creating a slide share upload with the repeated quotes from the book
Repacking some of the visuals from the book and creating an infographic summary
Repacking the highlighted stats

Partially repacking the book through the flip snack. This will enable the book to be viewed on a desktop or on iPad. These flipbooks can get embedded into the blog page to attract more sign-ups.
4. Giving away free samples of the book:
Giving away some parts of the book for free also enhances its popularity tremendously. Free stuff is always welcomed by everyone. People generally talk a lot about the free stuff they gain and such word of mouth popularity is what is required for promoting the book. The most influential people who are responsible for such word of mouth popularity are,
Influencers with a large volume of followers, and who always want something new to recommend and talk about.
Free chapters can be used as an incentive for people to subscribe with the mailing list.
Some of the content such as the introduction chapters can be used as content for LinkedIn pages social media forums.
The free chapter can be used as a book review for those who left the cart of the website without buying the book.
5. Creating the marketing calendar:
Creating a marketing calendar and releasing the books on these specified days have seen a tremendous improvement in the sales of E-Books in the past. Most of the leading publishers tend to publish the book around holidays, ensuring that their readers have enough time to browse for the book and have time to read them. Releasing on other days definitely affects the popularity of the book.
6. Taking advantage of social Ads:
Social networks have excellent scope for advertising. The strongest platform for promoting an E-Book is FacE-Book and Twitter. These platforms have the best scope for extended visibility per dollar spend. They render a visual form of the ad right on their feeds and thus serve as an excellent place to publicize the book.
The publishers also don't have to spend a lot on these platforms for marketing and the budget constraints are chosen by them. For those authors who run Facebook ads constantly, there is a scope for them to monitor their campaigns through its dashboard too. Thus, the step is not only rewarding but is convenient as well. It is also possible to create a tab on the FacE-Book page that is dedicated completely for the E-Book as well with the backlink that is launching to the website.
7. Connect with Amazon for the book release:
Many publishers take advantage of Amazon as the competition is fierce. For those publishing the books for ad revenue and for exposure, they can publish on Amazon for free and end up landing in a number of free mailing lists for the E-Book they apply for. Such an initiative will also invite hundreds and thousands of potential readers for the book.
7. Connective with social media influencers:
There are a number of forms for influencer marketing. Connecting with social media and starting conversations with influencers in one's industry is the most relevant way to spread information about one's publications. They can be offered a free copy before a week the book is actually released.
In return, the influencer can be asked for an honest review of the book or the blurb of it. This is the best way to establish a lasting relationship with the influencers so as to be mutually beneficial. There is an excellent promotion for the book, they offer better visibility for the book, spread the word with their group and expand the sales volume of the book.
Final Words:
Penning the thoughts is one of the most creative ways ever known, and this traditional method has been transformed into typing one's thoughts. E-Books have taken over paperbacks and have an overwhelming response from the audience end as well. We hope our E-Book marketing ways will be beneficial for all other potential authors out there.