All bloggers need to know the definition of these two terms if they want to create a website.
Before thinking about building a new website, a beginner should have a clear idea of each term related to it. Web hosting and domain name are integral parts of a website.
You can easily differentiate both terms if you get a proper idea about both terms.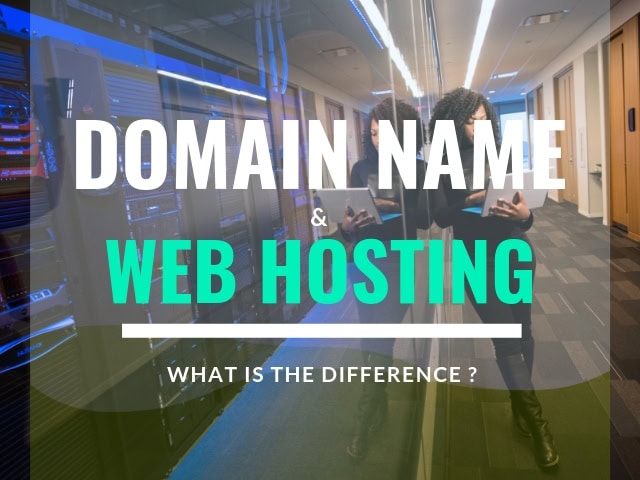 One is like the address of a site and the other is like its storage space. Without both a site cannot exist. As these are important terms related to a site, everyone should know about it.
This is a detailed guide that lets you understand the difference between a domain name and web hosting.
First, we can discuss the definition of each term
What is Domain name?
The domain name represents the address of a site.
When you create a site, there should be some specific address that can help to identify your site.
When it comes to internet system, identify each other using an IP address. But for humans, it is not possible.
The IP address will be a number related to a site and it is difficult to remember for humans. To make their task easy, domain name exists.
If you want to visit a site, you need to enter its domain address on the search option. This will lead you to that particular site.
What is Web hosting?
Web hosting means storing all your website file safely.
A domain name is the address of a site and web hosting means a place where all your website files are stored. Every website needs a web hosting provider to make their service better.
When you type a website address to search, this translates into an IP address of your web hosting company.
This IP address help to access all your site files from a web hosting service provider and shows it to users.
Many web hosting providers are there to specialize in this area. Various plans are also available and you can choose your service according to your budget and site size.
Difference Between Domain Name and Web Hosting:
We already discussed the definition of both terms above. You must have understood the main difference now.
A domain name is how you address a website and web hosting is a place where you keep every file of a site.
To make the concept clear we can assume web hosting as a house and domain name as its address. The furniture in that house represents all data files. So, both terms work together to create a great website.
For a website to function well, you need to choose an appropriate domain name as well as a web hosting service provider to make it complete
How Domain name work?
A domain name is the identity of a site.
For example, Alexa.com, Google.com, etc., are some domain names. They are for humans to identify a site.
When a user enters a domain name, it will decode into an IP address related to it. We can say it as a guide for humans to find a way to contents of a site.
There are two parts of a website domain name. When you take Google.com as an example we can take the first part and call it a Second level domain(SLD).
When you register your domain, you can choose this part as you wish. You can choose a name using any alphanumeric characters without space in between them.
The second part of the domain name like .com, .in, .org, .edu, etc., are called Top-level domain (TLD). There are a particular set of TLDs from which you can choose the one you want.
What is Domain registration?
Domain registration is the process of legally reserving internet domain names.
There are sites that manage the reservation of domain names. They are called Domain name registrar.
When you want to purchase a domain name, you need to connect with a domain name registrar. Domain name registrars should be accredited by Internet corporation for assigned names and numbers (ICANN).
How to get a domain name?
You can buy a domain name from domain registrars. These are the steps you can follow
First, you need to find some good domain names for your site and check its availability. This is very important because it can cause further problems in the future if the same domain name exists already. So, check the domain name availability.
Now select the name you want and pay for it. Usually, a domain name may cost from $10 to $35. You can pay the amount and file the application for domain name registration
If you already have a web hosting provider you can get primary and secondary name servers from them.
If you don't have a hosting provider then allow the registrar to park your domain name at a temporary site.
If there is not a hosting provider, it is always safe to book your domain name in advance to save it from getting lost. You can use it from the temporary parking site when you decide with a web hosting provider.
Some Popular Domain Registrars:
There are a lot of sites that specialize in domain registering service.
Here I am enlisting some top domain name providers for you. Now, you don't want to look all over the internet for best domain registering service.
GoDaddy:
They are known as the world's number 1 registrars with more than 17.5 million happy customers. The site offers many services like domain selling, web hosting, SSL security, etc.
Find your domain name from all available 100s of domain names and register it. The site offers very good service and you can choose the domain name according to your budget.
Namecheap:
This is another domain name registrar that offers a wide variety of names for you to choose from. Just find your domain name by paying for it and start your site immediately.
Domain name prices will vary according to its demand and you can use your PayPal account or credit card to pay for it.
Bluehost:
This is one of the best domain name registrars and they offer web hosting service also.
If you want the same source to handle both web hosting and domain purchase Bluehost is perfect for you.
If you want to save some cash then purchase its web hosting and they will offer free domain names for you. Bluehost also provides 24×7 customer service
That' s all about domain name purchase and registration. While choosing a domain registrar, make sure to pick one genuine source.
After purchasing a domain name, you need to renew the name every year by paying a particular amount. Don't let it expire because once it expired, you cannot get back the name easily.
How to choose Web hosting service
Web hosting service providers stores your website file on a location. There are many types of web hosting available. They are shared, virtual private server, cloud hosting, shared hosting, etc.
The purpose of all type of services is to store files of your site. But they vary in its storage capacity, technical requirement, server speed, etc.
Shared hosting:
An entry level site with reasonable traffic uses this type of hosting because of its low cost. Here the server shares hosting for many sites. All sites share a common server and it will affect the speed and performance.
The main advantage of this service is its low cost. It cannot handle high traffic and loading speed will also be lower.
Virtual private server hosting:
Here each website will be redirected to a virtual server and each virtual server is the part of a single server.
Users can access their own server space and secure their hosting. But the performance will still be lowered as this is the part of a shared space with other users.
Dedicated server hosting:
This type of web hosting offers full freedom on the servers you hire to host your site. You can get an entire server to host your site and it's exclusively to store your site.
Even though this is very good to improve your site performance you need to pay a higher amount to get this feature.
Cloud hosting:
Here you will get a group of servers to host a website. They have the ability to control traffic spikes by working multiple systems to handle it.
But this is a costly hosting service and if you are an established website owner, you can have this to ensure maximum performance to your site.
You can purchase web hosting service from any hosting providers. There are many sites that offer this service. Before choosing a web hosting service you need to
Find out your website needs. There are many factors you need to consider when you choose a hosting provider. When you want a hosting provider, it should support your site well with the good loading speed and better storage capability.
There are sites that give you options to build a website and host your site on it. You need to choose whether you want to save some money by choosing the same domain name, hosting and website provider. If not choose a distinct platform for each thing
Research well about various services each of the sites provide. Choose one with the best features because it is the matter of your site performance.
Finally, choose one and follow procedures to finalize the process of web hosting. There will be a monthly fee you need to pay for hosting your site. Pay the amount and get your server for hosting your site.
Some important web hosting service providers:
There are many web hosting service providers available. You can choose one according to your requirements
Hostgator:
If you are looking for an economical hosting service provider Hostgator is the best.
More than 9 million users are using this platform for hosting their website.
You will get a free domain name by purchasing their hosting service. They offer 24×7 customer support and improve the overall efficiency of your website.
InMotion Hosting:
This is a very good service provider you can choose to host your site. They are serving customers for the last 15 years. It has an excellent overall performance at a low cost.
The site also offers many other features for its users. This is a WordPress hosting provider, optimized for active bloggers and offers you a great way to grow your site.
They offer all web hosting services and you can pay a monthly fee to use this platform.
1&1:
This is another web hosting service provider and is the biggest performer in Europe.
It offers all type of web hosting with 24×7 customer support. The piece is very economical and they offer good performance for your website also.
Choose one of the best hosting providers and add your domain name to it. Make sure that you must check the server speed and its performance.
If you chose a low performing server, then that may affect your site reputation.
Newcomers have to be careful while picking a server because they must be trustworthy. You can use shared servers to save some money. Advanced bloggers should use faster and stable servers to host your site.
Final words:
Now, you may have got an idea of the whole process of creating a site. This guide can help newcomers to know all the steps to know before creating a site.
Get a reliable domain name and web hosting provider can help you to create a quality site. Google considers many factors while ranking a site.
The domain name and web host providers are indirect factors that affect your site ranking. Choose a name that users can remember easily and select an extension to it. That is the whole process of creating a site.
There are many tools available to create a website. Some of them are free and some others are paid ones.
You can search on the internet and get one to make your site building easy. After completing the primary steps properly, you can think about the rest of the factors.
Get ready to build your new site by following all the steps properly. To ensure you the best service, do thorough research – before finding a proper name and hosting provider.