In this competitive world, it is important to be the best to succeed.
If you are into blogging and want to create a popular site then choosing the right domain name is important. Choosing a good domain is not an easy task.
When choosing a domain, be sure to choose a unique domain name. Also, it is important to check whether anyone else is using the same domain.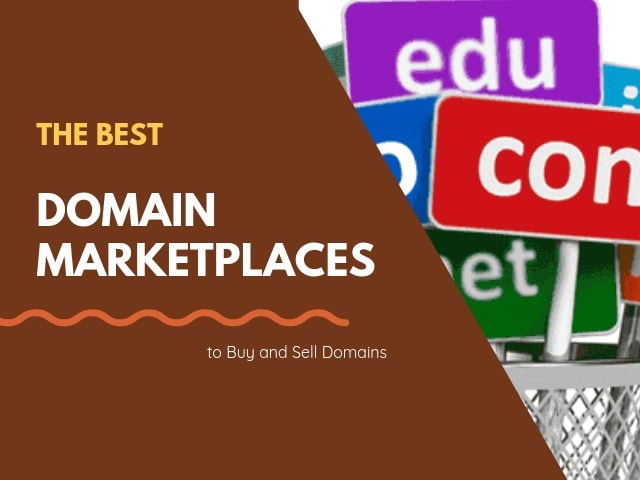 Now people are searching for many ways to make money online. You can buy and sell domains. It is a very good business and you can earn a good income from this.
There are many sites on the internet through which you can buy or sell a domain. But you have to do good research before doing all of them.
Sometimes, you choose a domain name and after using it for a few years you want to change the domain name.
Don't just throw that name away to move to a new domain.
There are sites through which you can sell your domain name and find a new one. You can post your domain name which you want to sell on any of that site.
There are many marketplaces which are genuine. They will help you to sell your old domain and get a new one instead. You can find a new domain from there itself.
Are you ready to sell your old name and replace it with a new one?
If yes, then you will get all data related to selling your domain here.
From this article, you will learn popular sites that you can choose to sell your domain. Also, some tips which you can use while selling a domain.
You can adopt them if you want a good income out of it. There are many free sites also where you can sell your domain. But be careful with the payment procedure and all. We cannot trust all of them.
I am going to explain about some top marketplace where you can sell your registered domain or buy a brand premium domain. Check out them to know more details.
Best Domain MarketPlaces to Buy and Sell Domain Names:
This is a popular domain where you can sell your domain and buy a new one.
It is one of the world's premier domain marketplace reseller. It has more than 100 resellers.
More than 75 million domain searches are going on this site every month. This is a platform where you can make your selling process fast.
You can do it easily just by creating an account. Create a seller profile on this site and add your domain which is on sale.
Don't forget to add the price you expect from that domain. Otherwise, it will take more time to sell.
When you set a buy now price, then your domain will be eligible to be a fast transfer premium network.
If you have not added a price, then your domain will be under standard network which only has 32 reseller site and only 25 million people can view your ad.
They have 24×7 customer support and keeps up a commission of 20%. Try this to get a huge profit from your domain sale.
Godaddy is a premier domain marketplace that works for reselling and getting a new domain.
It has more than 17 million customers worldwide and they manage more than 73 million domain names. You can join the GoDaddy auction site to sell your domain.
This site charges a commission of 30% to sell your domain. They carry online auction with extreme care.
A third party site holds your domain and payment, until the end of the process. This ensures maximum safety with your domain selling.
You need to pay $4.49 annually to get an auction membership. Even though you spend some money it will give you a huge profit.
If you want to buy a domain, you will get it here also. They give you all the details about high-value domains that you can't find anywhere else.
Bido is one of the most popular marketplaces with many potential buyers. It offers you a wide variety of choice.
In this site domain, selling takes place through auction listings and is affected by customer choice. Bido also offers you good reselling value with a minimum commission of 8% from both sides.
Bido is more than a reselling platform. Other than the money it also helps to give your domain public support. So it's up to clients that decide to resell value of a particular domain.
A seller will get all information at every stage of selling. Also, the site will ensure that you get maximum value for your domain.
This is a well- known domain auction marketplace. If you have a domain name to sell, this domain marketplace offers many options with audience worldwide. You can choose a method from any of the below
Showcase auction:
In this section, domains with high performance are sold and bought
Live auction Events:
This section handles high-value domains only. It is one of the premier auction sections and will help to generate attention.
Domain Brokerage:
Here are many market experts to guide you to a high-value domain.
You can use this platform easily. Create your account on the site and follow upcoming events and add your domain. Now click on 'submit domain now'.
Using Snapname, you can buy or sell any uncommon domain name. They charge a commission of 20%.
This is a very good platform to facilitate your business by connecting with potential sellers and buyers.
Flippa is a well- known site you can use, for selling domains. No matter what your experience is, this site offers you a user -friendly platform to market your domain.
This site was established in 2009 and has been helped more than 40,000 entrepreneurs to sell their domains.
Also, they offer 24×7 customer service and will be with you every step of the way. They ensure complete protection to your business transfer.
It is easy to do business using Flippa account. You have to go through a business validation process before selling a domain.
It is trouble-free just sign-up to Flippa using a username, email address, and password. You will get a business validation link and validate it.
Now, Flippa will show you the recently sold folder related to your business. This helps you to compare their selling prices with yours. You can add your domain now.
Igloo is a suitable market place where you can sell or buy a domain. This is designed to interact with you on all stages of your transaction.
Igloo works on a small commission of 10%. Other than domain brokering you can get help from their consultants.
It also offers many custom templates that make it easier to negotiate online. The site also offers 24×7 customer support and sales assistance and customer service.
igloo.com offers a response to all your queries related to your domain transfer and guaranty maximum price.
Clients can decide their domain names. Its global site which handles more 650 international partners.
You can choose the position of your domain on our site with a home page or showcase category. If you place your domain at a high level, it is easy to get noticed.
This site helps to create an individual portfolio for each domain. It is one of the most reputable domain transfer services also. There are many types of auction services here.
For marketplace auction, you don't need to pay an initial fee. In a direct auction you can create your own auction domain and for that, you have to pay $59.
If you want to participate in auction domains pay $10. Also, you can use their broker service, to get any pieces of advice to improve your domain sale business.
Here are some sites through which you can sell your domain. All of them are some reputable sites, you can use.
Always try to sell it at an affordable price. If you offer a high prize then it will take time to sell your domain.
If you are selling a high-value domain then you will get the prize you demand. Before selling your domain you can follow some tips that ensure your maximum gain.
How to Sell your Domain Name:
a. Display 'for sale' on your domain home:
This is an essential thing you need to do before selling a domain. Let others know that you are going to sell this domain and soon you will replace your domain name.
If any of the users are interested in your domain name, they will contact you.
Also, include your contact details so that it becomes easy for a prospective buyer to contact you. You can add your mail id, number, chat details or anything else.
You will get built in for sale messages from sites like 'Domain Sponsor' and 'Smart Name'.
b. Add a price tag for your domain:
A domain without a price tag will be difficult to sell. So first you need to fix a price for your domain and include that while you post it for sale.
If somebody sees your offer and if that is affordable, they will instantly buy it. So, this helps to save your time and hard work.
If you haven't added price then you need to make time to communicate with your potential buyer. They will negotiate with you and finally reach a final price.
So don't waste your valuable time like this. Put a price tag on the domain name.
c. Put realistic price:
Don't put a price that is too high. You may find difficulty in selling your domain.
Don't expect to earn too much from selling. If you genuinely want to sell, then do thorough research on various auction sites.
There you can compare other domain prices and you will get an idea about the current trend.
Before starting this, you need to research the marketing trends and find out what you have to do, to sell your domain.
So, decide an affordable price for your domain and post it on various auction sites. If somebody got interested in your domain name, they will buy it.
d. Attractive price tags work better:
When you decide about the price, be creative. You might have seen price tags at $399,$ 999 etc.
They are part of a proven strategy. According to researches, an attractive price tag can create an impact on potential buyers.
e. Respond well to any purchase related inquiry:
This is very important when it comes to any business. If the seller doesn't respond to queries related to a product then nobody will take interest to buy it.
When it comes to selling a domain, first you need to give your contact details. If anybody wants to buy it, they will ask you questions related to your domain.
You need to handle it professionally. Try to respond to any queries related to your domain within 24 hours. If not, the buyer will find another domain for them. In this fast world, nobody wants to wait for too much to get anything. So, act wisely.
Follow all these properly if you want to sell a domain. It is a very profitable business when you are dealing with it professionally.
Marketing trends are changing day by day. So, it is better to research well, about the market and its current influence to get an idea. It will help you when you start to sell a domain.
Final thoughts:
I have given all the sites that you can approach to sell your domains. They are 100% genuine and also popular.
You have to give a small commission to those sites but they assure maximum value to your domain. If you are not familiar with selling domains you can get help from auction brokers from those sites. Their job is to give you proper advice to sell your domain.
So, Hurry up! Get maximum value for your domain.