Are you thinking to purchase an expired or old domain, which might also be linked to numerous high-quality backlinks?
Well, this is a great idea. But how can you find such a domain that at the same time is relevant to your niche?
This is possible by using a premium quality tool, Domain Hunter Gatherer, which lets you identify domains, which are old or expired. It easily finds such domains and lets you purchase them so that you retain multiple quality backlinks and a lot of SEO power associated with it.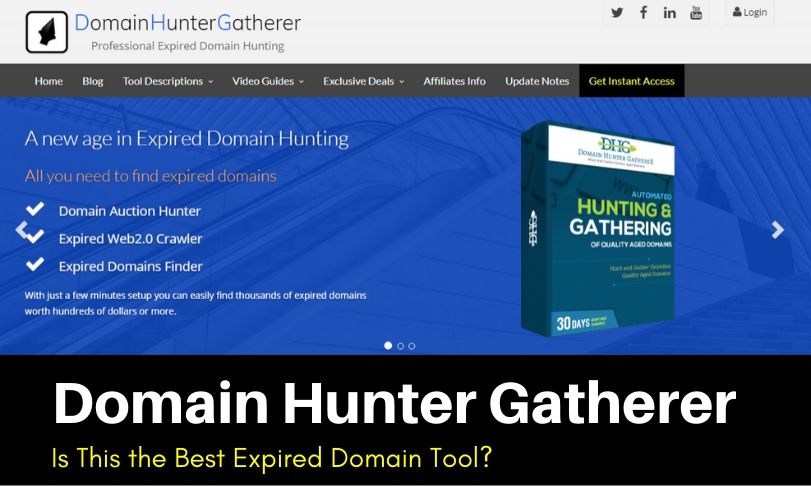 Having such a domain can bring an instant lead to your search traffic and rankings.
But not all domains, which expired, are equal. You must consider the backlinks quality, domain age, and whether they are used in the spam network or not.
It can be challenging and time-intensive to identify expired domains with decent search traffic and quality. But using Domain Hunter Gatherer can simplify things and make it a lot easier.
What Exactly is Domain Hunter Gatherer?
DHG or Domain Hunter Gatherer is a tool for desktop, which lets you perform searches in real-time. Using this tool you can gain access to an unlimited number of high-quality domains, which are expired but of great value.
This single tool assesses domains on various metrics from SEO checkers and backlinks such as Moz and Majestic. It is very useful in assessing the search-related quality of a website. It takes a lot of hard work to purchase expired domains and at the same time assisting you to avoid the common pitfalls.
What are Drop Domains and Expired Domains?
Almost everyone knows what a domain means. But do you know what does drop domains and expired domains mean?
There are various domains introduced and brought on a daily basis across the world. Most of such domains are actively used and performing well. But there are others, which are not used and left dormant.
There is an expiry date attached to every domain. Most of them are not instantly removed and hence are considered expired.
Any domain, which is not renewed by the owner but is categorized for deletion is known as a drop domain. When a drop domain is introduced from the drop catching or backorder service can purchase it.
A couple of days after passing the expiry date, the server change the status of drop domains to expired domains. Their main function is to generate an effort to enable registrants to renew the domain name expiry.
Why are Drop Domains and Expired Domains Important?
Drop and expired domains hold a special significance. The major benefit of these domains is they hold a great SEO significance. If you purchase a domain name with a reputable and clean history in SEO, they hold great value in search engines.
These domains may also hold related backlinks that possess a great history and hold great value to link building and eventually lead to better search engine rankings.
The prominent benefits of these domains are:
They design a backlink footprint that brings effective traffic volume.
The backlink footprint also generates promising SEO advantages.
When there are more active backlinks, it becomes easier to manage the website, information or blog and also hold great significance in presenting on social platforms.
When more site owners promote the website, they hold a great reputation in the online communities and target niches.
Though it is difficult to find such a 'drop' or 'expired' domain online, the Domain Hunter Gatherer is a great tool to use.
The Domain Hunter Gatherer is specially designed software that helps online marketers to quickly and efficiently track or hunt for drop or expired domains, which are unused or not renewed by the owners.
When you register a 'drop or expired' domain and build a site on that particular domain, it attracts backlinks. Moreover, it is possible to customize and update the site and create a unique brand or community using such a domain.
It crawls numerous auction websites and it conveniently lets you track numerous distinct domain exchanges. This way, you can pick the biggest and latest dropped and expired domains. Also, using this tool it is possible to index web 2.0 websites. Numerous platforms enable clients to claim or re-register abandoned and unused web 2.0 accounts as many people who create nice and reputed web pages do not abandon them.
Using this tool, it is possible to conveniently find such accounts and filter the niche and redirect the links to target websites.
How Can You Use Expired Domains?
The great thing is that it is possible to leverage expired domains to your benefit.
Develop an Authority Website – If you are starting a website from scratch using a novel domain, you can build authority. Such a domain holds the great authority of backlinks and rich SEO value. As a result, it is possible to rank faster.
Design a Strong Network for Private Blog – You can also develop a private network of blogs, which link back to your website. It is an efficient way to develop backlinks and gain higher ranks. Most importantly, it is a powerful technique that offers you control over everything including strength relevance, content, and more.
301 Redirects – Finally, it is possible to redirect expired domains to your site bypassing over traffic and link juice.
Tools of Domain Hunter Gatherer:
There are various in-built tools offered by Domain Hunter Gatherer that makes it one of the finest software in the industry.
I will share a detailed view of some of these tools and mention the other promising tools in the list.
1. Domain Auction Hunter:
This tool lets you identify numerous branded and powerful domains from major auction websites for a domain. You can even compare them to determine the finest domains at prices that you wish to pay.
2. Hunter for Expired Domains:
If you are looking for domains for a specific niche or industry, you can conduct keyword-based research using this tool. It comes with advanced search functionalities, which let you identify expired domains in any industry you wish. You only have to enter the keywords and enter the search option to look for infinite niche domains.
3. Web 2.0 Hunter:
This is another great tool, which can be used to run a successful SEO campaign. This particular tool of DHG lets you find aged accounts from any blog or website.
4. Hunter for Expired Domains:
This tool lets you search domains with specific links from any site you wish. You only have to mention the site details you wish to search and best fit domains matching to them will roll in.
In addition to these, the other useful tools of Domain Hunter Gatherer are:
Website Crawler for Expired Domain
Auction Scraper for Expired Domain
Keyword Crawler for Expired Domain
Web 2.0 Finder for Expired Domain
Reverse Crawling Scraper
TLD Filtration
Unlimited Threads
Spam Checker
Dom Recovery
Automated SEO metric results including social signals, majestic and Moz
Why Domain Hunter Gatherer is special or better than the others?
Domain Hunter Gatherer is a great tool with numerous specialties. Some of the exclusive features of this tool are:
It is very easy and fast to setup.
It makes it very convenient to find domains from a website or keyword.
You can identify infinite domains with high PR.
You can search through innumerable domains from a few seconds of work.
You can find high PR domains.
It lets you develop a vast network of sites.
It is an effective and easy-going tool that lets you dominate the industry you want.
Different Ways to Search for Expired Domains:
There are various ways to search expired domains using Domain Hunter Gatherer.
1. Hunt Using Keywords:
One of the simplest and easiest ways to search an expired domain is by entering some keywords from the niche. This way, you can search expired domains that already have links from sites, which are presently ranking for such keywords.
2. Hunt Among Different Websites:
Another way is to enter a site to search expired domains, which backlink to that site. It is possible to search expired domains holding links from key authority websites such as Wikipedia.
3. Using Domain Auction Hunter Tool:
This approach is quite different from other approaches. It lets you click on the hunter tab of domain auction so that you can easily search domains. You only have to enter keywords for searching domain among distinct marketplaces.
4. Reverse Hunt Technique:
Under this way, you need to enter a preferred domain and it will search all backlinks to that particular domain. It is a great tool that scans backlinks to search expired domains. It is an intelligent way to search domains, which ay link to the competitors.
5. Web 2.0 Tool:
Finally, you can use the web 2.0 hunter tool in Domain Hunter Gatherer, which is mentioned at the top. You can search for existing keywords to search for appropriate expired domains from the web 2.0 platform.
Important Metrics to Consider for Searching Expired Domains:
There are numerous metrics on DHG, which you can use to hunt the best-expired domain. When you click on the top row, you will find a list of metrics, which can be added or removed as per your choice.
The common generic metrics, which I use for finding the best-expired domain for my niche, are:
Social media metrics
SEMRush
Age
Moz Metrics
Alexa
Ahrefs
Search Engines
Majestic Metrics
Additionally, the other important metrics you can consider are:
1. Majestic – CF, and TF:
CF is the abbreviated form for Citation Flow and TF is the abbreviated form for Trust Flow. CF shows the total number of links, which a website has while TF shows the trustworthy value of a website or link.
It is best to search the expired domain by taking into account the CF/TF ratio. When the ratio is high, it is a good chance that the website is spammy.
2. Backlink Profile:
Also, you can leverage the Ahrefs metric to check the backlink profile of an expired domain. In order to get more details or backlinks quality, you can consider the Ahrefs subscription.
3. Domain History:
It is essential to know the previous activity of a website before you take it into consideration. You can check the domain history for a website by considering this factor.
4. Traffic:
There are numerous expired domains, which are already receiving a lot of traffic. It is possible to determine and sort the traffic data for an expired domain through SEMRush metrics using DHG.
5. DA and PA from Moz:
The Page Authority and Domain Authority metrics create the likelihood of page rank and domain rank on search results.
What is the Pricing Plans for Domain Hunter Gatherer?
There are different pricing plans offered by Domain Hunter Gatherer. The prices for each plan as well as features vary.
1. You can use the Free plan for DHG that offer features such as:
Completely free
Excellent video guides
More than 35 quality metrics
Backlinks, CF, TF, DA, and Age
Compare domains from different auction websites
Designed particularly for ad-supported domain auction hunting
2. You can purchase the Pro or Professional plan at a price of $87 for one month. It comes with the following features:
Quality age domains for less than 10 dollars
Incorporates features of premium and free version
Expired domain mining
Reverse crawl sites
Search for niche relevant expired domains
Crawl authority sites
Crawl millions of webpages every day
Majestic and Moz statistics checking
30-day money-back guarantee
Convenient access to expired domains
Domain spam checker
3. Finally, you can purchase the premium plan at a price of $17 for one month. It offers the following features:
Registered infinite accounts for completely free
Incorporates numerous features for free
Specially created for expired web 2.0 search
Enter keywords and search
30-day money-back guarantee
Multiple threads for improved speed
Final Verdict:
Domain Hunter Gatherer is an excellent software that lets you easily find expired domains. It comes with numerous settings, which makes starting easy and fast. It gives you access to numerous tools such as Dom Recovery and hosts a plethora of unique features. DHG offers users the potential to search through innumerable high PR and reputed domains. The prompt and exceptional customer support makes it an ideal tool for all users.