Domain authority is the most popular word among bloggers and website owners. It is one of the important ranking factors as of now. Long back websites used to get priority based on its Google ranking. But now, domain authority came into the picture.
There are many ranking factors you can consider making your website optimized for search engine. It is not possible to optimize your website considering all ranking factors. But one thing you can do is to improve the domain authority of your website for search engine so that you can project your website quality better.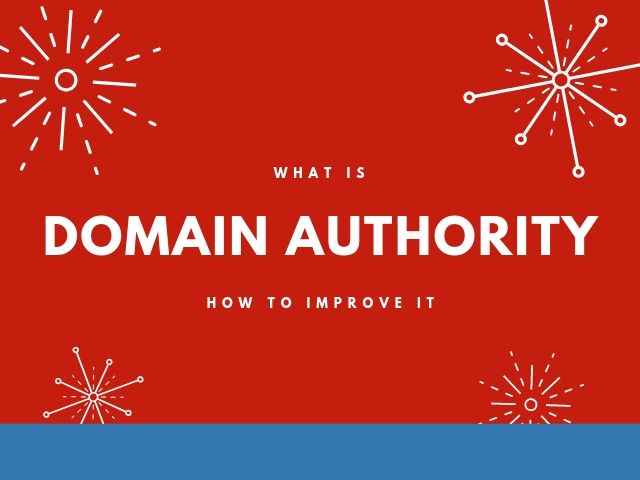 The domain authority of a website is like the quality representation of a website. You can show your website as a good quality one by concentrating on its quality. You can be a thought leader in your niche by projecting your website as an informative one. It can also help to improve website traffic and ranking of your website.
If you are someone who is unaware of the term and concept related to it, this is a good resource for them. With a bad domain authority, your website cannot be successful and stand out in a long competition that exists nowadays.
What is Domain Authority (DA)?
The domain authority of a website is the score on a scale of 1 to 100 and is used to rate a website. It is developed by Moz a popular Saas company. If a website has a good domain authority score, it means the quality and content of a website is excellent. It can help websites to improve their ranking and visibility all over the internet.
You can easily understand the concept by considering it as a metric that can be measured against other websites. It is a comparison between websites and can be used to measure the quality of websites.
There are more than 40 ranking signal such as links in a domain, number of linking root domains, etc. If your competitor website domain authority is higher than yours, it means that that website is going to get a higher priority in the SERP. If you can also earn a good ranking.
We can say that domain authority measures the authority of a complete domain. Don't confuse it with page authority because it only measures the authority of a web page. In short, higher your domain authority, higher will be your ranking.
How To Check the Domain Authority of a Webpage?
There are many tools where you can check the domain authority of a website. The main source is Moz Link explorer. Open the app and you can enter the domain address of your website. It will show you a detailed report with the latest DA score. You can use the Moz bar extension to check the domain authority while using Google chrome and internet explorer. It will show you the domain authority of your website, page authority and other page links metrics related to your website.
What makes a Good Domain Authority?
Before knowing more about domain authority, you need to know two important terms related to it. They are
Mozrank:
Mozrank is something that is decided on the basis of the link profile of a domain. It can be measured by taking into consideration, the links that are pointed to a web page. It takes many factors into consideration while giving a Moz rank. Mainly the quality of links is more important than the number of links. If your website has low-quality links it might affect the ranking of it. The ranking is based on a scale of 1 to 10 and 3 is considered as an average rating of a webpage.
Moztrust:
Moztrust is also depended on the link authority of a website. It measures the trust of the source that links are coming from. Moztrust measures the trust of the websites you are connected to and is a distance between your website and trusted link to it. You will also get a score between 1 to 10 while considering Moztrust. More priority will be given to website with links related to a government website, universities, Wikipedia, etc. There are many factors that can affect your Moztrust score. They are-:
Quality of web pages that are connected to your website
Domain registration info of your website
User interaction to your website via various sources such as the internet, wifi, Google analytics, etc
Domain age of your website
These are some important factors you need to make sure to get better mozrank and moztrust score. These scores can surely impact your final domain authority. Now we can see some factors you can concentrate on, to improve the domain authority of your website
Effective Tips to Improve Domain Authority of your Website:
It is not easy to improve the domain authority of your website. You need to concentrate on so many factors for it. Internet is very competitive, and you need to concentrate on all possible ways which you can use to improve the page authority and domain authority of your website.
Even though many webmasters spend time on improving the number of links to a website, some of them won't even look for the quality of links. So, how is it possible to get a better ranking without quality backlinks?
It is not at all possible to get good domain authority without the help of quality backlinks. You need to concentrate on the quality of backlinks as same as quantity. There are many other factors you can concentrate on while trying to improve the domain authority
Domain expiry days:
You can see the days that are left for your domain name to expire and renew it. It is one of the most important factors that can affect your website ranking. A good website should always be focused on giving good information to their audience without any interruption.
If the search engine sees such factors which can affect the performance of a website, it may affect your website reputation and thereby ranking. A long-term extension is the best idea because you don't have to think about it every year. You need to believe in the quality of its content and always keep your domain name active and renew it as early as possible, before getting expired
More backlinks:
Link building is another option you should try to get good domain authority. The number of links represents the popularity and quality of information on a website. If your website can have more links from the popular website, it is a good asset for your website growth and ranking.
You can only accept links from quality and relevant website and disavow low-quality backlinks. It can help you to avoid links from a low-quality website which can affect your website ranking. Even if you are building links make sure to check its quality using suitable links quality checker tools
Link profile:
This is something we discussed already in the previous point. While accepting links you should monitor the geographical location, relevancy, and quality of links. All these factors are included in the link profile and you can easily analyze these factors before accepting links to your website. Quality backlinks are very useful to improve your website ranking
Internal links:
Focus on arranging internal links on your website. What you can do is to analyze the possible ways to link the contents of your website internally. When a user visits your website for content, you should be able to show them related contents which can give them more information.
This is also a good idea to get more site traffic and to give more engagement for the audience. Websites who have a good internal link chain can also make their customers stay longer on their website compared to others who don't have internal links.
Bad backlinks removal:
This is very important to improve the reputation of your website. If you need a good ranking, then make the site to check the quality of the links and disavow low quality or irrelevant backlinks. There are disavow tools available for you to try. Use these tools if you want to disavow bad backlinks and make good links only connected to your website. It can help you to improve the domain authority of your website.
Be a thought leader:
There are many websites who stand out in competition because of their knowledge in the niche. You can also be like that by creating useful content for your audience and by building a good authority. Make users believe in your website content by publishing genuine useful contents and get a better authority.
Though it is not a direct domain authority ranking factor, it can have the power to increase your website rank for sure. You should make sure to create quality content which can be useful for your targeted audience.
On-page SEO:
There are many SEO factors you need to focus on while trying to implement better ranking. There are many SEO factors you can concentrate on such as keywords, links, better meta title, and description, etc. you can see some important On-Page SEO factors below
Noindex pages
Sitemaps which can help the search engine to index your web pages
Meta title and proper content structure
Maintain a proper content strategy
Give an attractive content title
Website loading speed:
Another factor to rate your domain authority is the website loading speed. You should make sure that the loading speed of the website should be less than 3 sec. Users are not all patient nowadays and no one wants to wait for more than that.
You can optimize the images and other contents that can take more time to load to make your webpage load faster. Try optimizing the loading sped because as the loading speed increases, the bounce rate also increases which can affect your website reputation and ranking negatively.
Social media marketing:
Make your brands and content visible on social media channels. This is not a direct factor that decides the domain authority of a website. But we can say that it can impact your website ranking for sure. As the visibility of web page increases, the number of people who visits your website will also increase which can help with a good ranking.
Including social media icons on your web pages can help users to share it across various social media platforms. It can also help to spread your content to a wide audience. So, you need to concentrate on marketing your website across social media platforms and branding it properly among the audience.
Create compelling contents:
By doing this single thing, you can achieve a good ranking and more website visitors. But just by creating better content, no one will come to visit your website. You need to be active online and promote your contents across various social media platforms.
Quality of contents and marketing of contents are equally important when you try to get good domain authority and ranking. If you are good at marketing, then focus on content quality and if your content quality is good then marketing can save your website from hiding of pages in SERP's.
Conclusion:
Now you got some best ideas to get a good domain authority for your website. All of the above options are proven ones and you should start to implement them on your website to see some positive results. Domain authority is something you need to focus on nowadays if you need growth. Websites are very competitive nowadays and only websites with good domain authority will get good backlinks.
Have you checked the domain authority of your website before? If yes, share the tool name you used for it in the comment section below. It can help others who are trying to know more about domain authority and related facts.