Does your organization produce paper-based documents on an everyday basis? Definitely, organizations producing bulk documents are very common. So, every organization requires digital document management software.
With such solutions available for modern businesses, it is possible to maintain an online repository of your documents, which makes it easy to share, retrieve, and search files as and when required. Moreover, such tools help efficiently organize files and lead to enhanced document sharing, smooth workflow translations, better productivity, and higher efficiency.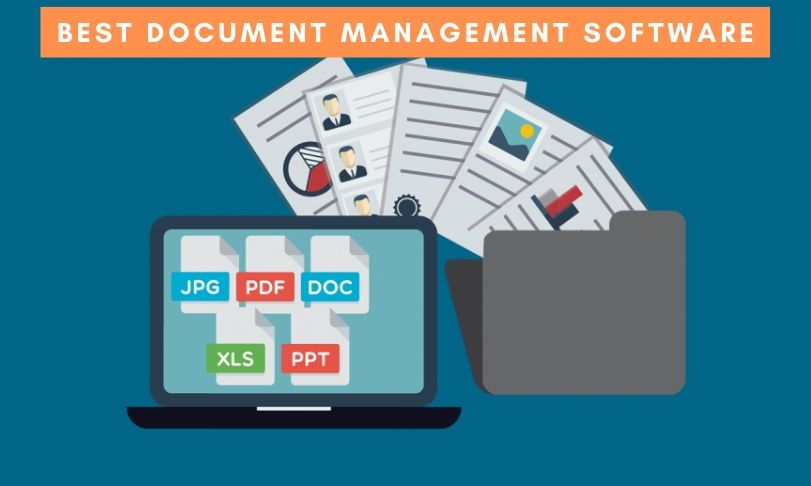 I am sure you are now convinced why document management software is an ideal solution for your business.
So, here we list some of the best document management software that is proven to deliver exceptional results and can best suit your requirements.
Best Document Management Software:
1. PandaDoc:
The first document management software on our list is PandaDoc, which is a leading tool allowing its users to create, share, and deliver documents online. It permits legally binding electronic signatures and supports numerous document formats such as Docs, PDFs, and other digital formats for swift paperless processes and transactions.
This software works efficiently with contracts, quotes, sales collateral, and agreements. It is the best fit for various divisions of an organization including sales, legal, finance, operations, marketing, and HR. It is perfect to build, share, and deliver bulk documents in one go.
2. Box:
The next impressive and high-performing document management software in our list is Box, which is a cloud-based platform designed for content management. It lets you track, send, revise, retain, and share files from one window. This tool supports versioning and automates the workflow of documents to result in enhanced productivity.
Using Box, it is possible to monitor files in real-time and checks the person accessing and making changes. It gives complete control over the documents and safeguards them against unregulated and tampering use. It is possible to establish rules for file deletion and archival. With this tool, you can save up to 100 versions of one file that helps with collaboration and editing.
3. Zoho Forms:
The next document management software on our list is Zoho Forms that is an efficient online builder catering to the needs of businesses of all sizes and scales. Using this tool, it is possible to create and manage different online forms by using distinct customizable themes and field types. You can pick already designed templates or prepare unique ones on your own.
In addition to a form designing tool, it comes with an automated field for calculation and personalized payment forms. Also, it supports multi-page forms and rearrange and add pages in the forms as required. The other functionalities you can use our QR codes, email campaigns, add links to share forms on social platforms, and introduce forms on your site.
4. Alfresco:
This document management solution lets you easily manage documents on-premise, on-cloud, and on both platforms. It can be integrated to other productivity tools and gain cross-platform working. It allows us to beck and call without wasting time searching for files in drives, USB, and folders.
It comes with smart search filters and suggestions to let you locate desired content fast. You can shift easily from mobile to desktop or vice versa without disturbing the workflow. It not only secures your vital business information like a customer database, marketing materials, bookkeeping records, and legal papers but also allows moving files within workflows driven by Metadata Alfresco adds.
5. PinPoint:
For organizations looking for an innovative solution, PinPoint is an excellent choice catering to the requirements of small, large, and mid-scale businesses. It efficiently manages and organizes documents in one system. PinPoint comes with an extensive range of robust features allowing users to safely store documents, establish workflows, and communicate from a single platform.
It is an ideal solution for various industries like a credit union, retail, manufacturing, education, healthcare, legal, banking, automotive, property management, and more. It offers rich features such as organizing documents, document security, compliance and retrieval of files. From creating electronic folders to sub-dividers, cabinets, and documents, all can be created using this single tool.
6. Bitrix24:
Another robust and customizable DMS is an open-source code that you can customize as per requirements. It beats competitors for its great pricing structure as you can try using its free plan for up to 5GB cloud storage space. With the help of this tool, you can design three types of drives – Company, Private, and Group ensuring that your documents are accessed selectively.
In addition to its Activity Stream module, it allows making editing and commenting in real-time. The changelog saves the version history of each document with its time of creation and name of the creator. It is also possible to lock documents, which have been shared to keep them secured. This is handy software perfect to use even when multiple users are editing a document.
7. PDFElement Pro:
Next is a smart, fast, and cost-effective PDF editor that offers full control and ease-of-use over PDF documents. It comes with numerous modifications and customization options and intelligent technology, which lets you make desired changes without affecting the style of the formatting of a document. It comes with simple navigation and an intuitive interface based on optimized UX designs.
It is a great solution for medium, small, and big enterprises as it comes with rich software capabilities to redefine workflows. You can convert and create PDFs in your preferred file formats, fill forms, and sign contracts. The OCR and text editor are other unique features that support elements such as unique fonts and styles, intelligent paragraph recognition, and more.
8. Huddle:
This is a powerful and great performing cloud-based DMS solution that outperforms others for the high-end security offered by it for all documents. It lets you securely share sensitive documents with colleagues and clients without compromising on the security of your information.
Using Huddle, it is very easy to share files of up to 10GB in one click. It comes with a built-in approval system for all files while tracking your timelines. You can also use its mobile version, which lets you handle documents anytime and from anywhere. The Single Sign-On and Multi-Factor authentication feature keep your documents safe against any attacks. With its intuitive dashboard, it is very easy to locate tasks, files, and people in just a few minutes.
9. eFileCabinet:
If you are looking for scalable and secure document management software, eFileCabinet is an excellent choice. Providing rich enterprise capabilities at affordable norms, it is a single-stop solution covering a range of delivery modules and enabling fast and easy upload. This way, it streamlines data migration.
This tool offers customizable workflow automation, advanced search to access documents, and exceptional box integration to get you running guaranteeing that your data is always compliant and safe. The good thing is that even bigger companies can take benefit from this tool as it comes with numerous features. It is because you can not only store and share data, but can also leverage, interact, and execute information.
eFileCabinet comes with custom templates, in-built workflows, smart scanning intelligence, native security coverage of vital documents and files. You can also integrate it with sales, accounting platforms, office tools, e-signatures, and more at affordable subscription plans.
10. Laserfiche:
This document management software is packed with numerous features and streamlines the process of document workflow. It eliminates manual efforts and reduces errors while keeping your modules secured and versioning algorithms safeguard the history and authenticity of your document.
Using its search feature you can easily locate documents with a user name or single keyword. Also, you can establish custom filters for enhanced search and remove duplication and redundancy in documents by linking the data storage space. It lets you connect content to a document, like annotations, sticky notes, and emails. Moreover, it offers additional storage and processing capabilities at cost-effective norms as document volume increases.
11. Backlog:
This is a code and project management system supporting businesses to keep track of their projects including planning, distribution, and completion of tasks. It offers you with collaborative tools in a powerful yet simple interface. Users can get benefit from its file-sharing feature to maintain all project files in a collaborative and single workplace.
Backlog comes with a rich file attachment and comments features enabling your team to work together and complete multiple tasks faster. It is also possible to add files in the comments section and upload files to centralized folders. Further, it offers a team with a single source by designing custom fields or pages, which everyone can edit and access.
12. MasterControl:
As the name suggests, this document management software is a robust solution, which reduces your reliance on manually filing and document retrieval. It mechanizes the lifecycle of the document and eliminates all sorts of human errors and enhances the overall process of documentation.
By using MasterControl it is possible to automatically route documents for follow-up, scheduling, escalation, and review. It can be integrated with the change control system of your company offering you a pipeline of the entire document and preventing conflicts among systems. Moreover, it watermarks document copies and stamps for tracking and branding purposes. The unstructured and structured content rests in a single place, which is great during inspections and audits.
13. Samepage:
This is a high-performer project collaboration software that has also earned rewards. It brings you numerous features such as communication solutions, collaborative tools, and document management efficiencies in a cloud-hosted platform. It enhances productivity because of its rich capabilities such as video conferencing, file sharing, task management, team chat, real-time document collaboration, and others.
It is ideal software and a perfect fit for teams of all sizes. This comprehensive solution offers functionalities such as conversations, task lists, instant messages, and files, discussion topics, scheduling, and meeting agendas. It is perfect for organizations and companies and can be implemented across various teams of partners, vendors, consultants, employees, customers, and allow you to compile images, files, conversations, maps, and videos enabling you to enhance the benefit of a collaboration platform.
14. LogicalDoc:
This web-based DMS manages the lifecycle of your entire electronic documents. It lets you install the application on a local drive for further use or in the cloud to be used as a service.
It comes with retrieval and search process, which is quite simple and allows searching files for the keyword, name of the creator, and other aspects. This is a multilingual tool integrated with full-featured editions allowing saving searches, digital signature, and multiple workspaces.
Moreover, you can import files from inboxes and zip archives and create security policies on groups, users, file borders, and menus.
15. Synology Drive:
If you are looking for a cloud-based platform that lets you create and share files, the Synology Drive is an excellent solution. It is ideal for office and home use allowing you to have complete ownership over data and freedom to select Synology NAS server. This ensures you always have a backup for your files if in case they are deleted by mistake.
Further, it comes with a restore feature that lets you undo alterations made to the document and regain the previous version. Its Intelli-versioning algorithm precisely detects the major changes in a file.
16. Templafy:
This document creation tool offers you an intelligent way to handle and dynamically update as well as share templates related to business documents. Using it, you can also share brand assets from anywhere on a device and create documents and presentations, maintain a standard professional look across emails, letters, contracts, presentations, and even integrate with office apps.
Templafy allows users to administrate centralize document templates and update content on one, easy to use platform. It can be connected with any digital asset management software, making it convenient to implement a document template strategy across the company and across numerous devices, browsers, apps, and operating systems.
The best thing is you can scale Templafy as per the requirement of your business and address pain points experienced by numerous departments while handling documents. It makes sure your marketing and sales, legal, IT, administration, HR, and other departments can create documents, which are consistent with the most updated content of the company. Integrated with online storage documents, CRM, and other features it is available for use at affordable norms.
Wrap Up:
Document management software is a need of every modern business. If you wish to eliminate all hassles and fuss associated with your everyday document handling process, a DMS is an ideal solution. So, pick your preferred document management software from the above-mentioned list and bring ease of use to your business.