The Display Ads vs Search Ads debate has been going on for a while now. But to decide which ad type you need to use will depend entirely on your goals. Online advertising is dynamic and diverse. It offers you multiple ad formats to select from and innumerable ways to reach new customers.
Out of the various available options, the two popular among advertisers are:
Search advertising or Search Ads
Display Advertising or Display Ads
While some digital advertisers are already using it to gain leads, a lot of you out there are still confused about them.
Which platform you must use for brand awareness?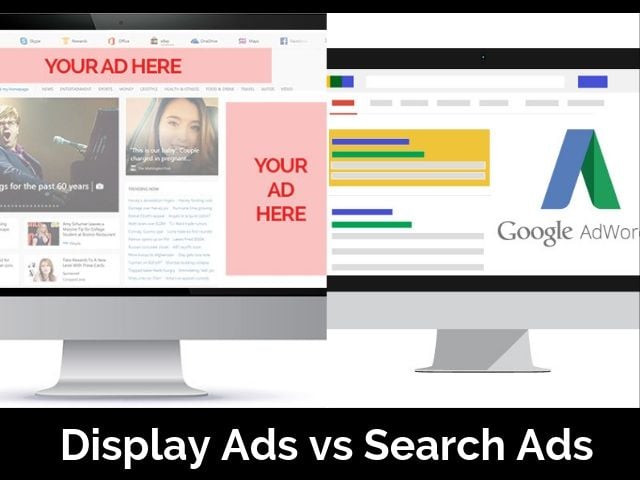 Is there any middle funnel to get away?
As a matter of fact, search ads and display ads are both effective. But they are highly different.
If you want to gain success with these ads, knowing the difference between the two becomes mandatory as the difference is huge.
So, let's read ahead!
What are Search Ads?
Search Ads are also known as search engine advertising which is a form of paid advertising. This advertising is known as PPC or pay-per-click advertising that allows your business to be found on search engines.
It is a simple and excellent way to compete in the online arena and directly target users in your domain, who are using the search engine to look for your services or products.
The best part about Search ads is that it gives you the chance to compete with intense competition in your local market without spending on expensive advertising.
It gives local businesses to target users based on their geography. It is a highly effective form of advertising that allows people to target only those who are really searching for your services or products.
What are Display Ads?
Now, if you wish to grow your brand awareness online then there is nothing better than digital display advertising or display ads.
Popularly known as banner ads, such ads display on your target audience's screen when they are surfing online, but not searching for a specific service or product.
When customers are online, keeping your brand in front of them can give you an edge over your competitors. Customers these days spend lots of time surfing online to gather information, check their favorite sites, play games, look out for entertainment stuff, and more.
Having your ad displayed on most popular sites can help you grab customer's attention towards your business.
Now, it is difficult to confirm which one is better between the two, as both of them are highly effective in their own zones. But they vastly differ and this can make a huge difference to extent of success you avail, for your ultimate goal.
Display Ads vs Search Ads – The Difference!
There are different factors that can help you decide which one of them is better for you!
1. To Generate Brand Awareness:
Whether you are a new company or an established firm, selling your service or product that still people are unaware of, you can grab the attention on your brand with display ads. Display ads are an excellent way to stay in front of potential customers who are new to your brand.
It is the same as considering the real-life example where sponsors display ads all over the arena, while the focus is still on the main game. Display ads hold a similar approach. This can be a worthwhile investment as it can help you target audience based on demographics.
2. Search Volume:
A major difference between the two is that search ads use a pull approach, while display ads use a push approach.
Search ads are designed for people who are already searching for your product or service. On the other hand, display ads are ideal to target people after they are done with their major task, which can be watching a video, playing a game, reading email, or simply browsing the web.
You can determine the search volume of both these ads using the Google Trends and AdWords Keyword Planner tool. If your business offerings hold a high search volume, then search ads are perfect. But if your business still lacks awareness, then display ads can help create more awareness of your products and brand.
3. Targeting Options:
With search ads, the primary form of targeting is to use the keywords. When a specific keyword is targeted, the ad is displayed whenever a customer searches for the same keyword.
Display ads, on the other hand, offer numerous targeting options.
Contextual targeting – It is a basic targeting option that lets you target audience through a contextually relevant article.
Behavioral targeting – This technique is to display ads to prospects who are quite interested in similar services or products that you are offering. This can be notified through their internet browsing history.
Demographic targeting – This form of targeting allows you to select female or male, parents, different age groups, and more to target your customers.
Based on your targeting option, you can match your display ad accordingly.
4. Type of Products or Services:
You may strategize your advertising strategy depending on the type of services or products you offer.
For example, if you are offering special services, like a doctor, carpentry, and more, then search ads would be best for you. It is because it will help people to reach you when they are in urgent need.
5. Urgent Services:
If your business is an urgent service, then it is best to start with search ads. But if your product of business offerings are not so urgent and you just want people to know more about it and hire the services at any time, then display ads will do the work for you.
For example, when a person looks out for an urgent service, then they will most probably search for immediate help.
6. Budget:
The next big step to decide an ad for your business is to determine the budget.
How big your budget is and is there any room to expand it?
All this play a vital role in deciding the ad you must adopt!
Search ads are best for those with a limited budget. Brand building is possible only with display ads and even it requires more money and a larger budget. The main reason for this is that search ads have quite higher conversion rates.
Once you start receiving monetary gains from your initial advertising setup, you can then decide where to put those extra funds – into display ads or search ads.
7. Mobile Searches:
Another important consideration while differentiating and deciding between display ads and search ads is mobile searches. Every year, the number of mobile users is growing. This means if you want to expand your target reach then you cannot miss mobile advertising.
Though businesses have created responsive websites to target mobile customers, with the advent of voice search and hands-free devices, customers are less interested to check a website and then ask for services.
The best option to reach out to such customers is call extensions that can help a searcher convert easily and provide you a lead. With the call button, the customer can directly call you and ask your services. This works great for you as well as your customers.
Using Search Ads – The Individual Approach:
Search ads are the most common form of paid advertising on Google. These ads let your ads appear on the Google search engine ranking results. Such ads can expand your reach and help you extend the targeting including smaller search engines, known as AOL.
Search Ads are extremely effective as it lets you target active searchers who are looking out for something.
For example, consider a searcher looking for electrical services in Brisbane. Once he submits the query, organic listings, as well as paid ads, will appear. Being a service provider you can be more successful by running ads on the Search arena.
These paid ads are not just robust, but it also allows you to include extensions with phone numbers, addresses, and additional links. The search ads allow you to connect to active people looking for their products. Additionally, it can drive more conversions as compared to display ads.
Using the search ads on an individual basis would be helpful to you if:
You are selling an emergency or urgent product
You have a limited budget
You are serving the local market
You have a short sales cycle
Using Display Ads – The Individual Approach:
Besides search ads, Google offers advertisers the opportunity to place their ads on numerous sites across the internet. These sites can vary from blogs, news sites, video sites, gaming sites, and more.
These sites range between GDN, which is Google Display Network and includes more than 2 million active websites reaching out to more than 90% of worldwide users. With such an expansive network, display ads are great for users who wish to expand their presence on the internet.
Users within the GDN are usually not interested to shop anything. Rather they are performing their daily internet activities, like reading blog posts, catching news, watching videos, and more. With display ads, you can attract the attention of users and excite them enough to click your site.
Though this is not a much easy feast, if done in the right way, this can bring you great results.
Display ads can offer you fewer clicks, but the ad space network is abundant. It is an excellent platform to promote the brand and its wide reach is attractive to advertisers who wish to broaden their fan base. By enhancing, you're the visibility of your brand, you can get more clicks on organic listings.
But since, display ads are quite expensive as compared to search ads so you may use them, if:
You want to gain popularity and fame for your brand
You have a slightly lengthy sales process, which always cut down your sales
You have a highly impressive product to sell
You have a compelling video to offer
Check the best bet!
Middle Funnel – Combining Search Ads and Display Ads Together
Besides adopting the individual approach and using the two advertising strategies individually, you still have the best bet with you – the Middle Funnel.
It is possible to outline a dual strategy involving the positives of both types of advertising techniques. While display ads can help you enhance your brand's visibility in the online world, search ads have their own pros to offer, which is a budget-friendly solution to reach out to local customers.
If you have a decent budget then both strategies can work for you.
The dual strategy is not mixing the two, but to use the two hand-in-hand. Mixing the two techniques can be a big hassle. From viewing the metrics to measuring the success rate, everything can be confusing and intricate.
When you run the two campaigns separately, you can see the metrics side by side. This will help you make a better decision and take each step wisely. You can easily track which strategy is working best for you and so you can move ahead with it.
From a strategic point of view, it will also help you define your messaging based on the scenario in which your customers are viewing your ad. If considered logically, then this segmentation is crucial. Not only it will enable you to outline specific budgets per network, but it will also keep your data smooth and clean. As a result, you would be able to make more lucrative decisions and more impactful optimizations.
Last but not least, display ads usually reap low CTRs than the search ads network. If you do not segment the networks individually, the CTR data can be highly skewed, making it a big challenge to monitor the results and analyze performance.
Display Ads vs Search Ads – What to Use?
Though search ads and display ads when used together can reap great results and help you target multiple customers with ease, still the final decision is purely yours.
It depends solely on your business requirements and offerings the type of advertising strategy you use.
As discussed above there are numerous factors you must take into consideration before making a final choice. And if you have the required budget, both display and search ad campaigns are an excellent choice.