Len Smith was once a copywriter in England making a decent amount of income yearly. But things changed for him when Udemy asked him to transform his book into an online course. While initially, it took him 40 hours to develop the course, presently he spends only 10 hours a week on its maintenance. And the amount he is earning right now is unbelievable!
I told you about this to let you know that you can make lots of money with online courses, and that too in a short duration!
If you too want to change your life in income flow just like Len Smith, then read this post to know everything about selling online courses.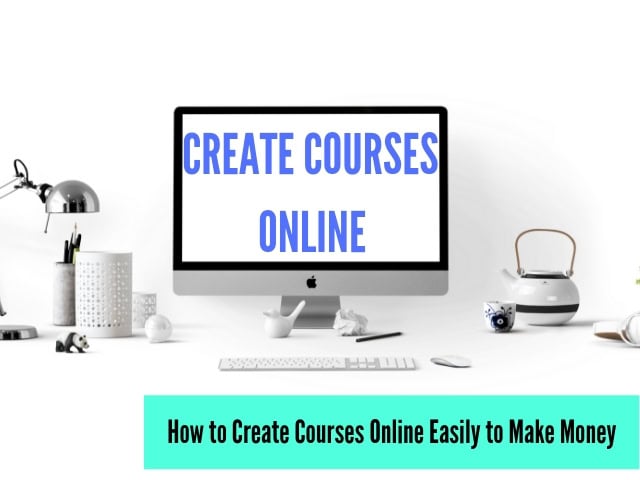 But first, it is essential to know why online courses are so important to people out there.
Create Courses Online and Build a Really Big Business:
It is a known fact that the cost of higher education is increasing every year. Unfortunately, there are no chances of slowing down. As a result, people are looking out for a convenient and affordable solution, which can help them complete their education without much monetary burden.
Online courses are such solutions that let you learn anywhere, anytime. They are inexpensive, and hence, you no more have to worry about taking education loan or bearing hefty expenses.
The online learning industry has witnessed rapid developments among the business and academic sectors. This market is driven by cost-effectiveness and accessibility of learning and training programs.
Hence, with online learning and courses, it has become possible to procure interactive sessions from anywhere, anytime. Individuals are now able to communicate complex theories through online videos. And most importantly, it has offered learners to learn from the comfort of their living room.
So, if you have some unique skills and knowledge to share, then online courses can help you fill your banks with a good amount of money.
Create Courses Online to Get Immense Success:
Personalities like Rob, Percival, and more have been able to get immense success with online courses in very less time. As per these experts, you can gain success with such courses if you follow these below tips.
Find out topics that are in demand. For this, you can look at online courses that are selling great already.
You need to make all efforts to let your version stand out among the crowd. It is not essential to get into every bit of detail if it's not needed. Rather you need to focus on what the customers or audiences are looking for and build stuff accordingly.
Finally, promote and sell your online course.
This sounds amazing, right?
So, wait no more and create and sell an online course right now.
Actually, you might feel daunting about creating and selling an online course. No need to worry as in my next section I will explain to you, how you can create an online course easily.
How to Create Courses Online?
First, you can search for a free online course building tool and click for its 'free trial' option. One such great tool is Kajabi.
Now, you need to enter the desired account details including email, password, full name, and more. Once you are done, you can sign up with your account.
If you want to sell your online course, then you will need a platform to sell it. It can be a website or even a persuasive sales landing page that can convert visitors into buyers. You can select a desirable platform.
If you are using an online course creating a tool like Kajabi, then you don't have to design the page from scratch. This tool comes with pre-loaded beautiful and ready to market templates, which you can choose from. Hence, browse through the list and select the one you like. To know more about template features, cases, and more, you can click on them.
Select a theme and start working on it. The next step is then to customize dashboard and begin editing. You can drag and drop all those elements that you want on your page. The great thing is that you can also add testimonials and images to that page.
Once the dashboard is customized, you now have to create a product description and title. After this add branding, such as the product thumbnail image. This will help people know what they would get on this page.
It is now time to create a new post and add specific details to fill the course page. Consider posts as individual lessors and categories or sections as your lesson modules. There is some online course creating tools that let you help your viewers mark 'complete' once they are finished with the course. This makes the learning process much easier for them and helps them keep track of what all they have covered.
Create a section for users sign up and then provide a download option immediately to help you transform a high number of new page visitors. For this, you can consider the following elements to drive traffic to your course:
Social media
Paid advertising
Content marketing
SEO
YouTube
Facebook
Some Tips to Create an Efficient Online Course:
Here are some tips that will help you create quick online course reports:
Use PDF format
For any business report, PDF is the most credible document format. Avoid using Pages or Words to create reports. You can always use free online PDF converters to convert your pages into PDF format.
Make them Attention – Grabbing
You must create courses in a way that they can grab attention and are fit to generate conversion. People don't like too much information. Hence, make a compelling report.
Avoid Using Too Many Videos
People love to watch videos about certain things, rather than reading a lot of stuff. But almost 65% of people are surfing through mobiles and videos may not be the best option for them to watch. Hence, try to include content as well as the video for each module so that people can select an option according to their preference.
Include Filters
Lastly, you must include filters in your course so that people can always search for a course as per their choice. Applying filters will let them search for topics and lessons as per their requirement. If they are able to save time and find out fast what they are looking for then they would love to revisit your course again.
Well, this is a lot about creating an online course, it is now time to learn how to promote or sell your online course. Here where the fun begins.
Let's talk about the best ways to promote and sell an online course.
How to Create Courses Online and Sell Them?
Plan a Simple Launch:
Since you are launching the course for the first time, so simple is better. Though there are millions of ways available for launching and you can plan a huge elaborate launch. But what if it does not give you enough returns?
Hence, a small yet targeted launch is better. This will help you get the attention of your audience. You can expect quick sales. Furthermore, a simple launch is convenient to execute and less expensive. It is quick and can provide you with a great learning experience so that you can plan a bigger launch the next time
Have a Dedicated Platform to Sell
It is easier to create courses online if you have a dedicated URL or subdomain for it. Remember, people purchase courses to get results, and they are searching for an organized layout of all the steps they require to get the things done right.
Even if there is a single course, it is better to have a dedicated platform for the course. This will give people a feeling of attending a reliable place.
Create a Compelling Sales Page
Your sales page is a highly important part of the course. It is almost equally important as the course material. It is because if your sales page is poorly written or uninformative then no one would prefer to buy your course. In this case, your course material will be a waste too.
Hence, it is suggested to spend as much time you want to create a great sales page that can transform cold traffic and visitors into buyers.
Focus more on the content of your sales page rather than its appeal. It must touch the pain points and requirements of your target audience. So, focus on the word you say, the structure of your sales page, and lastly its design.
Follow the 3-Step Converting Process:
Our 3-step converting process for Awareness, Agitation, and Solution.
Let's discuss these 3 steps one by one.
Awareness:
Make sure your readers are able to clearly find out or identify the problem you are trying to solve. For example, there is no point in selling toothbrushes to someone who does not know the importance of brushing teeth twice a day.
Agitation:
It is of utmost importance to remind your audience about their problems and their severity. Your audience must feel their pain and at the same time must feel that your course can solve their problem at priority.
Solution:
It is now the point where your audiences are keenly looking out for a solution. By this time, they are aware of the problem, feel the pain, and now want a solution to get it resolved.
You can include these three steps in your sales page. Before you shove your course in front of the audiences, it is wise to evoke awareness, agitate them and then offer them solutions.
Include Urgency Triggers:
The online audience are quite lazy and you need to include triggers in order to push them to make a purchase right now. You can execute urgency in the form of:
Expiring of a bonus
An increase in price
Cart closing soon
Availability of limited copies, and more
Urgency triggers can bring great success to your launch and can spike your sales to a great extent.
Select the Target Market:
You now have a great offer, urgency triggers, a great sales page, and the pain points of your customers in hand. The next important step is to market the course.
List building and traffic are key parts of an online business or blog if you want to make sales from almost anything. There are ample numbers of ways to get traffic, like Facebook groups, Pinterest, SEO and more. So, use these platforms in order to drive traffic to your course
Promote Your Course On Your Website:
Another way to promote your course is your website. You just have to place it prominently on your entire site, especially during the launch period. Alternatively, you can create a notification bar at the top of your site or place it on your navigational menu or sidebar.
This way, your regular readers will be able to know about the launch and if they are interested they can direct to the sales page in just minutes of entering your site.
Schedule Social Media Posts:
You must be on a few social media platforms and each one of them has an inbuilt tool for scheduling that you can use to schedule the posts in advance. For example, Twitter has TweetDeck, Pinterest has Boardbooster and more.
Schedule your social media posts beforehand so that when you are busy launching and promoting your online course on your site and answering customer queries, promotion of your course on social platforms goes on uninterruptedly.
Create an Email Sales List:
With such a list in hand, it is possible to pitch your course directly to the customers.
Promote through Blog Posts:
You can complement your sales email with relevant blogs to help solidify your position as a trustworthy and credible expert in the industry.
To Sum Up:
With all this information in hand, it is now the perfect time to begin your own course. There are large numbers of people who cannot afford massive loan amounts to pay expensive college fees. So, let them enjoy and learn your online course, while you make handsome money from it.