Being a digital marketing consultant, I have come across numerous bloggers and companies willing for in-house SEO campaigns. But without having a proper understanding of all SEO terms, conducting SEO efficiently is not possible. And one question they struggle a lot to understand is about Google crawling and indexing.
There might be thousands out there, who have the same query. This is what has made me write this post.
Reading this post will help you know everything about Google crawling and indexing.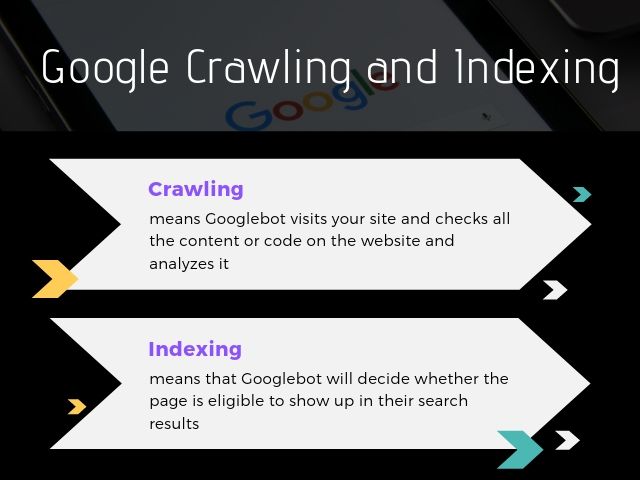 So, let's get started.
First, let us start with how a search engine works.
How Does Search Engine Work?
In simple terms, the search engine is a system run by different processes such as:
Crawling
Indexing
Processing
Calculating Relevancy
Among these processes, the very first process is Google crawling. Google crawls the web for information from different sources of information including files, images, videos, web pages, blogs, articles, news, files, and other detectable documents.
When Google detects a new document, its information is stored on the server of the search engine in the process known as caching. The cached documents are then ranked in order to significance or relevancy on Search Engine Result Pages or SERP.
So being a blogger, or a digital marketer if you wish to gain success in your SEO strategy, then you need to have an understanding of such processes.
What is Google Crawling?
Crawling is the search engine's process to discover updated information on the web, like new pages, sites, dead links, and changes to the current sites.
To perform this process, the search engine uses a program known as 'spider,' 'bot,' or 'crawler.' This program or tool follows an algorithmic process to identify the sites to crawl.
Crawling is the first step of search engine recognizing a page and showcasing it in the search results. If your webpage is crawled, then this does not imply that it will necessarily be indexed and found on the web.
Webpages are crawled for varieties of reasons. The most common among them is creating an XML sitemap that Google can easily determine. It is because this is something that would be highlighted as new to your webpage.
With countless numbers of webpages, it is almost impossible for humans to individually record, organize, and visit them on their own. In fact, automated search crawlers, known as bots, perform regular searches to help save us combat the complexities involved in finding relevant data or content.
Search engine bots are always looking out for signals or new changes from previously indexed pages, like new content, links, and more. Hence, whenever you create a new page on your website and link it to an existing page or the main menu of your existing website, this would send a signal to search engine bots.
Eventually, they will crawl or track the page, visit it, and if indexed successfully, then display it in the search results.
Besides introducing new changes and creating new pages the other ways to get crawled is introducing robots.txt files and sitemaps.
What is Google Indexing?
The next step after crawling is Google Indexing. If your site is crawled by Google bots, then this does not imply that it will necessarily be indexed. However, the opposite is true implying every site indexed needs to be crawled first.
If your crawled page is recognized worthy by Google, then it will index it. While Google indexes your page, it is always searching out the best ways of how your page must be found in the search results.
Google then decides about keywords that would offer a ranking to your page. Additionally, it also decides the ranking offered to each keyword.
All this is done on the basis of numerous factors that ultimately affect the overall SEO ranking of a site or page.
Furthermore, various links on the indexed page are positioned for crawling by the bot. But this does not imply that only those links will be crawled. Rather, Google searches for up to 5 sites back. This implies, if a page is linked to an existing page or site, which is not indexed, then it would definitely be crawled.
For this reason, the external links on your site are important. If your site has external links of high quality, then it would be able to rank better in the overall Google search process.
Hence, indexing serves 2 purposes:
To present results related to a search engine query from the user
To organize and rank obtained results in order of relevance and significance.
The order of ranking depends on Google's search algorithms. Such algorithms are highly intricate and focus largely on the relationship between your website and the external site.
Factors that Affect Google Crawling:
In order to get your webpage or website indexed by Google, it is essential first to get it crawled. Make sure you keep a strict check on factors that affect Google crawling.
1. Site Content:
The website content is by far the most vital criteria for search engines. Keeping your website content updated on a regular basis offers you more chances to get it crawled easily and more frequently.
Provide fresh and rich content to your webpage or site. Some easy ways are to maintain a blog post regularly or publish news articles on a daily basis.
2. Server Uptime:
It is extremely vital to host your page or site on a server with efficient uptime. If your website is down for a long time, Google bots will find it difficult to get the new content indexed faster.
3. Sitemaps:
This is one of the first important things that you must watch to make sure your site is discovered fast by the search engine bots. Google XML sitemaps are great to generate a dynamic sitemap and submit them to the webmaster tool.
4. Duplicate Content:
If your website displays copied the content, then this will decrease the crawl rate to a great extent. Search engines can easily determine duplicate content. Websites with duplicate content can hamper the crawling results.
Make sure you offer relevant and fresh content on your website. Be it videos or blog postings; the content must always be optimized. You can use the free content duplication resources, in order to authenticate the content of your website.
5. Loading Time:
The loading time of your webpage is another vital factor influencing Google crawling results for your website. If the webpage or site takes too much time to load, then the crawlers would find it difficult the crawl. Ultimately, they will leave your page.
6. Use Robots.txt to Obstruct Access to Undesirable Pages:
Useless pages or backend files can be an obstacle in your site's crawling process.
A wise decision is to block access to such useless pages and this can be done via simple editing on Robots.txt.
It will enable you to stop the bots from crawling such pages, which are of no value to your website.
7. Monitor the Google Crawl Rate:
Google webmaster tools help you monitor Google crawl rate. It is possible to set the Google crawl rate manually and boost it.
8. Interlinking:
Interlinking is a great way to help search engine bots to crawl the webpages of your website deeply.
It is of great use when you create a new post or add a link to the new post. This way, it is possible to increase the Google crawl rate and help bots to crawl the pages more deeply and effectively.
9. Optimize Your Site's Images:
Crawlers cannot read images directly. If your website includes images, you must use alt tags to offer a description that can be indexed by search engines. Images are helpful in search results, but only if they are properly used and optimized.
How to Know What Google Has Indexed?
Sure you want your site not just to be crawled, but also to be indexed. There are numerous ways to identify that whether Google has indexed your site or not.
The simplest way is to visit Google and click on the settings option at the bottom right. Then select Advanced Search and scroll down to domain or site where you need to put your website's name and enter a search. This will enable you to to know everything that Google has indexed so far. It includes posts, pages, and other vital things. This way, it would be possible for you to see exactly what Google has indexed.
Moreover, there is an option of Google Search Console, which can be used to get your website indexed by Google.
If you wish your website to get indexed by Google, then you can use Google Search Console to upload an XML Sitemap. This will let Google know what you want it to index. Also, it can offer you some control over the Google indexing process. Google Search Console also offers rich, valuable information on the website and is truly a two-way communication process with Google.
Ways to Use Google Indexing to Your Advantage
The great thing about Google indexing is that you can actually make it work for you. The process of Google indexing can begin by ensuring that your website is listed in the Google Index. For this, you need to take two major steps.
The very first step is to offer Google a robust sitemap. Request them to crawl or track the site and submit it to the index. This is a simple process and can be performed using Google's webmaster tool.
The second step is to generate a strong link-building strategy where numerous high-quality links direct back to your site. The key point here to remember is to generate such links using high-quality content.
If your content is not rich, then you would fail to receive good links to your website. At one point, the spiders will crawl your website and then index it. But an imperative thing to remember is that you cannot solely depend on the second step. It is because Google might skip your site for one reason or other. As a result, you would be stuck waiting for your website to get crawled by Google.
Besides these steps, there are other ways to use Google indexing to your advantage.
Do consider the graph. If the graph for your website indexing is not increasing, then this might imply that Google is not able to access the content on your website for one reason or another. Keeping an eye on such numbers will help you rectify the problem. Might be your server is overloaded or Google is not able to reach the stuff.
If the graph shows large index numbers, then this may mean that you have been hacked. But the good thing here is that Google always notifies if there are problems identified within your website so that you can resolve the issue right away.
Google always prefer indexing fresh and new content. It is because new content is believed to enhance the user experience. For this reason, Google is very picky about trying to offer the most relevant sites for a specific search. If you copy pages, then Google will always index the page published first. Duplicate content is a huge issue for Google, and at worst can get you penalized.
Summing Up:
Having knowledge about Google crawling and indexing can help you effectively leverage SEO for higher rankings of your business. But these are not just the only things to consider. Depending on the type of your business, you need to strategize an effective SEO strategy to have your business listed in Google search.
For example, if you are an offline business with a virtual storefront, you have to focus on Local SEO as well. Local SEO emphasizes searches based on a location or city. Such searches are more specific in nature.
Being a part of such searches will help your business fetch local customers. On the other hand, if you are an online teaching institute, your geographical location is not much important.
That's about this post. Hope the information I have provided is useful to you. So, use this information to make your website Google ready!