Contents are the prime marketing tool for an online business, as it alone has the potential to communicate the nature of the business to its clients sitting on the other side of the pole. Creating powerful contents and marketing them appropriately assures a business that it is taken at the doorsteps of its prospects.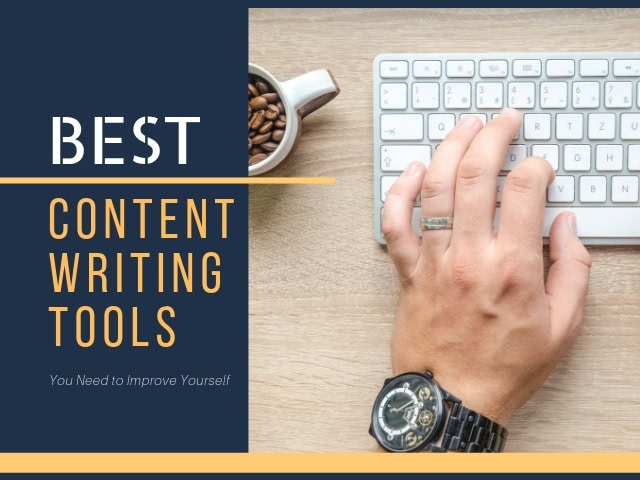 People don't appreciate the mere write up but would only be interested to read contents that engage them, entertains them, provides them with solutions and experiences. Giving them information in the form of stories is powerful than bouncing essays. A lot of creativity and long term clear vision is expected from the content writers so as to create unique and engaging contents.
There are a number of tools available for content writers to help them provide valuable content to their readers, the write up has to be well researched, grammatically correct, and easy to understand by the clients and it should be interesting as well. Most writers use basic tools such as Grammarly, plagiarism checker etc., but there are some advanced tools as well to help them right unique, engaging and highly converting contents, and those are discussed here.
Content Writing Tools to Write Better Website Content:
Websites need to post contents regularly so as to gain the attention of search engines and gain scope for conversion. This is one tool that helps the writer write regularly and offers a private space encouraging its writers to write on any topic for 750 words.
It helps in creating a habit to write, to type fast and to train the mind to think without distractions. The tool also appreciates the writing efforts by offering points for writing more words and more regularly. Writing here is regarded as a psychological therapy as well as the tool analyzes the mindset and feelings of the writers and helps the writer introspect themselves better.
This tool helps the writer to ease off boredom while writing and plays a soft ambient musical sound at the background so as to help them concentrate on their work and write more efficient content. The tool has proven to be effective in enhancing productivity as it keeps distractions away while writing.
Blank Page:
This tool helps in motivating the author within the writer and helps them in writing a long piece of content such as Novels. The tool offers a clutter-free blank space for writing, to help authors write more and organize their write-ups.
It helps in setting up goals for the number of words they wish to write in a day, it tracks the progress of the write-up and inspires authors to complete their tasks better and faster. The tool works on all devices thus helping the writers to write from anywhere and at any time.
The tool includes a focus mode and helps writers to focus on their work, it highlights the paragraphs that they are editing at a time and offers autosave options and easy formatting steps. It saves copies both locally and also on the cloud and could turn on its dark mode to help writers write in white on black background.
This is a writing modification tool and helps writers find overused and repeated phrases that don't actually add sense to the content. It highlights clichés after checking the writing and informs where the text needs alterations. This simple tool with a minimal design helps to improve the quality of the content and helps in creating quality contents that convert.
People choose contents to read, based on its headline, it is important to create sharp, short and crisp headlines for the write up so as to grab the attention of the readers. CoSchedule headline Analyzer helps in creating compelling and powerful headlines and help writers drive more traffic into their website and rank high in search engines.
This tool helps in creating powerful, simple and distraction-free write-ups. It offers an hide-away interface that allows the writers to pour down their thoughts and ideas. It helps in setting goals either by word count or by time but is not an effective tool for editing content.
Grammar Base:
The tool checks the content for contextual and grammatical errors, checks for spell and typo errors and also for plagiarism. It also offers suggestions on the ways to improve the write-up and offers access to manual proofreading in its premium version. Manual proofreading would employ professional proofreaders to refine the content and the final copy is made available within three hours.
For those who wish to create error-free writing, Grammarly is their right tool. The tool checks the content for punctuation, grammar, and spelling mistakes. It helps in proofreading and helps the writer with self-edit work that they can do all by themselves.
It offers them insights about vocabulary, reading time, word count and also offers the readability score for the content. It's a premium version, checks the content for a number of writing issues pertaining to choice of words, prepositions use, and sentence structure. Access for human proofreading options and plagiarisms checking are also available with Grammarly Premium.
The tool helps writers to enhance the readability score of their content and their writing styles too. The application helps to highlight complex, lengthy and hard to read sentences and asks the writer to make it short.
It helps in refining the writing skills and offers suggestions to replace difficult phrases with simple ones. It highlights passive voice and suggests with appropriate usage of adverbs.
This tool is a blogs idea generator and is perhaps one of the best content writing tools. This helps writers with fresh blog post ideas in their niche and bombards them with good blog topics.
The tool offers room for real-time brainstorming and collaboration with the content writing team so that the team can come up with new content ideas. It helps to collect and compose ideas and connects writers across devices.
Writers need to perform a lot of research when they are creating content and thus need to juggle between a number of tabs while creating content. This tool helps them to convert all their tabs into a list and these tabs are made easily accessible within a click.
The tool helps to avoid clutter and also enhances the speed of the laptop by saving its memory usage up to 95%. It is possible to share these tabs with other people also and makes sharing and explaining content between writers easier.
This is a popular title generating tool and suggests people with creative titles which may sometimes sound funny or even shocking. The tool suggests titles after the writer inputs his keywords and if the title suggested doesn't seem appealing, they could search for more options as well.
This powerful tool helps the writers with the apt word at the right time when they fall short of words. It is a combination of a number of content writing tools and offers a lot of related information when writers search for a word in it. It offers meanings and opposites of words with relevant examples.
This is regarded as an all in one tool that helps writers write grammatically correct content. It also checks the content for issues with the writing style, word choices and also readability. It helps the writer improve further by comparing his writing with the best available content in the niche.
The tool acts as a power source for those writers wanting to create poetic content. The tool offers homophones, poems, rhyming words and quotations helping the writer to compose their poems at ease. It also helps them to find antonyms, synonyms, and phrases that are relevant to their search.
This is an excellent in-browser editing tool that helps to preview the content before editing, to learn how it would look like. It checks the content for spell and typo errors and integrates pretty well with Dropbox and Google Drive. It saves all content in the cloud and allows the user to publish them directly at different platforms such as WordPress, Tumblr, GitHub, and Blogger.
The tool helps writers to insert snippets such as images and addresses as the content is been created and typed. It avoids typing errors and saves a lot of time as well. It is possible to share descriptions and signatures with a team of writers while working on this tool and enhances productivity in a smart manner.
Writers would want to publish their work at different publications so as to be productive. The tool helps them to capitalize their titles in accordance with the demands of the publication. It capitalizes news headlines and content titles in APA style, Chicago style, AP and other different styles.
This is again a title generating tool that helps in creating appropriate titles for the blog posts. A good title helps in driving traffic and enhances user engagement and shares, the tool suggests writing with compelling titles that are sure to gain maximum shares and convert.
Twords:
The tool constantly motivates and encourages writers to write more. Writing here offers a lot of motivation for the writers and they are able to track their writing progress with the help of graphs. It also paves the way for the writers to try new writing styles and enhance their tone and style of writing.
This tool helps the writer to format the content without taking their hands off the keyboard. It also helps to save different versions of the content and restore previous ones. The files could be kept safe by syncing them using Dropbox. The tool allows for collaboration with other editors in real time mode and makes it easier for them to edit content together.
For content that is generalized across the globe, the writer has to choose between the US and UK English words. The two writing styles could be confusing at times and this tool offers writers a good list of spelling differences between American and British English.
This is an excellent distraction-free writing app for the iPad, Mac, and iPhone. It motivates the writer to write more and they could organize their content, set writing goals and track the progress of their writing. It also helps the writer publish directly in WordPress. They could continue writing from where they left. Its content library helps writers to sync between all connected devices through the Cloud automatically.
There is always respect and demand for unique and authentic content. This tool helps writers to check their work for duplication issues. It checks the content against 5 billion web pages, documents, and journals with the help of its real-time database. It shows potential plagiarisms issues by highlighting paragraphs and lines in the content and gives a list of matching sources as well.
Research is an important part of writing an appealing content but is also a time-consuming process. This tool helps writers in performing research efficiently. It is possible to highlight all the research materials in one place and highlight what is more important. It also helps to add notes and categorize content into specific collections. It is possible to collaborate with the team of writers and work together with its cloud syncing properties.
Conclusion:
This is only a comprehensive list of tools available for content writers to help them create compelling contents. The list is indeed enormous and exists to make the entire process of content creation a smooth one. The writers are also able to save a lot of time, as these tools help them with quality checks, topic research, and proofreading.
The tools render the writers a lot of time to focus on enhancing the quality of the content and focus less on other issues such as spell errors and copy scape issues.