There are various content marketing options available and content syndication is one among them.
When you want to promote your content reach, this is the best choice and is a scalable option too.
Many webmasters don't know about its advantages. Most of them think that content syndication can affect their site badly. This is a common misconception.
There is a great difference between copying contents and content syndication. Duplicating contents can bring a negative impact to your site.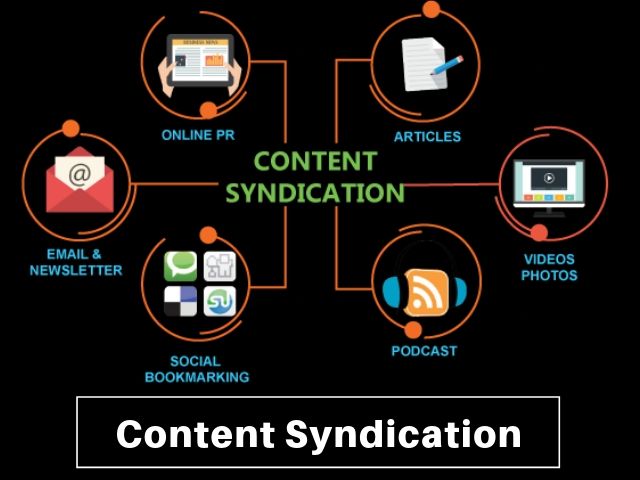 If you are looking for various options to market your content, you must know about content syndication first.
What is Content Syndication?
There are various options to promote your content like sharing it on social media sites, influencer marketing, internal or external links, etc.
Content syndication is a simple process where you can post your content on multiple websites as a part of your promotion. This can increase the reach and popularity of your blogs.
Here you are not creating a new blog and posting it on another website. You are posting the same content from your website on other third-party sites.
There are many advantages to it like growth in your web traffic, creating brand awareness, getting new followers, etc.
Content Syndication helps you to present your blogs to the new audience. This is great exposure to your blogs and you cannot get it just by publishing it on your content.
Many people do guest blogging to increase their reach to a wider audience. Content syndication is very simple than that.
While you do guest blogging you have to find out a new topic and write about it to attract users. This is a time-taking process and you cannot write so many articles for different sites at a short time.
Content syndication makes your job easy. All you have to do is find some influential site that is popular in your niche and request them about posting your content.
This is a mutual effort through which both you and your publishing site can get benefit from. Their audience can find new blogs that are different from usual blogs from the website and you are getting more readers to your content. Here are some benefits you can get from content syndication
Maximum exposure to your content
Build more traffic to your site
Help to build quality backlinks
Increases ranking
Increases the number of followers
One of the best promotional method without violating Google policy
Create brand awareness
Increases your popularity
Content Syndication Strategies:
Content syndication is not easy to carry out if you are not an expert or a famous blogger.
Newcomers will struggle to get a chance to publish their contents on a famous website. This is a very frustrating situation.
How can you overcome this?
Here are some best strategies for newbies to succeed in this promotion. Try out them and see how the response from websites changes to your request.
Guest blogging:
Unless you achieve a name in your niche it is very difficult to get sites to publish your content.
After starting your website, wait until it establishes and become popular. If you are creating quality contents and optimizing your contents properly, it is very easy to get establish easily.
Now you can look for sites to do guest blogging. Search on Google and find out sites which are popular and accepts guest blogging in your niche.
After doing guest blogging for some time you can be popular among other writers in your niche. This is the best chance and you can utilize it to ask other sites for content syndication. If they are familiar with your blogs, they will accept this proposal of yours.
Find out content syndication sites:
There are a lot of content syndication networks like Outbrain, SimpleReach, ARC, Taboola, etc.
You can check sites in your niche which promotes content syndication. Partner up with those popular sites and share your popular blogs with them.
If your content does not fit with those sites twist it or modify. Select some popular content syndication sites and post your content there.
Approach shortlisted content syndication sites:
Next step is to approach those popular sites through the mail. You can include your popular blogs and best-written one with them.
Most websites in these fields share the information to contact them. Ask them politely to publish your blog on those sites. The mail should be short, direct and simple.
While including your previous works, make sure to check its quality. If it works well then, they will agree to do publishing. When you check most syndicated contents there will be the original source down the article. This proves that there is an original source to this content and its not a copied one.
SEO-Proofing:
Most of the marketers afraid to do content syndication because of the duplicate content issue.
As I said above Google takes duplicate content issues seriously. But when you check on Google policy you can see their take on this.
According to Google they only publish content most useful to readers. They don't care even if it is original or syndicated one. So, we cannot predict which version will get popular.
There is a chance of reducing your organic traffic if Google publishes syndicated content on search results.
What is the solution for this?
You can use a rel=canonical tag with your syndicated content. By doing this you are telling Google that there is an original version of that content. If the site that accepts your content include this rel=canonical tag with your post, Google can find out the real source of your content and hence resolves duplicate issues.
Another option is to use 'noindex' tag with your syndicated blog post. If the site, you are going to publish allows this, it will be helpful.
Search engine crawlers won't index that page when they find this 'noindex' tag and it won't appear on the search result. The former option is great than the latter because Google can easily interpret a rel=canonical tag.
These are some best strategies for you to follow while going forward with content syndication plan. Now we can check different types of content syndication option
Content Syndication Methods:
There are two types of content syndication methods free syndication and paid syndication methods. Both are different system and there are various resources for you to choose from.
1. Paid content syndication:
Many sites are there which exclusively works to aid you with content syndication. They are not free sites. You may have to pay for posting on them and you will get revenue as per your post-performance.
They all are associated with some Ads and if users click on as below your post you will get a share of the revenue they get. CNN, Forbes, etc are some popular paid content syndication networks.
All such sites have a lot of followers all along with social media and this will help you to reach a wide audience by posting your blogs on such sites. Some other popular sites who promote content syndication are
Outbrain: One of the leading site which exclusively works for content syndication and also offers great cost per click
Zemanta: is another option that can offer you heavy lifting for your syndicated contents
Simple Reach: is another blog promoting tool you can use to improve your content reach. They have got so many social media followers which can share your content across various social media platforms
2. Free Content Syndication:
If you don't want to waste money to promote your blog using paid content syndication sites, there are free networks available for you to choose from.
These networks are free of cost and you can get so many followers to your blogs through them.
If you can answer any query someone asks for, then that is a great way to reach to as many audiences as possible. Here are some free sites for content syndication
Quora:
Quora is a question-answer site where you can post your blog as an answer to questions users ask. This is the best place where you can get more followers
Reddit:
Reddit is another platform where you can post your content syndication network. There are so many followers to this platform and you can use this chance to get more followers
Medium:
Medium is another platform where you can publish long-form content. This is a great platform for quality content lovers. Get as many followers as you can for your website by posting your blog content.
Content Syndication Best practices:
Before choosing any platform, analyze your target audience and choose the most popular platform they follow
Reach out those networks regarding the publishing of your logs
Know their terms and conditions before publishing
Set up proper tags to avoid duplicate content issues. Otherwise, you may have to face penalties
Analysis of your content performance is very important after publishing. By doing this you will get an idea of strategies to follow, while you post again to get more followers
Content Syndication Points to Remember:
Without knowing properly about this, you cannot succeed. You may have to face some problem if you choose this option without proper knowledge about it.
So, you must know the Do's and Don'ts while syndication contents
Content Syndication Dos:
Only choose reputable networks while you syndicate your content
The networks you choose should be popular in your niche
There are many free sites like Facebook, LinkedIn. Quora, Reddit, etc. Use them in starting and see the change that can bring by those tools to your viewership
There are websites like Huffington Post, Business Insider, etc which accepts quality blogs to publish. Connect with those sites
Content Syndication Don'ts:
Using tools with rewards and crooked payment
No need to overdo it. Limit the number of sites you are going to use for content syndication. Choosing so many sites at a time is inefficient
Use any content with permission. Duplicating content is called plagiarism.
Avoid the chance of republished post to beat your site's organic traffic
Best Content Syndication Networks and Platforms:
Content syndication has got so many SEO benefits like link building, increase in traffic, etc. There are many free as well as paid sites you can use. Some best networks you can use to syndicate your content in 2018 are given below
Inbound:
This is a very popular platform many marketers use to promote contents. Here you will get answers to all your questions. If your blog answers to any user's question you can post it there.
Medium:
This is a discussing platform many marketers use, to publish syndicated contents and create a spark with it. If your content gets more popular in discussions and forums, you will be more popular among people
Outbrain:
This is a paid network you can use with a global audience of more than 557 million people per month. This can help you to reach your posts to the targeted audience and as a result, you can increase your follower base.
Taboola:
It is a platform which you can use to make your content popular. You can make money from it through Ads and get more followers to your blogs. This is a paid network
Facebook business:
Facebook business is different compared to normal Facebook promotion. This is a freemium network which ensures you maximum reach to your blogs. Use this to promote your sale and drive more traffic towards your website.
Final Words:
Content Syndication is not a simple thing. This can create a great impact on your website popularity.
Just by following all the above rules and strategies if you can get more followers then why not.
Content syndication is much easier than guest blogging and is fare too if you mark it with proper tags. These tags will help Google to differentiate the original and curated content.
By this, you can also save your organic traffic. So many options are there to promote your blogs through content syndication. First, use those free networks and see its effect on your blog popularity. If you think of getting more exposure use paid networks. Don't take it simply, think about it. This can give success in all your marketing efforts.