A study conducted in 2019 by Backlinko confirmed that blog content creation is one of the important inbound marketing strategies for more than 50% of marketers. As relevant and high-quality content can help you engage and attract more people.
Successful marketers and brands use content marketing to gain exposure among wider audiences and build credibility and trust. Around 90% of online brands promote the content on different platforms to reach a wider range of audiences.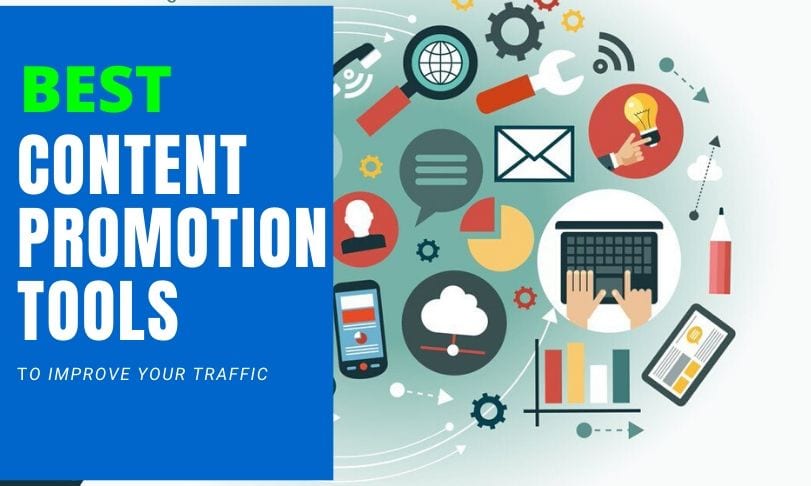 Moreover, content marketing can support marketers to generate up to 3 times more leads as compared to paid search marketing.
However, conducting content promotion is not simple and is a time-consuming process. But there are numerous content promotion platforms and tools available that can streamline the process and make it a lot easier for you.
With the help of these content promotion tools, it is also possible to automate the content curation process and bring more engagement and traffic.
Top Content Promotion Tools:
1. LiveJournal:
It is a unique platform to publish content where individuals can exchange ideas, information, and can share their life stories as well as provide advice. With the help of this content promotion tool, it is possible to bridge the gap between social media networking and blogging.
The best part is that you can share content on almost every topic using this tool.
LiveJournal is a robust platform equipped with a user-friendly interface.
It makes communicating with others very easy.
Using this tool, it is very easy to create a public or private community and share content with people on different topics.
It is a huge community publishing tool that encourages diversity, tolerance, and creativity.
2. BuzzFeed:
The next amazing content promotion tool is BuzzFeed, which is a leading content website delivering the latest entertainment and news to people. With an audience base of more than 650 million, this tool support brands to drive engagement and traffic to their posts.
BuzzFeed allows users to post content on a range of topics like health, business, technology, podcasts, and politics.
Marketers can boost the reach of posts by linking to other BuzzFeed users and influential bloggers.
Content on this platform gains more than 9 billion views every month.
3. LinkedIn Pulse:
Another amazing content promotion tool is LinkedIn Pulse, which is own publishing platform of LinkedIn with a customized news feed. It holds a professional network of over 500 million users who are regularly looking for new opportunities for business and work.
Any content published on LinkedIn Pulse gains massive traffic and exposure.
It offers content curated from top influencers, publishers, journalists, and industry experts.
It gives users easy access to the top content from different industries.
LinkedIn Pulse comes with a section 'Top Post' that features headlines, industry news, and posts that perform better. Featuring your posts in this particular section brings a lot of engagement to it.
4. Medium:
Medium is another content promotion tool that allows republishing the existing content on almost every topic. This platform brings content from expert storytellers, thinkers, and insightful writers.
With this tool, you can explore new perspectives, stories, and ideas shared by distinct users.
There are more than 60 million users on Medium. Links can be added to the original posts to fetch more traffic to your site.
Medium lets you consider traffic and visitor statistics for every story published on this tool.
You can read, share, and write content on a range of topics like business, social media, sports, politics, technology, and other on Medium.
5. Bloglovin:
If you are searching out for a reliable platform that lets you follow all the favorite blogs and read new posts from then in one place, Bloglovin' is an ideal choice. It is an excellent community for content marketers and bloggers.
This content promotion tool offers you a chance to get your content and blog discovered by a large number of people. It let followers stay up-to-date with the latest posts in their feeds. Users can conveniently like, read, and save the posts.
Using this tool it is possible to identify posts that receive maximum engagement. Discovering popular posts can let users understand the type of content the followers want to see from you.
Further, readers can search for the blog by category.
Readers can access this tool from their laptops, desktops, iOS devices, and Android.
6. Y Combinator:
This is another content promotion tool that enables users to submit posts related to online marketing and technology. This tool holds a strong entrepreneurial community that loves to read and share content from across the web.
It is a high-authority website that lets you earn qualitative backlinks for your site.
You can feature your post to earn more traffic to your site.
7. Quora:
It is one of the famous question and answer site that allow people across the world to ask questions about just any topic and get answers. You can answer questions within your niche on Quora to build the authority of your brand and gain more traffic to your site.
Posting on Quora gives your post-exposure to 300 million monthly users on this platform.
Answering questions within your niche and adding links in your answers brings more engagement and credibility to your website.
8. Steemit:
Next, we have another robust tool for content promotion. This is Steemit that lets you post content. Users can like content if they find it useful and interesting. The best thing about Steemit is that you earn every time a user up-votes your post.
It is a website with high domain authority that lets you drive high-quality traffic to a post.
Any post receiving numerous votes and comments can be featured in the 'Hot' and 'Trending' tabs on this platform. This helps to attract and engage a number of readers.
9. Viral Content Bee:
Using this efficient content promotion tool, it is possible to create a buzz about the best content on social platforms. You can gain retweets of likes on Facebook for your posts.
It lets you promote the content for free on social media platforms such as Twitter, Facebook Tumblr, Pinterest, LinkedIn, and others.
You can generate high-quality traffic using it by placing the content in front of social media experts.
10. BoredPanda:
Another content promotion tool in our list is BoredPanda, which lets you share blog posts related to different topics like photography, travel, animals, art, and others. A link can be added to your site at the bottom of each post to drive more traffic to your website.
It has a vast following on social platforms. Hence, can bring multiple shares, likes, and traffic to your post.
It gives more exposure to your posts.
11. Outbrain:
Another popular and efficient tool for content promotion is Outbrain, which enables marketers to reach novel audiences and engage them through customized recommendations. With the help of this tool, you can generate engagement, awareness, and conversions for your content.
You can gain high-quality traffic to your website from the top-notch websites like Le Parisien, CNN, and Ha'aretz.
It extends your reach to more than half a billion people worldwide.
12. Taboola:
Another effective tool for promoting content is Taboola that helps increase conversions, revenue, and traffic. It allows marketers and publishers to focus on high-quality audiences.
It uses machine-learning algorithms to boost engagement through relevant recommendations and personalized experiences.
Posting on Taboola lets you engage with more than 1 billion people from top publishers every month.
13. GrowthHackers:
Next, the content posting tool is GrowthHackers that allows you to republish the blog on this platform to engage and attract a large audience. It enables users to share content related to social media, SEO, marketing, and other topics that boost growth.
In addition to sharing posts, it allows you to answer questions and gain access to novel ideas. You can also participate in group discussions and forums.
You can add relevant tags to your blogs to help users identify the content more conveniently.
14. LoveThisPic:
With this tool, you can share inspiring quotes, different kinds of photos, and DIYs with your users. It allows posting photos under a range of categories like technology, health, business, fitness, photography, nature, fashion, and more.
Users can share photos available on this tool on Twitter, Pinterest, Google+, Tumblr, and their own blogs or websites.
If people share and like your photos, it is possible to engage wider audiences.
15. Zest:
This content promotion tool creates the best content for the market to the audience. It comes with a Google Chrome extension that gives you access to the latest posts and news straight to new tabs of your browser. It is very easy to submit posts. But the editorial team takes a long time for content approval.
Active members of this platform can recommend content which they consider genuine and useful.
This platform offers high-quality content marketing, which is really helpful to content marketers.
Signing up to this tool is possible with a LinkedIn profile.
16. Blog Engage:
This is a big blogging community that allows marketers and bloggers to share their blog posts for more backlinks, exposure, and traffic. It lets you earn meaningful reviews, votes, and likes for every post submitted.
It lets you submit blogs for content syndication.
You can create and join groups to develop relationships with people sharing common interests in the topic.
17. Zemanta:
If you wish to reach a wider, engaged, and relevant audience with your content, Zemanta is an ideal tool. With the help of this platform, marketers can syndicate their content across distinct networks including numerous expert publishers.
It integrates more than 35 social, mobile, native, and other content networks to let you streamline your content marketing efforts in a single place.
It is possible to run numerous ads, design custom audiences to target the campaigns, and measure and track performance.
18. Kred:
It is a community of experts of more than 50 influencers who offer support to promote the content. This platform facilitates cross-promotion where brands and influencers help each other to expand their social audiences.
Using Kred, you can trade on the stock market of an influencer with a virtual currency known as $Eaves. Users can invest in influencers of their preferences and earn when their content starts driving a good volume of engagement on social platforms.
It is also possible to increase earning by completing missions by others.
19. Mix:
Another content promotion tool that lets users create and share content from across the web in one place is Mix. It is a great tool for marketers and entrepreneurs who can discover trending and new topics in their niche. Also, the content can be shared with the audience.
Using mix, it is possible to share snippets of posts in various categories and collections that direct users to the original posts.
It gives your post-exposure to more than 70 million people, which visit Mix on a monthly basis.
20. Triberr:
It is a marketing automation platform that helps marketers, bloggers, and brands enhance their social and content reach. It enables users to build online communities known as tribes, which can be used for promoting content.
You can identify the top influencers in your industry and build relationships with them for efficient content promotion.
It is possible to grow the network by creating and joining new tribes. It also gives more exposure to your content.
It is an excellent platform to expand your following on social media and drive more volume of traffic to your website.
21. Quuu Promote:
This tool lets your brand promote content to influencers. If influencers find your content useful and valuable, they will share the same. You can share different kinds of content including Infographics, videos, podcasts, and blogs.
You can get more mentions, clicks, and shares on your content.
It is great to enhance your social media engagement and search result rankings.
To Sum Up:
With the help of these content promotion tools, you can promote and syndicate the published content to numerous social media platforms and websites. It can help you attract as well as engage the target audience with high-quality content.
So, use your favorite content promotion tool and bring the best results for your content or post.