One major myth is always around a content marketing plan that works. It is, you publish great content on a consistent basis and you will get more traffic, higher rankings in search engines, and eventually will be able to grow your business.
Those who believe this myth may end up doing two or more things:
Publishing blogs and expecting that more people visit your website.
Promoting the bulk volume of subpar content, which is unable to avail any traction.
Such mistakes are fatal to any business venture online.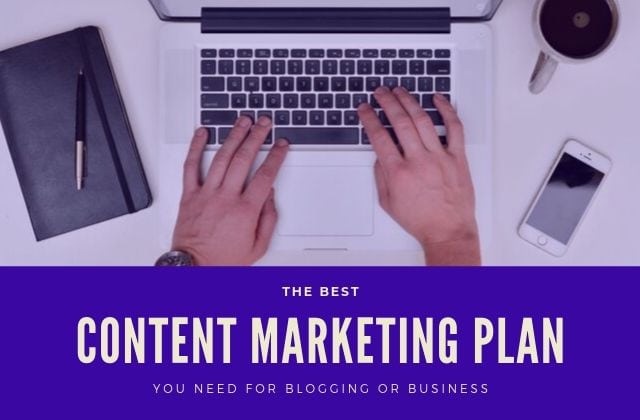 Hence, the best solution is to design an effective content marketing plan, which any business can utilize to create content, which is pre-determined to perform well, to drive traffic, to bring in new customers, to educate users, to rank high in search engines, and to organize the workflow.
Using such a process has the ability to generate sales and leads on a consistent basis.
Undoubtedly, content marketing is robust and powerful. So, here check some of the aspects of the content marketing plan.
Steps to Content Marketing Plan:
1. Identify the Target Audience:
This is one of the most crucial steps to plan the success of your content marketing strategy.
Here is the most vital thing to consider. If you are creating content for the incorrect people, you may drive traffic, but such people would not purchase from you. They may attract incorrect traffic as the wrong content is created.
But if you are able to identify exactly who can target with the content, you can create content, which addresses the major problems. It means they are qualified to need and want your services and products as well.
Hence, the five main aspects to consider in this regard are:
The major pain points of your target audience
Their position and profession
Their gender, age, and other demographics
Their goals
The blogs and publications they read
For this, you may first create a spreadsheet that includes all the above-mentioned details.
Once such details are availed, you may get together with your team and brainstorm everything about the target audience. As such personas will lay a strong foundation for the success of your entire campaign.
2. Research In-Depth Content Ideas:
Next, you must research content ideas but avoid going to old ideas. The aim of this research phase is to identify the topics which are shareable and linkable.
Such topics are pre-identified to drive traffic and rank high in search engines. Also, you may find keywords, which are untapped. Such keywords are not being targeted by lots of people. The pages ranking on the first page are not optimized properly and they don't offer a lot of authority.
Such keywords are quite easier to rank than others. So they will offer you a better return on the money and time investment.
Let's begin!
2.1 Keyword Research:
You must first list down the pain points you brainstormed generated in the previous step. Check the Google Keyword Planner and search new keywords using a category, website or phrase. Enter such keywords and click on the icon 'get ideas' at the bottom.
Next, click on 'keyword ideas' tab. In the first section, you will see the keywords, which you have entered in and their respective monthly search volume. Then, move down to the second section. Such keywords were generated by the planner on the basis of your inputs.
Scroll through such keywords and gather them into a spreadsheet on the basis of the following criteria:
They receive around 300 searches every month
They are related to the goals and pain points of target audiences
They create content around them
They are related to services or products you offer
Next, you must make sure that such topics can be shared on social channels.
2.2 Make Use of BuzzSumo to Ensure Topics You Create are Shareable:
For those who don't know, BuzzSumo is a search engine, which displays tons of distinct metrics about the content pieces.
You may use most shared tool where you have to input search terms and the tool will pull up highly shared content pieces for that term, defining the exact amount of shares for each piece.
Research in BuzzSumo for each keyword in the master list and then note the same in your spreadsheet about topics that tend to receive lots of social shares.
Such topics are unique because:
They are being searched highly in Google
They are being shared naturally on social media
This way, you will have a list of potential keywords to target in the content marketing campaign, which is shareable as well as popular. It is now time to determine the untapped keywords, which will offer you the biggest ROI.
2.3 Competitive Analysis for Keywords:
In order to determine the keywords that are quite easier to rank for, first you must do a Google search for every keyword.
Next, scan over results on the first page and check these characteristics.
Is it a perfect match keyword within the title?
Is it a perfect match keyword in the URL?
Is it a perfect match keyword in the Meta description?
After this, visit each article and check for specific characteristics:
Keyword Density – content with longer length is expected to rank higher
Length of Content – over-optimizing or high keyword density
Media including videos/images
If the content is not detailed and short, content pieces can be created, which are more valuable to search engines and people. It enhances the odds, which you can rank on the first page. If such pages are highly optimized for keywords, you can optimize the content better than such ranking on the first page.
Ultimately, if the content lacks videos and images, the same can be included in the content and increase your on-page SEO rankings.
Among the on-page SEO and actual search engine result, you can determine whether you can design a content piece, which will offer you better chances of ranking or not.
3. Establish an Editorial Calendar:
It is a calendar, which is specific to editing, creating, and publishing of content.
A large number of news websites, blogs, and online publications use it to stay consistent and organized with content creation.
At the very least, they keep everyone who is involved accountable to get their tasks completed. For those who use WordPress, such an editorial calendar plugin works excellent and blends seamlessly. Though it is basic, it will let you and your team get accustomed to performing on a schedule.
For more advanced solutions, you may try other advanced services like using online tools or apps such as Tello, Kapost, Basecamp, or Podio.
To ensure your calendar is used in the best way, it must incorporate dates for beginning or creating, content, making edits, and finally publishing it.
4. Set Up Editorial Guidelines:
With the help of editorial guidelines, it is possible to keep the format of content consistent throughout. Potential clients prefer consistency. They prefer to avail what they expect and want to know even about the most specific details, which you offer.
The same holds true for content. If the format changes regularly, it can be off-putting. However, if it is consistent, it has higher chances of appreciation over time.
It is not difficult to set up editorial guidelines and once everyone is aware of the same, they are not difficult to maintain.
Some of the important areas to set guidelines are:
Make sure you use only one font throughout your content. Different fonts can be used for subheadings and body text.
It is best to break the content into multiple subheadings. Depending on the length of content, you can break the content and make it more readable and easier for Google to scan the content.
Make sure you use bold and italics to focus on important phrases and words.
Many businesses set a minimum length of content for each piece. It is useful for Google and people to fetch more value from longer content. However, if your audience appeals with shorter content, set the guidelines accordingly.
It is easier to scan and read shorter paragraphs, particularly when most of your audience is mobile users. Hence, set a defined sentence limit for each paragraph.
It is more about consistency and less about functionality. Hence, it is essential to set the correct image size for aligned images, images for the cover, and more.
There can be different kinds of media in the content that you may include:
Videos
Images
Graphs
Infographics
Screenshots
Pick your preferred media support.
In order to rank high and bring more traffic you must pay attention to the following aspects:
Keyword in URL
Keyword in Title
Keyword in the first 100 words of content
Keyword in Meta Description
Keyword in Alt Tag of image
Keyword variations spread across the content body
Linking to external sources
Including media like videos and images
Content length
Internal linking to the content
It is vital that content editors and creators very well comprehend such factors. They must even know the ways to incorporate them. If you successfully lay down these editorial guidelines, you can plan a successful content marketing plan to delegate tasks.
5. Delegate Tasks to Different Members of the Team:
If every person in your team is aware of their role, they can focus more on mastering that particular role to the best of their potential.
This way, the overall content quality can be greatly improved. Moreover, it helps to ensure that your content marketing plan is implemented in an efficient manner.
Some of the tasks to delegate are:
One researching for content ideas.
One who is writing the content
One who is editing content
One who is curating or creating media
One who finalizes the content for publishing
It is best to delegate one person to each task rather than multiple people doing the same task. No matter what you decide, make sure each individual is aware of the role and ways to fulfill it.
6. Optimize the Lead Generation for Your Site:
This is the stage to publish content and fetch in traffic. If you ignore this step, you may have wasted all the efforts you have done to generate this content and everything you will be doing to promote it.
It is vital to optimizing the website to capture leads before traffic drives.
Optimization of website for leads can be done in the following ways:
Design a free and valuable offer for the target audience.
Establish automatically delivering to people done through email marketing service like MailChimp or AWeber.
Incorporate opt-in forms across the website for displaying the offer and gather contact details.
7. Drive Traffic through Content Promotion:
It is the time to avail results, which you been waiting for. The main aim of any content is to attract the reader's attention. You can gain comments, brand awareness, subscribers, natural links and shares only when you are able to build a strong relationship with the target audience.
The three effective strategies to drive traffic are:
Niche communities
Forum marketing
Email outreach
8. Create Backlinks for Ranking High in Search Engines:
There are innumerable factors, which can contribute to higher rankings. One among them is on-page SEO, while another one is building white hat backlinks for SEO. This involves finding suitable pages where the content can offer value and reach out.
For this, the two effective strategies are:
Links or Resource Pages – Many websites publish 'links' or 'resources' page, which links to helpful resources on other websites. Such pages are of high value to visitors as they help them get information, which they are not able to find anywhere else on the website. They are also valuable because they contribute to perfect link targets.
Weekly Roundups – A Large number of blogs gets to publish on a monthly or weekly basis. Such articles create the best content on a particular subject within a specific time duration.
9. Analyze the Strategy and Implement:
The final aspect of the content marketing plan is to assess your campaign and make edits to deliver better results. For analyzing campaign, look at aspects that went viral and those that did not.
Constantly assess the results and enhance them.
To Sum Up:
No matter what business or industry you belong to, with this content marketing plan you can avail great results. Just make sure you implement the plan well and incorporate strategies which have worked well for others.