If you want to define success for your content campaign? then content marketing metrics are extremely important to analyze, interpret and measure the success of your content marketing efforts anytime.
A strong content marketing strategy is the backbone of the content marketing process. Content marketing is not an easy process. You have to invest more time on finding out what works and what not to develop a good strategy to market your contents. This can only be achieved through a thorough analysis of content performance.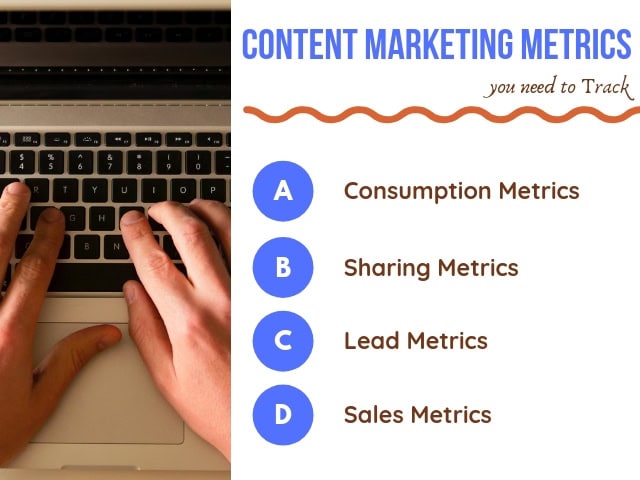 Businesses use more than 40% of their budget on content marketing. There are many benefits of content marketing and one of the most important benefits is that content marketing can help marketers to effectively market their products and create more leads out of it.
As you all know this is a field which is changing more frequently because of SEO, you need to be well-informed about the latest changes that are happening in content marketing. By collecting the latest updates and data, you can implement suitable changes to your marketing strategies and make it up to date.
In short, you need to assess your content marketing metrics to know the effectiveness of your marketing strategy and get an idea about ROI. Without a clear idea about the outcome of your efforts, you can implement suitable strategies that can make your content more noticeable by users.
What is Content Marketing Metrics?
Content marketing metrics measures various factors related to the reception of your contents. You can use these metrics to analyze the success of your content marketing strategies and also to develop new strategies. For any type of marketing, it is important to know the audience and provide what they want. This, in fact, applies for content marketing too. Marketers can provide what their users want by measuring various factors related to their interest in contents.
There are 4 types of content marketing metrics. They are
Consumption Metrics:
Mainly deals with the number of people who consume the content channel they are using and how deeply are they consuming it. We can say that this is a metrics which reflects user behavior.
Sharing Metrics:
Sharing metrics measures the number of shares, the number of people who share, the way they share the content, the number of times the contents are being shared. This can be considered as the symbol of user engagement towards your content.
Lead Metrics:
Lead metrics measure the number of leads that are being generated through the content. Lead metrics shows the outcomes of Search engine optimization efforts of your content marketing
Sales Metrics:
Sales metrics will help you to measure the number of sales that happen through the content, revenue that is coming through the content and how content influences people to buy a product. Sales metrics helps to measure the revenue of a company.
These are the four main metrics that exist in content marketing. We can split it into different components and see how it can help you to develop a better content marketing strategy. Here we can see 17 content marketing metrics that can help marketers to measure their ROI
Consumption Metrics or Basic Metrics:
1. The Number of page views:
The number of page views are a very important metric when it comes to website ranking. There is no use of creating high quality content if no one is visiting your website. Check the number of visitors on your website to see how it performs among thousands of other contents.
If you cannot see an increase in the number of visitors, think about changing your marketing strategy and make one that can help to improve the performance of your content. The number of page views also help you to improve your website ranking which is the key indicator of your content quality.
2. Time on a page:
By measuring the time users spend on your website, you will get an idea about the quality of contents. If your website can offer quality content then there is a chance that users may spend more time on it.
According to a recent survey, it shows that the attention span of website visitors is less than 15 seconds. This is a very depressing result for content marketers. But if you can give catchy content for those visitors, they will stay longer than that.
Make sure to provide a better user experience by creating, informative and valuable content. Also, concentrate on Call to action and quality of content if you found that they are spending less time on your website.
3. New and returning visitors:
You can measure the number of new visitors and old visitors through analysis. This data will help you to understand the power of your content to attract new visitors and retaining the existing followers.
For a business to grow, it has to attract a lot of new customers and impress them. If this can be achieved through their content, then no need to worry about the quality of it. So, work on your website and make it acceptable for both groups. Try to create long-form content and publish it part by part to retain your existing followers.
4. Bounce rate:
Bounce rate is a very important factor to measure when it comes to content marketing analysis. It is the ratio of the number of visitors that spend some time on your website to the number of visitors who exits from it without reading.
If your website bounce rate is high then it indicates that you need to reconsider your content quality and relevancy. If you cannot impress visitors with your content quality, they will obviously go back to other websites. So, make sure to include contents that can have the power to get attention from people.
5. Traffic sources:
Analyze the sources from which your website is getting more traffic. Measure the source which can provide your website more organic traffic. When you market your content, you may use various channels such as social media platforms.
You need to analyze that particular channel which has the power to bring more traffic to your website. This will help you to concentrate more on that particular traffic source and thereby a better result.
Sharing Metrics:
6. Social shares:
Social share measuring will help you to get a clear insight about your content value. According to a survey, more than 30% of website traffic comes through social shares. You can measure this value to know how well your content is receiving by social media. This is a very powerful tool and all marketers are concentrating more on social media promotion.
By analyzing the type of content that is successfully accepted by social media, you can focus on creating that type of content for the future. Measure the number of visitors on your website through social media, the number of shares for each content and total social shares to get a clear idea about it.
7. Comments:
You can also see how website visitors are responding to your content by reading comments. Most users include their genuine opinion about content nowadays. You will get a clear idea about your content's quality by reading comments. These comments will help you to create contents with good quality as your audience want.
If you can't find a comment for your content, think creatively and find new ways to make the audience participate and express their opinion. This is a factor which measures audience's engagement and loyalty.
8. Republication:
Republication measures the popularity of your content among other bloggers. When someone quotes your sentence or add a link of your blog in their own article, it means that your content is valuable. If you found any republications of your content then it is indicating that you are going on the right path.
9. Incoming requests:
If you get any incoming request to your website regarding guest blogging or partnership then it is a good sign. It means that you are getting popular in your niche and more people want to have a partnership with you in order to promote their business.
10. Social mentions:
Social mention will help you to analyze how your community thinks about your content. If someone can give your content a reference, it means that it has valuable points. Sometimes people start to mention your article to show an example of some excellent content then you are doing it right. It will also help you to maintain an online reputation.
Lead Metrics:
11. Number of organic leads:
Organic leads are what you need to make your business more successful. You will get leads from various sources and it is very important to analyze the sources too. By knowing the volume of leads from organic sources, you can concentrate more on such sources to increase the number of incoming leads
12. Lead close rate:
The lead close rate is another factor to consider while measuring content marketing metrics. You need to know the number of leads that can be your potential customers in the future while developing a strategy. This will help you to create the strategy as your potential customers want.
All leads won't be your customers. A marketer should have the ability to find out the leads with a higher close rate and concentrate more on them while developing strategies.
13. Keyword ranking:
The keyword is a very important SEO factor which can help you to improve your website ranking. Best SEO practices are very essential to follow if you want to get a top place in the search result.
There are various tools available online which can help you find the keyword popularity. If you can include those keywords in your content, your website's organic traffic will increase. By tracking keyword metrics, you will get the intended result for your campaign
14. Backlinks:
Backlink is a very useful metrics to measure. By measuring backlinks, you will get a clear idea about the popularity of your content. If the content provides value to readers, they will share your links.
Link building is a very crucial factor which decides your website's ranking too. So, it is always useful to measure backlinks and see how popular your content is among others.
Sale Metrics:
15. Conversion rate:
Conversion rate measures the number of visitors who took a particular action from your website. It could be anything like click on your CTR, register with their email, download material from your website etc. It is the ratio of the number of visitors to your website to total number of clicks you got in any form.
Measuring this value will help you to determine the effectiveness of your marketing strategy. If the value is very low, then you can implement proper strategies to make it better.
16. Return on investment:
Return on investment measures the returns you get based on the value you invested for marketing your contents. Measuring these metrics is very important to find how well the strategies are working for your content. This value will help you to analyze your marketing strategies and re-implement strategies that are not working properly.
Businesses concentrate on ROI and consider as a Key performance indicator which gives them a clear idea about their profitability.
17. Cost per acquisition:
Cost per acquisition is another metrics which helps you to find the cost you spend in order to get a valuable customer. By knowing interested customers, marketers can concentrate on those customers while creating strategies. Customized strategies can help you to impress the customers and make them follow your business forever. When your marketing strategies are not working, you can consider investing more into creating effective marketing strategies.
Conclusion:
These are some popular content marketing metric one can consider while measuring the success of their marketing strategies. There are many other metrics you can measure, but these are some most powerful value every marketer needs to know.
There are free as well as paid tools available for your analysis. By measuring these values, you can change the strategies that are not working in favor of your business. Be sure to have a clear plan while creating strategies. It is advisable to measure at least 4 metrics than measuring one to have a clear idea of what is happening with your content.