Modern businesses have gone online through their e-commerce portals so as to reach their customers on the other side of the globe at ease. Content and how the businesses are able to market their business through written words is all that matters in convincing people across horizons towards a business.
Merely writing content and publishing it on the website would stay forever as a stone at the base of the well. Content marketing, in fact, plays an important role in broadcasting business through its website content.
Providing information that is reliable, insightful, relevant and actionable is a powerful method of reaching the customers of a business.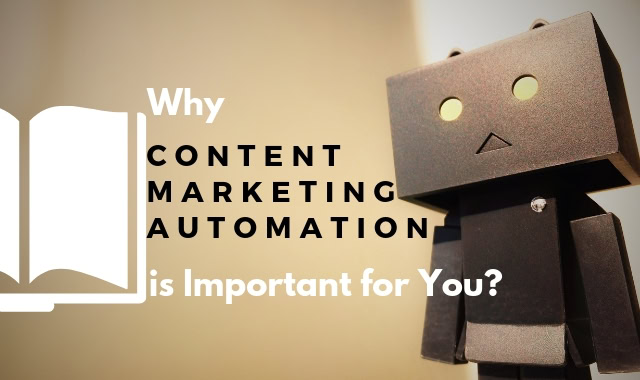 Automation in Content marketing would help the writer to amplify their voice and address their audience directly and demand their attention thereby serving as a powerful marketing tool for the business.
Content marketing tools are being adopted by businesses increasingly at recent times because it decreases the manual marketing effort and concurrently improves its effectiveness.
Ways to use Content Automation at different stages of content creation:
The following are the ways writers could make use of marketing automation tools so as to improve reader engagement and to enhance return on investment of a business.
I. Content marketing Automation at the stage of content creation:
There is a lot of software's that are been available to create unique content. These computer programs come as sophistication against manual creation but would lack insight and depth in explaining aspects to the readers. Though it is not a good idea to automate the entire process of content generation, automation parts of the content could be beneficial in yielding desired results.
Content Ideation:
Content ideation is a little critical and challenging aspect of the content creation process. This is because the content that is been created as part of a business portfolio should both interest the audience and be relevant to the industry and the business.
Finding out which topics and subtopic to write on is again a confusion. Content explorers help the writers and recommend ideas and topics for content curators. This tool also helps writers to take ideas and inspirations from similar content written by other writers as well.
Content ideation tools such as Buzz Sumo could help identify writers in finding trending blog topics and specific keyword searches that have received the maximum reader engagement. Writers would be able to align their blogs with trending keywords, thus enhancing their audience appeal.
Other tools such as Headline Analyzer would help in framing effective headlines and subheadings for the writers to gain maximum attention from their readers. Headlines are important aspects for content for marketing automation; headline analyzer helps in giving headlines a grade and a score and would also suggest some tips to improve the score.
The ideal length of a headline is not more than six words, the tool helps in figuring out the best title for content and also classifies it into different types such as question headlines, generic, list post and how to headlines, etc.
E-commerce websites are quite difficult to handle as not all the visitors who visit the website make a purchase. But with the help of content automation tools, it is possible to generate custom ads and messages for every visitor so as to improve their engagement with the website.
The tools consider the purchase history of the client and take into account their current location and curate a message specifically for them, provoking them to make a purchase. These automation tools could be used in email marketing as well as to target prospects with specific messages that are tailor-designed for them.
Lead Nurturing:
Lead nurturing and management process is an important aspect of online business. Attracting a visitor to visit the website and to sign up for the newsletter is the first step in lead nurturing, automation tools help in sending only appropriate emails to the subscribers based on their mindset.
Reminders are to be sent for those who haven't opened the mail, for those who have read it, a complimentary offer could be mailed so as to trigger them towards making a purchase decision.
Automation tools help in delivering important and critical information at the right step of the purchasing process considering the mindset of the customer. Such targeted content would also help in keeping the audience engaged and builds their trust.
Some Content Automation Tools at the stage of Content Creation:
The tool uses all metrics that correspond to PPC and SEO campaigns and helps to report all the marketing campaigns to the business owners.
It is possible to manage SEO campaigns and social media marketing campaigns through this tool.
Helps writers to track keywords for content across organic and paid search portals.
It has a strong content performance tool that measures the optimization status of the website.
This analytical tool measures the web presence of the company and offers insights to discover the brand on search media.
The tool swims across the website to identify any gap in the content; it also identifies prominent keywords and determines how the website stands against its competitors.
Competitive analysis of the website based on SEO performance is conducted by this content automation tool.
II Automation in Content Curation:
The next step in building an excellent web presence through website content for business after content creation is Content Curation. Search Engines are flourishing with content and there is an alarming increase in the need to curate the content so as to stand the competition.
Content curation helps the business to stay relevant and visible in the competitive social world. Curating the content manually is a time consuming and hectic process, especially for those businesses that hold multiple websites with a lot of content in them.
Content marketing automation in content curation would save time, effort and also help to achieve consistency in the content that is been created. There is a remark about such tools that they would affect the quality of the content that is been created or shared, the remark is true if the automation tool is left unattended and the posts are been shared without reviewing them.
Marketing automation at the stage of content curation is meant to reduce the efforts of the writer, though not eliminate them completely. Though the tools are been used for the benefit of the content, it is important to review all the posts before scheduling them out so that the content works in the benefit of the business, if the content is not reviewed it might work on the interests of the competitors.
With the help of content curation tools, it is possible to edit content and to schedule the same content to be posted on multiple websites or social media portals. Writers could also add images, recommended hashtags and custom define publishing time so as to schedule posts on repeat modes.
Some Content Curation Tools:
This tool helps in identifying, organizing and sharing all relevant content for a business. With the help of this tool, it is possible to position a brand as an industry leader and promote brand visibility so as to generate a number of leads.
This is a popular curation tool that helps the users to browse or search article content and share them. It is also possible to track conversions with the help of this platform.
Magnify:
This is a completely customizable platform and it allows its brands and publishers to share content online after curating it.
III Content Marketing Automation in content distribution:
Distributing the thus formed and curated content is an important aspect of the content marketing strategy. Content distribution ensures that the content reaches the right people and at the right time. This is indeed an important step in content marketing rather than content creation, as without an optimal distribution plant even the best of content would be left unattended.
For a compelling online presence and to yield some profits for the business underlying the website content, the content distribution needs to go far beyond the age-old SEO tactics of ranking in search engines. There is tremendous potential for the social media and the Ad media to amplify the content and to reach out to thousands of people through newsletters, promotional content and email subscription through automation in content distribution.
There is a lot of content automation at the distribution level such as the Mail Chimp that ensures that all of the web content reaches the right people at the same time.
The tool is highly recommended by writers for excellent analytics. It tells the content developers on how many people have actually opened the emails and paves way for them in thinking of other ways to divert traffic.
Tools used for content distribution automation:
Hub spot:
This is inbound marketing software and is capable of performing a number of activities from email marketing to analytics reporting. This is considered an all-in-one content automation tool.
Add This:
The ultimate goal of this analytics tool is to keep people engaged with the website and reduce traffic bounce rates.
Tweroid:
This is indeed a timing tool for social media marketing especially Twitter account. The tool is simple to work and offers a lot of useful information for content marketers.
Content automation pertaining to Email Marketing:
Creating an excellent piece of marketing content for an e-commerce portal, and sharing the same on the business blogs or on the social media platform, is alone not enough to attract people's attention. It is important to get the word about the content to the prospects.
The best way to broadcast it with the people who would be interested to read it is through Email marketing.
Mail Chimp as discussed is a useful content automation solution that could be employed at ease to enhance content distribution effectively. The tool notifies all the readers about the latest post and makes sure the readership number increases. These automated tools have pre-defined templates that could be used at different stages of the sales funnel based on the need.
For a new user, it automatically sends a welcome email and for a prospect, it sends an email about new launches etc.
Social Media Marketing automation:
Content automation tools are to be used for posts on social media as it is one of the best channels for users to distribute and promote their content. The potential audience in these social media platforms could reach billions, and it is possible to find an audience for any niche that the business is targeting.
The tools also ensure that there is a proper schedule to share content on the media so as to maximize user engagement.
Benefits of Automated Content Marketing:
The benefits of content marketing are as follows,
It saves time and money
Content curation helps in finding and sharing information that the audience would love to read
It builds goodwill between the product and the end-user as the content is made engaging with reliable facts and statistics.
Though it is tough to do automation manually, the specific tools make the entire process easier.
It reduces the workload of content writers.
With automation tools, all the works are been performed at the right time as they are managed by software and content writers could thus relax relying on the tool.
Conclusion:
Content marketing automation is an important tool to deliver quality content about a business to the end audience. There are a number of marketing tools available to automate quality contents with an aim to engage the audience with an organic and authentic piece of information about a product or a service.
The content automation ideas and hacks discussed above would help content creators save a lot of time and their resources. This way they are indeed helping their clients to be focused on all other important aspects of the business.