Content is important and Google loves quality content. But, just creating good content isn't enough. You need to distribute it drive relevant traffic to your website or blog. The content distribution strategy helps to Maximize content reach, drive traffic, and improve shares to your content.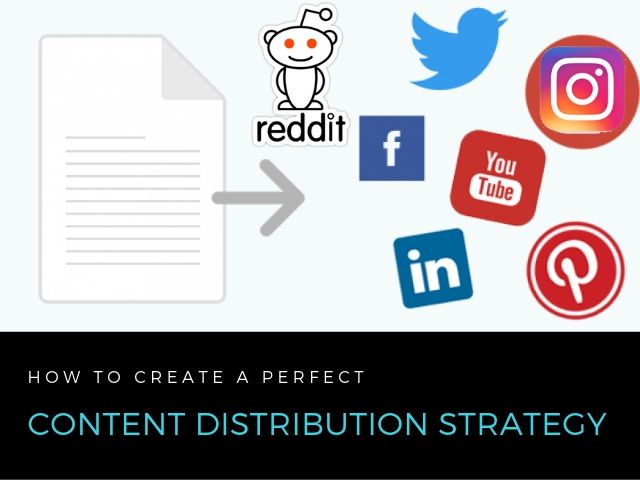 What is Content Distribution?
Content Distribution refers to content promotion. This notion is applicable to the online mode of marketing. This kind of marketing is inclusive of many channels. Such channels can be either in the form of paid service, ownership or earned. These terms are described below.
1. Ownership kind of content distribution:
It refers to the distribution of content among those people who own it. It involves providing email newsletters regularly, posting details on social media and sending updates on micro-blogging sites.
2. Distribution of content that is earned:
This refers to the promotion of content among other people. It involves sending the content to press media, becoming a guest writer for any website, giving product reviews and retweeting any tweet.
3. Paid kind of content distribution
This generally happens when a person pays for any content promotion. It involves the concept of -per-click. In it, the owner of the content pays for every single click.
How To Distribute Your Content To Reach More People:
Your content will not fetch results unless it reaches to many people. You should try out everything so that more and more people get access to it. Given below are some suggestions in this regard. Have a look:
1. You have to have a network:
Content distribution succeeds when you have so many networks. It is comparatively easy to promote the content among networks. Every person should have a group of people who care about them. It, then, becomes a responsibility of every website owner to give something valuable to their readers. In order to increase contacts you can do the following things:
You can take help from social networking sites. Be a member of Facebook groups, Instagram groups, LinkedIn groups, etc.
You can share your write-ups with some bloggers. Try to get in touch with some industry experts as well.
Content promotion should happen on a regular basis. Keep on tagging your readers on a continuous basis. It builds network
Make sure to communicate with your people after regular basis. You can take feedback and suggestions.
You can comment on the posts of other bloggers.
2. You have to republish your content:
Some people think that it is quite an old tactic. But it is absolutely right to use it if you have interested readers. Your readers should interact with you and you should have a ken of your potential readers. It is absolutely fine to republish your content. All in all, it is a matter of content distribution. You should take every possible step to get it happened.
You have to be consistent and regular while doing this. Make sure that your content reaches to the maximum number of people. Content development is not a one and done thing. You should encourage your people to share your content. This will definitely enhance the online visibility of your website.
3. Be in touch with your readers:
Remember that it's you who have to take initiative. In order to engage your audience, you must communicate with them. You should ask them to share their experience. In short, you have to take their suggestions and recommendations by interacting with them.
4. You have to take help of images:
You cannot underestimate the importance of visual impact. Gone are the days when the audience didn't bother about pictures. But now the mindset has changed. The present-day reader wants something creative and interesting in the blog.
You are free to do anything just to impress your reader. When you succeed in entertaining your audience, you actually open so many opportunities for yourself.
You can also upload videos. They are a modern means of content distribution. If you are creative, imaginative and highly informative then you can make videos. You can also develop GIFs and memes.
5. You can go for paid promotions:
Content marketing is known to be very cost effective. One has to only devote time and energy. But you can go for paid promotion if you want more results. Various social networking sites ask people to pay for their content promotion. You can become a guest writer for any website. In this way, you can drive traffic to your website.
Becoming a guest blogger is very advantageous for beginners. In this way a person gets exposure. There are many websites that invite guest blogs. You can go for it.
Content Distribution Plan:
Content distribution plans refer to deciding in advance how the content will get promoted. It clarifies everything and makes it clear that whether the company is going to republish older content or publishing the fresh content. The content distribution plan aims to deliver content to many people.
It provides guidance to the website owner and helps them by providing proper and systematic structure.
It simplifies the whole process and provides ease to each and every marketing tactic.
The company has to make a different plan for different kinds of content.
You have to have a clear cut idea of the impact which has made by your plan. Unless you know your strengths and weakness, you will not be able to grow.
You should know whether you really want a paid promotion or not. Sometimes paid content distribution plans suits the company. And some other times organic plans work best.
How to Create a Content Distribution Plan:
Steps regarding content distribution plan are given below. If they are followed properly, good results are obvious to be generated. A proper and systematic procedure is given below. Have a look:
1. Make a plan for your readers:
The very first step is to know the spectators. You should know what mentality your spectators possess. While making the content distribution plan, you should make a sketch of your people as well. It is true that many businesses don't devote time doing this. But if done, the business is likely to get good results. You will know how to distribute proper content among the right people.
2. You have to be an observer and researcher:
The first step is to know your readers. Afterward, you have to research well about them. You have to observe each and every activity of your audience and know when they use different channels, which channel is used mostly by them, etc. While performing this step, you should know some basic things about your target customers:
You should know with whom they spend time. It will help you to know their preferences and choices.
You should know what kind of questions they ask. Also, try to know they rely on which platform to get answers to their questions.
You should observe their activity on various platforms.
3. You have to create a different strategy as per different plan:
After knowing your audience and their behavior, you should make a strategy. And every strategy will be different. It is because one same content distribution plan cannot be used again.
You might have an audience from different platforms. And all the channels appear to be the same. But still, you should have a different plan for each platform. When you know about your audience, you can make a separate strategy. You have to apprehend the channel.
4. Communicate with your audience:
You will be highly satisfied and successful if you do qualitative research. You have to do anything just to know about your consumers. You have to know what exactly your customers want. It will help you in getting rid of unnecessary guessing. You should directly take their interview. You will not only get their interests but will also develop a good relationship with them.
You will get the following benefits:
You will get in touch with them.
You will get a chance to understand them.
You can create a content distribution plan accordingly.
Follow these steps and you will be amazed to see the results. The steps mentioned above are suggested by experts. So they are highly beneficial.
The Concept of Content Distribution Strategy:
Content strategy relates to the process of managing everything. It is prepared by the company for the successful execution of the content distribution plan.
The content strategy takes into consideration the following things:
What kind of content has to be created?
What is the mentality of potential readers?
What is the number of readers? (It is because the different content strategy is prepared for different people)
What is your specialty? What makes you creative and different from others?
What is the medium you will use? Will you go for video or blogs or any other type of content?
What are the channels where you will publish your content?
What are various publishing tools available with you?
Content marketing strategy is very important for every marketer. It is because it guides the future course of action. And it is so cheap that everyone can afford it. It helps in improving the conversion rates. It increases the online visibility of the website. It helps in engaging the traffic.
No doubt, it is a very reliable source.
Procedure to Create a Content Distribution Strategy:
1. You have to decide your objectives and goals:
This is the very first condition of developing a market strategy. Unless you know what you want to achieve, you will never be able to get it. You should have everything clear in your mind. You should know what kind of content you want to develop.
2. Don't forget to do proper research:
Once you know what you want to achieve, you should do proper arrangements accordingly. You should develop content as per your audience. The next step is to know what kind of content your audience wants.
3. Have a content management system:
The next step is to know about the various platforms where you can publish your content. A proper content management system includes the creation of content, publication, and analytics of the content. The third step is to plan everything in advance. It leads to producing good content and publishing it.
4. Find out new ideas:
When you plan out everything, you should do an intellectual activity. You have to come up with fresh ideas that are creative and unique. There are many tools that give many ideas to users.
So, you have to plan out everything in advance. And then decide the rest of the things systematically. Generally, content marketing strategies are made for the following types of content marketing
When you are writing blogs
When you are creating videos
When you are using e-books
When you are developing templates
When you want to try out, infographics, podcasts and case studies
When you want to post your content on various social networking sites