Valuable content is what drives the present world of search engines. With the help of rich content, you can grow your business and drive more potential leads, sales, and revenue to your online business.
However, just writing good content is not enough. It is equally vital to regularly track the performance of your content on various parameters on search engines. Hence, you have to figure out what works well and what does not performs.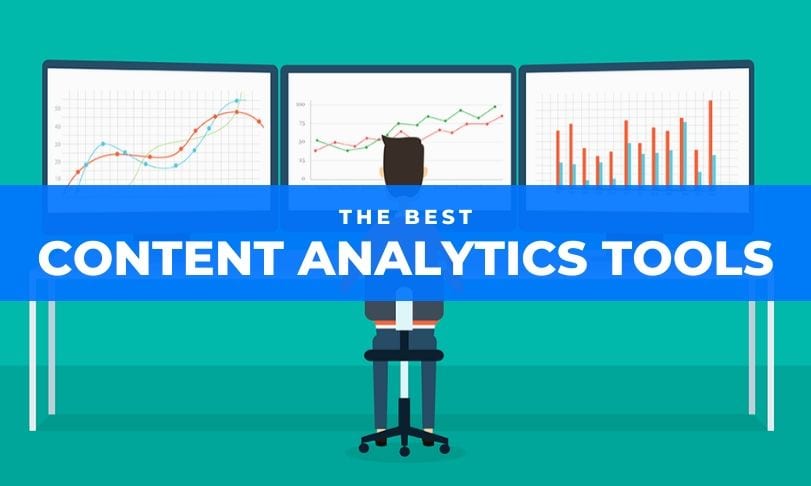 For this, the best supporting tool is the Content Analytics tool. Using content analytics tools you can better understand your audience and design personalized content accordingly. Moreover, you can track, measure, and estimate the effectiveness of content published on your blogs and website.
So, here we bring you the best content analytics tool that is proven to deliver results and can be used by websites of all scales and niches.
Best Content Analytics Tools:
1. Atomic Reach:
The very first tool in our list a powerful tool designed for content optimization. This tool lets you conduct a visual assessment of the potential of your content to reach and enhance communications with the target audience.
In addition to content analysis, Atomic Reach lets you assess the content for various aspects like readability, emotional impact, vocabulary, and more. You can check your content on different parameters and improve it over time.
In addition to this, you can gain detailed statistics about the kind of content that works best on your site and content that needs improvement. The best thing is that this tool can be connected to your Google Analytics and social media accounts leading to a better understanding of how your visitors are engaging with your content, and identify key trends, check social media views, and shares.
The pricing plans for Atomic Reach start from $599 per month.
2. Clicky:
Next, we have an amazing web analytics tool, which lets you track user behavior on your website. Using Clicky, you can also analyze and react in real-time to the traffic received by your website.
This tool is highly robust and works almost like Google Analytics, but comes with a more user-friendly interface and supports users to design more relevant customer segmentation. Along with real-time statistics for your project, you can use it to view heat maps in a real-time situations. This is an advanced technology that lets you know how visitors are engaging with your content and how long they require to stay on the located page and what actions they perform.
The heat map technology is applicable to each individual separately. For instance, you can better comprehend the preferences and behavior website visitors who did not make a purchase. This lets you know what kept them back from transacting on your website.
Moreover, there are numerous custom integrations offered by Clicky, which makes it very convenient to track your activities on Twitter such as your account, website, URL, or keyword.
While using Clicky, you can gain access to an infinite history of tweets that also includes summary activity reports by hashtags, links, sentiments, and users.
3. SE Ranking:
Undoubtedly, this is one of the most promising, powerful and robust tools all-inclusive of cloud-based SEO functionalities. For this reason, it can help content marketers to gain detailed insights about their website performance.
Using SE Ranking lets you get hold of the bulk of vital information about any page of your websites such as high-performing keywords, keyword rankings for the content, rankings for paid ads, pages with high organic search, and issues related to your website's content.
Gaining all such details ensures your website content is fully optimized, especially for SEO purposes.
Using this tool is very easy and it contains a lot of vital options from keyword research to tracking rankings, conducting website audits as well as monitoring backlinks.
Further, this tool is excellent for keyword planning and helps you track and monitor your competitors in paid and organic search. Even, you can breakdown the traffic by organic search, paid search and backlinks. One of the finest features is to automatically generate white-labeled reports and monitor your project's progress.
To check the viability of SE ranking, you may look for its 14-day free trial version, which is loaded with the best features and gives you complete access to its functionalities. The paid plan for SEO Ranking starts from $39 for a month.
4. Varvy:
Now, if you are looking for a tool that is easy to use and meant for simple auditing work, Varvy is definitely the best choice. It offers you detailed reports of not only your content, but also links, images, website overview, website speed, and more.
With Varvy, you can easily comprehend everything on the way Google crawls and renders the pages of your website and the way it performs on the basis of Google's guidelines.
You only have to enter your site URL, and this tool will present you with errors on your site, optimization results, as well as issues related to SEO. It is a great tool delivering you a detailed explanation of each aspect so that you can clearly know about the topic of mistake you are making. Moreover, it precisely showcases your pages on mobile along with a screenshot of the report generated.
Varvy is available for absolutely free.
5. AgoraPulse:
The AgoraPulse is yet another promising and feature-rich tool in our list that comes with affordable solutions for social analytics. This tool is designed to assist you in finding the finest content for your website, view details of your target audiences and show the level of engagement your visitors have in comparison to those in your industry.
While using this tool, you can easily schedule your posts, manage comments, check filters, enhance team collaboration, boost process visibility, and monitor your keywords.
AgoraPulse is equipped with almost all features and functionalities, which you require to stay high on your accounts on various social media platforms. Moreover, it saves a lot of time for social media and content marketers by managing their social media tasks in a single place. The cherry on the cake is its Chrome plugin that lets you perform all tasks easily and at once.
Registering to the website would give you access to its free demo. If you like it, you may switch to the paid plans beginning from $88 for a month.
6. Mention Holiday Marketing Toolkit:
Next, we have again a highly promising and efficient content analytics tool, which is Mention Holiday Marketing Toolkit. This is a high-powered tool enriched with numerous features, which makes it perfect for all kinds of businesses that intend to augment their social media presence, emails, and website conversions through content.
It is more like a guide than a tool, which allows creating easily holiday marketing campaigns, which can deliver real results throughout the year.
Using this tool will let you gain practical ideas and tips to create a successful social media campaign, a posting calendar for the content and remember all-important marketing events for a particular year. Moreover, it gives you access to email marketing techniques to boost engagement and enhance conversion optimization using strategies to enhance the sales of your holiday season.
This toolkit is available for free download. You only have to provide your name and email and you will be ready to use this toolkit in just a few minutes.
7. Kuia:
If you are looking for a fully-featured platform for content marketing, which helps content marketers to design interactive content, generate more potential leads, and boost revenue, this must be into your consideration.
Kuia is a premium tool with personalized features and functionalities such as quizzes, assessments, calculators, visualizations, and more that let you gain useful information about the knowledge and interest of your visitors.
Also, Kuia serves numerous great features in one platform, including audience targeting, brand management, multi-channel publishing, and more. The free trial of this tool is perfect to start with.
8. Zembula:
Now, this one is a completely new and highly interactive content platform that helps content marketers to implement and create more customized content for their customers across various channels. Using this tool, it is easy to measure the success of each campaign.
Zembula is a highly promising tool, which lets you develop interactive content for email, social media marketing, and SMS campaigns. The great thing is that while using Zembula, you can conveniently develop more engaging and dynamic emails ranging from rich video experiences to abandoned carts.
The analytics dashboard of Zembula offers users with a particular engagement data and statistics on the audience with pool. Also, it offers a lot of supportive features, like custom elements, overlay videos, and countdown timers, which makes creating and managing content a lot easier.
To request a free of cost demo from Zembula you may contact the team. There is no free subscription available. Hence, you have to use the paid plan to start accessing it.
9. Blaze:
This cloud-based tool is perfect to automate content audit and help marketers analyze and audit online content, enhance content strategies, and determine gaps.
It creates one inventory, including analytics and metadata from other resources. Moreover, using this tool, you can evaluate your entire content on the website and display the most vital metrics in novel ways, like page views, unique visitors, time on page, and more.
You will love using Blaze as it comes with intuitive and simple user interface, which lets you check audit fields as well as your content on a single screen. It works flawlessly with websites having innumerable pages and display growth opportunities.
10. Cyfe:
Don't go by the numbering in our list as Cyfe is one of the most powerful and efficient tools, which you may use to optimize all kinds of content related to your business. It is not only a content analytics tool, but all-in-one business software that lends you the convenience to gather your entire data in one place in a precise manner.
In just a few clicks, you can gain detailed dashboard for all the pages you are managing. One great feature of Cyfe is that it comes with in-built functionality, which lets you create widgets and dashboards directly from your account.
In addition to this, Cyfe is an all-purpose tool that comes with multi-functionality. Hence, you can use it to accomplish various goals of your business such as tracking the number of views on live videos, correlating the growth of social media presence with the content engagement, tracking the website analytics on a daily basis, and assessing your business's every day social media activities.
It is an excellent start to gain in-depth assessment and pay a close attention to view of the analytics.
The feature that gives it an edge over other content analytics tools is its Mashup widget, which can be used to compare your site with others to determine correlations, which will help you respond to most vital questions related to content analytics. Using Cyfe, you can conveniently create dashboard reports in the PDF format with white labels for each account.
To gain limitless access to this tool, you need to purchase its paid version, which is available at a price of $29 for a month.
11. ClickFlow:
ClickFlow gives a deeper insight into the content on your website and offers actionable suggestions about the most prestigious content holding a high rate of an impression but low CTR.
With the data obtained through ClickFlow, it is possible to conveniently make changes in your content such as Meta descriptions, title tags, body content, and more. Even, you can view how the changes made affect online results for your website.
One best feature of ClickFlow is its potential to run experiments by comparing the optimized web page to its original version. You may better comprehend the variables, which result in failure or success and offer detailed insights, which can help you with website optimization in real-time.
To begin with, check the 21-days free trial from ClickFlow as the paid version is available at $99 per month.
To Sum Up:
There are various other content analytics tools available, but we have shortlisted the best ones for you. You may try with free plans and switch to paid plans only if you like the tool as this will let you save money.
Just use one or more of these content analytics tools as they definitely help in strengthening a content marketing campaign and aid in successful business growth.