For every business, it is very important to have a good customer base. This will only happen by connecting with them well.
There are many ways to connect with customers now. Social media platforms are the best example.
Many businesses use this platform to connect with their customers in various ways. It will help them in business growth and building trust among them.
Engaging customers are perfect choice every business can adapt, make them attached to your brand. So, all you have to do is connect with them personally and make them feel important.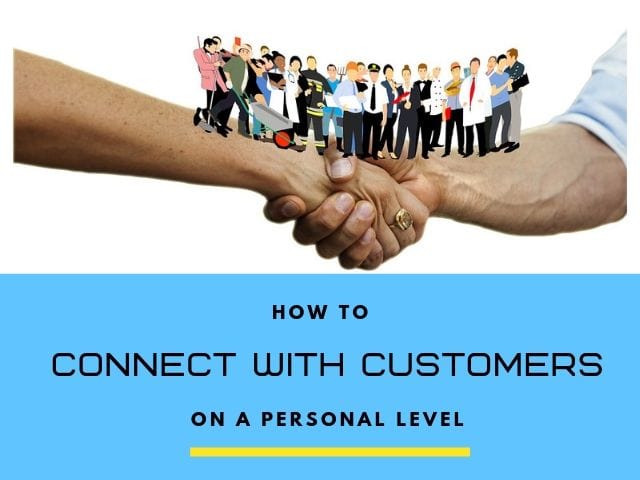 Without a good customer base, no company can be successful. There are companies who develop various campaign to reach, as many customers as possible.
But, how many of them are successful? Only a few. The reason could be many.
One of the important reason of that issue could be a lack of engagement or a real connection with their customers.
So let us know, why is it so important?
Importance of Connecting with Customers:
Every business exists because of customers. It is very important to create a healthy relationship between your business and your customers.
Here are some important reasons that state the importance of customer connection:
A good relationship with customers can make them stay with your brand whenever needed. If you have a loyal group of customers, they will stay with you even though you increase the price but not when your customer service is bad
Increases loyalty and will be with you for your business promotions. There will be some good customers who believe in your product for years, they will be your brand advocates if you can provide a better service to them.
It is better to retain your customers than looking for new ones. Now the business is essential for business but at the same time without existing business, you cannot find money to attract new customers. So, you must be careful while dealing with existing customers and make them happy with your excellent service
Make ways for customers, to approach you easily. This is an important point to be considered while interacting with them. Give them all the options to reach to you or connect with you, so that they will feel positive things about your product.
One negative review can bring a negative impact to your business. People always buy products by checking reviews. So, if any of the customers say that your customer service is bad then be ready to face negativity in your business. You have to keep track of customer experience and feedback about your product and service.
How Can a Business Connect with Customers?
You will get the answer to this question from this article. First, a company needs to have a clear idea about their business objectives. If they have a clear plan on what to do, then connecting with their customer is not an issue.
Customers are the basic requirements of every business and here are some options to connect with them
1. Provide them with better customer service:
Customer service is very important related to business. If the service experience is very poor, then nobody will buy a product from that business.
Customer service representatives have to talk with users and know the problem they are encountering with the product. If they can give the appropriate solution for this then customers will be happy. Happy customers are the strength of a product.
Zappos is the best example you can consider knowing more about customer service. They hired people from all over the world to talk to their customers and find solutions for them. They will try to hear all the issues of their customers related to a product patiently and suggest the best solutions.
This is the main reason for the increase in their business lately. They gave more importance to customer service than anything else. That's the secret of its growth.
2. Send emails to your customers:
Every products and business now collect emails from its customers in some way like offering discounts, cash coupons, etc. Use these emails effectively to connect with your customers.
Send them emails they want to read about your product. No need to spam up their mailbox with unnecessary emails about your updates or new products. Set a particular time of a week and send them emails regarding any offers that's going on or with a discount coupon etc.
Everyone likes to know about discounts or sale that is happening in a business. You can use emails to inform your customers about it. Send relevant emails and don't irritate them with unwanted emails
3. Response to their queries ASAP:
We all use mails to reach a business. But after sending mail, everyone expects a reply from them. This is where most businesses fail.
If you want to handle your customers professionally, all you have to do is reply to their message as soon as possible. It could be anything like "I got your message and will reach you soon with a solution". This is fine as an instant reply.
A survey conducted among customers says that they can wait 24 hours to get a reply to their mail.
Many people will get frustrated if they don't get any reply with that time. It could be some short messages like a Yes or a No.
Now there are many new facilities like live chat, bots, etc to interact with customers. If you want to keep up a good relationship with customers, make sure to connect with them instantly using any available options.
4. Face to face interaction:
Face-to-face interaction is even useful than connecting with them online. Emails and phone can't give the impact that face-to-face can give to its customers.
Many businesses conduct social events where they invite their customers. They can interact with the owner directly.
Webinars, Facetime, live on social media, etc are some interesting ideas to directly interact with your followers. Both your business and customers will get benefit from such interaction.
Customers will get to know what is happening in the brand they are using and at the same time, they can interact with it and create a personal connection.
Like meeting high profile clients of your company every month, it is also important to meet your customer who helped to grow your business. Offer them something as a part of your gratitude. All of them will make your business grow with strong support from customers.
Human connection can do magic in business and real life according to experts. Let them know about your business and the personalities behind your brand growth. Connect with them and make them feel special for your brands.
5. Personalize your business website:
When a company wants to promote their business the first thing to do is to, create a blog for them. When a business creates a blog, it should be like more personal than being so much professional.
Initially introduce your brand and its idea. The brain behind this idea and about that person. These are the best ways you can connect with the audience through a personalized website.
Also, include customer stories and feature all events where you directly interacted with customers. It is good for increasing your business and engaging existing customers also
6. Engage them to create content for your brand:
Contents created by real customers of your brand is better to publish than including some paid content. There will be some loyal customers for every brand and if they can create content for that brand, it can create a powerful impact to increase the conversion rate.
If you are running a fashion business, encourage your users to share a picture when they use your product. This is a good advertisement than featuring models in advertisements.
Coke is a company which uses this as a part of the brand promotion. When they started a campaign to promote personalized bottles, Coke used social media campaigns and encouraged users to feature their new product.
Customers who bought this new product shared the picture with this campaign and it encouraged others to buy the product. This is the main reason for their increase in sale. Customer engagement could be off anyways.
You have to ensure to make them participate in your promotional program or branding to form a great relationship with them.
7. Use social media as a tool:
The power of social media is unmatchable. After everyone took it as a tool for business promotions and marketing, the power of this platform also got increased. This is the best place where you can meet all your prospective and existing customers.
When you use a page for your business, do not use it only as a part of business promotion, consider it as a good platform to connect with your customers.
Answer to all their queries, start discussions, get their feedback and suggestions. If you use it effectively customers also will feel good about your product. This can lead to a good connection with your customers.
8. Partner up with other businesses:
If your business can team up with another one, it will be better. There are many success stories where the partnership has created a great sale or conversion rate. If you are a blogger and running a successful blog at one point you need to try something different to please your followers.
Many bloggers adopt guest blogging to entertain their followers. Approach a famous person in your niche and request him to do guest blogging for your blog. By doing this, you are providing more exposure and content to your followers to new areas.
Another popular success through a partnership is between uber and Spotify. They partnered up and all frequent uber customers can listen to their favorite songs from Spotify app.
This is the power of teaming up and no campaign can bring such impacts on your business than combining with another strong business to make more benefits.
Many businesses do partner up with others when they want to expand their business. Some restaurants partner up with popular events and serve food for the guest. This can improve their exposure and business at the same time because more people try their food and if they like, go to their restaurant to eat.
9. Give rewards:
It is very important to keep the existing customers before trying to earn new customers. To encourage existing customers, give rewards. It should be something useful to your customers. This can keep them attached to your brand.
Every year after making some profit from your business, give them something as a part of your gratitude. Say thank you for being with your brand. This is a good way to connect with your customers well. Every brand should try this method to make their business more popular and improve its reach.
New customers are practically unprofitable initially. It will take some time to get profit from them. Existing customers are investing money in your brand again and again. So, making them stay with your brand is very expensive than getting new businesses.
You have to find a way to retain them and many businesses give them something valuable for staying with this brand so longer. So, keep in mind that you must please existing customers well to retain them with your brand and increase your revenue
Final Words:
Customer relation is very important for business growth like marketing and branding it. If you can ensure it to your customers, it will help to get more customers automatically without any advertisements.
If you can build trust by connecting with your customers, they will be with you forever. Adopt new ways to connect with them. New technology like bots will help you to automate your communication with customers.
Using new technology will help to reduce some operational cost. Instead of saying that you care for your customers, show them that you really care your customers. Implement the above tips while trying to connect with customers on a personal level.
Are you ready to see some change in your business?