Internet marketers are always looking out for tools that are easy to use, cost-efficient, and can bring them the desired level of traffic. Whether you are running ads or a full-fledged campaign, having such tools handy makes the task of brining quality traffic easier and simpler.
Out there are numerous tools available that can track ads and campaign. These tools help you know what is working and what actually is not performing.
One such efficient and promising tool is ClickMagic. It is one of the finest affiliate tracking software packed with variable and robust features.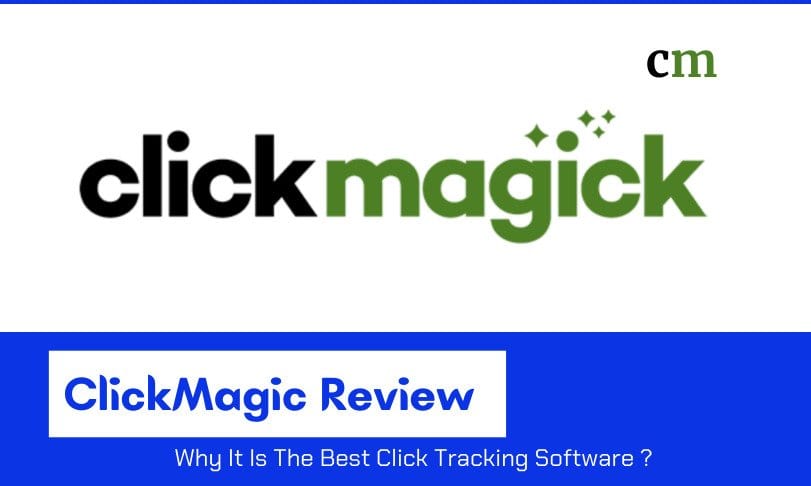 ClickMagic lets you run free analytics for the campaign and keep check on ads performance. Also, it takes into consideration numerous factors like payment methods, page design, price points, sales, and a lot more.
I would like to share my ClickMagic Review with you to let you have a clear idea of what all this tool can do and whether it is an ideal pick or not?
ClickMagic Overview:
ClickMagic is top affiliate marketing software that informs about the conversion rate of ads or campaign. The tool is packed with numerous rich features like custom tracking domains, multi-mode link rotators, dynamic affiliate links, A/B split testing, link cloaking, and others.
It is promising link management software for online marketers and is highly useful for those who wish to buy or sell traffic. It tracks every conversion and every visit but also regulates the flow of traffic by blocking the false clicks like users or bots through VPN. As a result, it becomes easier to maintain the quality of traffic by daily limit or establishing geographic details.
Also, it offers numerous additional tools like banner bar, pop-up windows, and others for inviting users to other page.
It is renowned for its anti-spam policy and restricts users from specific spamming techniques. It guarantees the traffic process from legitimate sources.
Rotators and Links:
The links in ClickMagic are commonly used in exchanging traffic within companies that are useful for individual ads by both sellers and buyers.
It let buyers build a tracking link and deliver it to the seller so that both the parties can monitor traffic and gain the number of visits or clicks. A link provider configures the buyer tracking link using rotator. Often, they have more buyers at a time, so the traffic they offer is in rotation. It means that traffic can be shared equally among all the buyers, or they want it when establishing up.
Each visitor's IP address is recorded on the statistics page and the number of clicks is mentioned accordingly. The single clicks and total number of clicks are showcased separately. If the user is visiting the buyer's URL numerous times, the total number is mentioned on TC, but the number mentioned in UC must remain the same. ClickMagic lets you have complete control over traffic monitoring in multiple ways.
Instructions, Support, and Help:
The good thing about this tool is that it offers multiple functions. Moreover, it is very easy and fast to find everything. Also, this software is very easy to use and present things in an organized manner.
For this reason, whenever you have to make a selection, you can always select the help button to check exactly the meaning of each option. There are also instructional videos offered by Steve, which are the best. This person is intelligent and offer instructions in a detailed manner.
There are also numerous instructions provided in the Help menu. The Follow-up manual is well-supported with frequently asked questions, system stats, news, support service, video tutorials, and more to which it is possible to provide a support ticket.
A/B Split Testing:
With the A/B split testing functionality provided by ClickMagic, it is possible to track conversion for each link separately. It is very convenient to put it in the place. When two or more numbers of URLs are added, you can enter the traffic percentage for each page. Furthermore, you can copy the tracking pixel code provided by ClickMagic and paste the same into the thank-you pages option.
Once configuration is done, entire traffic is randomly spread across the pages, and you can check statistics for each page individually. Also, ClickMagic can automatically identify the one who wins if the confidence interval is 95% or more then the same is notified through an email.
Features of ClickMagic:
Now, here check a brief of some of the awesome features offered by ClickMagic.
1. Organic Tracking:
This feature lets you implement the code mentioned to your site, to let you track organic traffic. It lets you know the way users arrive at your webpage such as through Google search or reference from an existing user, and others. You can incorporate an additional pixel code for conversion tracking to track the conversion.
One important thing that you need to consider is to offer your site and track organic traffic, which is how the users arrive at the page. The example here is Google Search. You can also add an additional conversion tracking code to monitor the conversion.
One important thing that you need to remember is that the organic traffic that comes from secured websites cannot be determined as secure sites are not permitted to pass referred information. For instance, YouTube, all organic traffic from the YouTube will be mentioned anonymously under the category 'none.'
2. Links:
This feature lets you establish a tracking link. When the user hits the tracking link, they are redirected to the original URL. It offers a pixel code for tracking and by pasting and copying the code in the squeeze page you can monitor the opt-ins. It lets you set up multiple tracking links at once. There are a range of optional settings also available to mention under each link. Some of the prominent ones are:
Tracking the complete sales funnel beginning with the opt-in feature through down sells and upsells.
It lets you enter the cost of unit when purchasing traffic either through Cost-per-Click (CPC), Cost-per-Sale (CPS), and Cost-per-Action (CPA), Monthly or daily monitoring, to determine the exact cost so far.
It offers the feature of link cloaking, which is masking the URL, which you are promoting such as affiliate link.
Adding backup URL is another feature which is useful when the original link of your website is temporarily down or not working. You can also use it when your link is not available to specific countries. You can enter an additional URL for redirecting the users.
Geotargeting is excluding or including certain countries by checking or unchecking them from the drop-down list.
Protecting a link through password is another useful feature. It lets you share your password with the users who can access the link.
Establishing a separate link for the iOS or mobile users.
Bad Clicks is an excellent feature that filters the bad clicks from tracking or blocking them entirely. It blocks users through VPN, bots, or search engine spiders.
3. Content:
The content feature is a comprehensive one and under it there are 3 useful features offered, which can be integrated to the webpage for increasing conversions. These features are Countdown timers, MagickBars, and MagickPopups.
a) MagickBars:
This is a bar, which appears at the bottom or at the top of webpage and it stays till the user clicks the icon (x) for closing it.
It is possible to design MagickBars by using the visual editor and it allows adding tables, images, YouTube videos, along with sound. Moreover, it can make the background colored or transparent. You can also add a speech bubble and a countdown timer, which can be incorporated in the bar.
This bar is useful for inviting visitor to the affiliate page or any other sales page. Or, it is possible to highlight what all you are promoting within the pages.
b) Timers:
The idea of the countdown timer is to encourage the readers to take action and this is exactly what the ClickMagick timer feature functions.
It does not take a couple of minutes to create the timer. There are 4 unique styles and 2 kinds of cookie or evergreen content or data based. You only have to paste and copy the code to any location, which can be your webpage in the MagickBar or magickPopup.
c) Magick Popups:
There are 4 distinct sorts of popups.
The first one is 'on load' popups, which appears when the visitor lands on a page.
The second one is 'delayed popups' which appears when the number of seconds specified has passed.
The third one is 'exit popups' which appears when the user moves the cursor out of window and is about to close the same.
Redirect popups, which is technically not considered a popups, but redirects the user to another page when they wish to leave.
By using the visual editor, it is possible to design a popup. You can integrate everything to popup, including tables, images and embed content.
4. Rotators:
This is a robust and essential tool for traffic providers. It can be used for more than one destination and can be established under one link it rotates.
For instance, you can sell traffic to the Buyer B and Buyer A. Each buyer provides you a URL link to its website. You can establish both link URL-B and URL-A under the rotator link. The rotator link can be published when sending to email subscribers. When a link is clicked, they can direct to URL-B or URL-A and select among the 4 rotator modes.
Spillover mode – It is similar to sequential mode with the difference that it specifies another URL for redirecting the users to after they have checked all URLs in rotator and completed the unique clicks.
Sequential mode – When the link is clicked by user. They are directed to the first URL and when they click the same link again they will be redirected to URL B. This mode sends traffic to each URL within the rotator one after the other, as the repeat users hit link numerous times. And when the bottom is reached, it starts the process again.
Random mode – It disperses clicks in a random way.
Fulfillment mode – It sends traffic to the first URL. It includes repeat clicks from the same user till the URL has gained the maximum number of clicks.
5. Tools:
This option lists all other tools in the menu.
Data Exporter or Importer – It links data, rotator URLs, and rotator data to export to third party apps. The data from another monitoring tool can be imported to the ClickMagick using CSV files.
Batch Editor – Rather than checking the links menu or rotators menu, you can click each link separately to edit one by one. You can easily reset, edit, or delete the rotators or links or rotator URLs from there.
IP Manager – It allows filtering or blocking specific IP ranges or IP addresses by manually providing them.
IP Lookup – It lets you check the activity and history for an IP address. It displays opt-ins, clicks, timestamp, and sales for each event and is helpful to identify suspected links.
ClickMagic Pricing Plan:
This software offers three pricing plans to the customers.
Starter Plan is available at a price of $204 per month and $144 for yearly.
Standard Plan is available at a price of $564 per month and $396 for yearly.
Pro Plan is available for $1,164 per month and $792 for yearly.
Click Magic Pros:
Feature rich platform
Up to 1,000,000 clicks in a month
2 year retention of data
Infinite custom domains
Conveniently track the sales funnel
30-day free trial on all accounts
24 x 7 link and click-fraud monitoring
Mobile or geo-targeting optimization
30-day free trial on all accounts
Work everywhere you promote
Click Magic Cons:
There is scope for improvement in the support system
Offers 15 days trial only
Final Verdict:
It is important for every online marketer to track visitors can perform split tests for increasing conversions. It is a great way to increase revenue. ClickMagic offers a host of useful tools with sound features, which are highly helpful and user-friendly. Hence, I believe it is worth spending in this tool. It is best to first signup the free trial and then move ahead if you really like it.