Everyone loves to celebrate Christmas. It is a season of spreading love and kindness, fun, spending quality with family and of course festive-related marketing. Many brands grab this holiday season as an opportunity to increase their sales. This holiday period stretches from Black Friday to New Year, so most of the brands choose Christmas season to improve their marketing.
Many think the holiday season is the most amazing time of the year to spend a happy time and so is to the marketers also. After all, it's the time of the year where each brand tries to expand its business by implementing various marketing strategies. Without any warnings, we can see numerous marketing campaigns to cash the holiday season on a spending frenzy.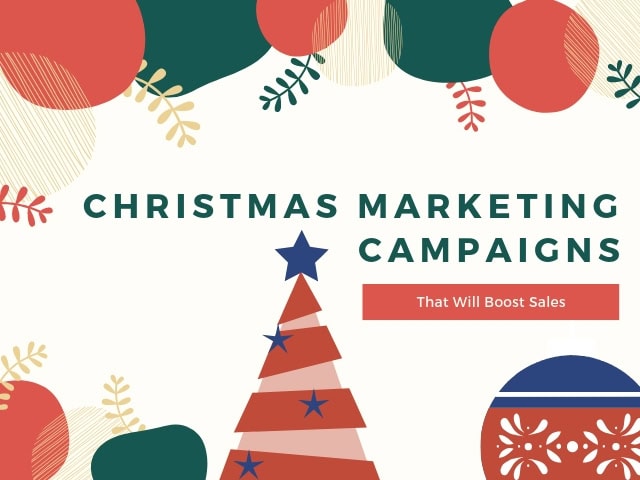 Sometimes, the holiday season might look like out of control. But some brand companies do marketing very well.
Most of the brands implement marketing campaigns which grab the attention of the customers towards their brand rather than buzzing around with holiday noise. They promote their brands in each and every possible way by connecting with people.
About Great Christmas Marketing Campaigns:
Best Christmas Marketing Campaigns comes with best holiday marketing ideas to fuel your holiday season. In fact, this season never completes without any ads on social media platforms and TV. Over the years, companies are used to festive season to generate more sales.
Do you know there are many Christmas Marketing Campaigns which you can use in different ways? Here, we have furnished clear details about the holiday campaigns so that you can get an idea about which campaign is best for your business.
Multi-network Giveaway:
It is the right time to reach the maximum number of people as possible. You need to cash this holiday season to spread your brand and generate more sales. But, how?
Is this the question that pops up in your mind? The straightaway answer to this question is "Social Media". Nowadays social media plays a very crucial role in everyone life.
Almost each and every person stays active on their social network platforms. In fact, it is one of the best and effective ways to reach the maximum potential customers and boost up the Christmas Marketing Campaigns. In social media platforms, Facebook plays a major role and is most popular among people also.
In this modern era, people of all ages from elder to younger all are having an active account on Facebook. It still dominates the social media world with active users of over 2.1 billion. Then comes into the list are YouTube and Instagram. As per 2018 trends, YouTube has around 1.5 billion active users who view and upload the videos while Instagram has over 800 million active users.
These numbers show the potentiality, the social media platforms carry and how much they are popular. In order to promote your brand or start the marketing campaign, initiated with simple giveaways on your social media platforms. With these giveaways, you can easily grab more attention of customers, reach to a maximum number of people, increase your brand awareness and chances to purchase your products.
But ensure that the gift or giveaway is relevant to your brand and should be useful for your potential customers. Most importantly, don't forget to mention terms and conditions of giveaways in a simple and clear language, otherwise, your users get confused.
Email Marketing:
Email Marketing is also one of the most amazing and cost-effective ways to increase sales. It also helps you to generate sales and strengthen the bond between you and your potential customers.
According to the reports, it is noted that every $1 investment in the email marketing gives the $44 in return. So there will be less investment and increase in productivity.
How email marketing helps you in Christmas sales?
The hype for Email marketing has increased when compared to the past few years. If your target audience likes your content in the newsletter there are many chances that they will convert into your leads. They will subscribe to your email so that they can stay updated about your new products and services.
Always remember to grab each opportunity that you got to spread your brand awareness. During the holiday season, make sure to send weekly or bi-weekly newsletters which should be relevant and useful to your potential customers. Content in the newsletters should be convincing and most importantly it should be helpful for your target audience. If the information in your email newsletter is clumsy or confusing, there are many chances that they might go for the unsubscribe option.
Implement this email marketing tactic in your marketing campaign and improve your productivity.
As per the Campaign Monitor reports, automated emails generate more than 320% of revenue than non-automated emails. This tactic helps you to reach your target audience at the right time. You can even send personalized emails to your target audiences which in return have higher click rates.
Search for new followers
Have you ever heard about referral programs?
You can gain new followers in your social media platforms with the referral programs. It is one of the most effective strategies to increase both followers and potential customers. Design an effective and engaging referral program and increase your sales.
Don't forget to reward your referral customers if they are done with their first purchase. So, they can trust you and refer your brand to others as well. For instance, upon the first purchase, if your brand offers 10% both to the referee and referrer on their next purchase, you will be able to generate additional sales.
Use the terms like "Refer a Friend", "Invite your Friend", "Start Referring", along with referral reward. It's 100% sure that, first they will glance at referral reward and then only decide whether to refer or not. So make sure to offer the best referral reward and grab the attention of the customers. This referral program is definitely a win-win strategy for your brand, getting more sales and of course potential customers.
Even you can give the best rewards to your loyal customers and at the same time, you can gain new customers. Christmas season is the best time of the year to put this campaign tactic into action to boost up the sales. With the increase in the number of consumers, you can easily improve your productivity.
Another referral program is the "Promotional Code" technique. It is also one of the best marketing campaigns. If you want your referred users to convert into your customers then introduce the promotional code tactic. Share this holiday special promotional code method with your loyal users. Mention the benefits of promotional code and ask them to share it with their friends and family.
Coupons and discounts:
We all have heard about various coupons and discounts on social media platforms. Most of the people look for the discounted prices and coupons offered by the brand. In fact, engagement rate, quality leads, social media followers, increase in sales are the most crucial goals for every marketing team.
However, the most common goal for every company will be to double Christmas sales. And this works best with the coupons and discount codes. You can even witness a huge revenue generation.
If you implement these coupons and discount codes, you can see that your loyal customers spend more than other customers. Offer free shipping on purchase of a particular amount in order to encourage your sales. You can even offer the coupons and other codes when your customers sign up to your newsletter.
By introducing this tactic, you can see an increase in your sales comparatively more than your previous sales.
Landing page design:
Do you think that it is enough to offer various coupons, codes, deals and much more to generate sales? No. There is something more than that you have to do in this Christmas season i.e., landing page. In order to grab the attention of your potential customers, you need to design the Christmas landing page most effectively.
After landing on your webpage, the first thing that your customers notice is your webpage design. If you want to convert your potential customers into your loyal customers, you have to design it in a more interesting, engaging, interactive and attractive way. To gain more attention, you can even add a simple, short and sweet video about your brand.
Adding videos on your landing pages will increase the conversion rates. Remember to customize your landing page with Christmas seasonal message which helps in getting more users. It even motivates them to purchase your products. Design an eye-catching landing page for this holiday season which is having equal attention of offering deals and discounts.
Mention your products and service benefits effectively which helps in convincing your customers to buy a product that they are exactly searching for. This not only improves your sales but also increase brand awareness of your company.
Conclusion:
So, guys, this is the complete information regarding Christmas Marketing Campaigns. Make sure to implement any one of the best-suited campaigns and generate more sales in this holiday season. If you have queries related to this article, don't hesitate to drop them in the comment box below. We will get back to you with the right answers within a short time.