Out there are, numerous WordPress themes and every other day there is a new launch!
While this offers us one more option to choose from, at the same time it means one more addition and hence making the task of selecting a WordPress theme more intricate.
Though I cannot assure you about every WordPress theme available out there, one thing I can assure you is that after reading this post, you will surely be able to choose the best WordPress theme with ease.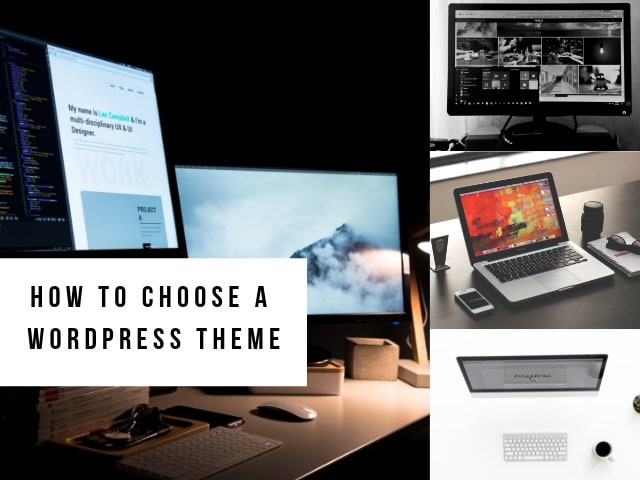 But before I jot down the dos and don'ts to select a WordPress theme, first let me brief you about certain things to consider when buying a WordPress theme.
How to Choose a WordPress Theme? Things to Consider:
Before you select a WordPress theme, it is essential to consider some important aspects.
It is because there are some themes that may not suit your preferences, business needs, expectations, and tastes. Here are the important factors to consider:
1. Check your applications:
It is essential to check your general applications and confirm that those are updated.
These are general applications like Adobe photoshop and more that needs to be updated in order to use a template for your website.
2. Check your internet connection:
Another important aspect to check is to make sure that you have a strong internet connection.
If you will have an unstable connection then things will not go smoothly that you have wanted and may lead to too many interruptions.
3. Check for the Preferred Design:
You must be having preferences when it is about selecting the design.
Every theme on WordPress is unique and has its own design elements. Some are clean while others are flashy some are colorful, while others are minimal and elite.
Hence, it is essential that you pick a design carefully in order to avail adequate results.
4. Check the Price:
There are few WordPress themes that are available for free, but most of them are attainable at a certain price.
If you are going for the paid versions, then do check their price and your budget.
Make sure you pick themes that offer exclusive features and functionality and are worth the price.
Check the Content Type:
There are some themes on WordPress that differentiate on the basis of the way you wish to display your content.
Some allow minimal content space while others give you clean, white space for lots of content.
Hence, it is your obligation to choose a theme that suits your preference and style.
6. Check the Target Audience:
Last but not least, when you select a theme then make sure it is able to serve the exclusive needs of your target audience.
The theme must be in accordance with your target audience.
The Do's to Choose a WordPress Theme:
Now that you are aware of the important things to consider when selecting a theme, let us check out the do's to know when selecting a WordPress theme.
1. Do Prepare a list of the Features you want in the theme:
Before you select a theme, the first important aspect is to determine the types of features that are essential for your site.
The features can vary from being responsiveness, translation ready, simple design, flexible design, SEO friendly design, and more.
With the WordPress 'Feature Filter' you can easily customize the search for features in a theme based on your specific requirements.
For example, you should be clear about your theme having a single column or multiple columns. Hence, make sure you select a theme that has all the features you desire.
2. Do Consider the Design and Layout:
Another most vital aspect to consider while selecting a WordPress theme is its layout and design.
The theme design must perfectly match or at least compliment your business goal.
For example, if you are writing blogs or articles then a one-page theme will be unsuitable for your business. Similarly, a magazine theme is of no use when you are planning to sell services and products through your site.
3. Do Consider the Theme Navigation:
The navigation of your theme would decide the user experience it would deliver.
It is because the ultimate goal of every business and website is to gain more visibility and traffic as possible.
Hence, pick a theme that allows easy navigation. Even if there is huge content on your site, the theme must not appear cluttered and confusing.
It should support easy navigations and the layout must be clean and easy to access. It should clearly highlight that whether you want your readers to buy a product, read blogs, make reservations, and more.
4. Do Select a Responsive Theme:
The responsive site design implies that your site is super easy to use. Responsive design is one that is easy to use on a laptop, computer, iPad, and all multiple devices.
It means a design that is compatible with all the devices and blends like a fluid to just any screen.
So, before you finalize a theme, make sure that it is flexible and responsive and be flawlessly translated to any screen.
5. Do Consider the Color Palette:
Most of the online marketing runs on visual appearance. Colors have always proven in delivering effective results and increase brand recognition.
Hence, pick a color theme that compliments your business's logo.
WordPress allows convenient changes in the appearance of a theme including shades, brightness, texture, and more.
You can pick a dark or light color based on your business. Just make sure it does not interrupt the readability and appearance of the design.
6. Do Select a Theme with a Readable Font:
Your website aims to capture the visitor's attention. One way to do is to make the site content as much readable as possible for the audience to navigate the site.
Look for simple, readable, and elegant fonts.
Open Sans, Arvo, Vollkorn, Slab, and Lato are some popular fonts that can be considered. If you are proficient in CSS then you can make necessary changes in the font size.
7. Do Check Browsers Compatibility:
Every user is different and tends to use different browsers. Don't fall in the assumption that they will use the same browser for your website.
It is important to make sure that the theme must hold cross-browser compatibilities.
This fact is extremely important otherwise the website would appear perfect in one browser and imperfect, broken, chaotic in other browsers.
If not possible then make sure that the website holds compatibility in at least the common explorers.
8. Do Check for the Supported Plugins:
The power of a theme is augmented by the plugins it supports. With supported plugins, it is possible to do numerous things with the site, such as call-to-actions, convenient customization, statistics, social media, and more other elements.
Do pick a theme that comes with supported plugins that are suitable to the needs of your website.
This way you will be able to get a theme that is exact, as per your business needs.
9. Do Pick a Theme with Security Check:
Picking a theme for your site is similar to buying a house for your family. You will always want to invest in a place that is secure and safe.
For this reason, make sure you pick a theme that is created by a reliable and trustworthy developer.
Do check the reviews about a theme that you are interested to buy. If there are any security issues with a theme or bug problems then chances are that there are not many users using it. In such a situation, you must avoid investing in such a theme.
10. Do Pick a Theme that is Translation Ready:
There are numerous WordPress themes that come in distinct languages. Even if you want a site in the English language, it is essential to check that it is translation ready and offers multilingual support.
You would never know that to which place your users would belong and surely you would not want to miss out any user due to a language constraint.
The Don'ts to Choose a WordPress Theme:
1. Don't Pick a Theme without SEO:
Search Engine Optimization is an important aspect to consider when picking a WordPress theme. Even when you wish to open a personal blog, it is essential that the theme needs to be SEO optimized.
If the WordPress theme is SEO optimized, then it would ensure that the content, services, and products are able to reach out to a wider audience.
Besides social media and personal sharing, search engines would allow you to take your website to millions of users online.
2. Don't Choose a Theme with Low Loading Speed:
Speed and loading time is extremely vital for website success. A website with low loading speed interrupts the user experience.
In fact, the low speed also affects the conversion rates and search engine rankings.
For all such reasons, it is essential that you pick a theme that holds excellent loading speed.
3. Don't Pick a WordPress Theme without Efficient Customer Support:
If you don't have a clear idea about the customization, design, and widgets of a theme then it is a must to avoid picking the theme that lacks good support.
There are some free WordPress themes that would be available for free of cost but may not offer you good support.
And if you use a WordPress theme without support then you may anywhere be stuck in the line in concern to layout, design, plugins, aspect, and other elements. So, don't pick a theme lacking good support.
4. Don't Choose a Theme with Cluttered Features:
If you want to gain more readers and more visibility for your site then make sure it does not come with cluttered features.
Having a site with numerous features is one thing, but one with too many features and a cluttered appearance is another great thing.
Restrain yourself from installing every feature that comes into consideration. Fancy features and gaming capabilities would be alluring, but they could reduce the website performance.
Furthermore, they can interrupt the side codes and result in security weak spots. Hence, make sure you pick only sufficient features and not a bloated theme.
5. Don't Pick an Undone Theme:
You may plan great things for your website but may not be able to execute even half of them. In such a case, your website theme would appear undone.
Besides picking a WordPress theme don't fall into the trouble of postponing a site's design.
Do not leave it undone just because you lack sufficient time or resources. If you will leave a theme undone then it would be forgotten over time
6. Don't Pick a Theme with Bad Typography:
It is essential to pick a theme that holds readable fonts.
A theme with bad typography will not just disturb your site's design, but will also hamper its readability and thereby customer's engagement.
The best choice is to always pick a theme with simple typography and beautiful fonts.
7. Don't Invest in a Cheap Theme:
While themes available for free can be great on your budget but they can result in some troubles.
Besides the coding quality, they offer might not be most updated, lack proper features, lack good support, and even have an abandoned theme author.
Hence, make sure you pick a premium theme that is dynamic and offers you great features, excellent functionality, and good support.
8. Don't Consider Your Theme a Design Product:
Never pick a theme based on just its design. The speed, functionality, and features of a theme also play a crucial role in determining its aptness to your business.
Avoid considering the WordPress theme merely a design product.
Wrap Up!
Hopefully, this post has offered you enough ideas to help narrow down your search and boost the selection process.
The great thing about WordPress is that it offers the flexibility to change themes with ease. Just by being little attentive and careful, you would be able to select the best WordPress theme for your site.