If you are a website owner, definitely you must have put in lots of hard work and time into making it a highly valuable resource for your visitors. However, what to do if your links are not working? This can be your biggest nightmare that can derail your entire hard work.
Having broken links on your website can be alarming in two ways:
They devalue your SEO attempts – You might be putting in too many efforts to optimize your website for SEO. However, broken links can restrict the flow of link equity to your website that impacts your rankings negatively.
They result in bad experience to the users – When a user clicks on links on your website and end-up meeting 404 error then they get frustrated and feels a waste of time. In this stance, they will never prefer to return back to your website.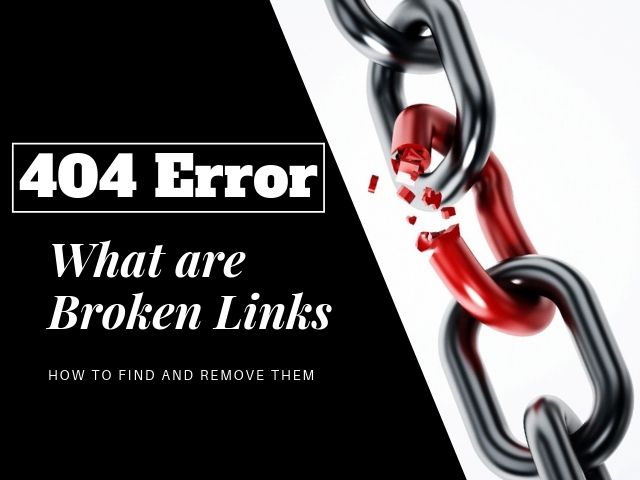 In order to avoid such pitfalls that can affect your website's credibility and trust among users, you must periodically check for broken links on your website.
Now, you must be thinking about how to do this. You would be glad to know that it is quite easy to identify and rectify broken links on your website. How you must go about it? It is exactly the same that we will be discussing in this post.
Let's read ahead!
What are Broken Links?
A broken link is a link that navigates visitors or users through a page that does not exist or is not found. The page, image, link, or document requested by the user may not actually exist or it may be missing due to malfunction, site configuration, or server configuration. As a result, what a user ends up viewing is '404 Error.'
The task of a website owner and webmaster is to make sure that their website and webpages are free from broken links. Each document, file, and page on their site must not have any broken links. In simple terms, the user, when clicking on any particular link is guaranteed to visit the page and see the desired content there.
The worst part with these links is that they are not clearly visible. It is quite rare for the website owner to have full-fledged analytics and clearly visible broken links on their webpages. Even, webmasters themselves are not aware of their website has broken links.
Users visit your website on request and want to browse the internet, but then things don't go the way as they have planned, which means that the links are not working. Since the website owner or webmaster is now aware of it, so things can go very messy.
Why Is It Important to Identify and Delete Broken Links?
Having broken links on your website can deliver an extremely bad experience to the users. Just consider that a user visits your website looking out for information, saw a link on a specific topic, and click on it to find more information. And if he founds nothing there, it gives him a bad experience and will end up losing trust in your website and business.
Moreover, just think about the search engines. Imagine that the search bots visit your website and regularly experiences broken links on your website. What do you think, the conclusion they will make?
Definitely, the search engines will believe that you are not serious about your website content. You never update it, do not watch relevant details and even are not bothered to refer where the content belongs to or may lead to. At the same time, it can reduce the issuance of your website and may end up your website not ranking in the search results, particularly if the broken links are large.
The online world is very dynamic right from its beginning and it keeps making things more complex and dynamic. With the number of pages being indexed by search engines increasing every day, thousands of websites are now being created every day and thousands of them already exist. All such things are getting messed up and highly complicated. Hence, it is quite difficult to find out and revamp broken links.
For example, if your website has 20 pages then it is easy to control the broken links. But if your website contains hundreds or thousands of pages then it is very difficult to control them. Especially, if you are referring to web documents on other websites, you cannot easily keep track of these dead links available on your website.
But since broken links can pose serious issues on your website, so it is extremely important to identify and fix them so that it doesn't impact your site.
Why Broken Links Occur?
The most common reasons for broken links to appear are:
Incorrectly spell URLs.
Linking your webpage to another page on someone else's website and the page is then deleted by its owner.
Your webpage is linked to a page on your website that you have removed or deleted.
Linking the webpage to a time-sensitive content as in this case, the content on your webpage could alter. For instance, if you have a blog that talks about the new mascara range then you might link it to a special page. That special page can change in just a few weeks. So, when you are linking to that page but that particular page is now changed, then it no more remains worthy.
These links may appear when you delete old and unwanted documents and pages, but on other pages and in other section there are links to such pages. This way, your links will become broken.
You may link to another website and there is a change on it. The change can be in context to site structure, domain name or complete deletion of the page.
If your website has an automatic update of the content or other details from an external source, for instance, with online stores, warehouses or delivery services with data on the internet then a failure in these systems can result in dead links.
Furthermore, if your website is processed visually or technically, the problem occurs because of transferring content to an entirely new structure. Since there are lots of information and technical algorithms, you must take into account all the issues of the moving page content and broken links in these stances that may inevitably appear. In such situations, you definitely cannot control what others are doing to their pages and content on their site. But you can definitely control your website for broken links and for this regularly reviewing your site content is important.
Besides these, there are other reasons for the appearance of dead links on your website. The most vital thing that a blogger, a webmaster or an optimizer must understand is that the appearance of broken links is a natural process. The bigger your website is, the higher is the probability to have broken links on your website. For this reason, we recommend to regularly monitor your website for the dead links.
How to Find Broken Links using Google Analytics?
There are various tools that you can use to identify broken links. The good thing is that most of them are free.
One excellent tool to track your website's performance for broken links is Google Analytics. This platform is very easy to find broken links. First, you must create and log in to a Google Analytics account. Then you must set an evaluation period for the duration of time you want to look at.
If you are checking for broken links on a monthly basis, you must set the period for a month since the last check. In the next step, you must visit the content by title available on the dashboard and the load page.
Then generate a filter at the bottom of the page and enter the website's 404 error page in the title of your website. This way, all sorts of broken or non-existent links will appear. After this, you must click on the 'go' button on the Google Analytics filter page. You must then click on the title of the page to view details.
With Google Analytics, you can set email alerts to avail reports for broken links on a regular basis. Moreover, you can export broken link details using Google Analytics.
Besides Google Analytics, you can use other free tools in order to find out broken links on your website or webpage.
Create a Report and Track the Changes
After recognizing the broken links, you must then prepare an excel spreadsheet to track the link redirect process. You can name the file as broken link report. Once the report is created, you must export the same to Google Analytics.
Analyze the Data and Decide Pages that must be redirected
After all the preparation work, the next important stage is to analyze the data before you finally redirect them. Not all broken links appear for the same reason. Some links may occur because of a human error as well. Hence, first analyze the reason for the occurrence of broken links, for which you have to do multiple visits. Then you must fix the problem by removing or correcting the error.
Broken Link Outreach:
By this stage, you must have a spreadsheet full of potential broken links. However, your work is not complete yet. Still, you have to reach out and build those broken links. While there are some simple ways to do this, which we have discussed right below, one way is by doing email outreach.
It is a simple process where you first have to find the contact details of the website that you are trying to reach. Once you have identified the website, send them an email to let them know about the broken links on their website. You can even suggest them a link as a replacement in the process.
This is simple, right?
But while practicing email outreach, remember that there is a thin line between spam reach and outreach. So, make sure that when you are sending an email, it does not end up in spam. Otherwise, all your efforts and time would get waste.
Ways to Fix, Change, or Remove Broken Links on Your Website
Once you have identified broken links on your website, you must then fix, change, or delete them.
If a broken link appears on your website then you can refer to the particular page in the web archive or find an appropriate replacement for the old link.
If a broken link appears on your website because the website is no more available then you must check it regularly, if it lasts a long time or not. In such cases, there are chances that the problem of broken links might be temporary or associated with hosting issues.
You might refer to a webpage of the website and its URL address that has changed. You then have to find an old page with the new URL and replace it in place of the old or existing one.
If your linked page is deleted and you are unable to find a replacement for it, or you find a new address, there is nothing that you can do about it. In this scenario, you have to remove the broken link completely. In order to prevent your website from indexing issues, you must close the broken links in a robot.txt.file. Otherwise, search bots may not be able to index your website properly.
If you are unable to identify broken links to the website by yourself, you can use an online checker or tool for the same. Ultimately, by following this process and going through each link one after the other, you will be able to get rid of broken links. Definitely, you have to spend time and put in efforts but then it is really worth it.
If your website is free from broken links then this shows your care and respect towards visitors. By doing this, you will keep your visitors coming back to you from search engines and social networks.