Branding and Marketing are very important terms for any business.
Many people think that branding and marketing have the same meaning. But, if you are running a business or new to this field, you must know the difference between marketing and branding. Both of them have different definitions.
Both marketing and branding has its own purpose and don't think that both are interchangeable.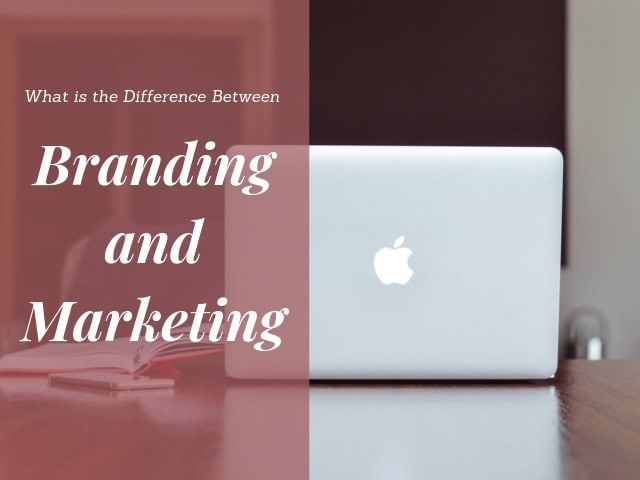 You need to know the real definition of both branding and marketing before knowing the difference between them.
Branding:
Branding means you are giving an identity to your product. It could be anything from a name, design, logo, term that helps to identify your product. Branding is a strategical approach to your product.
One should understand your product by seeing its logo or sometimes a tagline.
We can take examples of cars. We know the brand just by seeing its logo or sometimes when we hear a car name, we can relate it to something. That is what is called branding.
Consumers will understand about your product specialty after utilizing it and branding lasts for a long time.
Marketing:
Marketing is the tool or medium that we use to promote our brand. It could be anything from the internet, telephone, newspaper, social media, SEO, etc.
As your product and services change, marketing methods will also change.
Here you have to find out your targeting audience first and develop new strategies by keeping them in mind. This helps to create a deep understanding of your product also
Difference between Branding and Marketing:
As I mentioned above both terms are different. From the definition itself, you will get an idea of some common differences.
Branding is a static thing but marketing changes. People will easily forget your marketing campaign and strategies but the brand will be there forever.
Branding gives a long-term view for the customer while marketing will persuade consumers to use a particular product to get benefits from it.
Branding will come first and then only the need for marketing. First, you need to design a logo, tagline, etc., for a brand and then only you can promote it using various marketing tools. So, we can say that branding is the fundamental of marketing strategy.
When it comes to a product, customers are the final authority. They are the one who defines your brand and not you.
When you brand a product, you are the one who deals with its branding with every sale and transactions. Sometimes we can outsource marketing and there are companies out there who can build strategies to promote your brand.
Branding is your ability to hold current customers while using marketing strategies you need to attract new customers to your brand.
These are some significant difference we can say about branding and marketing. So, when it comes to a product, branding comes first and then marketing. No need to use both terms without knowing its actual meaning anymore.
If you are into business or want to sell a product/service, these terms are very important one need to know.
Importance of branding in marketing:
Branding is strengthening a product while marketing promotes it. When you want to sell a product, you can easily do it by developing good strategies.
But if you actually look for more loyal customers, you need to strengthen your brand and its quality. If you can create that trust among your customers it will help to build your business without many promotions.
A brand is a set of expectations that you are giving to your customers. They buy your product with those expectations. Your brand is the thing that keeps you different from all your competitors.
You can develop some strategical ideas to make your branding stronger and it should have the ability to stand out from other competitors.
You can use your brand as a guide and build new business strategies based on it. A brand gives you an idea about your business objectives and determination. You can develop new marketing plans by keeping those objectives in mind to promote the brand.
Good branding will help to improve your customer base. You can reach to your potential customers and convey the qualities of your brand through marketing campaigns.
Clearly make them understand the difference between your product and your competitors. Make them believe that your brand is a unique one. Your brand should also meet all the qualities that you advertised-on campaign.
You should brand your product such that it can win your customer's heart. If you can achieve that target then no need to worry about losing them. Just concentrate on marketing campaigns to get more customers.
There are many examples in front of us where branding created magic. Everyone knows about Apple. They won their customer's loyalty through branding and everyone will buy their product just for the sake of that brand.
Customers believe that they can get good quality products from that particular brand. You need to create that impact among your customers so that you can easily market all your products.
Why is branding important to customers?
Now, the next doubt will be why everyone goes behind brands?
When we buy our favorite brand we actually ignore its large price. There is a similar product available in the market at a lower price than that particular brand. But as a customer, we don't want to take a risk. That's where branding created a magical trust among the customers.
The brand provides safety:
When we want to buy an antivirus for our laptops we prefer the best one.
For example, I usually prefer Norton Internet security to protect my system from attacks. Because that brand creates a trust in me. I am sure that it will protect my system from malware.
Even though there are many free antiviruses available why should one want to pay for this service? The reason behind it is the trust in that particular product. That's why a brand is very important to customers.
A brand can add more value:
If we consider any premium product they are expensive compared to a normal one. But the value, quality and the feel of the brand is the point we consider when buying something premium.
Brands avoid confusion:
When you search for a product you can see many brands in the search result. It can create confusion because each brand has its own identity.
If a customer already used one particular brand and have trust in it, then it will avoid confusion. You can save your time in decision making too
A brand defines your identity:
We are living in a society that gives importance to the brand we use. A person's identity will define based on the product brand they use.
It could be our phone, car, dress, accessories, etc. Brands add more value to a person's image.
Brands give a reason to share:
When we use a particular product, we like to share its positive and negatives with others. This helps in brand promotion also. If you can build a strong brand you can promote it to your customers itself.
How to Promote Branding?
There is a famous saying about Brand as" A brand is not about a product or a promise or a feeling. It is the sum of all those experiences you have with a product".
The next doubt will be how to create a strong brand?
This is a very popular question that rises in every entrepreneur's mind.
You can find many articles related to marketing topics on the internet. But none of them will show you the importance of strong branding in marketing.
There is not any formula for branding. The term meaning varies according to product type. One can customize the branding of their product.
Building a Brand Strategy:
Before planning any strategies to market your product, you need to develop a strong brand. You can ask some question before developing marketing strategies
1. Know your purpose:
This is the first thing you need to think about when you develop a product. When you decide to develop something, there will be some reasons behind it.
You need to ask those question again and again when it comes to developing and branding a product.
Why did I decide to develop this product?
What can you give your targeted people through this product?
What will you get from selling this?
If you have answers to all these questions, then it is easy. No need to think more to brand your product. Just convey your answers well to customers.
For example, if you are developing software to help children to learn math then if customers can find your app interesting, then you successfully branded your product.
2. Your brand should reflect your personality:
When you develop a product, it should be branded well. You should make a decision about the approach you need to make towards the brand at this stage.
Make sure to keep up the identity that you created your product throughout.
If you can research well about your product and current marketing trends, it will help you in designing it well. While giving promises, it is very important to keep up them. If customers cannot find those values in your brand, they will lose trust in you and your brand.
3. Understand your values and culture:
Next step is to define your values and culture. When a company forms there should be some basic values they define as their own.
If you can list them out that is a great thing. Your company's employees and work culture are also important.
If the employees are happy then it will result in more productivity. We know some popular companies that clearly defines their work culture to make their employees more productive. Best examples are Google, Facebook, etc.
4. Convey your brand values to the audience:
This is a step where marketing also combines with branding. After getting all the above points you need to decide the ways or mediums you can choose to reach to customers. here you need to do good marketing analysis and research to come to a decision.
No matter what medium you choose, it should have the power to communicate with your customers about your brand. You can use your brand design, logo, etc., for promotion.
Find out some easy ways to convince your audience as well. You need to create a deep trust towards your brand among your customers through these promotions
5. Don't depend on any Tricks:
If your product quality is not up to the mark as you announced, you cannot save it using any tricks.
There are many sources available that help you to brand your business. But above all, the quality of your product matters.
No tricks can save your products if it cannot create trust among users. Hard work will pay you back and there is not any shortcut to success more than hard work and determination.
Final words:
This article will give you a clear idea regarding the importance of branding. Branding is the fundamental of marketing.
Clear idea about your product is very important for successful branding. Once you brand the product at the beginning of business establishment that job is done. To improve the reachability of your product, marketing is the next level.
Marketing is very important too when it comes to the growth of a product. But branding is the factor that keeps your customers hooked on your product.
If you can provide the quality product as always to your customers, no need to look back. Just work well to increase your customer base.
You can do branding with the help of a professional too if you cannot do it alone. They will use the idea of your product and its qualities in branding.
If you are into business, you need to distinguish the difference between both terms. Loyal customers are the measure of your brand success and they are like the actual promoters of your products.