One major asset to any company is having a brand that is being loved and recognizable. As per a survey, most of the buyers prefer to buy new products from a brand, which they are familiar with or which is highly popular.
If you own a small business, you are competing with big brands with already dedicated customers and a huge marketing budget. For such reasons, you need to figure out ways to come up with a robust process of brand building.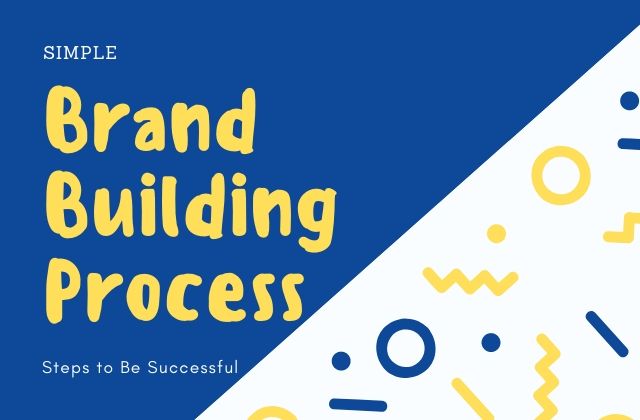 How Can You Build a Strong Brand?
An impressive logo or a highly promotional advertisement is not what makes a brand. There is more to it!
So, before I tell you the ways to build a strong brand, first let me tell you what exactly a brand is.
What Does a Brand Mean?
A brand is one that is defined by the overall perception of the customer for a business. A brand is considered successful when it offers consistent experience and communication, across numerous applications.
From content publishing, signage, print, to environment, customer and sales service, packaging, and online advertising, being consistent on all platforms build a strong brand. Even experts say that a brand is one that is being built by what other people say about the company when you are not around.
Hence, your business brand is your status!
This may make you believe that building a brand is simple. However, the reality is that branding does not occur overnight and even not in just a couple of months.
Brand building is a regular process. One has to put in a lot of effort to establish long-term relationships with the clients. This can result in a continual increase in projects, sales, and referrals from word of mouth, and advocacy for your services or products.
You see, together all these things make a brand.
What Does Brand Building Means?
Brand building can be defined as generating awareness about a business using advertising campaigns and marketing strategies. It aims to create a lasting, strong, and unique image in the marketplace.
A business can boost the image of its brand using innumerable digital marketing functionalities:
Content Marketing and SEO
User Experience, which is your website
Email Marketing
Social Media Marketing
PPC or Paid Advertising
Such channels together are standard to gain brand growth and awareness.
Now, you know what all make a strong business brand, here we share some practical tips to help you build a personal brand and gain a high volume of loyal followers.
Business Branding – Steps to Build a Strong Business Brand:
Check some of the important steps to build a strong business brand.
1. Determine the Target Audience of Your Brand:
Your audience is the foundation for building your brand. You have to focus on the target audience to make sure you are able to build an outstanding brand.
When building the brand, keep into consideration who you are trying to reach. You need to tailor the message and mission to meet the needs of your audience. The main aspect here is to be specific. Hence, you need to inspect the unique lifestyle and behavioral aspects of your clients.
For example, who you want to target – Single moms working from home, students studying abroad, recruiting professionals, tech-savvy adopters, or any other.
Develop a solid picture of your clients and develop a brand identity they can comprehend and relate to. The creation of the brand truly depends on understanding the persona of buyers. So, the most important aspects to consider while defining your customers are gender, age, income, location, level of education, and more.
To fetch more details, focus on goals, influencers, motivations, and pain points of your customers. Identifying the audience affects the benefits of your brand building process as well as marketing efforts.
2. Establish a Mission for Your Brand:
The next vital thing to consider is your brand mission. It is related to crafting a clear expression of things your business is passionate about.
Before you build a brand, which the target audience trusts, you must have a clear idea of the value that your business offers. Basically, the mission statement defines your purpose for existence.
From the logo of your business to its message, tagline, personality, and voice, everything must clearly reflect the mission of your brand. In brief, your brand mission is the answer to what your brand offers.
For example, the brand mission of Nike is to bring innovation and inspiration to every athlete around the world.
3. Research Your Competitive Brands Within the Niche:
It does not mean that you must imitate exactly what other brands are doing. However, you must be aware of what they are doing well or what lead to their failure. The purpose here is to differ from your competitors and offer what they were not able to provide. This also convinces your customers to buy from you.
Every business is always thinking of ways to make its brand stand out. Hence, this step is an integral one in the overall process. It is essential to research the benchmark brands or main competitors of your brand.
To ensure your brand is effective, it must be easily recognizable by the consumers.
You can even create a spreadsheet for competitor research. This will make it easier to do the comparison. Excel, Google Sheet, or a notebook are some great tools to do a comparison.
While comparing different brands, try to figure out:
Is your competitor consistent with visual identity and messaging across all platforms?
What quality is held by services or products of your competitors?
Is there any social mention or customer review of the competitor?
What ways does the competitor markets the business, both offline and online?
4. Showcase Benefits and Qualities Your Brand Offers:
Undoubtedly, there are many brands with more resources and big budgets. But one thing that belongs solely to you is your services, benefits, and products.
Beginning a brand needs you to dig deeper and identify what you serve and no one else is providing.
Therefore, focus on benefits and qualities, which make the branding of your company unique. When you know exactly what are you serving to your target audience, it provides them a reason to select your brand over others.
Just remember, you don't have to create a laundry list of features your services or products offered to the client or customer, you need to list out everything that provides real value to customers and help them improve their lives.
Some of the core aspects you must focus on are offering more transparent and authentic customer service, a better approach to support productivity, saving time on everyday tasks, and helping them save money by offering more affordable choices.
5. Create a Unique and Attention-Grabbing Tagline and Logo for Your Brand:
Visuals are of extreme importance to any brand. It is, in fact, the area where most of the execution is required. The most vital aspect of building a brand is to create a tagline or logo for your company.
The logo must appear on everything related to your business. It must become your business identity or visual recognition.
Hence, you must be willing to invest money and time by offering something exceptional to reinforce the core identity of your business. If needed, hire a professional logo designer, who will not just create a unique mark for your business but will also develop its guidelines.
You can create a strong style for your brand by considering the following aspects:
Placement and size of the logo
Fonts and typography
Color palette
Web elements
Image or photography style
Iconography
6. Create a Unique Voice for Your Brand:
The voice of your brand is dependent on the mission, industry, and audience of your company. It is related to the way you communicate with your clients and how they respond back.
The voice of your brand can be friendly, professional, authoritative, service-oriented, promotional, informative, technical, and conversational. You can create a voice for your brand in an innumerable manner.
Eventually, you must pick a brand voice that resonates and makes sense with the target customers. If you use the correct voice for your brand, you will be able to connect well with customers.
This is something really vital when publishing social media posts or blogs. No matter what kind of voice you pick, keep it consistent across all platforms. This will help to enhance your brand's recognition on multiple platforms.
Even, buyers, readers, subscribers or followers will expect a consistent brand voice when they see your content on different platforms.
7. Build an Elevator Pitch and Message for Your Brand:
When you are building a brand, you must inform your customers exactly who you are. This can be done by using the business voice.
Your business voice must be intricately associated with the brand and convey about it in just a few sentences. It must tell who you are, what you provide and why people must care.
The message of a brand lends an opportunity to communicate, making a direct connection with the customers. This means that the language you use to build your brand must be easily understood by the target audience. At the same time, it must connect emotionally to them.
Keep the brand voice and message clear and simple. Make sure it addresses why your product is vital to customers.
8. Let the Personality of Your Brand Outshine Others:
Customers are looking for something different. They are searching for things that other companies are not offering. The customers are searching for businesses that can cater to their needed and serve them with genuine interactions.
To brand your business in an exclusive way, you must make it personality shine and stand out from others. Be consistent throughout the process of brand building.
Creating a unique personality of your brand is simple. For this, you must include a conversational voice within the interaction process, share the content behind the scenes, tell real experience stories, and describe services or products.
9. Inculcate Your Brand Into Distinct Aspects of the Business:
Remember, the process of the brand building never stops. The brand must be visible and reflect on everything that is seen, read and heard by your customers.
If a client walks into your store or into your office, the image of the brand must be displayed both in personal interactions and in the environment. From advertisement boards to business cards, packaging products, everything must be stamped with your business's logo.
Even in the digital platforms, your brand must look the same everywhere. Use the style guide to create consistent levels with visuals like logo use and color, typography, fonts, and more.
The most vital tool to market your brand is your website. While designing your website, incorporate the message, voice, and unique personality into the content. Moreover, the profile pages on social media platforms must be visually branded with the selected voice for engagement.
Finally, consider promoting your brand on Facebook Video, YouTube, Snapchat, Instagram and Facebook Live.
10. Be Authentic To Brand Building:
Till the time you consider changing your brand into something more effective based on the responses from the consumer, you need to be consistent throughout. Use the unique voice of your brand for every bit of content you create or share.
Further, document well all guidelines of your brand and distribute the same for reference. Don't expect any returns if you fail to deliver the consistent brand building.
Remember, inconsistency can confuse the customers and make it difficult for you to build long-term success with your brand.
11. Be a Major Advocate of Your Brand:
The best advocates of your brand are only you and your employees. Only you know your brand better than others hence you must spread the same to the world.
Even when you hire new employees, they must fit well to the culture of your company as well as must comply with its values, mission, and vision.
Encourage the employees to establish a strong brand that further strengthen its reach. Moreover, offer a voice to loyal customers and encourage them to share content and post reviews.
To Sum Up:
These are the core steps to build a brand successfully. Precisely execute each step to build brand awareness through engagement, community building, and marketing. I hope you have a successful brand building!