The internet community has split up into two domains:
Vlogging called Vlog
Blogging called Blog
And this is what that makes both of them a competitor to each other. It's true that both vlogging and blogging are great ways for individuals and brands to generate the maximum volume of traffic for their websites and boost their business revenue.
But the question remains, Is it better to vlog or is it good to blog?
Be an amateur or an experienced professional, you can try your hands promoting your business both these ways. But which of them is more beneficial is a debatable topic and through this post, we are going to discuss the same.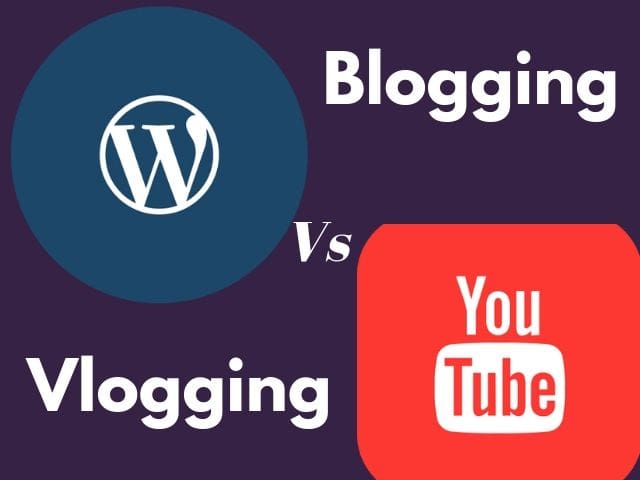 For a large number of vloggers and bloggers, vlogging and blogging are the primary sources of income and a way to make a living. It is because top blogs and vlogs attract huge numbers of subscribers and viewers on their platform and as a result marketers offer them money for promoting their services or products.
So, let's first know what exactly these two are and what are their related pros and cons.
What is Blogging?
Blogging is a mode of communication that publishes written content or text on the internet. The aim of blogging is to put your ideas, thoughts, solutions, and suggestions in a textual format. Bloggers can write blogs on their preferred blogging niches.
What is Vlogging?
Vlogging is a way to communicate with your customers through the way of visual content. Video blogging serves almost the same purpose as like blogging, however, vlogging is a trending way of storytelling medium.
Though there are no predefined rules to practice vlogging, you can expect great returns from it only if you deliver high-quality blogs on buzzing topics.
Pros of Blogging:
Undoubtedly, blogging offer numerous benefits to bloggers. For this reason, bloggers around the world have been practicing it over the years.
Setting up Blogs is Easy:
With platforms such as Tumblr and WordPress, establishing a blog from scratch is very easy. One can start it in just a day's time and without much investment. WordPress offers users the option to start a blog for absolutely free.
Further, you can select a reliable web-hosted platform to set up and maintain your website. If in case you find any difficulty, then you can always check out the various tutorials available online.
Blogs Don't Need Investing in Equipment:
You can create a blog from anywhere, be it your home or office with a desktop or a laptop, or any other device having a smooth internet connection.
You just have to possess a passion for writing and narrating your knowledge to others. You can conveniently research online and gather materials to create a unique blog content without making any expensive investments.
Writers can establish a Great Blog:
If you are among those who have a deep interest in writing or can express yourself well with words then you can start a blog. Blogs will let you express in words for people to read.
Blogs can Help You Make Money:
Most importantly, blogs can help you make money. Affiliate marketing is one of the prominent ways to make money with a blog or website. By monetizing your blog, optimizing it for SEO, and increasing traffic volume on your blog, helps you earn profit in a tidy way.
Cons of Blogging:
You Have to be Good at SEO to Earn Visibility:
You can earn money from your blog only when it is optimized for the search engines. For this, you must possess sound knowledge of SEO optimization. You must find out relevant keywords, write Meta tags, and great descriptions for your blogs in order to drive traffic.
A blog needs to be Maintained Regularly:
It is essential to keep your content informative and up-to-date. Only then you can target prospects and engage the audience. This is necessary to retain the traffic and boost readership. Hence, it is a consistent task that you have to practice once in a week or at least once in a month.
Your Blog Content Must be Unique, Fresh, and Relevant:
Whether you are writing short-form content or long-form content, the content must be unique, fresh, and relevant to your niche. Whether you write an infographic, review, article, tutorial, or any other content for the blog, it has to be latest to captivate the audiences.
Pros of Vlogging:
Vlogging has become a trend now that a lot of people are following online. The content is presented in a video format and hence it is more interactive and easy to connect with. In addition to this, there are other benefits of vlogging such as:
Vlogs are more Interactive:
Since vlogs contain content in a visual format, so it is more interacting. It is easier for vloggers to communicate well with their audiences and thereby have higher chances of having more loyal followers.
You can add great creative elements to a Vlog:
Vlogging means showcasing the content in a visual format. Hence, you can add more innovative and creative elements into it as compared to your blog. So, if you want to engage more followers then creating a vlog is a great idea.
You Don't Have to be a Professional:
While blogging demands a certain level of professionalism or at least a flair for writing, there is nothing such prerequisites to vlogging. You only have to be professional in the way you present and maintain your vlog.
Cons of Vlogging:
Vlogging Involves Expensive Equipment Investment:
In order to create a high-quality vlog, you have to invest in a high-definition camera, lighting tools, and editing software. All these are basic essentials to ensure that your resulted video is perfect. All these equipment are quite expensive to purchase.
You Cannot Edit a Video once it is Uploaded:
Though you can always edit a blog after uploading, this does not hold true for the vlog. You cannot take a re-shot.
Creating a Vlog is a Time-Intensive Process:
Making a vlog is a time-intensive process as compared to a blog. From creating, filming, to editing, every step requires time and attention.
Vlogs Need Some Written Content:
In order to get your vlogs indexed by the search engine, you must add some textual content in the vlog. Otherwise, it would be difficult for your vlog to get ranked in the search results.
Blogging vs Vlogging – What is the Difference between them?
The key difference between blogging and vlogging is that,
Blogging is presenting your views, ideas, and thoughts through the way of written content, while Vlogging is showcasing the same through visual content. Both these strategies are highly effective but have the following differences such as:
Both vlogs and blogs are great to present information, instructions, updates, news, reviews, and more, but vlogs work best when you have videos or images to share. Blogs work great to convey long and complex information.
To create a blog, you have to possess good writing skills. But for vlogging, you don't need any such skills.
SEO optimization is essential for bloggers but for vloggers having a good-quality video is enough as Google is now more focused on visual content. So, there is no need to put in additional efforts.
Vlogs are easy to share and are likely to receive more comments and shares. Blogs appeal to people who are looking out for detailed information.
While blogging is not much expensive and does not need much investment, vlogging needs an upfront cost of equipment and is usually more expensive as well as time-consuming.
Will Vlogging Replace Blogging?
Now, one question that everyone wants an answer for is that, will blogging be dead and vlogging be the next big thing in content marketing. ,
In the present digital era, around 65% of audiences are visual learners and hence the best way to engage them is through visual content. Vlogging definitely offers a way to communicate well to the audiences and let them know how your offerings can solve their problem. It offers a personal way to communicate with your audience as you are able to see their face or meet people who work within your business. As a result, your brand gets humanizes and you are able to win people trust.
The other aspect is that vlog is video content and having it on your website can help it rank higher as Google is now more focused on video content. Even vlogging can also help to cut down your website's bounce rate as people stick to a video to watch it completely.
However, this does not mean that blogging will be dead. Still, a lot of readers prefer reading rich content and this is something that they will continue to do. Moreover, it is essential to be consistent in your posts in order to keep your audience engagement.
Creating a vlog is not that simple and requires more time and focus. In this case, you can always keep your website updated with rich content through the way of blogging.
For me, I believe the most effective and best way is to have a blog and vlog content that is either the same or complementary to each other. Having an interesting blog that focuses on a relevant niche can help you rank higher and encourage people to see your vlog. The same holds true for the alternate situation where vlogs can be used to encourage people to read your blogs.
Blogging vs Vlogging Which Earns You More Money!
If you have passion and dedication, then you can make money from just any platform. But when it's between vlogging and blogging then let me explain how they work and how you can make money with them.
Making Money through Vlogging:
Vlogging lets you earn money through any visual platform if your content is engaging and strong enough to captivate the audience. Additionally, some possible ways you can practice to make money through vlogging are:
1. Advertisements:
Vlogs can be used as an excellent platform to showcase ads. You can allow other advertisers to showcase their advertisements on your vlogging channel. This way, you can make a great amount of money.
Additionally, vlogging can help you make money with Google AdSense. You can quickly and easily monetize your vlogging channel by enabling Google to showcase ads. It is a free service that lets you collect a percentage of commission from Google every time someone sees the advertisements.
2. Branding:
As you expand your community around the vlogging channel, you will get more viewers who are interested in your brand. They will love following your social channels, website, and videos as soon as your company's logo is available. This way, you can create branded merchandise and earn money from it.
3. Sponsorships:
Finding sponsorships is another way to earn money through vlogging. With this technique, you can expect free products and timely payments in a short time. You can contact potential sponsors and ask them to review their products or service.
For this, you have to write a professional proposal.
Making Money with Blogging:
By practicing adequate monetary practices, you can make money with blogging. Just make sure you create blogs in your specific niche and target the right audience. Some ways to earn money through blogging are:
1. Affiliate Marketing:
It is a popular way to make money for bloggers who don't have services or products to sell. You can recommend and link to offerings on third-party sites in exchange for a commission for the sale.
2. Sponsored posts:
Sponsored posts are useful to promote a specific product, business, or service that offers bloggers an agreed commission for a particular post.
3. AdSense
With the AdSense program from Google, you can select where ads will appear on your blog in order to bring more clicks and views to them. In addition to this, you can even format your ad style to match the blog.
You have to create a Google AdSense account and post a blog with original content to start. For every ad seen or clicked, you will earn money.
4. Email Marketing
This can bring the highest conversion rate. All you have to do is write trustworthy and promotional emails that increase the success chances of your products.
5. Banners
Banners can help bloggers earn money by offering space for sale. You can contact companies and place their banners on your blog in exchange for money.
6. Sell Merchandise
Bloggers too can create unique merchandise and sell them for money.
7. Offering Service
Bloggers can offer medical or legal advice or other consulting services in exchange for money.
8. Writing an EBook
You can also write and publish an EBook in order to earn money.
To Sum Up:
To take benefits of both these mediums, it is best to plan strategically and create a blog and vlog that are complementary to each other.