Blogging can help you not just build readers, but also gain a higher volume of traffic and SEO rankings. Most importantly, it develops trust and nurtures relationships with future or current customers.
Although posting regularly, helps to generate more leads and traffic for the blog, but to make sure you gain awesome results with blogging here check some important tips to consider.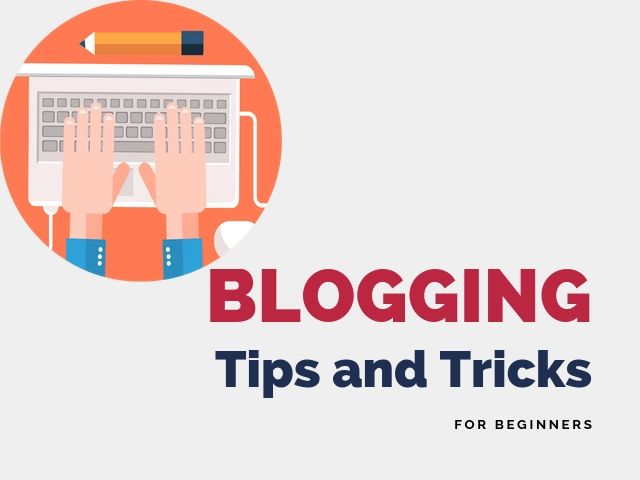 Blogging Tips and Tricks for Newbie Bloggers:
1. Set Well-Defined Goals:
By setting goals in advance you gain a purpose and vision for any endeavor or project. Around 65% of customers learn about a company through its blog. Determine why you are writing the blog, what your content focuses on, what are your specific targets, what value the content offers and is there any specific voice or tone that you need to deliver.
In addition to this, define the key metrics and actions, which you intend to take from your blog.
2. Integrate Your Blogs as An Important Feature of Your Website:
It is best to position your blog on the same domain as your site. However, if your website includes many pages like About, Services, Contact, and more you must showcase the blog as a separate section.
If you have created a website just to showcase your blog, then present it as the main feature. Further, use a reliable platform for blogging. Make sure it is friendly to the search engines, users, and is completely customizable.
3. Enhance Design and User Experience of Your Blog:
For beginners who want to make a mark in the blogging industry right from the first attempt, one great way is to focus on enhancing the user experience for readers. If you are not well-versed with designing, it is best to hire a professional designer.
The key areas to focus on while enhancing user experience are:
Size of the text – It must be readable and clear.
Design elements – They must complement well the identity of your brand.
Content – Maintain a clean and organized page and make it look clutter-free.
If you lack the budget of hiring an expert designer, you must consider a high-quality theme in WordPress. There are many free themes available online in different designs to choose from. Consider the blog design of Harvest. It is clean, simple and focuses purely on content and call-to-action.
4. Measure Results Using Google Analytics:
Definitely, you would want to know who is visiting the website, from where, when, and how. The good thing is that all this can be tracked easily using Google Analytics. Having a clear understanding of blog posts that can bring most traffic will help you target the correct audience, keywords, and content topics.
Using Google Analytics, you can also establish conversion goals that measure the frequency at which visitors complete certain tasks, like signing up for the newsletter, subscribing for an eBook, or more.
Some vital metrics that you can track using Google Analytics are:
New and return visitors
Bounce rate
Conversion rate
Exit pages
Referrals
Best landing pages
5. Avoid Posting Fluff Content:
The core focus of your blog must be on its content. The content must be relevant, high-quality and inform readers about the topic from a glance.
You are offering something for free in return for trust and value from the audience. The only way to achieve this is by sharing original and good quality content.
6. Write For Topics That You Are Knowledgeable About:
Primarily, the topic you write must focus on niche keywords. However, you don't have to think much about the actual title. You can start by writing the general idea, which is enough to gain attention and covers worth of an article in a year.
Begin with 50 topic ideas, which are enough to cover the annual worth of article content if you can post a blog at least once in a week.
If possible, break topics into high-level categories. Establish categories in blog navigation so that it is easier for readers to explore the specific content pieces.
7. Gain Reader's Attention By Focusing on Vital Areas:
One great way to attract readers is by writing or focusing on a few vital areas. The best among all is targeting problems or pain points of your readers, which you can solve for them. Answer the question that you hear from people about your niche or industry.
You can always write as a subject-matter expert and write about topics that you are interested in learning.
8. Gain Ideas Using a Tool:
While there are many blog topic generator tools available, one of the finest is offered from HubSpot. It lends an interesting way to offer ideas on the basis of a few keywords that you enter in.
This tool lists topics related to any industry. However, remember that the results showcased are not 100% correct.
9. Make Use of an Editorial Calendar:
Once you've created a list of enough strong topics, you must put them on a posting schedule. It is a highly imperative step that helps to organize the entire blogging process.
Use a spreadsheet to create an editorial calendar and manage topics, assignments, promotions, and dates. There is also Google Calendar available, which can be used to schedule corresponding events and blog posting.
A few important details to include in the editorial calendar are:
Keyword
Author
Publish date
Title/Headline
Content Details/Topic
Links to published post
Links to working documents
Columns for promotional events like email blasts, social media networks, outreach, and more.
10. Pick the Correct Keywords for Your Blog:
Just like topics, it is equally vital to pick keyword phrases that are most effective to use throughout your content piece. This helps the post to get indexed as well as earn higher rankings.
One convenient way to practice this is by using the Google Keyword Planner. With the help of this tool, you can research numerous combinations based on the review and topic related to options they offer. Ideally, the best choice is to pick long-tail keywords for having low competition.
11. Generate Long Blog Posts:
This one is a suggestion and not something mandatory. However, longer blog posts have been able to gain better results and rankings as compared to the shorter ones. It is good to convey thoughts in a lesser amount of words. But readers prefer posts that provide them in-depth understanding and knowledge about a topic.
Evergreen content form gains more comments, sharing and SEO traction. But make sure you use as many words as needed to explain something well. Don't write repetitive things just to increase the word count.
12. Create 'How To' Blogs in an Orderly Manner:
Readers love useful information that helps them solve any problem. If you creating how-to posts make sure you carefully define steps through a process, which can be put into practice.
13. Write Posts Focusing on Case Studies:
People love to learn how anything works to drive results. When you write case studies, include process, images, and credible data. Consider adding vital testimonials and quotes from individuals involved.
14. Include Bullet Points or Numbered Tips in Blog Posts:
Readers love when they know that something has worked for others. They prefer to use the same as their best practice.
By including numbers or bullets in posts, you give readers a well-defined structure and an expectation about the information they may receive.
15. Create Posts that are Long:
People love understanding things in numerous ways than one. It is best to create a long list and show information, which is helpful. Together it builds a cohesive knowledge-base.
16. Boost Content's Readability by Breaking It Up:
Huge text blocks are difficult to get through on the small screen. A large number of readers on blogs are killing time on their smartphones. Hence, to make the content readable for them, break it up into small sections.
Try limiting paragraphs 2-3 sentences. Use concise sentences, which are less than 20 words.
17. Highlight the Key Points:
Along with images, the other way to gain the attention of readers is to vary some sentences and words. Make sure you pull out impactful statements and focus on major thoughts through the conversation with a reader.
18. Include Images Supporting the Story:
Blog posts including images attract 94% total views. They offer a great supplement to gather the attention of the reader. Properly name the image files that describe exactly what it shows. Incorporate alt tags, which are specific to keywords for all images within the post.
19. Use Graphics and Images:
If you are unable to hire a contract designer, it is wise to source fresh imagery than Google search and lifts it from others. Try to create unique and quick graphics.
20. Create Unique Images for Social Media Posts:
You will be promoting the blog content heavily on the social platform and adding an image will boost the engagement. Adding images to twitter content shows a 35% increase in engagement while adding images on Facebook gains 106% more clicks than link posts.
Use blog headline within the image so that it can be recognized as an interesting piece of content and grabs the attention of readers.
21. Add a Conclusion to Blog Post:
It is always helpful to offer a summary for readers, which make them scroll the post till the end. It is because otherwise, only 25-50% of viewers reach the end.
Further, it is best to include a call to action in the summary or ask readers to leave comments.
22. Create an Attractive and Simple Headline:
Make sure you are impactful with the message and utilize the keyword phrase to support search engine optimization. Readers must comprehend the value of reading the content. You can hook them with a great headline, which is compelling and appealing to their requirements.
23. Write the Headline of Blog Post:
If you are still unsure whether the article's title is the correct mix of words and showcase a clear message, it is best to use an analyzer tool. The results offer you feedback and rating on how could you improve on the basis of:
Headline type
Word balance
Sentiments
Length
Keywords
It is a clean way to gauge whether the title of a blog post will have an impact on readers or not. This is a useful technique to strengthen the appeal of blog headlines.
24. Install Yoast If You Have a WordPress Blog:
The WordPress SEO plug-in from Yoast will offer you immensely with optimizing each of the posts for a focus keyword. You will be offered a clear criterion to optimize the page and suggestions on ways to improve your blog and save loading efforts and time.
25. Incorporate Social Sharing Buttons to the Blog Posts:
Including social proofs in your post, drive readers to not just read the content, but also to share it. Incorporate recognizable social network buttons at the bottom and top of your post, offering innumerable opportunities to share.
By including 3-4 social networks in the post, the likelihood of share will increase. But avoid including too many of them as it may make your design look cluttered.
26. Let Readers Tweet Content in a Post:
Utilize a tool such as Click to Tweet for adding a hyperlink or icon after a key snippet of details from the post. Within the customized tweet, include links, hashtags, titles and Twitter handle.
Such bits of details can be alternate ways for readers to share details that resonate with them.
27. Maintain a Proper Schedule for Blog Posting:
It might be difficult initially, but can be eased. Begin by writing two articles in one month and boost the frequency to one article in a week. Once you post blogs periodically, it will become a natural process, which you would prefer doing unfailingly.
By regularly and timely posting the blogs, you will avail most results.
28. Check Grammar and Spelling on Blog Posts:
It is of utmost importance to publish a high-quality post in terms of content and subject matter. But it will not serve you gains if it is filled with grammar and spelling errors.
Use a spell and grammar check tool like Grammarly. Make sure the final content you submit is free from errors and issues.
29. Make Sure All Facts in Your Blog are True:
Since you will be sharing your blog with the public, so your reputation can suffer. Hence, make sure all the facts and statements mentioned in your blog are accurate.
30. Email Subscribers with Latest Blogs:
You can avail the best click-through rates from emailed blog posts. You can also use an email marketing tool to manage your email newsletters and email campaigns.
With these blogging tips, you can surely do great blogging and avail incredible results. So enjoy blogging and do keep these important tips into consideration.