Have you ever wondered why visitors get attracted to some blog posts and skip the others? Well, it is primarily because of the title of a blog post!
The success of your blog post definitely depends on its content, but the first impression is made by its title. Hence, the title of your blog post must be attractive and influencing.
Here, let me share some statistics to confirm you how valuable a blog title is.
A blog title of around 8 words is experiencing an increase in CTR or Click-through Rate by 21%.
Including a hyphen or colon in the blog title can result in an increase in CTR by 9%.
Headlines including even numbers perform 20% lesser than titles with odd numbers,
Blog titles with a positive message can boost CTR by 10%.
With so powerful numbers, the importance of a blog title cannot be ignored!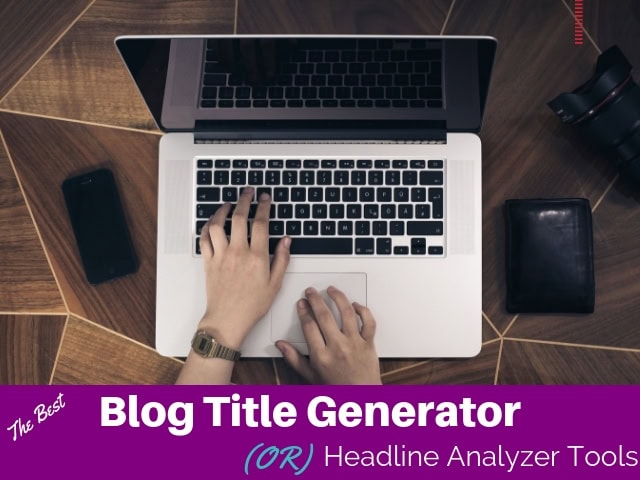 But not everyone who writes a blog is a professional blogger or has a creative bent of mind. At the same time, knowing the significance of a title, no would want to compromise on making an unattractive and invaluable title. Since every title is not the best fit for your post, so you have to make a wise selection and come up with a catchy and attractive title that can grab visitors attention and compel them to read the post.
So, is there any solution?
Yes, if you want to create a highly creative and suitable title for your blog posts but lack a creative mind then the finest solution is using a Blog Title Generator Tool.
In this post, we list the best Blog Title Generator Tools that you can use. So, let's check them all!
Blog Title Generator Tools to Write Amazing Headlines:
Certainly, it is one of the finest title generator tools that perform an awesome job. You can generate compelling titles for your blog posts as well as headlines for landing pages, emails, videos, and more.
With 700 different title templates, you can create unique titles every time. It comes with easy functionality where you have to enter a keyword and wait for a unique title. Hence, you don't have to struggle to create catchy and unique title ideas.
Your blog titles are of no use until they are relevant. SumoMe provides you the most relevant blog title suggestions based on the entered keywords. It provides you titles for different kinds of posts, like DIY, how to, list, and more.
You can mention the desired and undesired inputs to ensure that you receive titles relevant to your keywords.
Creating a blog title can be highly confusing and figuring out the perfect title can be a daunting task. HubSpot's Blog Topic Generator is the best solution in this context. It provides you valuable and catchy titles in just a few seconds.
You have to provide a relevant keyword and the tool will recommend you five titles. You can select any one as per your preference.
Now, this one is a free blog title generator tool that lets you hunt for unique titles in seconds. It allows you to quickly generate unusual and appealing ideas for the posts.
Once you have entered a keyword, you have to click on 'Generate Blog Title Ideas.' Instantly, it will generate around ten attractive headlines. The best part is that you can ask more ideas by clicking on 'Generate 100 more titles.'
This is another blog title generator tool that provides you the most relevant title suggestions. It delivers suggestions taking into consideration the desired outcomes and target audience.
The reason that makes it precise and close to your post is that it delivers results on the basis of information it takes. It is free of cost tool, which is definitely worth trying.
This is another outstanding blog title generator that can provide you with unique titles both by plural and singular subjects. You need to provide the keyword and select an adequate option and then hit replace.
This tool displays one unique title at a time. In order to generate other unique titles, you have to click on generate and an attention-grabbing and exclusive title will be displayed. This way, you can generate multiple titles until you get an appropriate one.
If you want a vast variety of title inspirations then TweakYourBiz is an ideal tool. In addition to 'how to' types of titles, this tool also provides best lists, listicles, and other options.
It offers truly fantastic ideas. Though not all of them are 100% perfect, you can select one that has close proximity to your content and requirement. Moreover, it also has questions related to motivation, business, love, and other categories. You can pick them and include in your post.
Just make sure you recreate your title to be more SEO and customer friendly.
This is another highly useful and popular blog post title generator that suggests catchy and useful headlines. Along with attractive headlines, it provides the finest list of keyword suggestions.
You have to provide the keyword and hit enter. Soon, an enormous list of sub-categories like the lists, questions, social media, errors, forums, and more are displayed. This tool has somewhat similar functionality like Copyblogger.
This blog title generator tool is basic but is quite handy. It can generate more than 200 blog ideas or titles for your preferred subject. You can conveniently avail various ideas for your post.
Once you have entered the keyword, you have to click generate and results will appear on the screen. You have to scroll down the results and select from the catchy ideas for your post.
It is free of cost tool.
This blog title generator offers up to 100 blog titles for a specific topic. The headline length offered by this tool is usually long having a personal touch. Hence, it is of great use if you are generating a similar kind of content.
You don't have to register or log in to use this tool. Simply enter the keywords and you are good to go.
This is another blog title generator tool that inspires you on blog titles for your post and lets you prepare a unique title that is suitable for you. A list of blog titles will appear as soon as you click on the generate button.
It is quite different from the above-mentioned title generator tools as you don't have to enter any keyword in the search box. The titles are left leaving adequate space for the keyword. You can use the Google custom search option in order to identify numerous blog post ideas.
This blog title generator tool is quite interesting. It is because rather than listing numerous blog titles for your mentioned keywords, it allows you to create own titles in distinct formats.
For instance, it gives a few statements with some blanks, which you can fill in order to create your own unique titles. Once prepared, you can email these titles on your address.
The Upworthy Generator is extremely superb that provides you with catchy titles that will fit well to go viral. This tool is amazing as it instantly generates up-worthy style articles. With the help of this tool, you can randomly check the articles that have been selected by the Upworthy generator.
It offers some eye-catching, unique, and fantastic headlines. The titles suggested by it are random. Moreover, you can even avail incredible subheadings. It also gives you a brief structure of the title as well as power keywords, which you can adjust to relate to the content. You can even replace your keywords and modify the title so that you end up having amazing titles for the readers.
This tool is quite new and offers rich visualization technique that lets you select the finest titles for your blog post. It provides you titles alphabetically and you can easily select one as per your preference.
Though it is not a blog title generator tool, it is great to augment the power of your title by making it more impactful and compelling. You must simply have a fair idea of your writing and provide your headline.
This tool will provide you a score on the basis of quality and ability of the features in social shares, traffic volume, and SEO value. This way, CoSchedule lets you write better headlines. Also, it is free of cost headline analyzer. Hence, you must try it!
This is a robust, easy to use, and free blog title generator tool that can let you simply attractive and catchy titles for all kinds of post.
The best thing about this tool is that it comes with an easy to use interface. You have to enter your keyword and select the kind of keyword. It will suggest countless possible titles and from it, you can select the most appropriate title for the blog post.
Portent's title generator tool is easy to use one. You can generate multiple attractive titles with this tool and use them in your blog posts. You have to provide a keyword and then hit the enter button.
If the titles suggested by this tool are not suitable for your purpose then you can click the 'refresh' button. Then you have to enter the new keywords and new content ideas will be generated. It is free of use and ideal to create catchy headlines.
This headline analyzer is very easy to use. It is great to analyze the titles for your blogs. Using this tool will give you a headline quality score that indicates the strength of your blog title in capturing the attention of your visitors.
Also, it offers suggestions for enhancing the title and list out the strength of your blog's title. Just place the keyword in the blog title and hit the analyze button. The results will be soon displayed on your screen.
This is an efficient blog post title generator from RYP. It is a unique tool as it does not require you to enter many details. You simply have to enter the desired keyword and this tool directly picks questions from Quora based on user's preference for your entered keyword.
A large number of users prefer using this tool as it efficiently creates blog titles based on how people actually use them.
This is an excellent blog title generator tool that is designed by experts for creating headlines that can lead to conversions. It lets you discover some catchy and compelling titles.
You need to the keyword in the generator and hit enter. You can select from the list of catchy titles available on the basis of your keyword.
Finally, we have the Thrive headline optimizer tool in our list. This one is not an online title generator tool rather one of the finest headline optimizer. It lets you test as many numbers of headlines as you want till you get the perfect headline for your content.
It is very easy to use and works by tracking the behavior of your users and determines the appropriate and best headline based on various factors like click-through rate, scrolling, and time spent to read your content.
Summing Up:
The above-mentioned blog title generator tools are best. They are easy to use and can provide you with relevant solutions. While using these tools, just remember that they offer you general suggestions. It is not mandatory that you have to stick to that blog title. You can always make further modifications.
Hope these tools are highly helpful to you in selecting the relevant and best title for your further blog posts.