Do you want to know about the most important blog pages for your website?
Here, check the must have blog pages to make sure you make the most of your site!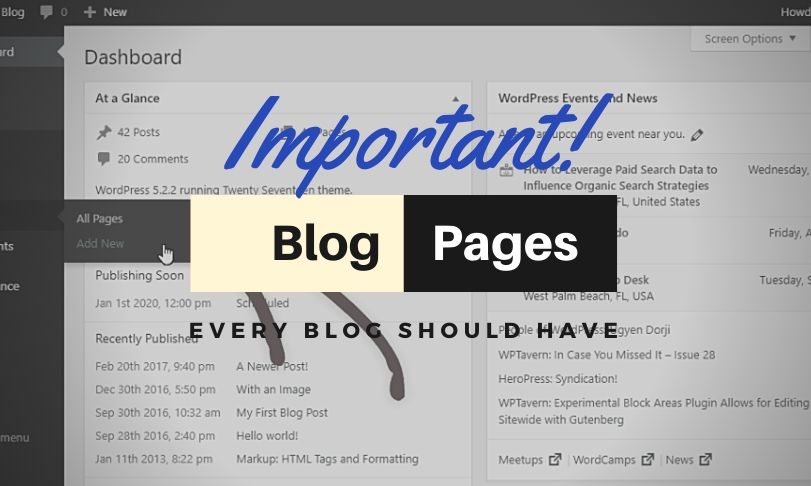 Blog Pages Every Blogger Should Consider:
1. Home Page:
This is one of the most main pages of any website or blog. The 'Home Page' is the one that most of the visitors check as soon as they visit any website.
Mostly, a book is judged by its cover. Hence, it is essential you spend enough time to create an attractive and compelling home page for your visitors.
One of the best ways to let your blog stand out is to create a unique layout and design for its home page. The home page must showcase the most important information about your website in a concise manner. But despite being concise, the information must be complete and updated.
The standard time a visitor spends to learn about a website is around 3-4 seconds. Hence, you must present the most important information at the top. Present your home page with only important information and avoid overloading it with invaluable information.
Make everything appear uncluttered and tidy. Introduce a navigation menu to let visitors easily navigate around your website. A navigation menu also makes it easy for visitors to search for specific things.
Make sure your home page includes only updated information as this showcase your website is active. Display only the latest posts. This is an excellent way to grab people's attention.
2. About Page:
The next most vital page for any blog or website online is the 'About Us' page. No matter what kind of personal or business blog you have, creating an about page will help you to better connect with your audience.
The About page informs users regarding the people behind a site, its mission, values, purpose, and what the users must expect to search on your website. With the help of about page, you can also gain the trust of your audience because they get the chance to know about actual people behind a site, and hence, feel connected.
This is also an excellent opportunity to present the most common content.
3. Terms and Conditions Page:
If you are offering services through your blog or running an online store, you then require a term of service/terms and conditions page. This kind of page is a legal document. So, it is best to get professional legal assistance and design a perfect page.
There are numerous templates available online, which you can use. But make sure you select the theme or design as that matches well to the theme of your overall website.
It enables you to limit the liability in case the services and information mentioned on the website are misused. Also, this is useful to inform users regarding the responsibilities regarding the trademark and copyright and how the users can use your product, services, or website.
4. Contact Page:
The readers, business partners, and advertisers of your blog, all are looking for ways to easily find you. The best way to serve them is by adding a contact page on your website.
By creating a contact page, your users can easily and quickly find your actual details and contact you through a message. They can connect to you conveniently without commenting on the blog.
You can integrate a form for contact on the contact page to let users easily contact you. Along with this, add important details like your location map, details of social media platforms, email addresses, and more. This way, you can connect easily with your visitors.
5. Services / Products Page:
For an eCommerce platform such as WooCommerce that intends to sell products, it automatically becomes essential to create a services or products page. Your page can be added to the navigation menu.
Alternatively, if you are offering services of selling products without holding an eCommerce platform, you require services or product page for the same. Even, you can design a parent page to list all the services and products and separate child pages for individual products that showcase more details about a particular thing.
6. A page for Privacy Policy:
This page mainly informs the users about the information you gather on your blog or site and the way third-parties can utilize this data.
Moreover, if you don't collect any data for your user, the third-party tools available on your website such as Google Analytics may set cookies.
You can add a page for privacy policy if you use Google AdSense.
There are numerous templates for a unique page for a privacy policy. You can use the already available ones or generate new ones online. It is always best to create a unique page for your website as this makes it easier for the users to remember your website.
7. Disclaimer Page:
In order to make and earn money online from your blog, you must incorporate a disclaimer page. At this page, your users can know about how to make money from your blog.
For instance, if banner ads are displayed or affiliate products are offered on your website, you can inform the users that this is the way your content can be monetized.
8. A page for 'Start Here':
Once your blog tends to become older, you then have to create a large volume of content to display on the front page of your website. This would leave the novel users a little bit confused regarding how the maximum sum of money from your blog can be made. This makes the 'Start Here' page useful.
The main aim of the start here page is for introducing novel users to the most valuable content of your website. This offer users a pure idea regarding the benefits of the content. They can also know about the resources, which they must check first.
9. Advertise Page:
Numerous blogs depend on ads in order to earn money from their content. This is one of the best ways to earn money from your blog.
The simplest way to do this is by signing up for a Google AdSense account. But you can also sell the ad spots specifically to the advertisers.
For this, you have to design a page particularly to showcase advertisements. This page can include detailed information about the available ad spots, the average number of monthly page views, and the demographics related to your audience.
Make sure you add a contact form at the end so that your advertisers can contact you fast.
You will require a plugin for WordPress management to display as well as manage ads on your site. It is best to use AdSanity as it enables you to conveniently manage ads. You can manage all kinds of ads be it third-party or self-hosted like Google AdSense.
10. Archives Page:
One benefit to WordPress users is that this platform automatically creates a category, tag, and date-based archive. But the information is still dispersed across distinct pages and hence may not allow the users to get a close eye on the most valuable content of your website.
For this reason, it becomes important to create a custom archives page. This page is simple that can be used to display the compact archives, tags, top categories, popular posts, and more.
11. A page for Custom 404:
Automatically, WordPress showcases a 404 error page when it is not able to find a particular piece of content. Usually, the 404 error page is simply designed and not much useful.
This plain page with the custom 404 error page can be replaced and offer users more opportunities for discovering content and continue with browsing. You can check online tutorials in order to find ways to create 404-page templates.
12. A page for 'Writer for Us':
For those who are running a blog with multiple authors and are searching out for more writers, the best way to hunt for efficient and professional writers is to create a 'Write for Us' page.
This page allows the users to look for new blogging gigs. It lets you discover the top opportunity to write on your site.
This page can be used to inform users about your blog and what sort of content they are searching for. Importantly, let the users understand the way they can be benefitted by writing on your blog.
Make sure you design one contact form for the users to let them contact you fast.
13. Category Page:
It is best to categorize the posts under specific subjects or topics. It lets people search the related posts easily.
If you create numerous categories, your website can be fragmented with too much content, making it difficult to search the related content. Moreover, having too many pages of categories on your website means your website niche is broad.
It is, therefore, best to split your website into useful categories and design a page for each. It will let the users easily search for a page in which they are interested.
14. RSS Feed:
It is important for every blog to include a single page for RSS feed. It is quite easy to establish this page and it can let inform individuals of your website to gain updates. There are a lot of websites, which automate the entire process. This way, things go smoothly.
It is vital that you precisely position one link to the RSS feed on the website so that it is easier for people to view as well as subscribe for the same.
15. Subscription Page:
Might be there are a lot of different pages on your website, which you want your visitors to gain subscription for. These pages can be related to free online courses or can be your pages of different social platforms.
You can then create a unique page that showcases all these pages together.
16. Squeeze Page:
This is the page where all your visitors land only if they are interested in signing up for the mailing list. It is an extremely vital page on a blog or website. It is because this page is great to convince and entice people for a subscription.
The more audience you gain for subscribing the more sums of money you are expected to make. There are different tools to manage the mailing list and share all emails automatically to the subscribers.
The other benefit of designing one squeeze page is it offers a specific link to people that want to connect to your page. It also offers an opt-in box on specific pages of the website.
17. Support and Affiliate Page:
For site owners offering products designed by them, you need to set up a unique page for your affiliate program. This is a great page that helps to sell.
It is an excellent page to promote the product because it offers incentives for people for promoting their products on their site.
By creating a devoted page, which describes all the details that one wants to know in order to become an advertiser for your products.
18. Comparison Page:
If a certain service or product is promoted on your site, the same can be highly beneficial to draw the comparison page. This page mentions other products, which are similar.
Online customers always prefer shopping after conducting a research about the types and prices of similar products. They would shop only if they get a lucrative deal.
Hence, if you allow online customers to do a comparison of different products on your site, it will offer you benefits. They will stick to your website for a more long time period and would avoid Googling the products.
This allows you to sign up for affiliate programs of competing for products so that visitors make a purchase from your website and you can earn money no matter what they pick.
19. Confirmation Page:
Once people subscribe to your newsletter or email list, it is ideal to redirect them to a confirmation page.
Simply ask in that page their confirmation whether they are receiving your email or not.
20. Thank You, Page:
Finally, create a Thank you subscription page for people who have subscribed to your offerings. They can be redirected to this page when they confirm providing their email address and before they start receiving emails.
Summing Up:
So this is our list of the important blog pages one must-have. Hope this is useful. While there are more other pages you can integrate into your blog, but it is better to start with these ones.