Are you into blogging?
If you are a beginner there are many things you have to take care before you start blogging.
There are many people who write blogs.
But how many of them are making any profits? A confusing question, right?
As a newbie, you may think that you can make money from blogging. But it's not true. You can't always make money from blogging.
This is a world of competition. Everybody tries to attract their readers by making their blogs as entertaining as possible.
Choosing a particular niche for blogging is an easy task. But it is difficult to choose a profitable blog niche.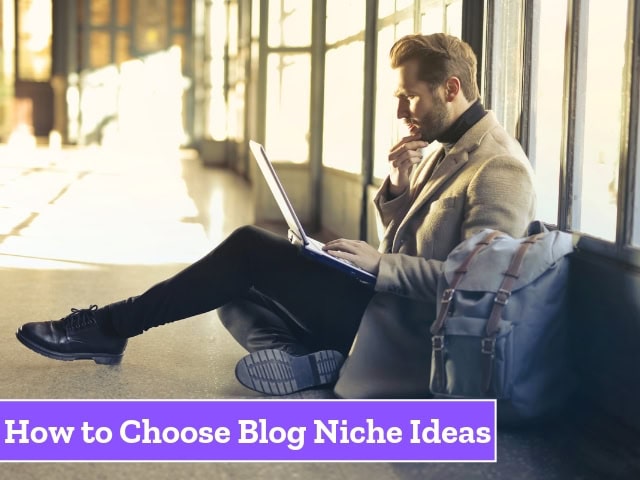 This guide is to help everyone who dreams of creating a profitable blog. There are many sources where you can find how to write a blog. But they won't guaranty profit.
Even if you can write good blogs it is of no use without earning money. Some of them do this for their passion for writing. But most of them expect to profit from their blog.
For them who don't know anything about blogging, here is an overview of some unique qualities a good blog should possess.
Most of you know the main qualities, a blog should have:
A blog should be well written with unique content
Choose a niche that best suits you
Researching on particular niche plays a very crucial role
Try to bring something unique than others who handle the same topic
Most of you are familiar with all these points. But for making a blog profitable you need to concentrate on some other points. In addition to all those points, it is important to choose a niche where you can make money.
While thinking about your niche don't jump into conclusions. Think again and again about the topics you are going to choose.
Brainstorm your ideas and take your own time. So, think about it and pick the right choice
Why is it important to choose a particular niche?
It has a lot of benefits. Picking a niche helps you to focus in one direction. It is important to gain trust among your followers.
So, by choosing a niche you will be able to build trust among your readers and also an expert status. This will be more profitable.
You have to concentrate on a single niche to make it profitable. If your sites have topics from multiple niches, you cannot advertise to promote your site.
You have to spend money on each different topic. Also concentrating on a single niche will help to reduce your startup cost and risk.
If your current niche doesn't work out, you can move on to different niches.
Tips for Selecting Blog Niche Ideas:
Initially, it will be difficult to establish. Once you get a good idea about marketing strategies, you can build up your blog as a profitable one. If one is established, you can try another niche which suits you.
1. Choose a niche which you are good at:
It is important to choose a niche which you can handle very well. If you chose a niche with more traffic and you cannot handle it, then it is of no use.
But one thing you can do is to do research on popular online and offline topics. Find out what interest people more.
There are many tools for it. Search on Google using keywords or use the tool Word tracker. It shows the number of blogs related to that particular keyword.
From those results, you will get an idea about the most searching topic related to your keyword.
Also, check the most popular blogs on Google. There are sites which publish 100 popular blogs. You can go through them and check whether there is any topic that you are interested in.
To check offline popularity, go to some online sites like Amazon, Barnes, and nobles etc. and check their bestseller books. You will get an idea of popular topics. You can write down topics that interest you.
There are many profitable niches like health and nutrition, lifestyle etc. But if you can create high-quality content on those topics, then you will succeed. Most importantly don't choose a niche which has more audience but choose the one which you can handle well.
2. Choose topics that you are interested in:
It is a very important point to choose a niche. If you don't enjoy what you are doing, you may get bored after sometime. You can't engage your audience also
It will be easy for you to write about topics you are interested in. Ask the following questions yourself?
1. What are your interests? You can write down the topics that interest you. You can write any number of topics at this stage
2. Do you have any talents? Everybody has their own talent. Find out your talent and use it.
3. Are you working hard to get more information? Nobody knows everything. We have to learn it from different sources.
Here are some topics which you can try to create a blog on
Finance
Lifestyle
Health and Fitness
Food
Fashion and beauty
Personal development
Animals
Travel
Relationship and more
3. Keep your niche down:
Did you get an idea from the title?
Instead of writing blogs on many unrelated topics, concentrate on topics that reach to more people.
Niching down means you should narrow your topics. Write about topics to target a specific audience. It will create trust in you and more people will attract to your writing.
For example, if you chose to write blogs about fashion then target your audience. Fashion is a word with many branches and meaning.
Targeting your audience is very important. If your blog covers many topics then it will be difficult to create an impact.
If you write everything in the world, people won't read your bogs. If you write what they want you will get more audience. Those types of blogs are profitable.
4. It is important to know what people want:
When it comes to choosing a niche, it is important to know what people want from you. They want to make themselves better.
You can give them solutions to their problems. Topics like personality development and solution for any problems are more popular and you can earn money out of it.
For example,
You can give them tips to be a better parent. It's an interesting topic
Or how to spend money safely. They will listen to you.
If you can give the solution to their problems they will listen to you.
For example, if you write blogs about 'how to get rid of pimples'. And when somebody searches Google about this topic, your blog may pop up.
This way by offering them a solution by a product you can earn money. By reading your blog they will go and buy the product from an online site.
Basically, you want to create a blog based on your interest and popularity on Google. If you are writing about fashion then it is better to check the competitor's site.
Be careful not to copy their style. Create your own style and identity. If you can impress your audience, they will follow you blindly. Try to make that impact on others using your words.
5. Check for profitability:
Now you narrow your topics and decide on your niche. Now, you have to check how blogs on these niches make money. You can check Google and Pinterest.
There will be blogs related to your niche which are earning money. Some bloggers even say how much money they are earning.
Pay close attention to those blogs. Check whether they are promoting any product or services through their blog. Check whether there are any sponsored links, blog post or social media content.
Also, there may be ads on their link. These are some methods to earn money through blogging.
One more important thing is to check whether your niche has sufficient advertisers based on PPC network. Google Adworks and Yahoo publisher's network are two PPC programs.
You can use Google Adwords traffic estimator to know more about high paying keyword related to your niche. It will give you a fair idea on how to earn money using keywords.
Also, check SEMrush to check more details about vital search marketing and data related to your niche. Or else you can use Infolinks. Also, try sponsored post, Banner advertisement, blog sponsorship to earn money out of your blogs.
6. Check competitor's blog:
It is always beneficial to check competitor's site. Once you decided with the niche you are going to handle, the next step is to use those keywords to check your competitor site.
Get an idea about the number of competing sites, top 10 competitors, products/service they offer etc. So you will get an idea about competitors who make money using your same niche
Checking your competitor's site means to get more idea about the amount of hard work you have to do to start a blog.
Do you want to get noticed?
Oh, yea who doesn't want that. If you want to get noticed immediately it is better to select a topic with less competition.
Are you familiar with a word micro niche?
It means blogs based on small topics or keywords. Those websites won't get more traffic but they make money in less traffic. It is the best way to make money as a newbie.
7. Attract your audience:
As a first step, you can use social media platforms like Google, Facebook, twitter etc. Tag your friends and family.
If your blog is interesting they will share it. You can build up the audience over time. It is a time- consuming process.
Once you got a large number of audience it is easy to earn money.
Ways to promote your blog:
But you need some, which can promote your blog.
SEO:
It is one of the best traffic sources through which you can attract people towards your service/product. So, do optimize your content with keywords.
Social media:
It is important to ensure maximum reach for your blogs to earn money. Social media plays a crucial role in this.
You can use every available platform to market your content. If you are focusing professionals then LinkedIn and Google+ work for you. To reach a common audience go for Facebook, Pinterest, and Instagram
Paid marketing:
It is another option to promote your blogs. With paid methods, you have to pay for clicks. If you can target your audience using the right channels, you can easily build your audience.
Some other important aspects:
1. Try to add PLR products like eBooks, articles or videos related to your niche.
2. Online world changes quickly. So, pick a niche that will interest you for a long time
3. Don't give information for free.
4. Check Yahoo answers to know whether people are asking questions about your niche
5. Check some books or magazines related to your niche. It will help you to make your blog profitable
6. Choose a niche which is always in demand. For example, weight loss, beauty tips, baldness etc.
These are some important points to make your blog profitable. Follow them properly. Blogging is a special art. You should have that ability to connect with people through your words.
Are you ready to make some profit out of your blog? You can make a good income from blogging.
One important thing is that don't be scared to start. Whatever niche you decide you can make it by hard work. Don't give up. Mistakes can happen.
Try to learn new things from them. Every established blogger faced issues in the past. They experimented new things with their blogs and made a success.
In conclusion, it is important to choose the right niche. It is not that hard if you considered all the above points. You can't make money from blogs quickly. It takes more time to establish. So, be patient and creative for a better future.