What is Blog Commenting?
The best and simple way to gain backlinks for your fresh or old website can be by blog commenting.
They are mentioned as an awesome source of inbound links which assist in bringing specific traffic to the site.
Blog commenting assists in developing your social network and helps in keeping your backlink graph steady up.
With the assistance of blog commenting, you can be updated with the state of the art trends in the industry and also be an element of inspiration within your niche.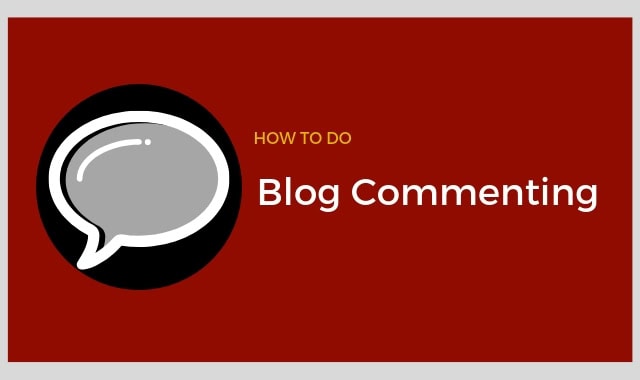 Let's glimpse through a few blog commenting tips and enhance our knowledge on the same.
Few Blog Commenting Tips:
1. Read the complete post:
This may be common advice but the reality is that they are many readers who do not read the blog completely.
They take up that they know about the blog just by reading the headlines and start commenting on the basis of assumption.
It is important for bloggers to remember that blog commenting is mandatory for developing your authority and brand, hence any comment that misses the important part would affect your authority.
It is important to present yourself as well-informed and intelligent.
2. Use three sentences:
A general thumb rule which I would follow and advise other bloggers is to write blogs which are minimum of 3 sentences.
By this way, the blog owner would get to know that the blogger has read the post completely and also has the patience to complete the conversation.
3. Use a real name:
Some bloggers do not reveal their real name and identity.
But it is important to utilize your real identity and name for appreciating work of others or for encouraging your own brand identity. There are many people who value the real individual.
By making use of your real identity you can avoid being presented as a spammer and be treated as a respected individual in the discussion team.
Though you may be new to a specific place, others would trust and have faith in on you by looking at your true identity and credentials.
4. Link to social profiles and internal pages:
A lot of links would be developed for your site's homepage with blog commenting.
Do not just end up with just a single page. It is mandatory to link to social networking profiles and high-level internal pages.
Since blogs are mentioned to be inherent in nature, it is mandatory to link to social profiles so that your social profiles develop in a great way and also new fans can be obtained.
5. Know the site before commenting:
Sometimes there may be situations where you are in a new community.
It may be a new experience and you may have bumped in because the post would have matched your interest.
In such scenarios do not comment right away. It is mandatory to read all the old post made by the author in the same website. The author psyche can be understood by reading more of his posts.
By this way the authors thinking, interest and writing style can be understood and you can comment in an impactful manner.
6. Avoid dropping links in the comment:
It is advised to evade dropping links in the comment area unless you're associated to an outside source in order to back up your stance.
The blog owner might think it to be spammy and may also blacklist you from the blog.
Hence a blog comment should not be considered as an advertising platform for your brand.
7. Glimpse other people's comments:
A good blog commenter should know the basic rule to read others comments. Any popular post is read and the all good comments are run through by an expert blog commenter.
It is mainly important for commenters who are new in any community.
The beneficial aspect by reading other people's comments is that their interest, tone and more over the way they bring themselves in a community can be understood. Similar comments with unique ideas, in your own style, can be written.
8. Go in for associated blogs your spectators would target:
It isn't mandatory to sustain in blogs which are directly associated with your industry.
For example, being an SEO professional I have the vision to comment and read about content marketing, social media, online advertising and many more. These associated industries are ones which my spectators are reading about.
For presenting my brand in front of them I can read all related sites. One should not be afraid or refrain from posting a comment.
9. Add value to comments:
It is good that as a blog commenter, you have selected topics which are interesting, possess adequate knowledge on the area to comment and you have also read about the topic as well as the author.
It is also very important to remember that there isn't any value in commenting the same thing others had commented.
Hence it is mandatory to pay attention and add value to your comments.
10. Generic comments to be avoided:
There are certain commenters who use,
"Oh, what a fantastic post and I'm happy that I got the post that I was hunting for" etc.
Such posts and ideas must be avoided by commenters. Community members may perceive you as spammers when such comments are posted.
It is always advisable to post in an actual manner so that it helps us.
11. Core blogs are to be focused regularly:
When any niche is taken into consideration, there are ample must-read blogs which are to be read every day. Such blogs are to be included in the commenting list and leave comments each day.
Apart from being trusted link sources and great blogs, these blogs help you to be updated with the state of the art industry happenings.
These core blogs are mandatory as it is here, where main players in the industry post their content and it is important for bloggers to get their brands there.
Finding Blog Commenting Sites:
Internet marketers believe in blog commenting sites for generating traffic and have been the hot topic amongst them.
Though varied people have varied opinions, the truth is that blog commenting sites are the main source for referral traffic and bloggers rely on them.
Getting the right category of the blog in your relevant niche is mandatory to gain backlinks along with aimed visitors.
The fastest way to develop backlinks for your site is by following DoFollow blog commenting lists for developing backlinks with your site.
In order to develop DoFollow backlinks for your website and traffic commenting blogs are mandatory.
The main process in SEO is link building. Backlinks are necessary in order to rank higher in your niche.
Websites provide a number of free high PR DoFollow sites for blog commenting. Bloggers can follow such sites and develop backlinks.
There are few other ways by which you can identify blog commenting sites as mentioned below.
1. Famed blogs:
Before commenting on any blogs it is necessary to check out the age of the blog, the average comments in the blog, the blog posts quality, update frequency of blogs etc. All these aspects help you to find out the familiarity of the blog.
2. Page and domain authority:
The domain authority and page authority are major metrics which helps the user to measure the quality and familiarity of the blogs.
Certain bloggers and SEO professionals do not prefer to get a blog through backlinks which have domain authority less than 30. Hence domain authority is to be checked.
3. Page rank:
As mentioned above, page rank is another important factor which must be considered before finding a blog commenting site.
There are certain webmasters and bloggers who look for page rank backlinks for a blog.
Examples for blog commenting:
Plain spam comment:
A comment becomes a plain spam comment when the keywords are used in the name field, or with poor grammar.
The comment is said to be spam when it is completely positive without any constructive debate or if it praises post author.
Half bad or half good comment:
There may be good comments to a certain extent, but there are things which shouldn't be done.
There should not be questioning related to technical aspects, like asked in a forum. There should not be a link back left for your blog unless advised. Comments related to YouTube should be done in the YouTube section only.
Good comment:
A good comment should use their real name, real web address and email only.
They add enhanced value to the post by inserting in more beneficial information related to the topic.
Blog Commenting for Backlinks:
Blog commenting is mandatory as they can help your blog get noticed and drive in more traffic.
They also enhance your site engine optimization and ranking of the search engine with backlinks.
Also with backlinks, authority points for the blog can be gained. Hence blog commenting for backlinks needs to follow certain tips as mentioned.
Getting into conversations:
Discussions are important and being active in other people's discussions shows that you're an active listener.
It is good to listen to others and be an interactive player. It is through comments that issues are discussed. At the time of discussion, it is good to take others point into consideration and also bring out your ideas.
As mentioned earlier, blog commenting can drive in more traffic by following all the tips mentioned above and below too.
Avoid too many links:
There are bloggers who link their own blogs into comments and it is advised to do it just once.
When an issue is being commented, points or arguments from your side can be assisted by means of reference links.
Few people add one to three reference links along with their comments. In the comments section, it is advised to have just one reference link.
Promote your comments:
For your comments to be noticed it is advised to promote your comments.
For example, you may have found a post very interesting and commented over it. Then the next step would be to promote the post by via social media.
In this manner, many people would come to know about your posts and your comment.
How to do Blog Commenting for Traffic?
By following blog commenting there is sharing of knowledge.
This is another way to viral out any blogs. The best fact about commenting is that it leads to conversation and later on into developing relationship amongst the author and user.
You would be popular based on the number of conversations made. It is not the only familiarity obtained by commenting, there is an enhanced number of backlinks and also traffic towards the website.
More on blog commenting systems:
The only source for information is the internet. One best way to share ideas, experiences, and knowledge is by blog commenting.
The web 2.0 websites has a good feature which encompasses users to interact with each other, the web or the author.
Blog readers or readers leave their comment by means of a system called a blog commenting system. In order to build a blog, modern websites such as type pad, WordPress, blogger etc. are utilized.
Do-follow posting of comments:
Usually, successful bloggers suggest do-follow attributes to blogs initiated by beginners.
These blog posts possess a number of positive motives for posting comments. The blog is checked out if it has a do-follow attribute in order to make sure, if it is the best blog to make a comment.
Posts which are present with do-follow blogs are beneficial to be commented as they enhance the number of visitors.
Almost all internet users opt to comment on do-follow blogs as they would be able to gain free backlinks.
Getting backlinks and promoting is made free for users who follow do-follow blogs.
It is sure that when commented on do-follow blogs, an enhanced number of visitors can be obtained.