Every blogger loves comments…
If you are maintaining a blog then definitely you must have encountered with different types of comments for your blog posts.
People replicate their opinion on a blog by commenting on their opinion on how they felt about a particular topic or a blog post.
Just as salt is to food likewise, comments are to blogs.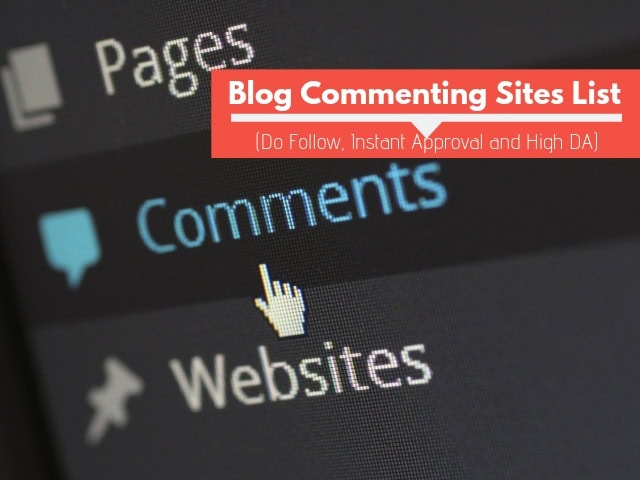 Usually, commenting leads to conversation and it further helps to improve the relationship between the author and the user.
Having more conversations through comments will enhance the popularity of your blog and helps to get some good amount of backlinks along with traffic for your site. This will seriously improve your website ranking in all major search engines.
Before we move further let's check the importance of blog commenting along with the mistakes to avoid when doing it.
Importance of blog commenting:
Enables community involvement
Drives traffic to the blog
Helps gain supporters
Encourages two-way communications
Provides valuable feedback
1. Enables community involvement:
You can use social media to promote your blog, brand, business, site, etc but you cannot create your own presence on it easily and other outposts. From this, you can understand that it's your website or blog that acts the key base of activity not necessarily your social media.
Allowing visitors and readers to comment on your blog or website means nothing but encouraging your community to be able to participate and share their opinions here with you in a free manner.
2. Drives traffic to the blog:
No one is an expert and doesn't know everything regarding a particular subject. Providing additional tips and advice will make your blog post useful for future readers.
The added information will also help to drive more traffic for your blog
3. Helps gain supporters:
By allowing comments on your blog you will gain supporters for your blog. Since the people who comment on your blog will be your avid supporters.
4. Encourages two-way communications:
Sometimes readers might not be fully satisfied with your blog post and even a few other readers may tend to disagree with your opinions in the blog post. At that time you may tend to defend yourself. But these are the situations which lead to two-way communication between you and your readers.
This is the process that will encourage you to discuss and share ideas and it is a part of the contribution a blog makes to the blogging industry.
5. Provides valuable feedback:
A reader will get an opportunity to express the view on the context that you provide in your blog. This will happen only when you allow them to comment on your blog and the feedback given by them can be further used to employ strategies to increase the content quality.
Also, patiently listening to the reader's opinion and responding to them will create a sense that you are concerned about them and it will make them think that their views are being respected by you as well.
Blog Commenting Mistakes to avoid:
Writing a comment on a post and not getting back to see the reply given by that author or blogger.
Writing an irrelevant lengthy comment for a post.
Becoming angry because of not accepting with a particular post and putting a very nasty comment.
Creating a fake email address and making a comment.
Making a comment on a blog without reading the entire post.
Providing a comment and not taking that conversation to further.
It is very important to create a right impression in the digital era, a meaningful comment and reply will communicate effectively and will be taken seriously as a blogger.
Comment to proceed the thought which is being discussed by the blogger. Also, comments are to communicate new ideas.
Top Blog Commenting Tips:
Here are eight blog commenting tips that help you to make sure that you are getting the most value for your blog commenting efforts
Completely read the post and understand it
Aim for writing a Minimum of 3 sentences in comments
Every time use a real name
Link to social profiles and internal pages (if an option is provided)
Should not drop links in the comment
Figure out the blogs that your target audience might be reading
Know Who Is Commenting On What Blog
Identify main blogs in your area and comment on them regularly
Now, let us see some of the high-quality blogs for commenting across different categories
Blog Commenting Sites List: