Modern businesses are no more limited to conventional business techniques and practices. The technological evolution has hit even the business arena as it guarantees to deliver useful and relevant business information, and hence, enhances business performance.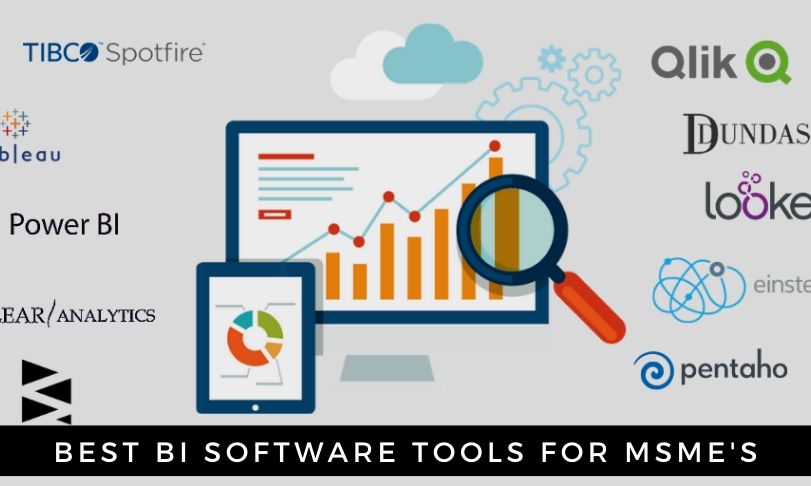 To cater to the unique needs of a range of businesses, what is precisely available is BI or Business Intelligence Tools. These BI software tools are advanced norms supportive to boost the efficiency and visibility of a business and determine customer behavior. With the help of the best BI software tools, it is very easy to gather data from the complex and ever-changing business environment so that it is easier for businesses to make promising decisions.
In this post, we highlight some of the top-notch BI software tools. But before that, we wish to let you know what exactly BI or Business Intelligence means.
What does Business Intelligence Mean?
BI or Business Intelligence is a collection of software designed to support the process of decision-making through in-depth analysis and management. It is defined as the procedure of processing and analyzing bulk data and then transforming it into knowledge-based data to ensure profitable business decisions are made.
The environment of BI includes data models, ETL tools, and business models, which help to organize and transform the data into relevant details.
Why BI is great for Your Business?
BI is a result-driven and proven solution useful for business entities in numerous ways.
It is a fast solution to rectify complex and critical business challenges.
It supports the empowerment of employees.
BI helps to align business activities as per your unique corporate tactics and strategies.
It gives you in-depth insights into clients.
It reduces the time involved in data manipulation, and hence, helps to take decisions faster.
BI is useful to identify critical business areas for cost evaluation.
BI enhances business productivity.
Best BI Software or Tools:
There are numerous BI tools available and here we have shortlisted the best ones that can offer your business with immense success and help to manage most of the business complexities.
Business Intelligence (BI) Software Tools for Enterprise:
1. SAS:
The SAS tool is a business proprietary solution ideal to make available the precise business details to the correct people at the relevant time. It helps in developing a strong connection between numerous end-users and data sources.
Using SAS, you can safeguard your business data. It is because it comes with high-end safety features like resolution and identification of security issues. Further, SAS supports governance, scalability, centralized data, and data visualization.
You may use SAS in order to gain real-time assessment for your business and conduct easy self-service reporting.
2. Microsoft Power BI:
Another great BI tool designed for enterprise use is Microsoft's Power BI. This tool is highly useful in data and business analysis and comes with an easy to use drag-and-drop interface. It is quite similar to the use of MS Excel.
It is a no-code tool that offers both web and desktop clients great ease of use. It comes with a library of pre-built connectors, which is highly extensive and is an excellent add-on for Windows-centric workflow. With this high-performing tool, you can gain the most promising results for your business.
3. Solver BI360:
Another BI tool to consider is the Solver BI360, which comes with an amazing data warehousing feature. It can be integrated seamlessly into the Excel and Microsoft workflow.
Solver BI360 performs visualization and analytics but is not focused on creating charts, which other tools may serve you with. It can be used to manage common business issues by streamlining the budget, forecast, and reporting. Moreover, you may even use additional features as direct plugins to perform analysis. Also, it offers modular buying, so if you don't wish to level up the Excel, you may use it too.
4. Zoho Analytics:
This analytics and self-service tool offers users to design insightful dashboards and precisely assess the data. It is featured with AI-powered assistant, which enables users to ask queries and gain viable answers in the form of meaningful reports.
This tool comes with more than 100 readymade connectors that work well with cloud drives, databases, and business apps. It comes with a wide range of visualization elements like pivot tables, KPI widgets, summary views, charts, custom theme dashboards, and more.
This unified BI tool lets you assess data from distinct business apps. Its augmented assessment feature using ML and AI-powered intelligent assistance can easily comprehend your business queries and ask relevant questions in natural language. The white label solutions are perfect for BI products and embedded analytics.
5. BOARD:
This is a self-service BI tool with the functionality to make unified decisions as it comes with standard BI and the potential to utilize advanced analytics approach in one platform. Moreover, BOARD also offers planning, decision support, and in-depth forecasting that help perform detailed analysis.
You can use BOARD in cloud or on-premise and with a range of data import options. While its interface is easy to use and completely visual, BOARD maintains a robust community of supportive users who can aid novel users in gaining the speed if they are stuck.
BOARD is a perfect tool for mid-size and small organizations and can flawlessly perform numerous analytic tasks for straightforward and small data operations.
Database and Visualization Enabled Business Intelligence (BI) Software Tools:
1. Oracle BI:
Commonly known as OBIEE, this is an open proprietary tool for business intelligence that comes features such as Adhoc Query assessment, online analytical reporting, and reporting. Its calculations, definitions, and business analytics are framed within an enterprise information model and allow users to access information in numerous ways along with applications and collaborative workplace.
This tools not only offer users with precise and in-depth insights, but also the information discovery functionality or Oracle Endeca, which is a promising solution for discovering agile data. With this tool, you can easily manage your business association with the IT team. It offers fast access to conventional data analytics and non-conventional data and lets you maintain the present enterprise investments and make well-informed business decisions in less time.
2. QlikSense and Qlik:
The next high-performing tool integrated with proprietary analytics is the Qlik, which illustrated how you can relate various data of your business. It comes with guided, self-service, and embedded visualization as well as utilizes in-memory indexing to maintain data relationships.
This tool is available for free and excellent to conduct interactive visualization and make effective decisions. This platform is available with 3 core versions like Qlik Sense Desktop, Qlik Sense Enterprise, and Qlik Sense Cloud.
3. Adaptive Discovery:
The other tool integrated with visualization and data discovery functionality if adaptive discovery, which is a commercially available cloud-based visual analytics solution integrating data sources and facilitating visual data analytics on the dashboard.
This tool is incorporated with key performance indicators and web-based deployment aspects, which aid to boost business performance. Using this tool, you can make possible analyses of multi-dimensional data with in-memory architecture and drill-down ability.
Some of the prominent features of this tool are Ad hoc queries management, conducting Ad hoc analysis, profitability analysis, data visualization, strategic planning, and more. It helps in forecasting and budgeting for business.
4. Sisense:
Next, we have Sisense, which is an end-to-end proprietary tool exclusively designed for users who are not skilled in using BI. It comes with a handy solution for web-based and mobile benchmarking and deployment.
Its unique ElastiCube feature and inbuilt in-chip technology support the cloud platform. Using this tool you can get solutions to ad-hoc queries, ad-hoc report generation, ad-hoc analysis, and data visualization. Analysis of profitability, strategic planning, and key performance indicators are a few additional features.
5. SAP Business Warehouse + HANA:
This is a rich business proprietary platform delivering awesome services to the data warehouse to manage and organize data and offer an efficient business report. The SAP HANA was primarily famous for its high-performance analytic appliance. It is introduced by SAP SE and is used as an in-memory computing platform that aids in altering relational databases.
You can gain innumerable benefits after implementing SAP Business Warehouse HANA such as low-cost estimation, smooth administration, and high performance.
Business Intelligence (BI) Software Tools for Business Startups:
1. Tableau:
Tableau is a highly popular BI software tool incorporate with visualization and data analysis functionality. It comes with a low-code interface, which makes it very convenient to generate an extensive range of interactive dashboards and visualizations.
With a set of more than 150 in-built functions for data analysis and calculations and an extensive number of pre-built connectors, it makes managing data very convenient. In addition to Shareability and reporting, Tableau enables users to share their analysis within the organization while still maintaining access to ownership.
It comes with robust mobile experience and can efficiently perform a lot of work.
2. PopSQL:
Designed with a collaborative and lightweight SQL editor, the POPSQL is an excellent tool for teams who are familiar with using SQL and require a simpler way to distribute and share their network. This platform comes with a user-friendly URL-based technique to share SQL queries across the team and a file system to organize and store queries.
Once your business issues are collected, analysts can search for the best solution to them. The queries can also be tweaked for adding input variables to gain fast repurposing. With its in-built visualization platform, it enables clean and easy charts, which can be exported to share. It functions with numerous database backend, like PostgreSQL.
3. Panoply:
Designed with a streamlined data management, data analysis, and ELT flow, Panoply is another awesome BI tool to consider. It works for more 150 data integrations for a complete range of data sources like remote data, flat files, and third party integrations such as Facebook, Google Analytics, ElasticSearch, MongoDB, YouTube, Instagram, and more.
The tool comes with a built-in SQL editor that allows you to assess the data in-browser. But to gain more technically savvy assessment, you can use its data warehouse feature. This functionality is a warehouse for intricate back end assessments, which are done using R or Python.
4. Mode Analytics:
Integrated with an extensive range of web-based BI solutions, Mode Analytics aimed at data scientists and holds a strong focus on sharing and collaboration. With the help of this platform, you can easily connect the data sources to their in-built SQL visualization and editor platforms. Hence, if you love working on Python or R, Mode Analytics is an ideal solution for you.
You can create numerous notebooks, which can be shared easily without replicating developmental aspects. For data visualization, it makes it convenient to perform auto-updating dashboards whose themes and styles can be customized with an extensive range of in-built chart types. So, if you think your business comprises a team of data scientists who love getting deep into coding, you must check this tool.
5. Chartio:
Finally, we have the best web-based BI tool offering dual modes to interact with the data – a code-heavy SQL editor and a drag-and-drop interface. For this reason, it offers you numerous options to mix with comfort levels while writing code. Hence, power users can start writing complex queries while those with less technical expertise can explore features like generate visualization, data handling, and creating dashboards.
The best thing about Chartio is that it comes with more than 20 pre-built data connectors perfect for common sources such as Azure, Google data, Amazon Redshift, and social media data integrations. Partnered with numerous reputed brands, Chartio provides more than 100 possible integrations. Hence, you can conveniently start working as soon as you signup.
For businesses that still don't have a warehouse can use Chartio's partner Panoply, which offers automated cloud data stack and all data speed and integration benefits without having to set up a warehouse by yourself.
Moreover, it comes with a fast web-based interface, which makes it very easy to build visualizations and dashboards with code-based options and GUI. This tool is popular for its tutorials and documentation, and hence, can be a good addition to your business.
To Sum Up
With the use of advanced BI tools, like those mentioned above, you can make it very convenient and manageable to manage your business data. These tools are designed in a way to adapt to a dynamic business environment. Hence, investing in them will definitely be a promising and best way to accomplish business targets.