There are various professional tools designed for online experts. Among a range of tools, one highly important and efficient tool required is PPC tools.
A PPC tool can let you save time, offer crucial insights, support your marketing campaigns, and eventually let you make more money for your clients or company. Such tools can help you do online marketing the right way.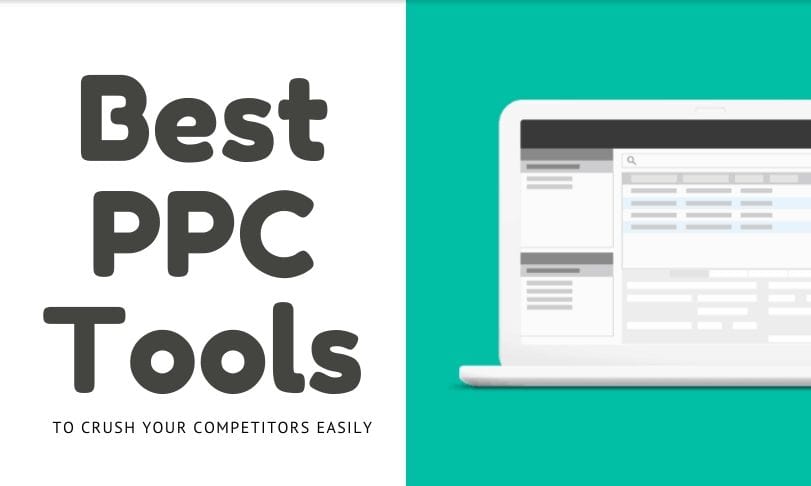 From creating an effective copy of ads to selecting the correct audience and displaying ads professionally, PPC tools can help you with each and every aspect. But you can avail of all such benefits only if you hire the right PPC tool.
So, check here our comprehensive list of best PPC tools that can help you reduce the advertising budget, display ads effectively, and boost your sales.
Best PPC Tools to Improve Your Ad Campaigns
1. Bing Ads Editor:
The first robust and high-performing PPC tool in our list is Bing Ads Editor, which is a highly supportive solution for your PPC ad campaign. It lets you import all data directly using Google and then design campaigns, manage keywords, edit ads, define the budget, ad copy, and perform more other tasks.
Bing Ads Editor lets you manage numerous accounts together. This tool lets you work even when you are offline and enables you to manage your campaigns and accounts. It allows you to make changes, add elements while being offline and once you are online you can update all revisions.
2. Google Ads Editor:
Next, we have a free of cost tool available for editing and ad creation. It allows you to work on distinct ad campaigns across various accounts in Google AdWords when online and offline. This tool lets you manage ad campaigns, perform bulk changes and make necessary edits so that you can run ad campaigns easily.
The best thing about this tool is that it lets you make changes to multiple accounts from one dashboard. Also, you can search and replace text and undo or redo changes to your accounts quickly at once. The Google Ads Editor allows searching and replacing text, making changes, and moving items across numerous campaigns. You can not only export and import files easily but can share your work with colleagues across platforms.
3. WordStream AdWords Performance:
Next, we have a rich PPC tool from WordStream that lets you grade the performance of your Google AdWords. This tool assesses your account and offers you details on click-through rates, wasted spend, impression shares, long-tail keywords, and other aspects.
It comes with a mobile readiness score that lets you assess your mobile PPC campaign. Using it, you can even check whether you are practicing the best methodologies for mobile PPC or not. It is a highly useful tool that makes it very easy to assess the performance of PPC campaigns.
4. Optmyzr:
If you are looking for a highly trusted and reliable solution that can serve you with the best results, we suggest using Optmyzr. It is an award-winning PPC tool that automates the process of optimizing your ads with the use of machine learning methodologies. With this single tool, you can easily handle both AdWords and Bing ads.
Moreover, you can manage your ad campaign account by eliminating or adding keywords, adjust positioning on display networks, altering bids, and utilizing the bidder and splitter for shopping campaign.
5. Google Keyword Planner:
This is a highly popular tool that allows targeting the right customers with the correct keywords. It offers you with rich keyword ideas to let you build campaigns easily.
Most importantly, Google Keyword Planner lets you get keywords at the best possible price, especially when you plan well. You can not only create ad groups but can also establish bids for each keyword before you start the campaign.
6. AdEspresso:
AdEspressor lets you optimize and manage Instagram, Google Ad campaigns, and Facebook. It is an elite solution offering a comprehensive range of tools catering to your diversified advertising needs.
With this single platform, it is possible to manage ad campaigns on distinct platforms. This tool can save you a lot of time that would have otherwise spent switching between distinct channels.
It is very easy to set up as it comes with lots of visuals. Its integration with the rich web design tool, Canva, makes it an excellent solution to create impressive ad campaigns while saving a lot of effort and time and increasing the overall performance of campaigns. To make sure you stay updated, they also offer you access to reliable resources.
7. SpyFu:
This is a rich PPC tool integrated with numerous rich features and lets you keep a close check on your competitors by informing you about the keywords they use and how much amount they are willing to pay for them.
With the help of this tool, you can easily know the number of paid keywords a website has. Also, you can get an ad history of moving back to 9 years and it allows you to track ranks for various keyword groups.
8. Google Trends:
Again we have one highly popular and trusted tool in our list that is trusted by marketers across the world. This online search tool allows you to check how often a particular keyword has been searched for over a particular time period.
Using this tool it is possible to check the results in the search index volume graph. It shows you the relative interest level in a particular keyword. Moreover, you can compare the interest level among distinct keywords.
9. Optimizely:
Optimizely is another rich tool that is great for conversion. It allows you testing the variation of your webpage engagement with your visitors and then lets you optimize the website.
Moreover, it is possible to target audience on the basis of various demographics, predictive analysis, and behavior and perform multivariate testing, multi-page assessment, campaign management, and more using it.
10. PPC Protect:
PPC Protect is a great tool for those who are highly concerned about their campaign's security. It is because this tool lets you immediately identify fraud automatically in a few seconds.
It is a highly useful tool that protects campaigns from online hacks as well as lets you maintain a suitable AdWords budget. It comes with the most efficient IP blocking system and allows multiple users for one account. You can select to offer selective access to the team as well as monitor your website traffic.
11. iSpionage:
Integrated with competitive intelligence, iSpionge is another efficient tool that offers you with rich SEO data related to your competitors. By using this tool, it is possible to boost conversion rates and generate a number of leads.
It lets you know the sum of money your competition is spending on AdWords as well as keywords that you must compete for.
12. Tenscores:
This is another useful tool offering recommendations on enhancing the Google AdWords quality score. It lets you know if you are investing money in a rich campaign or heading towards the poor quality score.
With this tool, it is possible to conduct a thorough analysis of the quality score history to let you explore various areas for improvement.
13. SEMrush:
SEMRush is a famous SEO toolkit that comes with numerous features and functionalities such as rank tracking, website audits, social media monitoring, and other features to improve your PPC campaigns. It holds an excellent ability to identify profitable keywords in any division. Also, it offers good research data on competitors to make sure you work ahead of them.
Further, SEMrush holds the capability to let you go global. When you target users in different countries, you can research keywords that are popular in that region.
SEMrush lets you find 16 regional databases for prominent countries across the world such as the USA, UK, Australia, Germany, Netherlands, France, Canada, and others.
14. Yandex Direct:
Next, we have Yandex Direct in our list that lets you place ad campaigns as well as display ad banners on mobile and desktop. This is a robust tool to target the audience by identifying the correct customers.
It comes with rich placement controls over ads and lets you learn how the users respond to your ads. Moreover, you can alter the settings as per your preference to optimize results.
15. Adalysis:
This is a recommendation engine, which allows you to optimize the PPC campaigns with ease. Adalysis automates the process of ad testing and enables you to test innumerable ads with convenience.
Moreover, it offers quality recommendations and scores for ads and also helps you check broken links, n-gram analysis, keyword conflicts, negative keywords, and more other aspects of your campaign.
16. Long Tail Pro:
This is another great PPC tool that offers you a convenient way to search the best keywords for PPC campaigns. This tool helps you discover promising keywords for the correct audience in the desired niche.
Long Tail Pro allows you to measure the competitiveness of various keywords in the preferred domain. You can find long-tail keywords automatically by using this tool.
17. Opteo:
Opteo is another promising and robust PPC tool, which simplifies Google Ads for you. It is a great tool suggesting improvements to the ads through data-driven insights based on the targets and conversion data.
With the help of Opteo, it is possible to directly introduce various kinds of improvements in your campaign with just click of a button. Moreover, it brings great performance metrics to your campaign through the way of a single dashboard. Hence, using Opteo lets you easily track the ad performance easily.
18. Invoca:
Phone calls are of great value to businesses. It is essential to understand your audience, who is calling, and what is the purpose.
It is a great solution to manage, track, and capture all important phone calls. It can be integrated with 30 platforms and is available at a price of $1,000 for a month.
19. Twitter Analytics:
This single tool can provide you with bulk data and is perfect for those who are obsessed with Twitter. With the use of this tool, it is possible to discover the number of people who are engaging and checking your tweets.
Additionally, it lets you identify whether your Twitter campaigns are effective or not. You can also compare valuable demographic data about the followers.
20. Certified Knowledge:
Certified Knowledge is a robust tool integrated with a wide range of tools that will let you access data, design numerous ads, and optimize the quality score of your campaign. It is available at a starting price of $79 for a month.
21. Unbounce:
If you are looking for an efficient landing page tool then Unbounce is an excellent solution. It comes with more than 80 different templates and serves your requirement for almost every kind of landing page you require including sales, products, eBooks, lead generation, and more. Unbounce is available at a starting price of $49 per month, however, you can start using its free trial.
22. BuzzSumo:
This is an awesome tool that shows the most shared content and campaign solution across the web and allows you to make in-depth research related to the niche, keywords, author, website, and more. The tool comes with attractive article headlines and can make catchy PPC ad headlines.
23. Canva:
This is another PPC tool that you can use to conveniently design display ads. You have to upload your own assets to work for absolutely free. It comes with a drag-and-drop interface to make changes, add text, or if you are willing to pay a nominal fee, you can use it from bulk images from their library.
24. Facebook Ads Manager App:
This app is ideal for Android and iOS users and allows managing the Facebook campaigns in a hassle-free way. You can not only track your ads performance, but can also make edits, adjust budgets, and even design new ads from your mobile.
25. Pinterest:
Lastly, Pinterest is a great inspirational tool to display ad images. It is a great tool for organizing, saving, and exploring amazing visuals to incorporate in your creative work.
Summing Up:
These are some of the finest tools, which can help you optimize the PPC campaigns and manage different aspects of your campaigns. Just try these tools and you will see how efficient and impeccable they make your work.