Are you still struggling to get approved by Google Adsense? The new bloggers usually apply for Adsense and become dissatisfied after they are rejected by Adsense Publisher Program.
Even if you do get approved, the guidelines and rules laid by Google Adsense are very stringent and if you by mistake break any of the rules, you are banned from Adsense and you are not going to ever get unbanned.
Moreover, some people are not even satisfied with their earnings from Adsense. However do not feel low, as there are many alternatives to Google Adsense from which you can earn good income perhaps more than Google Adsense.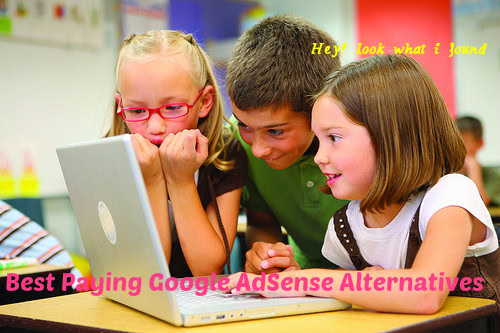 If you are tired of getting rejected by Adsense continuously for unknown reasons or maybe want to earn some better commission to what Google might be paying you, then you can leap into these alternative highest paying advertising networks parallel to Google Adsense Publisher Program.
Google AdSense Alternatives for Bloggers:
They may not be as good as Adsense but they are better than any other alternative network. The publishers can generate more revenue as it is a Performance Base advertising network.
Their huge list of ads includes effective text as well as display ads. Revenuehits offer text ads, pop-ups, and under apps and widgets, custom formats, XML feeds. To get the best results and to keep your ads running for five to six days.
Infolinks is a diverse ad network as it shows the ad in a different manner. It won't take too much of your site space to display ads. The four types of infolink ads are Infold and Intext, Intag and Inframe.
Another ad network is adversal. It works with several languages and has a great CTR. They offer banner and pop-up ads. Make sure you get 50,000 page views per month before application to adversal.
They usually approve the application in three to four running days. To earn extra you can also join up for their affiliate programs.
Viglink here is also a different ad network. It builds link inventory. You will earn a commission when someone pays by using your links. Your keywords are turned into hyperlinks that produce valuable marketing returns.
Media.net is one of the best alternatives. It is powered by Yahoo and Bing and it is a contextual advertising network. It makes sure your inventory captures considerable demands always.
It displays ads to tablet and mobile phone users too. It provides customized ad element that suits your site's look. The publishers earn well from advertising revenues through this alternative.
Chitika – Shutdown:
Next on the list is Chitika which is also a good alternative to Google Adsense. Even though your site has a low traffic, you can still monetize with Chitika. Just sign up and get ads. They have smart ad technology plus a RTB platform. They have mobile ads, local ads in addition to search targeted ads.
Qadabra – Closed:
It provides great technology which is improvised by a spontaneous dashboard, wide-ranging access to global advertising coverage and advanced customer service. It has easy to use dashboard for publisher's self-serve platform that maximizes the site's earning capability which helps in optimizing the publisher's advertising revenue.
You don't need to have much content in your site to get consent by Qadabra and needs only 15 seconds to begin with ad display on your site. It provides with banner and slider ads.
Adengage acquired by Technorati acquired by Synactor
You can directly sell ad spaces on your site to get revenues. It provides codes that work for PCs, tablets, and mobile phones. You can earn 100 % of your own direct sales.
Kontera acquired by Amobee
Kontera is like Infolink. Kontera ads appear in hyperlinked texts. Image and video ads are also provided and every ad is the foundation of pay per click payment.
It allows low traffic sites and takes only a minute to configure.
It is also a pay per click ad network. It has a bidding system which permits the highest bidder to advertise on your site. Thus, it takes time as the highest bidder has to find your site so you would not be able to earn revenues in the beginning.
Accordingly, you will have to stay longer. Promote your customized toolbar and earn profits. It offers banner and slider ads as well as text and mobile ads.
It provides buying and selling ad space on sites and blogs. They do not approve of low traffic websites. However, they pay you only 75% when ads are sold. It has a direct sales policy and allows white labeling.
Amazon associates can work for you if you discuss one of their products on your site, it can be used as an alternative ad network. It allows the placement of image ads that are vibrant to your blog with the intention that you promote it. It will give you a minor commission for all that is sold from your links.
Yllix has been booming in the last few years and has a respectable CPM and monetization options. It is easy to get started with them and they have a good dashboard. It provides with pop-unders, slider ads, layer and full-page ads, mobile redirects. Yllix's approvals are fast and definitely a good alternative option.
It is another huge ad network. However, your site must have a good amount of traffic. They work on a CPM basis. It is another great substitute for Adsense.
PopAds are specialized in pop-unders. You can set your popunder frequency to best fit with your site. Autoplaying sounds ad and video ads are provided by them as well as an additional pop-up or pop-under ads. It just takes a few minutes for setting up ads and their approvals are effortless.
They are the largest pop-under networks existing. They are the biggest networks with great CPM programs. They check manually to prevent all suspicious and insecure ads. They provide banner ads, onclick ads, in-banner video ads, sliders and much more.
Ayboll – Shutdown
You can monetize by using their native advertising widget. It is a 3 min installation. You can customize, embed on your website and track your revenues. PC, tablet and mobile phones, it works on all. It will study what content your audience involves with and accordingly optimizes to maximize revenue. The ads can be placed anywhere near the content of the site. You are paid for any actions that take place on the site.
They provide related links to associates. You will earn money with sales. They are into traditional affiliate ads and work with many retailers. Per sale you will get paid more. If you are looking for monetizing, Skimlinks are the ones you should try.
It requires more than 500,000 users per month for approval; however, the payment ways are much convenient. They work hard on securing the highest eCPMs, profound budget and suitable advertiser for your site.
They provide relevant ads for your users and work on mobile phones and PCs. It has technology guaranteed for maximum revenue.
It provides direct advertising and you can directly make orders with buyers. You can directly control the visibility of ads and pricing. You can involve in private deals.
Yesadvertising
This network runs ads immediately without having your site go through approvals. Publishers can control the ads that are being displayed. It guarantees better eCPM. The payments are made weekly. You can increase your revenue through their referral programs.
They have a next-generation technology like SDK for smartphones that helps in monetizing with a premium video ad that works well on tablets and smartphones. You get full transparency and control for increasing revenue.
They even provide rich media ads and social media extensions in addition to sponsorships and native ad implementation. Thus, their multi-platform ad solutions work on all possible devices from laptops to connected televisions too.
Another alternative is LinkWorth which provides text link ads. By selling text link ads in diverse formats you get instant profits. Your site needs to be approved. You are paid on 50/50 basis on revenue. But they provide with total control overpricing.
This substitute will allow you to accept or deny the ads they send you. They provide banner ads, inline ads, and text link ads. They also have affiliate programs available. Blogsvertise too has to approve your site.
Otrafic provides ads to facilitate publishers to earn more from the traffic than any other ad networks out there. Sell site ad space through the easy Otrafic ads marketplace and start monetizing.
The ad formats provided by Otrafic include image, text and pictext, video, pop-up and pop-unders, inline ads, etc.
Advertsking
After Adsense experience, Advertsking will be a more beneficial and satisfying experience. They have a fast and transparent system. They do not make you wait for approvals. Sign up and start instantaneously.
From each click, you will earn up to 60% of the bid rate. Customize your ad display that will suit your site and fits in. It provides text and banner ads.
It is best to not try all the networks at once, conversely, pick two to three and gauge the advantages and revenues, then compare which is better and suits your site. You need to have a healthy traffic on your site to enjoy these alternatives to Google Adsense for monetization.
More the traffic more the clicks and more will you be profited.  Hence, now you are aware that even though you were rejected or did not monetize as much from Adsense you have these alternatives to try and go for. The above listed are well-known substitutes who are known for their best performances and you will surely produce considerable revenues by joining any of the above.