Connecting with people across the globe is achieved with blogging. Blogs are of various categories, few links to a personal level, some represent passion related to individuals. Blogs are ones that connect with the world. Blogging is associated with posting photos as well as writing and hence requires a perfect platform to grow.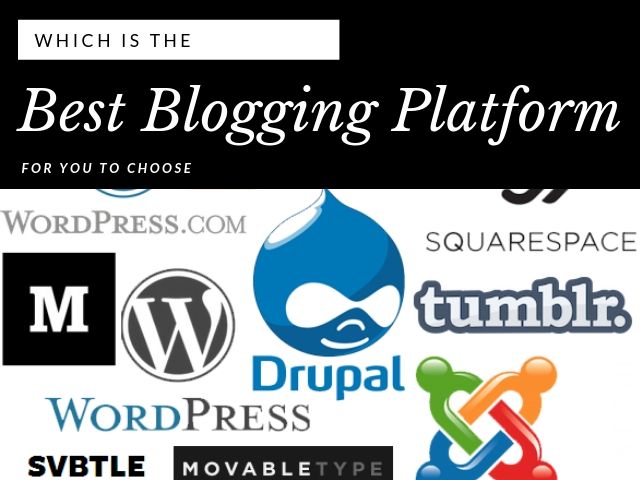 For ones who are waiting to launch a new blog must decide on the platform in which it can power up. There are many blogging platforms and individuals need to choose the appropriate platform that holds all the features necessary to develop an efficacious website.
Top Features of a Best Blogging Platform:
To get started with a completely working blog there are plenty of platforms available. They are also known as content management systems. These are actually platforms that are used for content publishing. There are few key features that any blogging platform must possess and they are
Scalability: In any blogging platform, there should be complete potential growth for the blog without slowing down the content.
Text editing options that are built in: The platform picked should hold a number of formatting options. This is because blogs are mainly of text and these options are mandatory.
User-friendly: Any blog platform you pick should be easy and simple to use. Developing a blog doesn't require a developer as it isn't complicated.
Customizability: There are plenty of CMS's these days that offer you an option to alter the style of your site as well as functionality with the assistance of add-ons. This feature is important though you have a simple blog. This is because new features can be added when required.
How to Choose the Best Blogging Platform?
Let's dive in and get to know about the best blogging platforms for bloggers.
Blog publishing platform, the blogger is from Google. Users can get started by registering with their Google account. Any default theme can be used in order to get started with blogspot.com subdomain. Just a few minutes and the blog would be live. Blogger is one of the best blogging platforms mainly for beginners to initiate without any annoyances. Being an easier platform, there are plenty of templates that can be modified in a flexible manner. The blogger is free to use and offers you the opportunity to link your blog with subdomain or domain.
Since the platform is offered by Google, the main benefit is that it incorporates easily with products of Google, for example, Google analytics. This product is useful as it provides complete details about the visitors to your website for enhancing traffic. The blog can also be integrated with Google AdSense, as it displays ads for blog monetization and also evaluates the content.
The famed blogging platform that's used over about 30% of websites is none other than WordPress. This blogging platform is simple to use and holds a number of powerful options. This platform has the capability to take care of all details as well as the security, and domain name. There are hundreds of themes with more number of options or custom look and fonts. Almost all hosting providers assist your blog to be set up in just a few clicks.
Apart from all these, there is an extensive library of add-ons. If in case there are issues, there are ample tutorials and solutions for the same. There are ample WordPress plans offered by hosting providers, from which bloggers can choose. Apart from blogs, WordPress can be utilized to develop any category of the website.
3.8.5 is the latest version of Jekyll and is a blog-aware, simple, static site generator. There is no graphical interface in this platform and works mainly on the command line. This blogging platform is a unique lightweight and helps you develop tremendous fast static webpages. It is in TXT files that contents are developed and placed in folders. The site is then developed by means of liquid language template.
The main chore of Jekyll is to unite the template as well as the content together. A website called viola is generated and uploaded to the server. Ones requiring a host, there is an opportunity to unite with Jekyll for free website host on GitHub.
There are plenty of benefits offered by Jekyll, such as templates, plugins, paginating posts, as well as a community maintained themes. Jekyll also permits blog migration from other platforms. With Jekyll, simple sites can be developed by making use of CSS, Liquid templates, HTML, and Markdown text. The main intention of this platform is to eradicate frills in the content creation process and help developers for setting up a blog in a short time.
For bloggers looking for a complete content management system, Joomla is the right choice. Joomla and word press share many aspects in common. They provide amazing flexibility and open source. Joomla offers a wide range of settings to work with and assists in maintaining the website. Large corporations and businesses utilize this platform as there are ample content options and offer you enhanced flexibility.
Young audiences are very familiar with Tumblr. The platform is simple to use and concentrates on bloggers community. There are many options available for re-blogging and sharing of content. Tumblr focuses on short content such as link, image, etc. as they can appear on the social media platform.
Contents are usually short form with a variety of posts that has pictures, posts, quips; Spotify tacks, jokes, and videos. Similar to a social media platform, other blogs can be followed and also posts can be republished. The best beneficial part of Tumblr is that it's free, simple to use and perfect to be used on the mobile device.
Blogs linked with business find Drupal as the best blogging platform as it's a complete content management system. The beneficial aspect of this is that with the blog many online contents and web pages can be developed and systematized within the platform. Bloggers using Drupal should find their own host as it does not provide a host for bloggers.
Drupal has editing features, content development functionality built-in and many more. The main reason for the popularity of Drupal is that it's powerful and more secure than other platforms. Customization of the website can be achieved with thousands of templates and free plugins.
Type pad has an easy to use interface for experts as well as beginners. There are many facilities such as publishing from email, flexibility, etc. The platform also has the facility to integrate with Google Analytics with a plan. There are plenty of themes with this platform along with plugins. This helps you make the best blog on your own.
Design customization is supported with type pad, where the custom look is obtained with the theme builder. There is also a facility to develop a custom template on your own or by altering theme by making use of custom CSS. Support is available for type pad and is completely hosted.
Being a Laravel based CMS, Pyro is considered to be an outstanding platform for developers. When blogging is considered, Pyro provides out of the box layout system that is grid based. This would permit you complete control of the posts looks. Apart from all this editing content is very simple and easy with this platform.
For complex websites as well as simple blogs, pyro is the best choice. The blog can be run with the latest dashboard with a variety of options.
This blog publishing platform is one that concentrates on the reading experience. Posts can be created that is linked with the user with this platform. Also, publications with customizable layouts can be developed. Sharing thoughts and writing with the audience can be achieved with Medium. The platform also has a built-in audience.
Businesses can sign up with medium as it's free to use. The users can have the opportunity to publish their own posts by adding their style and voice to other posts. Commenting and posting can be done, where readers can recommend posts, comment others posts, share and follow favorites.
With this platform, third-party embedding from other sites can be achieved. Embedding from Vimeo or YouTube can be done in this platform. There are no word count limitations, but medium advises 400 words content to be successful.
For a powerful and easy to use the platform, the silver stripe is considered as the best choice. There are many options where the blog post can be previewed in the platform's editor as being written. It also offers a built-in search engine optimization (SEO). This assists you in content ranking improvement. With this platform, problems can be monitored with built-in error reports.
The platform called Wix was mainly intended for building websites but is also utilized to start a blog. The beneficial aspect of Wix is that the web pages and blogs developed are intended to support portable devices. This helps your work to be displayed on tablets or smartphones. The users gain good support as well as information from Wix.
Text pattern is the simplest platform to be used. The platform does not even use a visual editor. It makes use of markdown and textile languages. The beneficial aspects of using this are more flexibility, but remember that contents are to be added with tags. Likewise, when text pattern pages are developed, JavaScript, CSS, and HTML codes are to be used. Plugins and themes are assisted by this platform and plenty of choices are available.
Those who desire to use the best platform for business and also maintain website can opt for Weebly. There are ample easy to use features along with drag and drop options. For web building and blogging, business people utilize Weebly. This is familiar amongst business people as the platform is easy to use and also the websites and blogs are developed separately.
Serendipity is a weblog engine instead of CMS. For ones who desire to set a website that's simple can opt for this platform as it's only about blogging. There are many basic templates available with Serendipity.
The blogging friendly features such as media management features, powerful text editor as well as advanced taxonomy features make the platform familiar. The other advantage is that the blog has multiple users support, as well as built-in spam protection.
All basics required for blogging are available with Subrion. Posts and pages can be set up with this platform and it also holds a text editor. There are plenty of other functionalities and built-in SEO features. Subscriptions can be managed for your website from the get-go with Subrion. Platforms, as well as themes, can also be set up with Subrion.
Square space is perfect for bloggers as it offers an extensive range of options for customization. When discussing the customization of the blog, every aspect can be changed without the knowledge of coding. The next main beneficial aspect of utilizing this blog is that your services can be expanded and is useful for business people.
This blogging platform is Java-script based and useful in many ways for bloggers. The main intention of ghost development was for blogging. For a perfect user interface and smooth experience in publishing Ghost is the best option. In order to set up and run, good technical knowledge is required. Being open source software, users can download it for free. Also paid themes and plugins are available for the ghost.
The best blogging platforms along with its useful features are listed above. The user needs to analyze and look for their requirement in order to choose the right platform. A blogger would have his set of specifications and can find out the required blog from the list. An online tour can also help the blogger to start with the installation and other steps.
Blogs are made successful depending on the right platform they choose; hence it's important to take a serious interest in choosing the right platform.