'Ghostwriter,' you might have heard and seen this word a lot of times before. If the thought of becoming a ghostwriter keeps you awake through the night and you are really serious about becoming one, then hang on.
Read this post to gain complete insights about ghostwriting and how can you become a successful ghostwriter.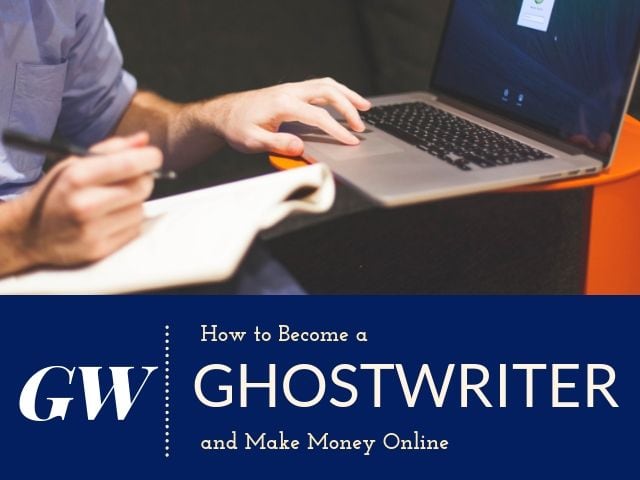 Who is a Ghostwriter?
A ghostwriter is a person who writes copies like speeches, blogs, articles, books, web content, email newsletters, and more other stuff in the name of another person. This way, a ghostwriter never gets the credit for work done by him.
The entire credit goes to his client or to one under whose name the written content has been published or one who owns the business or company that hired a ghostwriter.
Since a ghostwriter is never credited for work done by him, so this implies that he cannot publicly share the work written by him for the client or company, until the same gives permission for it.
A ghostwriter cannot show his work as proof of his writing skills. So, how can one build a successful career into it?
Look at the positive sides! Because you won't be having your name on the content written, so you can charge as much amount as you wish for your services. For small projects, you can charge less money, while for similar projects you can charge more, depending on your preferences.
Moreover, good ghostwriters are highly in demand. If you are offering your writing services at a competitive price, then you will never be short of work. From business owners to authors to teachers, the need is everywhere.
How Much Does a Ghostwriter Cost?
The cost a ghostwriter may charge is an equation between demand and supply. If as a ghostwriter, you can handle bulk work and potential clients approach almost every day, you have good demand. So, you can definitely charge more.
From the hiring side, if they are giving a ghostwriter more money, they will definitely expect a certain standard of writing. If a ghostwriter has just started the business then he will be desperately looking out for work and would be willing to do it at a lesser price. Since they would want the work to showcase on their CV, they will be more affordable. However, there is a risk that they may not deliver work on time.
Hence, when hiring a ghostwriter you have to keep in mind your budget. It is best to find a ghostwriter who fits well in your budget and if there is need then negotiate.
In some situations, you may have an EBook to be written so a ghostwriter may ask for 50% royalty for the work done. If you are going for that kind of arrangement then you must make a contract, or involve an agent. It is because, for an EBook written, the money may not come even for years.
However, even in such stances, you probably have to pay for the ghostwriter to create a proposal at the beginning.
Now, if we consider the monetary figure, then some ghostwriters may charge somewhere around $50 a day, while some may charge $500 a day. It is always better to first get the quotation for the entire job and then agree on the payment terms. It is because if things don't work out in any of the stages, then you must have the flexibility to pay only for work done.
Most importantly, both you as well as the ghostwriter must be clear on your expectations and start the work only if there is an environment of mutual trust.
Just remember, very few posts make a good amount of money from sales, and most of them may not make any money at all. Moreover, it can never be predicted which content will be a bestseller and which will win a lottery ticket. Therefore, there are very few chances that you may earn back money spend on the ghostwriter. Hence, hire a ghostwriter and decide for the charges keeping all pros and cons in consideration.
What to Expect When Hiring a Ghostwriter?
Ghostwriting is an excellent option for you if you have the ideas but lack the skill and energy needed to frame it in a written form. A ghostwriter can provide you with numerous benefits, besides the final content too. While an interview with the ghostwriter can help you understand his methods, brand, and business, still the process might not be a simple one.
While every ghostwriting project is different and needs a unique approach, here is what the usual hiring process involves.
1. Initial Meeting:
It is first essential to organize an initial meeting with the ghostwriter. You can opt for a video conference or a phone conference too. This will help you know whether the ghostwriter is a perfect fit for your requirements or not. You can expect the ghostwriter to ask you numerous questions.
2. Project Proposal:
The ghostwriter would send you a project proposal. Usually, the proposal is customized as per the client needs. Once you sign the proposal, the project is deemed approved.
3. Content Outline:
The ghostwriter performs a few recorded interviews by video or phone conferencing that is then transcribed. For such interviews, a few sample pages are provided by the ghostwriter, which the client has to revise. Changes will be made until the right outcome is achieved.
4. Personal Interviews:
Next, the ghostwriter conducts a personal interview with the client. In some cases, transcription might be recorded.
5. Expanded Content Outline:
After conducting a personal interview, the ghostwriter generates an expanded outline of the content, based on the complexity of the content.
6. Drafting:
The ghostwriting then began drafting the content in order to come up with content that is almost ready and available for share. The drafting process can take from a few weeks to some months.
7. Revision by the Author:
The author is provided by the content and asked to revise. The author can add his own stories, reword sentences, or clarify ideas. While some clients make only a few edits, others make tons of them.
8. Edit and Publish:
Once the final draft is complete, the client is provided with the manuscript, which then undergoes editing and publishing.
How to Get a Free Ghostwriter?
Often, you have to pay a fee to ghostwriters in order to hire their services. However, there are some ways with which you can get their service for free.
1. Contact Local Community:
You can contact a local community who might be offering ghostwriting services for free or at a very low price.
2. Contact a Junior College:
For students, ghostwriting is a great opportunity to showcase their writing skills. In order to gain real-time experience and enhance their skills, some students may offer ghostwriting service for free. Also, this will offer them technical experience, which can be used as a reference for their future work, in exchange for payment.
3. Post Your Requirement on a Job Portal:
There are some reliable job portals available that let you post your advertisement online in a way that it does not appear like a scam. You must mention your website, phone number, email, and other specific details in the description to win over ghostwriters trust. Ask service for free or for a very low price.
4. Allow Some Publications in their Name:
Established ghostwriters may offer their service for free if you offer them a few publications with their name. This is something that they have desired throughout their career. Offer this opportunity to them so that they perform your project for free.
How to Be a Ghostwriter?
If you are new to ghostwriting, it is best to explore how you can become one. This implies that you using your credentials and experience so that you can stand above in the field of ghostwriting.
1. Trying Writing a Book First
Before you write a book for anyone else, it is better you write a book for yourself. If possible, write two or three. Try incorporating at least 50,000 words so that you are able to write something long and have that narrative flow.
It is best if you select a niche. The niche can be fiction or non-fiction.
2. Be a Professional
Be professional at what you are doing. If you are professional at work then others too will take it professionally.
It is important to act professionally for your work. You must create a professional email address and website, use business cards, and even access professional accounts for social networking. Treat your ghostwriting as a business and be always prepared to offer your services.
3. Build Credentials:
There are numerous ghostwriters available online. Hence, you must have an edge over others to get the job. A great way to do it is by offering your service to reputed magazines or publications.
Reach out to entities and offer ghostwriting blogs and articles to them. Forbes and Huffington's post are two great options that accept guest posts.
In order to be a successful ghostwriter, you must have a knack for storytelling. This can be achieved by submitting your work to literary magazines. It is essential to continue writing as this is the only way you will improve your services.
4. Build a Strong Portfolio
On the initial stage, you have to begin small. In order to build a strong ghostwriting portfolio, you can practice the following steps:
Reach out to your colleagues, family, or friends and take their assistance to refine your ghostwriting skills.
Explore organizations and people who are looking out for help writing the 'About' section of their sites. Most of the times, people don't know how to outshine their own stories. Help them by writing impressive stories as this will strengthen your ghostwriting capabilities.
Find pages with the manuscript and help them to clarify their structure as well as shaping the manuscript. This will provide you real-world experience.
Most importantly, you must regularly ask feedbacks to polish your ghostwriting skills.
5. Consider Your Initial Writing as On-The-Job Training:
You can have a successful career in ghostwriting by using your previous experience. Even if you have been writing the entire life, there are numerous things that you will learn regarding conceptualization, structuring, ghostwriting, and more.
Keep yourself open to learning as this will increase your chances to get hired as a ghostwriter.
6. Practice Writing in Different Styles and Voices
Practicing different voices and styles means that you must find and perfect your voice as per your client's preferences. The trait of a great ghostwriter is the skill to adapt to the client's writing style and make the final outcome appear like the client. Hence, you must be an expert in capturing your client's energy and vision.
The finest way to achieve this is by trying writing outside of your usual voice and come out of your comfort zone. You can even mimic your favorite authors in spare time.
When you practice writing, there are chances that the readers might think that they are already aware of you. Don't take this negatively as this means that you are practicing the right way.
7. Hone Your Support Skills
As a ghostwriter, you have to show all your positives to your clients and one most important among them is customer support and service.
You must educate your clients about the same. Avoid fulfilling or agreeing on the unrealistic expectations of your client. The clients must understand that no one can nail writing in the first attempt.
8. Create Your Own Stories:
As experts say, everyone has a potential story with them. Hence, you must use your sense of storytelling. Don't be hesitant to approach your friends or other people. You can contact through acquaintances, friends, and local papers or through online networking groups.
If you are new to the ghostwriting industry, the best way to gain success is to learn as much as possible. The two areas you have to focus on are – creative and business. On the business aspect, focus on contracts, pricing, administrative, and other tasks. On the creative aspect, consume more and more content and practice writing as much as you can.
Hope this post is helpful. Focus on all the aspects and be prepared to become the next successful ghostwriter!