One proven fact is that using B2B marketing tools can bring immense success to your business. All you need to have is the right B2B marketing platform and tool, which can help you run the business marketing campaigns more efficiently.
Such tools are not only great for business promotion, but also provide detailed insights about the customers, market, and target audience to ensure your campaign is highly effective.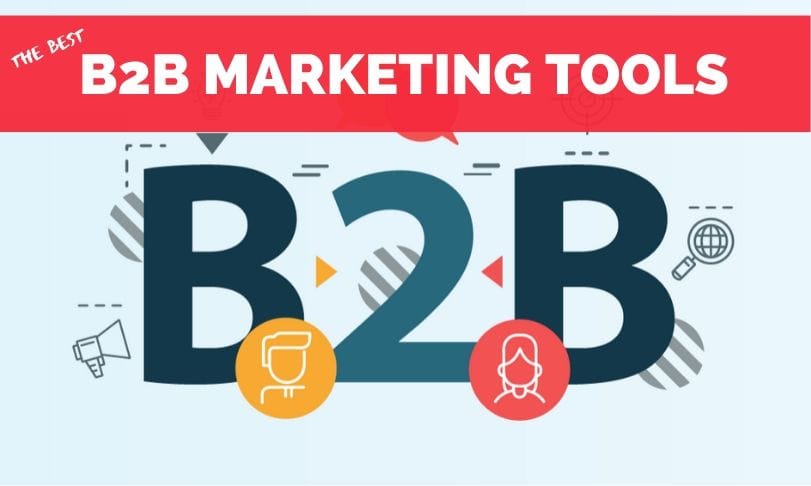 So, if you want great success for your online business, B2B marketing tools must definitely be in your toolkit. Let's glance at some of the best B2B marketing tools that you must check out!
B2B Marketing Tools:
1. Salesforce:
This is a highly popular and one of the leading enterprise tools for relationship management. From mid-size to big organizations, this tool is perfect to store bulk volume of lead and customer-related data. Using this tool, you can develop strong relationships with your prospects and customers.
Salesforce is an efficient tool that offers you a range of software services for all brands. From driving engagement, increasing sales, to opening an eCommerce store, or receiving detailed analytics of your campaign's performance, it can assist you with all such great functionalities.
2. Marketo:
The second B2B marketing tool is Marketo, which is very popular among B2B marketers. It is a highly efficient and feature-rich tool that lets you execute, measure, and plan the digital marketing activities effectively. Using Marketo, you can perform a host of online activities like mobile marketing, lead generation, email marketing, and more.
Moreover, this tool aids in perform account-based marketing. No matter what size and scale your organization is, this tool will cater to all your requirements.
3. Buffer:
Next, we have an automated tool that lets you effortlessly manage content posting on various social media platforms. This tool is Buffer, which allows you to schedule your entire social media posts and focus on various core activities of your business.
Using Buffer makes it very easy to assess the performance of your social media posts so that you can tweak your social media campaign accordingly.
With the automated feature of social media posting, it is possible to post on different social platforms without much hassle. You can start using this tool right now as it is available for absolutely free.
If you want your digital marketing campaign to be a huge success, you must get this tool now.
4. BuzzSumo:
To ensure you can easily plan your business's content strategy, you must head towards using BuzzSumo. It is a wonderful marketing tool that lets you see the type of content, which is most popular and presently trending. BuzzSumo lets you curate content, which is more likely to engage the audience.
In addition to this, it lets you identify the most popular platforms for a specific sort of content as well as maintain a track of the popular content from famous influencers.
BuzzSumo is considered an excellent B2B marketing platform because it lets you easily search top influencers in your preferred niche. So, partner with it to give your business a great boost online.
5. Ahrefs:
To bring the power of SEO to your business marketing campaign, we suggest you using the Ahrefs tool. This is an excellent solution to perform keyword research, identify backlink opportunities, and track campaign rankings on various search engines. The best part is that it lets you have a quick study of your competitors.
With Ahrefs, you can gain actionable insights about your competitors and design strategies to beat them or outperform them in search rankings. Also, this software helps you identify content that ranks well in your niche. The web monitoring feature and allows you to track the mentions online without any fuss.
6. Finteza:
Powered by numerous features and loaded with rich functionalities, Finteza is another marketing tool that can offer you sales funnels, traffic analytics, retargeting, managing campaign performance, targeting and conversions tracking.
Finteza lets you track the traffic sources for your website and create a sales funnel across the website pages. Further, you may track conversions and assess user behavior. It offers a bot score using which you can determine web sessions by real bots and users.
Also, you can integrate this platform with more than 50 content management systems and gain huge success for your business.
7. Engagio:
We have this other useful and high-performing B2B marketing platform on our list, Engagio. As you might get a brief idea from its name, this tool helps your marketing campaign with account-based marketing techniques.
Engagio provides you with dynamic alerts and notifications about the accounts so that you can take necessary automated actions based on the actions of your user. It lets sales and marketers team land on the same page by offering insights to the sales team and also helping them out with measuring engagement and ROI.
8. Unbounce:
Don't let your business bounce off the success and bring high benefits to your website landing pages with Unbounce. This platform works great for all kinds of businesses and lets you create as well as test the landing pages, website popups, and sticky bars.
Whether you have a few webpages or many, this tool allows you to integrate it with the CRM platform and perform A/B tests on the same.
It is an excellent software solution offering a range of customizable templates. Moreover, you can edit the CSS and JavaScript by making necessary modifications as and when required.
9. Sprout Social:
If you want to boost the performance and presence of your business on social media marketing platforms, we would recommend another great B2B marketing platform, Sprout Social. This is an excellent platform to manage social media marketing channels easily.
In addition to publishing and scheduling posts, Sprout Social lets you assess the content performance on various parameters. Furthermore, it lets you track the brand mentions and join various conversations about your business.
One unique feature of Sprout Social is its social media automation functionality, which lets you get the most of the social media marketing efforts. With the help of this tool, it is possible to easily design chatbots exclusively for your brand utilizing a bot builder. Also, it is possible to automate schedules on social media using ViralPost and Sprout Queue.
10. Optin Monster:
Using OptinMonster it is possible to alter the traffic received by your website into potential leads. This is a very useful tool for all businesses as it allows performing numerous functionalities such as growing the email list, increasing conversions, and reducing cart abandonment.
It is a rich platform allowing you to personalize the offers utilizing behavior automation technology, which also works to boost conversions.
One great and unique thing about this platform is that it serves numerous customizable templates that can be tailored to specific requirements using drag-and-drop functionality. Further, it allows users to assess various lead generation techniques and strategies in real-time so that it is possible to make necessary modifications and enhance them to gain higher conversions.
11. Clearbit:
For brands that are concerned about the anonymous traffic received by their website, Clearbit is a perfect solution. With the help of this tool, it is possible to turn the traffic into detailed profiles of customers. Using this tool, it is possible to determine the prospects conveniently and gain useful details about them, which means you can earn higher conversions.
Additionally, if driving data is your primary marketing objective, Clearbit is a perfect software solution that you must take into consideration. This tool identifies the web traffic received by your website using IP addresses so that you can conveniently customize the content for your unique target audience.
12. GetResponse:
This is one of the finest marketing automation tools available for use and at a really affordable price. Using this marketing automation platform, it is possible to easily create landing pages, run email marketing campaigns, promote webinars, and perform more other activities with a single solution.
It comes with a unique Autofunnel feature that you will rarely found in any other B2B marketing tool. Using this feature it is possible to perform automated sales that also allow you to automate the emails. In order to start using this software you only have to spend $15 for a month.
13. HotJar:
The next amazing and promising tool in our list is HotJar, which offers you a better understanding of visitors coming to your website. This platform exhibits you heat maps, which can support you understand the pages and various parts of your website that people prefer watching or spending time on.
This way, it is possible for you to avail of enhanced user experience that leads to greater conversions.
14. HubSpot:
This is a highly popular and famous B2B marketing tool, which is a one-stop solution for your entire business marketing, customer services, and sales requirements. It is a powerful and reliable CRM software, which is available for free and serves businesses of all kinds.
Using HubSpot it is possible to track and organize the leads efficiently as well as develop better relationships with your existing and new customers.
Most importantly, it comes with a range of promising functionalities such as email automation, content analytics, meeting schedules, defining schedules, and more. This single software lets you meet most of your business's online marketing requirements.
15. Chili Piper:
Next, we have Chili Piper, which alleviates the requirement of your prospects to wait longer for you to get back on them once they have completed the registration formalities or fill up the registration form on your website.
This tool is greatly useful and can be used to book a meeting or begin a live chat instantly after the lead has filled the online form on your site.
It is possible to integrate Chili Piper with numerous CRM and marketing automation tools. Hence, you may utilize the data to classify, quality, and route results easily. This software is available for use at a price of $25 per month.
16. DiscoverOrg:
Businesses facing problems with lead generation can rely on using this account-based marketing platform. It is an excellent solution that lets businesses close deals fast and reach out to the target audience at the correct time and presenting them with the appropriate message.
With this tool, it is possible for businesses to beat their competitors and run a successful business marketing campaign online with ease and without experiencing any hassles.
17. Intercom:
Undoubtedly, this is one of the finest and high-performing B2B marketing tools that let you capture leads and transform them. With the help of this tool, it is possible to engage the customers utilizing various techniques like push messages and in-app purchases. Moreover, it supports to the customers using live chat and bots.
This tool also offers an integrated knowledge base and help desk so that it is possible to rectify customer related issues easily and much faster. Using Intercom, it is possible to perform various online activities such as customer engagement, lead generation, customer support, and more.
Intercom is a reliable and wonderful solution that lets you grow your brand online.
18. Zoom:
Finally, we have this promising B2B marketing tool, which is loaded with numerous features and serves great functionalities. This is a wonderful tool that lets you conduct webinars conveniently. It is an important tool for B2B marketers because it offers you more than 100 engaging video participants as well as access to an unlimited audience for virtual events.
Zoom offer users numerous custom packages, which they can select on the basis of their requirements or preferences. With the help of these custom packages, it is possible to view your website audiences. Furthermore, it comes with dual-screen support, which lets viewers see the list of panels and prepare a presentation for them at the same time.
Summing Up:
Here you have the 18 best and most reliable B2B marketing platforms, which can optimally cater to the requirements of most of the marketers. Most of these tools are available at affordable prices. Hence, inculcate them in your arsenal to run an effective and reward generating B2B marketing campaign