Every business wants good quality content support to grow. With this strong back support, the business will grow and flourish. All brands are now looking for quality writers who can write for them.
If there is solid content support for a business, it can connect with their audience easily. This will be beneficial in increasing the sales and popularity of a business. It is difficult to market contents without a proper strategy.
The search engine is also getting very conscious of increasing quality results. Without a strong objective and knowledge of content marketing, it is very difficult to stand out in this competitive field.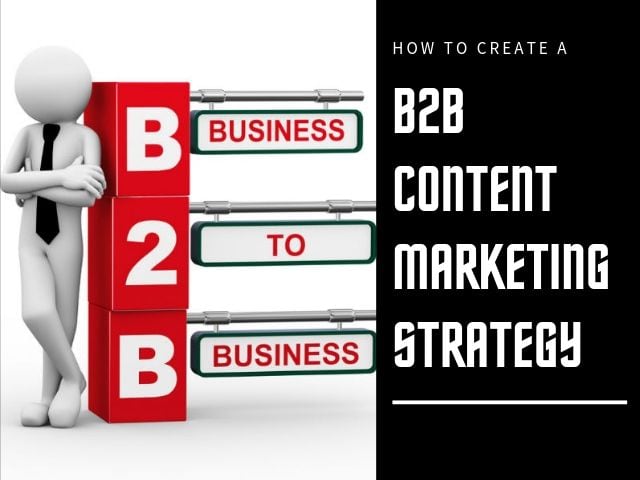 Every blogger is competing to get the first place. They are implementing new strategies to achieve this place also. More than 90% of businesses believe that contents are very essential for their business. But when it comes to B2B companies, only 30% of them believe in content marketing.
A well-planned content marketing strategy is very effective to make a business more popular among people. Earlier, content marketing was very rare in B2B marketing. But now everyone started using it as a strategy to reach out to more people.
What is Content Marketing Strategy?
Content marketing is a familiar term to most of us. What is the actual definition of the term?
This is nothing but a strategy of creating entertaining content like blogs, videos, e-books, etc. as a part of business promotion.
After creating them everyone publishes it online for their users. Blogging is the most popular way of creating contents as part of marketing and branding. There are many advantages to content marketing
Content marketing will help to generate new business leads. If you can include quality content as a part of your product promotion, this will reach to more audience and there is a chance of building new customers for your business
The content market will drive more website traffic towards your site, as a result, your sale will also increase
It will help to build a community of your customers and connect with them well
Content marketing will reduce the effort of your sales and marketing teams. When a user wants to know more about your product, share the link with them. They can see the visual demo and understand everything about your product
Improve product reach all over the internet using content marketing. The main aim of developing contents for business is to provide more information about your product to the audience. It will improve product reach also towards all type of audience who search for a term or business related to your niche.
There are many benefits to content marketing. Every marketer should know some basic things about content marketing when they are new to this field. There are some questions every business wants to ask themselves when they are into content marketing. Those are,
Who is your targeted audience?
What do they like to see on your website?
Where should I publish contents to get maximum reach?
How often should I post?
What am I expecting from this?
How can I promote my contents?
What are the strategies of my competitors?
How are they engaging the audience?
Who can handle contents and their promotions?
If you have an answer to all those questions, then it means that you have a clear objective about your business. With a clear objective and knowing all strategies well, anyone can simply execute content marketing strategies for their business.
What is B2B Content Marketing Strategy?
Most of the marketing professionals think that B2B content marketing and B2C content marketing are the same. But they are not the same. While B2B content marketing creates content relevant to your Business, B2C content marketing creates content for your Customers.
Steps for Creating a Killer B2B Content Marketing Strategy:
Like any other marketing strategies, there is some specified way you can go to be successful. You can see some important content marketing strategies to try when you are in this field. Here are the steps to create a powerful B2B Content Marketing Strategy that will speed up your lead generation efforts.
1. Know your audience:
This is the primary step of every business. Knowing the target is very important when it comes to B2B content strategy also. Usually, every business creates content to attract common people. But in this, you are going to attract another business where they need service from you.
If you are a business that developed CRM software, then your target will be other businesses who look for better CRM software.
Create a buyer persona and in it, you are going to target the sales and marketing field of business. After researching well, create a good buyer persona for your business and target the business person to whom you are going to sell your product.
So, the content should be written well to attract the sales and marketing teams of other businesses when it comes to CRM software example. Now, you got an idea about the first step and its benefit. Research audience and provide content for them as they want.
2. Know what they want:
It is very important to know why they search for a product and what is there intend for it. Without knowing their intent, it very difficult to write contents. There are various types of contents like informational, navigational, transactional, etc. each type has its own purposes. Like this, the audience may have their own preferences. Everyone won't read the same type of content always.
Some like the content to be written in a factual tone and some other likes to read contents with a playful tone. It is essential to know what they like so that you can create content accordingly.
Just creating some sort of content is not useful for this purpose. Maintain the right tone for your customers that can keep them engaged.
3. Define your goal:
Every business should have a clear goal. It could be anything like generating more leads, improving search traffic, showing benefits, building trust from the audience, etc. First, you need to identify the purpose of your content before actually creating it. Al contents are created to initiate some action.
Marketing contents are mainly created to increase the sale of a product. Like this, every content serves a purpose and you want readers to take action after reading it. Content without a goal is useless. You can develop your own content marketing goal and develop contents accordingly.
4. Monitor competitor site:
This is the best way to get a clear idea on how to project contents as the audience like?
Check websites of your competitors for reference. Know how they approach this content strategy. Also, check the platform they use to promote contents and various promotional methods.
Research well about the elements they used in those contents to connect with their audience.
5. Know how to connect with the audience
Creating an emotional connection with the audience is the best way to get trust from them. This is a basic marketing strategy for every field.
Micro-targeting is very useful here. Know your audience and create content specifically for them. This will help to develop an emotional connection between your brand and audience.
It could be based on location, work type, personal data, etc. Connect with them emotionally to build a strong bond with your brand.
6. Develop contents for your page
Next step is to create valuable contents for your targeted audience. This process is very crucial because as a brand promoter you need to know what they like and what they don't.
Create contents accordingly and promote it to improve its reach. Content should be visually good with all data, your audience wants to know. Include infographics and data to make your content clearer.
You can also add a CTA at the end of every article. Every content intends should be set to let your readers take action.
While making contents, include words which users search for to get information related to your business.
To know that, you can use keyword search tools like Google keyword planner, google analytics, etc. They serve as a tool that shows the most popular term associated with a particular word.
Include the most popular keywords in your content in the right quantity to ensure getting featured in the search result.
B2B contents are for the long term. Every business uses it for the long term to get more business. It needs a lot of dedication and also need to include an interesting element for users in the content.
Follow all the content guidelines properly. Send newsletters for subscribers and also retarget customers who haven't completed the purchase process last time.
Make your website complete with success stories, new trends, reviews, news about your product, etc. All of them will help to generate users trust in your brand or product.
7. User-generated contents
Some brands use user-generated contents as a part of their promotional program. This will also work in B2B content strategy.
User-generated contents have more power than the paid contents of your brand. Someone who has real experience with your product will create this content.
You can use it as a strategy to attract more customers to your business. You can search for contents on the web where users feature your brand.
Select those contents and feature it on your website. This is an effective strategy to let other businesses know about the power of your product or the benefits they got from it.
8. Content distribution:
Everyone is competing to be their website to the topmost position of SERP. This is not the only strategy to get noticed and increase website traffic. There are many other ways for you to try out.
There should have a content distribution strategy based on marketing goal, reach, analysis, search engine optimization, etc.
The paid content distribution paid social, branded content, crowdsourcing, and organic distributions are some methods for you to try.
9. Crowdsourcing:
Crowdsourcing is the way to spread the content through regular customers. There will be some loyal subscribers to every business. Use them to spread your content among more people and improve its reach.
Organic content distribution: This is the way of getting site traffic organically without any paid options like social media, campaigns, email marketing, etc
Any brand can use the power of social media platforms like Facebook, Twitter, Instagram, etc. to promote content by paying them. They will help to reach to your targeted audience easily through Paid social marketing. But this is an expensive option
Another option is to conduct a campaign or by hosting a social event to target new leads to your business. This kind of paid distribution works well if you have enough traffic coming from a search engine. Google Ad words, Yahoo, and many other networks are there if you want to try paid content distribution.
Branded contents are best to advertise B2B contents. Here you can publish your content in native advertising website to the target audience. From there you won't get an immediate result as any other platforms.
Even though it is suitable for B2B content marketing, the problem with this type is that it will take more time to get the result.
Choose the type of brand promotion if you want to get to more audience. Crowdsourcing is one of the effective strategies you can use if you want to save some money.
10. Track your result:
When you implement all these strategies, analysis of their impact is also important. All successful B2B content marketers evaluate their performance and analyses what works and what don't. This will help them in the future while creating contents.
They can create them according to the preference of their audience. There are many tools for content performance analysis. Google Analytics, Buffer, etc. are some of the useful tools which show the statistics of content performance.
Measure your success from those indicators and implement working strategies into your future contents.
Final Words:
Content marketing strategy is almost similar in all areas. B2B contents will be more professional than other types. So, when you develop contents for it make sure to keep it more professional and use writers who are talented to write about your business or a product.
Content should be well promoted using a proper strategy to ensure reach. There are paid as well as free promotional programs as well. Connecting with customers is also an important point to improve your business.
Apply the above strategies and see how it works for your business. Learn from mistakes and try to make new winning strategies yourself.