It is not feasible to manually reach out to every potential lead through email marketing? This is difficult, especially if you run a huge business venture.
With innumerable people clicking on your site each day or week, it is not possible to get back to them all, and hence, it is viable to take some external support. This is what brings email auto responders into role!
Email Auto Responders like GetResponse and Aweber are promising tools that makes it easy for ecommerce entrepreneurs to reach out to their customers instantly. Using such tools allows businesses to conveniently manage contact list, nurture potential leads, and segment campaigns.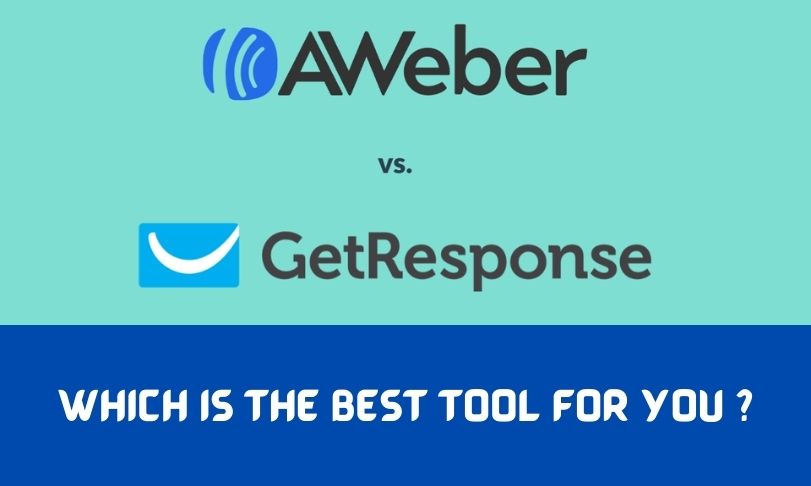 But how can you know which tool among the two is the best?
Having a detailed review in hand for both these tools will make things simpler. So, here we share with you our comprehensive review on Aweber and GetResponse.
Let's delve straight into the details!
Aweber vs GetResponse – The ABCs:
GetResponse and AWeber are great tools for email marketing. However, the two are based on different approaches for delivering results.
AWeber was introduced in 1998 and presently accounts more than 100,000 entrepreneurs and small businesses. Just like Aweber, GetResponse too was introduced in 1998 and presently holds more than 350,000 customers worldwide.
While AWeber claims to be the 'only email marketing' tool the GetResponse claims to be the 'world simplest email marketing' platform.
Aweber vs GetResponse – The Functionality:
GetResponse and AWeber are excellent tools for hosting the emailing list. From designing beautiful email templates to sending out e-newsletters to subscribers, they do all of it. With their auto responder functionality, you can even automate the communication or messages to your subscribers.
Autoresponders help to offer subscribers with e-newsletters from the user at pre-verified intervals. Some of the intervals you can define are:
Sending response as soon as your visitors subscribe to newsletter. The response can be in the form of a welcome message.
Sending discount or bonus offers on purchase of their first good or service from you.
Sending an encouragement post to follow your activities on social media, and more.
AWeber vs GetResponse – Pricing:
Pricing is the most important aspect that you would want to know to ensure that your money is used wisely. Though it is a good idea to use an email autoresponder, but you would not want your money to get wasted.
GetResponse, offers hefty discounts and tons of free features on an initial basis. These plans are for 1,000 subscribers for a month.
Starting with GetResponse, there are three pricing plans you can choose from:
Basic – $15 for a month for landing pages, unlimited emails, Facebook ads, automation templates, exit popups, and surveys.
Plus – $49 for a month for Basic plan plus sales funnels, e-product sales, webinars, list-building funnels, collaborative tools, and CRM.
Professional – $99 for a month for automation builder, scoring, contact tagging, webinar funnels, collaboration, and paid webinars.
If the number of subscribers crosses 1,000, you have to pay more for the same plans, Basic – $450, Plus – $499, and Professional – $580. But before you start with any plan, we suggest using the 30 days free trial.
Now, talking about the pricing plans by AWeber, it too offers a free trial for 30 days. The free trial also gives you access to various features along with high-quality customer support. This is one thing rarely offered for free trial users.
If you are convinced with the free trial, you can go ahead with any one of the five pricing plans offered.
$19 per month for 0-500 subscribers.
$29 per month for 501-2,500 subscribers.
$49 per month for 2,501 – 5,000 subscribers.
$69 per month for 5,001 – 10,000 subscribers.
$149 per month for 10,001 – 25,000 subscribers.
In terms of pricing, GetReponse is fairly cheap on an initial basis. But when you have more number of subscribers, the cost of using AWeber is lesser than GetResponse.
AWeber vs GetResponse – Templates:
Templates are crucial for a successful auto-responder strategy as they offer a professional image to your business.
GetResponse offers the option of 'Create Newsletter' in the dashboard that lets you pick between drag-and-drop editor and HTML. You can select the option depending on your coding skills. To save hassle and time, you can click on the Drag and Drop editor option, which gives you direct access to innumerable email templates.
All the templates available are clean, attractive, and fresh. Once you click on any template, you can edit it as per your preferences and make changes to the background colors, buttons, social media tags, and more other aspects.
AWeber too offers a bunch of pre-made templates, beginning from some bare-bones, simple options to blank options for people to build from scratch. However, these templates may not look as fresh as those offered by GetResponse.
Again, you can customize the elements like buttons, fonts, background colors, and more. But there is no option to integrate social media buttons.
AWeber vs GetResponse – Features:
Similarities:
Now, first glance at the similarities between the two:
Ability to gather data and work as an efficient host for emailing lists.
Offering autoresponder functionality, which permits users to send e-newsletters automatically at pre-defined intervals to the subscribers once they have signed up.
An extensive assortment of pre-designed templates for e-newsletter.
Message builders, which let you edit and create e-newsletter without coding.
Statistics on the subscriber's percentage, which are opening emails, unsubscribing, or clicking your links.
Builder for landing pages.
Integration with numerous third-party tools or websites such as CRM services or Ecommerce apps.
Responsive Email Templates
Differences:
Some of the common differences between GetResponse and AWeber are:
GetResponse offer features that are not offered by AWeber like:
Conversion Funnels
Webinars
Highly Advanced Marketing Automation
AWeber offers a few features that are not available in GetResponse like AMP for email.
AWeber vs GetResponse – Autoresponders:
Autoresponders are emails, which are automatically sent to subscribers on the basis of pre-established intervals you select. For example, you can offer a welcome message for 10 seconds when a subscriber signs up your page or you can send marketing message a couple of days later.
Both GetResponse and AWeber are awesome tools with great functionalities. You can send broadcasts and newsletters on the basis of triggers, which are most vital to you. But I found GetResponse much stronger in terms of autoresponder than AWeber.
It is very easy to establish autoresponders in GetResponse and choose when you wish to send emails. You have to click on the option 'create an autoresponder' and select when you wish to send the emails.
Once you have created autoresponders, you can generate 'auto funnels.' They are called as drip sequences, which are useful for combining with sign-up pages and landing pages to sell products and create an email list. GetResponse offers access to setup drip campaigns, automation flowcharts, and more.
Also, you can drag and drop the entire email campaign into existence, allowing GetResponse know what to perform when a user clicks on the link, opens your email, or take any other action.
A few triggers considered are:
URLs visited
Abandoned Carts
Product Purchases
Link Clicks
Email Opens
Also, there are a bunch of pre-designed templates, which you can use to start with. You can select a template model as per your requirement like welcome, sales promotions; add conditions, tags, actions, affiliate marketing, and more. This way, you can easily send customized messages to your subscribers on the basis of the way they interact with your business or brand.
As far as AWeber is concerned, it is slightly difficult to identify search an autoresponder on an initial basis. They consider it a 'Follow up Series.' The drag and drop functionality can be used to build autoresponders, but it feels ad advanced the options you gain with GetResponse.
It offers as a visual or sophisticated process. Moreover, you can't get in-depth with the drip campaign. For example, with GetResponse, you can email to people who have additional products to their cart and remind them about something is valuable.
Using AWeber, it is possible to send basic messages to keep the audience engaged. If you just want to keep the audience engaged, that is good and well. GetResponse offers you the ability to connect with and nurture your clients, will enhancing your chances of a purchase.
AWeber vs GetResponse – User Interface and Ease of Use:
GetResponse comes with simple functionality right from when you log in. It must be the simplest email marketing tool. Establishing the list is simple and loading a SCV file or entering addresses you intend to include systematically.
Moreover, the dashboard is feature-rich than AWeber. It makes sense when GetResponse has evolved offering a lot more than email marketing service. Not only it offers more options to click on, but they are neatly organized in the UI. This is not available with GetResponse.
There are handy actions available on the home page, which are fantastic way to develop building emails and establishing marketing automation features right when you log in. There is no requirement to search through the navigation panel for the tools you require.
It is convenient to manage subscribers and you can also customize the confirmation email, which your customers will receive once them sign-up with you. It is awesome if you wish to implement double opt-in to keep the email list clean.
The interface of AWeber and GetResponse is a straightforward one. The homepage offers some basic information about the subscribers, recently sending newsletters or broadcasts. It is not as extensive as GetResponse, but it is simple and clean.
AWeber vs GetResponse – Web Fonts:
Major customers like Yahoo and Outlook are supporting the web font's use and as per them some leading e-marketing apps are starting to include them in their email editors.
It helps designers to create newsletter that are more closely matching the branding used on corporate sites. GetResponse restricts users to use the standard web secured fonts in e-newsletters like Arial, Times New Roman, and more, while AWeber permitted to use a small number of Google Fonts.
AWeber vs GetResponse – A/B Split Testing:
How can you know your email marketing is targeting the right audience and in a right manner? The easiest way to do so is through A/B Split Testing.
A/B testing is the way you differentiate emails to identify the better option.
GetResponse lets you assess up to 5 variations for each email. You can select A/B test type based on content, subject line, delivery time, field, to track the performance for up to 5 messages at one time. You can also track your campaign's performance on the basis of UI.
On the other hand, AWeber allows testing for up to 3 aspects of the newsletter against each other. This makes it a good basic tool for email marketing, but not as efficient as GetResponse. However, a good thing is that you can know exactly how much subscribers are exposed to your email variant. It implies if you wish to test a new campaign for a handful of subscribers, you can do it easily.
Aweber vs GetResponse – Segmentation:
GetResponse makes it very easy to run personalized campaigns. It lets you create a mailing list segmented by various aspects.
AWeber needs you to define a new segment whenever you wish to send an email. It involves a lot of manual effort. Also, GetResponse offers basic CRM tool and the ability to exclude segments, which is not available with AWeber.
AWeber vs GetResponse – The Analytics:
GetResponse and AWeber offers robust reporting features like unsubscribe rates, open rates, click rates, and others. With GetResponse, it is convenient to navigate the analytics and reports. You can also check the device used by your customers for opening emails.
AWeber too offers a vast assortment of reports for browsing through. However, GetResponse offers Google Analytics integration, which is not offered by AWeber.
AWeber vs GetResponse – Support Team:
GetResponse offers live chat option and the ease to contact through snail mail, social media, and email.
AWeber offers live chat and instant messaging functionality along with toll-free numbers.
Which One You Must Choose?
Both AWeber and GetResponse offer numerous tools to businesses for creating emails, communicate with lists, and offer effective campaigns. But GetResponse is much more intuitive, feature rich, and comes with advanced functionalities.You must pick GetResponse if you want a rich product with competitive pricing. It is an exceptional autoresponder and marketing automation tool.