If you have a good idea of Search engine optimization, then you might be familiar with backlinks. Backlinks are considered as a very important ranking factor by SEO experts. Most webmasters send a link request to other popular website owners in order to build some good authority backlinks to their site. This is the straightest way of asking for backlinks and is very convenient too. But how many of them are getting accepted and how many of them are actually relevant and of good authority?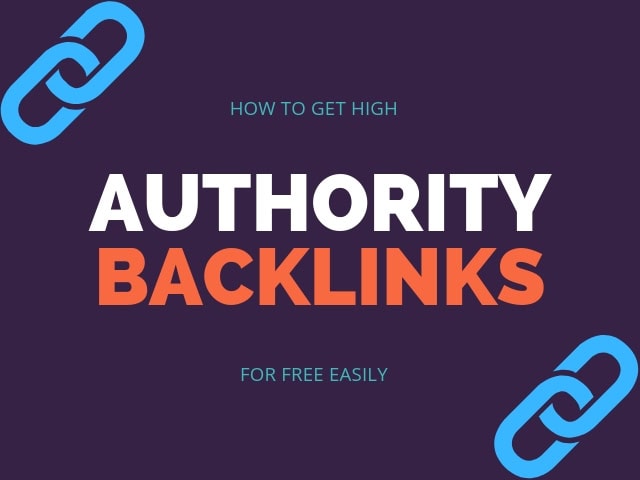 A website owner may receive a lot of emails by requesting to link with another website. But, most of them will get lost in the flood of thousands of emails. So,
How to Get Authority Backlinks in the right way?
Many of you who reads this article may not have enough experience in this area. Backlinks are very useful for a successful SEO campaign. It is always very hard to get quality backlinks. This guide is for you to know various ways to get quality backlinks to your website. It is one of the best ways to improve your search engine ranking and website traffic.
We can start from scratch by explaining the concept of backlinks first. Then I am going to explain some effective strategies every website owner can use to get good authority backlinks towards their website.
What are Backlinks?
Backlinks are the links you get from another website. Some call it as external backlinks or inbound links. All the terms are the same. When a website sees your contents and thinks it as a cool website with quality contents, they can link with your website. But it is very important to get links from relevant websites.
What makes a backlink of good quality or authority?
Now you got an idea of backlinks. Next, you need to know that before accepting links you should have an idea about good as well as bad backlinks. Good backlinks are those with good domain authority or page authority.
Google always encourages you to accept good authority backlinks and disavow bad ones. Bad backlinks can affect your website reputation and negatively impact your ranking. So, when your website gets a backlink, check whether all these qualities are present or not
Relevancy:
When your website receives a backlink then you need to know the topics of the website. For example, if your website is about interior designing and the link you are getting from a website that deals with beauty tips are no longer useful. But it will work when you get links from a website that sells furniture. This example shows you the importance of relevant backlinks.
If you want to focus on improving your website quality, relevant backlinks are very important. 100% link relevancy is very hard to find. Based on the above example we can divide the links relevancy into various divisions
If your website gets a backlink from another interior designing company or blog, we can say that the links are 100% relevant
If you get a backlink from a website that deals with interior designing materials and professionals, we can say that it is 75% relevant
At the same time, you get a link from the website that sells interior furniture then the link relevancy is 50%
If the links you get deals with general things about interior designing or some website that sells good interior design materials/ some construction website then the link relevancy is 25%
A link can be considered as 0% relevant when someone wants to link your website with one dealing with beauty tips.
Now you might have got a good idea about link relevancy and its importance. When you get a backlink request, analyze that website and shortlist highly relevant links. Accept only those requests and disavow less relevant links
Link authority:
Next quality you need to analyze while getting a link request is the authority of the website. It is always advisable to accept links from a website with good authority. To check links authority, you can use some tools such as Ahrefs, Majestic, Open Site Explorer, etc.
Quality:
Quality of backlink is very important. While you receive link requests from other websites verify the quality of links using Trust flow, Domain rating or any similar tool. Quality of backlinks is very important than the number of backlinks your websites have.
Website traffic:
It is only useful to accept websites with good search engine traffic. The main aim behind this links building is to attract more traffic. If you get linked to a website with little or no traffic at all, it can't help your website anymore. So, analyze the website using any analytics tools and see the performance of that website. Accept links only from those websites with good organic traffic.
Check indexation:
If the website you are targeting is not indexed in Google then there is no use of it. So, you need to make sure to accept the links that are indexed in Google. You can check the website by searching on Google. If the site is not showing up, it means that it is not indexed in Google.
Ways to Build High Authority Backlinks:
It is not easy to earn relevant backlinks. There are many ways to earn backlinks such as paid ones, link outreach, natural links, etc. By concentrating on your website quality, you don't have to go anywhere to get backlinks. It will naturally come to you. Focus on pleasing users and search engine at the same time which can aid you to earn natural backlinks
1. Produce contents for users:
User-centric contents are always in demand. Google always considers a backlink as alike, that you get for your content. It represents the quality of contents on your website. So, if you want to make your users happy, the website should be designed with a good user experience.
The contents of the website should be done only after researching what users want to read from a website in your niche. If users like the website, then it can lead to more website traffic and better ranking automatically. Nobody wants to miss a backlink from a website with good inbound traffic and ranking.
2. Quality contents:
Content quality plays an important role in deciding your website traffic and popularity. Quality contents are the best way to attract more users towards your website. Google and users are always in search of good quality content. Just by writing content without enough research and detail is of no use.
Contents with more than 1500 words are more popular than short form content. The main reason behind this fact is that one cannot describe every aspect of a topic in short-form content. Focus on the user and write what they want to know about. Give more importance to the words you use in your content. Check for spelling and grammatical errors before publishing on the website. A website with quality content will automatically get a link request from another website.
3. Legitimate:
Legitimate contents are very rare to find online. If you start to read results from a page, you can find one or two legitimate content. Don't try to cheat search engine by copying contents from other websites. Use your time and research well about a topic before writing about it.
Write in your own words to make users understand about the concept you are going to explain. You can check for plagiarism before posting contents online using various tools. Google always support genuine informative contents and there is a high chance of getting good backlinks for such websites
4. Be Constant:
It is very important to be consistent when you run a website. A website should be active if it wants to get regular followers. You can publish contents weekly on a regular basis. It can help you to retain your existing followers and to get new followers at the same time.
Create an editorial calendar and arrange the contents you are going to post every week in advance. This will make your work more organized and you will get more time to create content too. People only want to link their website to an active one.
5. Guest Blogging:
Another option you can try to produce quality backlinks to your website is guest posting. There are websites which offer a chance for guest blogging. Reach out those websites and publish your contents in it. If your content is of good quality, you will get more popular among their followers by doing this.
Guest blogging can help you to improve your follower base as you are getting introduced to a new group of people. There is a high chance that they follow you because of your content quality. You can use guest blogging for link building, traffic generation and brand building
6. Promote contents:
Just by publishing contents, no one will read it. You need to promote your contents using various channels. Reach out other webmasters who are looking for quality contents to link in their website and give them a link to your website. Sending email is the right approach to do this.
If they like the content in your website they will link back to your site for sure. Also, you can promote content on your social media platforms. Make sure to follow the best webmasters in your niche. If they notice your content and if they like it then they will send you a link request immediately.
7. Build good connections:
Building a relationship can help you to get more links to your website. Get in contact with most popular bloggers and experts in your niche. Make a good relationship with them to get more links to your website. Reach out to them and convince them what they will get if they link their website with yours.
You can start by following their blog and writing valuable comments on them. Gradually this will lead to a good relationship where you can take a suggestion from them to improve your blog. It is always good to have good relationships and connections to help you in doing your job well.
8. Build an email list:
An email list is very useful to get a good response for your contents. Most websites offer a chance for their users to register their email on their website to get their updates. You can also offer some rewards like a newsletter or a guide for those who sign up with you using their email id.
Send them updates about the content you post every week. It can increase the number of views and comments about your post. Content with a great response is considered as useful and this can give your website a positive image in front of others. Get more backlinks by improving the inbound organic traffic using email promotion of your content.
Other Ways to Get Good Authority Backlinks:
Other than the above-mentioned way, you can also get backlinks by trying these tips
Be active on social media platforms and market your content to engage more users
Local business listing and citations are very useful to build trust about your website
Find expired domains/301 websites which are relevant to your website and redirect it to your site. Make sure to check the relevancy of the expired domain when you do that. This technique is known as merger technique.
There is another technique which is a bit risky where you can create Web 2.0 on Sites like Tumblr, WordPress, etc. This is an old grey hat technique which still works
You can approach other websites to list yours as a resource page. But to get that, your contents should have a very good quality and enough information they want. This is a very old SEO technique most experts use to get backlinks
Conclusion:
Building backlinks are not very easy. It is always better to follow white hat techniques to earn high-quality authority backlinks. Google only values genuine backlinks. Even if you are getting paid backlinks for your websites make sure to check for authority and relevancy. Quality of backlinks is more important than quantity.
So, start focusing on improving your website contents a user-experience. You will start to receive more request from other websites regarding backlinks. While accepting check all the points I mentioned above. You have the choice to disavow bad backlinks. Share your link building strategy with us in the comment box below.