Do you know Google has Added Augmented reality (AR) to its search algorithm? Well, then can the future of SEO soon includes Augmented reality as well? Today we are going to discuss What is augmented reality SEO and how will it affect your local SEO results?
Augmented reality (AR) is the latest buzz in the tech world. The potential to revolutionize the marketing world is possible by AR. AR can be defined as visual information in the physical world. A live picture is utilized by the technology where it's associated with the user in the real-world environment. The outcome of the experience is virtual and phenomenal.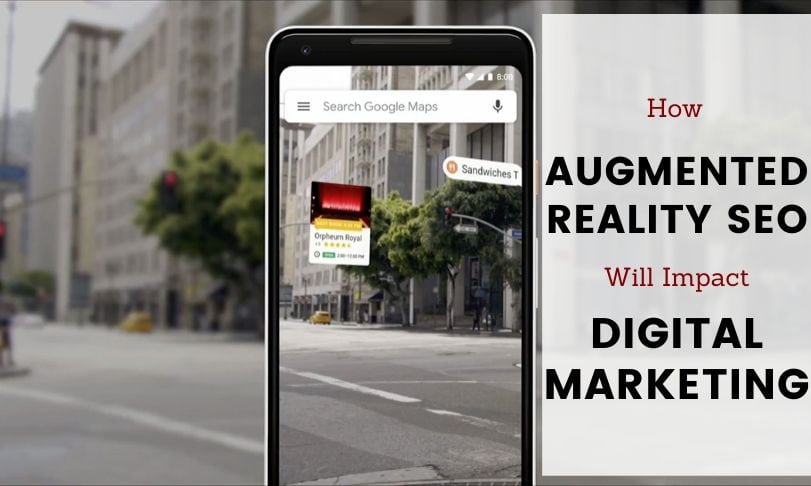 With augmented reality, businesses are to be heightened and they provide fascinating user experience to customers. By 2020, about $120 billion in revenue is expected. AR promotes the products and services and also search engine ranking is optimized.
Present Applications:
The present augmented reality applications are:
In games: here users search for items e.g. Pokémon, in virtual scavenger search participation e.g. Seek or snatch, to fend off zombies e.g. the walking dead.
Shopping apps: In this way, users can virtually try costumes for fit and size.
Location-based services: The users are provided with directions utilizing arrows on the screen.
Educational tools: Translation of words can be done by camera scanning or constellations can be identified.
Social media filters: Are found profoundly in Instagram, Facebook and Snap chat.
Augmented Reality for best SEO results
1. Local business search:
Today almost all people look for local businesses with the assistance of search engines. With AR searches and real-life queries are provided with solutions. Individuals can use AR apps and scan the place and fetch details regarding the same.
The place may be a coffee shop, restaurant, theatre, etc. Augmented reality is already being implemented in Google's algorithm and hence AR is a mandatory feature for the future.
2. Location-based outreach:
Apart from learning the various objects with AR, discounts and offers can also be learned. Discounts and real-time offers can be sent to customers and can be invited. With a specific AR app, these invitations can be sent. As the customer passes through the restaurant, shop, or eateries, then their mobiles will receive an image regarding the discounts, offers, etc. that have been launched.
A hologram-like visual is visible through the app and is the essence of AR. These marker-based AR elements are perfect as they assist in boosting online and offline visibility. While customers are impressed, they spread the word and business gains more visibility. This result is SERP growth.
3. Impact on social media:
SEO and social media are interlinked online entities; hence the addition of more AR elements results in higher visibility. AR elements are used for various marketing purposes, and hence are to be implemented for business promotion. Customer's interest can be grabbed by sharing promotional videos that have AR elements.
4. Optimizing business with AR:
There is a sure elevation in marketing by implementing AR in local SEO. Location-specific data can be obtained by customers. The AR can be implemented by businesses by providing data to businesses utilizing ratings, reviews, as the customer, scans the location with mobile. A local SEO strategy needs to be followed as mentioned.
Google my business listing 
Initially the Google my business listing is to be optimized. In this way, whenever a customer scans a location, results show up along with opponents. Moreover, a virtual listing can assist you to withstand the competition and seize the attention of the customer.
It is important to stay ahead in the competition of visual search space. Hence businesses must be listed in third-party sites in the form of citations. Also, there are ample directory apps for easy search and improved AR experiences.
When the user scans in any specific location, reviews and ratings are provided by AR apps. These ratings and reviews are considered a mandatory factor for communication and search. It is advised to maintain positive reviews to elevate the top of search results. This also has an impact on business revenue. Negative reviews are unavoidable and are required to be solved as soon as possible.
Another promising feature with AR is that they offer location-based offers. It is in the form of notifications that deals and offers are directed to the customers as they pass by your business location. In this way, the customers are enticed to step into the outlet.
Interactive content and visual search 
Google is relentlessly working in providing the best search results for customers and in solving their queries. The main goal of Google is to reduce the burden of searching and provide accurate results. From history, location, voice search, etc. Google is now concentrating and investing in AR. As AR is incorporated in content marketing strategies, there are more chances to elevate in ranking aspects in Google search engines.
ARISE
As per the research conducted by the University of Illinois, it is said that 'Arise' is the acronym for augmented reality information search engine. The 'arise projects' main aim is to explore the current trends where the real world and the virtual world are to merge into.
Researchers are detailing the way PPC bidding can be utilized by marketers to interpret physical images on mobile devices. By this way entity data of 360 degrees is made available to real-time mobile users.
Using AR today:
The power of visual search is being understood by large corporations and small businesses. AR today is being used by two prominent apps, the Pinterest Lens, and Google lens. These apps are beneficial for AR because as the user holds the camera towards any object, similar items in their platform an across the web can be located.
While outfits are viewed, they can be replicated by individuals with these apps. The Google lens provides image recognition and processing for everything from furniture to apparel. The AR apps are also proficient in recognizing animals and plants too.
AR can change eCommerce and marketing. They also have the potential to affect every industry they invade in and alter the way users interact and link with the content. Marketers across the globe are still trying to hook with the state of the art technologies so that their brands are optimized for visual search.
Applying visual search best practices:
When applying AR in the digital world, the search protocol is revolutionizing SEO brands. This is because searches have been replaced with photos. To get in more detail, rather than typing in the term 'blue dress' in the search area, a picture of a blue dress is snapped as a query.
The chore of the search engine is to recognize the size, color, pattern and shape of the picture displayed. They then need to find other related items from the web.
As augmented reality is playing its role, brands should draft their content accordingly based on the search for visual content. Hence while pictures are uploaded there are few aspects to bear in mind. For the better ranking of content
All images should possess concise and appropriate captions
The images should be placed near appropriate text in the webpage
Google's product mark up can be used for Google search for image tagging on particular keywords.
Photos and contents are to be optimized for mobile SEO too.
In this way, pictures are provided with the context required by search engines and can identify the category of the photo. As images are provided with more contexts, they rank better in visual search engines. Hence SEO and AR are linked in this context.
AR Smart Glasses:
The experience of AR is through wearable smart glasses, smartphone apps, and head-mounted devices. Since AR overlays digital content on the real-world and hence has a large potential for mass consumption. Investments from large tech giants are implemented as they are investing in hardware.
Apart from that, these tech giants are also in collaboration with developers in developing SDK and user-friendly toolkits. Newgenapps report mentions that in 2016, about 150 thousand AR glasses were shipped. By 2022, it is expected that the number would rise to 22.8 million.
AR and Social Media:
The impact of AR on social media is mind-blowing. Social media plays a great role in everyday life. Facebook embracing augmented reality is usual. Snapchat made its mark after employing ad placements, overlays, and geofilter updates. This is a smart way to engage people external to traditional advertising. Many social apps are ahead while marketing is considered, for example, snapchat for business. This spawns improved competition. More competition can be sensed with reasonable pricing, innovation, and overall features.
With social media loyal customer care and brands can be marketed effectively. Surely, more engagement of customers is possible by AR with social media. The best aspects of these strategies are that without must expenditure, these ideas can be implemented. It is known that about 60% of users on the internet love to watch videos on Facebook.
When AR is implemented and videos are played to masses, it would be similar to add icing on top of enchanting cakes. When being more social then there is sure to gain more engagement with the audience. AR implementation in these platforms linked enhanced customer base to business.
AR Strategy Tips:
While studying the real estate reality, location is significant for augmented reality. With mobile personalization location-based focus with proximity to iBeacons, geo-fences, GPS data are included. In this way, appropriate offers are provided to mobile users for instant reactions.
Apps are already being used by AR adopters and the AR trend will increase in the future. It is good to update AR at timely intervals so that AR is engaging and fresh for customers.
Surveys are usually answered by customers. It is advised to explore the mobile analytics and find if consumer's behavior and survey responses are matched. In this way, the campaign strategies and can be adjusted and refined to meet customer expectations.
The basic aspect of multivariate mobile testing of sites and A/B are few important success strategies to be followed.
A consistent experience is mandatory for consumers; hence a responsive design is to be implemented with various platforms. It is also important to make sure to optimize all landing pages across various platforms.
Always bear in mind that social media is significant for enhancing brand awareness employing customer advocates. Hence campaigns are to be designed with optimized AR for customers.
Forrester research reveals that consumers subscribed are heavy app users and like to hear the latest from the business. These people are advanced users for services and products and hence AR is to be implemented keeping this in mind.
Experts about Augmented Reality SEO:
The biggest player of AR industry Blippar mentions that with AR user engagement is boosted and also dwell time is elevated. About $45 million revenue was obtained in 2015, boosting AR to the next level.
Super ventures founder, Ori Inbar, concentrating on VR mentioned that AR as the next social platform, upcoming OS and upcoming mobile computer.
Apple CEO Tim Cook mentions AR as a huge opening is a digital market. He says that similar to smartphones, AR is a great idea.
Few entities invest more in the development and research of AR. Though Tango and Google glasses faced a declined start, it doesn't matter. AR, VR glasses are developed by Facebook, spectacles gain points for a snap chat. Apple also looks to integrate AR in smartphones. There is a huge investment expected in VR and AR tools.
AR applications:
Apart from gaming AR has wider applications in the real world. AR is used in military fields for individuals to repair the real world. AR provides details regarding the battlefield, offers details at a glance, etc. AR is used in the medical field, to prepare for surgeries. Medical details are displayed for the surgeon, surgical accuracy is increased and risks for mistakes are reduced.
Also, educational and commercial applications make use of AR. AR is moreover beneficial for navigation purposes for ease in driving and plenty more.
Conclusion:
Apart from offering engrossing experience, AR is a geo-specific and mobile-specific. Businesses gain a chance to know more about people and focus on them with customize and contextual targets. To stand out of the rest businesses require a creative approach and hence the developments of AR marketing contents are important.