A headline is the first thing noticed by readers. It let readers know about the content in just one glance. If you will contact any copywriter or SEO expert, you will ultimately know that headlines are vital for the success of content. Hence, it is important to create an attention grabbing headlines.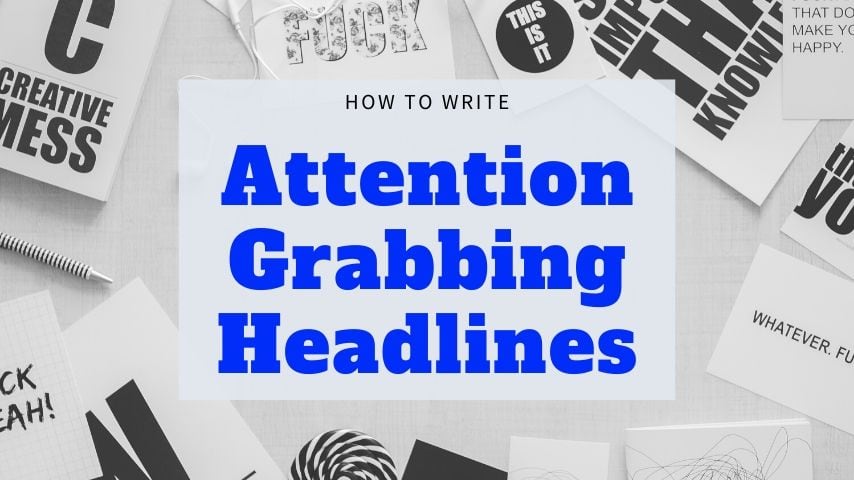 A headline convinces a larger number of people to read a copy and make sure that your readers click on your post only.
Why Creating Attention Grabbing Headlines is Worth?
Headlines are extremely vital. Even one word can impact the entire campaign drastically. Even an email subject line can increase the click-through rate by 45%.
If an ad is emailed to 2,000,000 emails, the winning probabilities can be more than 17,000 clicks, all from changing the headline or one word in it.
Headlines are the first line of any copy that readers read.
A headline creates an initial first impression and is the main decisive factor that whether a reader will read your content or push it away.
Even if your remaining content is amazing, but if the headline is not convincing enough, it can make people go away without reading the content completely. The headline can break or make an ad, email subject line, or homepage.
The headline sets the complete tone for the remaining copy. If the headline attracts readers, you have higher chances to make more sales.
For such reasons and more, we have created this complete post on headlines and want you to learn how to create attention-grabbing headlines, which lead to more conversions into potential buyers.
How to Design Attention Grabbing Headlines, Which Lead to Conversion
The first and most important thing you require is to know the important rule for writing a headline.
The main aim of a headline is to get the first sentence read. If you have a close look at some of the copywriting circles, you need to be sure that you read this rule at a particular point. It is because most of the copywriters let potential customers continue reading as the main rule of headline writing.
Keep convincing the customers to read, implies the money or time you invest in a post won't go to waste. Hence, focus mainly on writing a headline, which attracts the customers and influences them to read the very first sentence of your post.
Hence, you need to take care of the 4 important rules of thumb. You can even consider them as the four rules to write headlines.
Create a Unique Headline.
Make sure your headline is ultra-specific.
It is vital that your headline conveys a sense of relevance and urgency.
The headline must be useful.
It is quite difficult to successfully meet all four features in one headline. But if you are able to successfully meet at least two of them, you can expect your headline to help you achieve the desired results.
Such a headline is more likely to impact prospective customers to continue reading your post.
Now, let's consider each of these aspects in detail.
1. Create a Unique Headline:
Presently, consumers are more concerned and savvy in comparison to previous customers. They are now used to being presented with commercials after commercials, which keep on repeating the same thing.
All of us can remember watching commercials with a one-liner, which were compelling, informative, and influencing enough.
Businesses and brands can use these commercials as they work, at least on the subset of clients, but many individuals are turned off by these commercial wordings they have heard over and over again.
Once they hear, the customers tune out looking out for something, which seems highly credible.
If you consider things the same as others, you are automatically pushing away your customers and make them to sleep. But if you are doing anything in a different manner, you will stand out from the competition.
This can be achieved by offering a refreshing message. You can delight your clients enough to compel them to purchase from you.
In this case, you can consider the example of Copy Hackers.
Copy Hackers have a tagline, which means 'where startups learn to convert like mofos.'
In technical terms, this is a tagline, but usually, taglines are like headlines.
The great aspect of this headline is that it is unique, informative and not boring. It showcases personality, attention-grabbing, and stands out.
For writing headlines like this, you must be interested to take a risk. But the advantage of doing anything unique, which stands out implies you won't be placed in the bucket where your competition exists.
More likely, you can connect with clients who are searching for businesses, which don't appear similar to corporate robots.
Moreover, just like local service providers who differentiate themselves by offering more personable services, you can differentiate yourself by offering your business a unique personality that is appealing to the customers.
A great example of this is MailChimp, which lets businesses win customers over with an approachable and unique personality, which stands out from their competitors.
2. Make Sure Your Headline is Ultra-Specific:
Your headline must offer enough details and information to allow customers know whether or not your offerings are interesting to them or not.
If you are not designing an ultra-specific headline, your customers would not be able to know what exactly you are selling and what you want from them.
Here consider an example for the same. A few times ago, I checked a blog with the headline 'you will be missed.'
This presented no idea about the content or what is being expected from the customers. Did the owner lose a family member? Did anything else happen to her? Did she meet any problem or a problematic situation?
Definitely, the reader felt bad after reading the headline but had no idea what is exactly going on.
When the reader clicked through the headline, it was found that the post was about Steve Jobs. He simply passed away in the past few days and the author was writing about how she feels after missing Jobs.
The post was well-written and ended in an influential manner. But this is not clearly understood by writing the headline and hence, those who were interested came to know about it only after reading the complete post.
If the heading would have provided enough details in a specific manner, it would have compelled the readers to continue reading but writing anything clever does not offer readers proper information to decide whether they must read it or not.
3. Your Headline Must Convey a Sense of Urgency and Relevance:
Make sure the headline of your post conveys a sense of relevance and urgency. It must always include something, which compels the readers to continue reading so that they don't miss out.
It is not mandatory or a rule to create the headline this way, but it works well in most of the cases.
Consider the example of the post titled 'Are You Losing Sales by Giving Customers Too Many Choices,' which worked well on the KISSmetrics blog.
One main reason why this post was highly successful is that it conveys a sense of relevance as well as urgency and that too in a clear manner. When owners of the business read the blog, automatically they believe and think that they are losing sales.
Hence, as and when necessary, it is vital to write headlines that clearly convey the sense of urgency and convince people to keep reading the post.
4. Your Headline Must be Useful:
Last but most importantly, your headline must be highly useful. If the headline is not useful and does not offer any benefit, it may not serve people a specific reason to continue.
Customers wish to know what advantage they will gain from reading the content you have written.
It also is one of the important rules, which companies break to a great extent. Most of the companies and brands write something clever as for a reason they believe that this is the point of writing a headline.
In this consideration, they fail to offer a benefit and fail to offer readers a reason to continue reading the post. Ultimately, they disappoint in sales. It is a big mistake you definitely don't intend to make.
Here consider the example of a headline that conveys benefit, 'Create professional proposals for clients in minutes.'
Here, the main benefit being promised is that they are promising that you can design professional client proposals in just a few minutes. This eventually means you will land more customers and save time in the process.
Steps to Write a Headline:
You now know the four important tips to write attention-grabbing headlines, which convert. So, here check the ways to write a strong headline for your brand or business.
First, write down the headline that occurs in your mind.
So, let us consider that the first headline that came to your mind is – Easy Surveys for Website Owners.
This headline clearly does not define its purpose. For beginners, it conveys an advantage. Being easy is an advantage and it is expected that the tools mentioned in the post would be easy.
Also, it is general. It describes tools as useful. Rather, it must be unique from other survey tools and must mention how this one is made particularly to survey website visitors.
There are numerous tools available for conducting general surveys. This is special as it let website owners survey the visitors.
Finally, it is not targeted. It states that it is for website owners but if the target audience is marketing agency and startups, it would not serve the purpose.
Therefore, it is essential to work and improve this headline by incorporating the big benefits it offers. So, here are the other headline variations to consider:
Explore More About Your Visitors and Learn How they Interact with Your Website
Find Relevant Questions that Visitors Ask and Know What's Important to them
Optimize Your Website By Exploring More About Your Clients
Gain In-Depth Insights that Boost Sales and Conversion Rates
All such headlines are an improvement over the previous variation. It is because one of these headlines describes the product but does not offer a benefit. Such headlines focus on the main benefit the product offers rather than describing the product.
Among all these options, the headline listed on the fifth position seems to be ideal as it goes beyond the surface level advantage and describes clearly what people truly want, which is to boost the sales and conversion rates.
It is always good to learn more about customers. But here the point is to boost sales and conversions.
Also, you can use actual feedback information or customer survey. For example, if you have conducted a survey and asked your clients about how they feel about your product, then check the answers or responses made by them.
Based on the feedback availed, you can write more headlines.
The Easiest Ways to Survey Users and Know Questions to Ask
The Easy Way to Design an Actionable Survey
The Easy Way to Survey Site Visitors and Know More About Them
All these three headlines are good. Among them, the last headline seems to be the finest as it conveys the clear benefit of using the survey tool. This is to learn about website visitors and improve the website. Another benefit of using this tool is to know questions to ask.
Conclusion:
You now know the importance of writing an effective headline and how to do it. You see headlines are extremely important and its ultimate aim is to connect with customers at an engaging level.
The headline can break or make your success level. It establishes a tone for the remaining content. Writing attention grabbing headlines can boost traffic and sales. So, try to create such a headline at once.