Communication is a very important and essential part of human life which can make or break a relationship. Particularly, when we talk about workplace this communication plays a key role.
Only with effective internal communication, you can create good teamwork and healthy atmosphere in the workplace. This will not only helps in professional life but also in the personal front as well.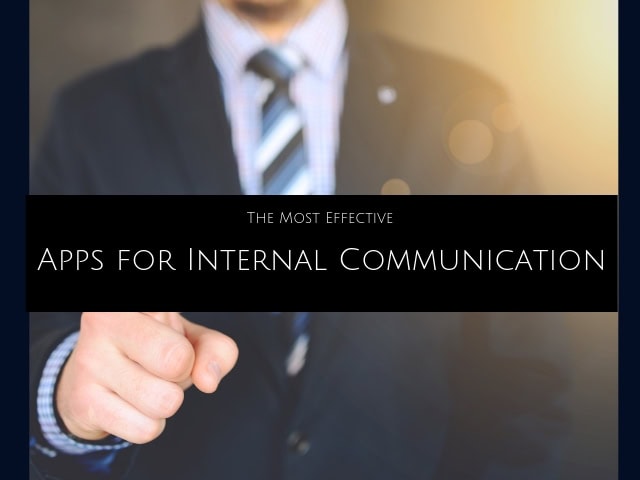 Communication is the most important trait every employer look in employees because healthy communication is important for your employees and clients to talk, share, and communicate with each other.
Specifically, when we talk about internal communication there are so many apps available in the market. But only a few stand out among them.
So without much ado let us see some of the top application that helps you to manage effective internal communication with your co-worker, clients, and vendors.
15 Best Apps for Internal Communication:
BlogIn
Bitrix24
Campfire
Fuze
Glip
HipChat
Microsoft Lync
Redbooth
Skype
StaffConnect
Slack
Trello
eXo Platform
Wrike
Yammer
BlogIn helps to create and run an internal company blog. This is an awesome tool for communication and acts as a great platform for people who want to gain company knowledge and expertise.
Through this application, employees can share their ideas, news, suggestion and even they can ask a question and get feedback to it. The main aim is to put all the information and updates at one place in an organized way so that it becomes easy for team members to look after it.
This helps all the employees to get information quickly so that they can take fast and quick decisions.
Bitrix24 is a free social enterprise platform specifically built for startups and small enterprises. It is just like slack but a bit easier and advanced. The only difference is that it has the capacity to create plans.
With the help of this application, employees can make group video calls, share files and calendars to encourage the project management process.
Campfirenow is a web-based communication application that provides password-protected group chats. This tool allows asking your colleague, client, vendor, and others to join in that chats.
Other options this app provides are sharing file, text, and code with others. Since it is a web-based tool, it will not take much time for account setting.
Fuze is a desktop and mobile application that provides good internal communication environment. This application helps you to make HD video calls, video conferencing and organize or conduct a meeting online.
This has another useful feature called FuZe analytics tool that can analyze company processes and different kind of data as well. Fuze can integrate with Lync, Microsoft outlook, box, google calendar, and some other apps.
Glip is a communication and collaboration application specially developed to look after regular duties of employee's saved in notes, to-do lists, tasks, calendar, and chats.
It helps to avoid frequent checking of your emails and inbox. It has an additional feature called 'built-in video calling' functionality which is perfect functionality to keep in touch with co-workers and clients.
HipChat – Ceased operations:
Hipchat is an easy to use internal communication application. It provides group chats, private chats, video calling, file sharing, unlimited file transfer, secure guest access, etc. Since it's premium pricing comes for a low price of 2$, a lot of small businesses and startups are attracted to this application.
Microsoft LYnc is one of the popular universal communications and collaboration application.
It's an internal tool created by Microsoft that provides you with services like instant messaging, video or audio calls, online meeting and chat with your clients. Before, it is used to called as Microsoft office communicator.
Lync has integrated with all Microsoft tools and become a quality platform for team communication. Now the flash news is that it has been integrated with skype business as well.
Redbooth was founded in 2008. It is one of the best project management tool available in the market that allows you to keep the work perfectly organized and helps in meeting deadlines.
With the help of this tool, you can clearly define what the task is and who need to do that with respective deadlines. The main features of this tool are HD video calls, text documents, file sharing, and reports.
Quality communication can be attained by merging chat and project task. It not only helps in quality communication but also helps you to stay up-to-date.
This is a quite good professional app specially designed for internal communication. It helps to connect with your colleagues and supports two-way communication.
StaffConnect helps employees to broadcast the news, share data, videos, images and update and result with their team. It also helps to promote an event by linking it to relevant pages by both offline and online medium.
Skype has become one of the best tools for companies to use for their internal communication. Features like file sharing, group chats, free audio, and video calls and screen sharing made this app popular in the world market.
In the year 2015, Skype Business came into existence to provide you with additional services like integration with office apps, online meeting, scheduling meeting in outlook and a few other features as well.
Slack was founded by Stewart Butterfield. The initial release of this software was made in 2013. Very quickly it becomes one of the popular project management and collaboration tools. This tool is mainly used by companies that have remote workers.
This app is mainly developed for a small game development company for internal communication. But gradually it became one of the popular ways for internal teams to get collaborate.
The main features of this application are private groups, direct messaging and chat rooms organized by topic. To get previous conversations you have an option to search all the files, groups and members completely.
Trello is a web-based project management application that specifically helps to remember tasks and show previous team actions.
Once you sign up with this app, you can make different kinds of boards with cards containing tasks. You can give these tasks to team member and move tasks from one card to another card.
You can track and get an overview of your task, what has been completed and what has yet to do by using this application. All tasks are supported by additional features like file upload, labels, checkboxes, and comments, so you can not only manage your project but also discuss it with your team members.
This is an awesome internal communication tool for project management and to assign tasks for your employees. It is a collaboration platform where you can start a discussion or share files in it.
Since the information will be transparent in this application you have a chance to give your opinion clearly. It not only helps in maintaining contact information but also helps in brainstorming and delivering projects on time.
This is a perfect internal communication tool which has single Inbox, document collaboration, file sharing, conversation space, content-based search, etc.
Employees can easily get connect and work closely across different sectors and areas. Since this application has collaborated with Microsoft, it can easily integrate with any MS product.
Exo platform is an open source stress-free team collaboration software wherein everyone can create and share files and polls. This can be customized totally to get fit into any company's needs and requirements.
It allows everyone to create and share files and polls and uses productivity tools set to give stress-free collaboration.