Google play store has about 1.3 million Android apps and Apple's app store holds about 1.2 million apps. There are about 2 billion smartphone users across the globe using these apps and the number would keep rising steadily. If you want your app to get noticed then app store optimization must be focused.
App store optimization is required in order to stand out of the rest and rank high with respect to the app. Here comes app store optimization that makes sure if the app meets app store ranking criteria.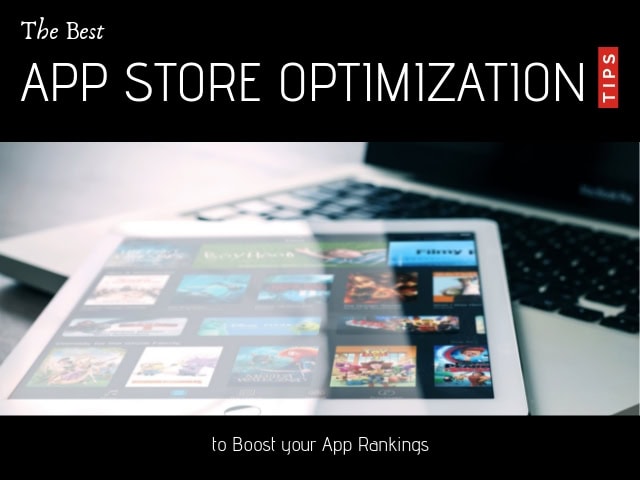 What is App Store Optimization?
App store optimization (ASO) can also be mentioned as mobile app SEO or Apple store marketing. The main intention of ASO is to enhance the mobile application's ranking associated with the app stores such as window store, Google, and iTunes. The goals of ASO are
Positive ratings along with app reviews
Enhanced brand exposure
Extra marketing channel
Link with the audience
There are a few important steps to be followed in order to enhance ASO in Google Play and the Apple app store.
Why is App Store Optimization Important?
Forrester mentions that it is through app searches that 63% of apps are found out. Hence in order to discover or download an app, app stores are mainly used. It is important to use ASO to enhance the app search ranking. There are thousands of apps and hence publishers should make sure to invest in app store optimization.
A descriptive title:
A good name always brings out the functions of the app and also enhances ranking. It is important to make use of a strong, appropriate title so that ASO is enhanced. It is suggested to use the keyword in the title as it helps in 10% enhanced ranking.
When keywords are considered, Google Play and Apple iOS approach keywords and titles in a varied manner. Hence your title should be designed based on your designated platform.
Icon design:
Ranking and downloads are interrelated. When there is a number of downloads, there are chances for enhanced ranking. It is, therefore, necessary to understand the importance of an engaging, well-designed app icon. You can represent just one image to your audiences and hence must be opted smartly. It is important to know that icon design plays a key role in the number of downloads any app gets. Dedicate more time for app icon design, as it plays a main role in app store optimization. Make sure your app is eye-catching, appealing and not like other apps.
Wise use of keywords:
Keywords play a major role in app store optimization. Similar to the title, keywords are also to be handled differently in Google Play and the Apple store. When Google play is considered, there is no particular keyword field. The app description is allowed with 4000 characters and is searchable. Apple permits 100 characters with for all keywords. It should be hence picked in a smart way.
Researching keywords: Before any keyword is published, there should be complete research about the demand, difficulty, and traffic of the keywords. You should also get to know the number of apps that are already using the keywords. Few app store optimization tools such as searching and Mobile Dev HQ can be used. These tools help you to pick the right keywords for your app. The app description, as well as the app title, should be accompanied with keywords.
Tips for best keyword: Remember to place the top keyword in the app name. An analysis conducted by MobileDevHQ mentions that your ranking for app research would rise to 10.3% by using the keyword in the title. Words are a better option to be used rather than phrases. Look wisely for keywords and opt from singular versus plural. Keywords can avoid having prepositions and conjunctions within. In order to separate keywords, commas can be used instead of phrases. Also rather than spelling numbers try to use digits.
App store analytics usage:
Web page marketing makes use of Google analytics, in the same manner, app store analytics tools can be employed to assist in mobile marketing strategy. With these tools, you can find out your app's position in the competition. These results help you boost your ranking.
Few app analytics tools are Tune, AppAnnie, APPlyzer, Sensor tower, Appnique, AppRankCorner, Appstatics and more. These tools are beneficial as they help in understanding the complete measurements in your app. These tools assist you to know the error in your app and tips to improve or enhance it.
App description:
A very crucial aspect of ASO strategy is to give importance to the page in the app store and the description. Only a perfect description can get a lot of potential buyers. The description can mention about the function of the app, importance, the benefits of the app, and reason for purchasing it.
Positive reviews to be encouraged:
As positive reviews regarding quality and quantity are encouraged, it shows a vast impact on ASO efforts. Honest reviews from good people are necessary as they offer a good view of others. It would be great to ask your dear ones to write positive reviews for your apps.
Sending push notification can be another great way to encourage users to review the app. Another way is to make use of in-app pop-up notification. By using this, you can ask your readers to leave a positive review in case they like the app.
Making use of high-quality screenshots:
The true fact is that people just make use of seven seconds to decide whether to download the app or not. Hence the look of your app is a major factor. It is good to use high-quality screenshots and is the main factor to decide upon downloading the app. For your app screenshots to look excellent there are many tools that can be used such as MockUphone, Figma, and AppLaunchpad.
Opt for the appropriate category:
For your app to rank well in the Google play store and Apple store, placing the app in the right category is important. There are few apps that fit in more than a category; such scenarios can be handled in the following ways.
The right category that describes the app is important.
In every category, the number of apps present is to be found out and pick the least competitive one so that the chances of ranking higher can be achieved.
The estimated app worth or EAW are found and your app can be put with the least EAW as it is beneficial.
Regular re-evaluation:
Even after a week, if you're dissatisfied with your ranking in the app store, then you can review your data, assessments and make required changes. You can re-evaluate the keywords, description, a category they are placed in and if the icon requires fine-tuning.
App preview videos:
The internet audiences of the United States usually watch the videos online mostly on mobile. The power of video can be harnessed for app store page so that users gain a good understanding of the app. The iOS app store permits upload of about 30 seconds to show the main features that the app provides. Only in-app experience can be represented and hence it is good to have a great UX look of the mobile app.
Get to know the competition and the customer:
It is mandatory to know the competition as well as the customer. The ASO strategy also mentions the customers understanding of the app. This should be done with a good understanding of the competition too. To get to know this, the aspects should be identified.
The language of the customers
Main reasons to download and use the app
Description of the app
Keywords against competitors
The advantage of the app
Competing with apps having the same keywords
Should the target be on obvious or less obvious keywords
Looking from a customer's point of view.
Enhance discovery in app store research and focus on keywords that drive in more traffic.
Localization of apps:
To enhance ranking, app localization is mandatory. The effort is required to translate the content and title of the app. This is worth because while ranking localized apps are more preferred by Apple and Google. This is beneficial as non-English speaking countries find it useful as the app is in the local language. Localization is beneficial because it offers more keywords.
ASO requires time:
ASO needs to be regularly examined and tweaked between regular time intervals. The very first thing put into the app store is the optimal set of keywords. It is mandatory for app developers to track their as well as their competitors ranking. There are many apps published each day and a regular review, download, and ratings can affect your ranking.
Updates:
Apps that are regularly updated are the top performing apps in the app store. There are more frequent and positive reviews for apps that are updated in a frequent manner. An added relevance to the product and its audience is achieved as apps are updated at regular intervals. The regular update of apps is an aspect that Google play store and Apple play store look for. For enhanced ranking regular updates are important.
ASO Tips to be followed:
Keyword triggers are used by app stores in the title, app name, description, and associated fields. Hence it is important to dedicate more time for keyword research and opt for the best keyword. Also, visit the keywords constantly for optimization techniques.
The presentation of app store product page has an effect on conversion rate values obtained from them. The CRO of the product page should be a focus area for downloads.
The keyword metrics can be improved with the field by using an A/B test of every app store fields. Such hypotheses testing and experimentation are important for values obtained from optimization areas within app stores.
To promote your app in app stores try to use perfect screenshots and thumbnail images. This will have a direct impact on click-through rates when made a comparison with extra app pages.
Make use of Apple's spotlight search. This helps app store users to find apps their mobiles have previously installed. When Apple's spotlight search is enabled, you can have an effect on the engagement level of people.
Benefits of ASO:
App store monetization helps in monetization of apps and assures you that everything is going on perfectly. As you stand outstanding after following all the tips for ASO, the visibility of your page in ASO would start growing.
Also, the conversation rate would increase. There would be a number of indicators that states the number of downloads. People would opt for the optimization path as they are looking for keyword and hunting apps by means of keywords
The app store optimization tools are yet another advantage so that the strategies and movements of the app can be followed. From such results, you can gain an idea about decisions for your techniques and also enhance procedures for the app.
Conclusion:
ASO benefits can be obtained when results are analyzed and plans are penned down to enhance the outcomes and bring to action. It is important to invest effort as well as time for perfect app store optimization. When time is dedicated to ASO, then there would be good traffic for your app. The tough task is being found, but if the above tips and tricks are followed for ASO, it's an easy task to be accomplished.
There are many tools available for ASO to be used. Users can research such tools and make proper use of them. There are many more tips that can be found and employed in ASO. Run through the sites, concentrate on competition and make your ASO successful. The above tips are useful and need to be employed for ones who desire to rank higher in app stores.